When it is coming to task managing or scheduling or work-related software, It is hard to beat Microsoft features. Google can give a better experience, But Microsoft always knows what users need and how they interact with the UI. When Microsoft launched the Chromium-based Edge browser in Android and iOS, Everybody though they may not get good feedback from users because it is another Chromium browser. But Now Microsoft Edge Android browser has more than 10 Million+ downloads in Play Store. The secret behind the success of the Edge browser is they focusing on small features that make good experience with users. Now they launched Collections in both Microsoft Edge Android and iOS browsers. It is like a bookmark but has better features.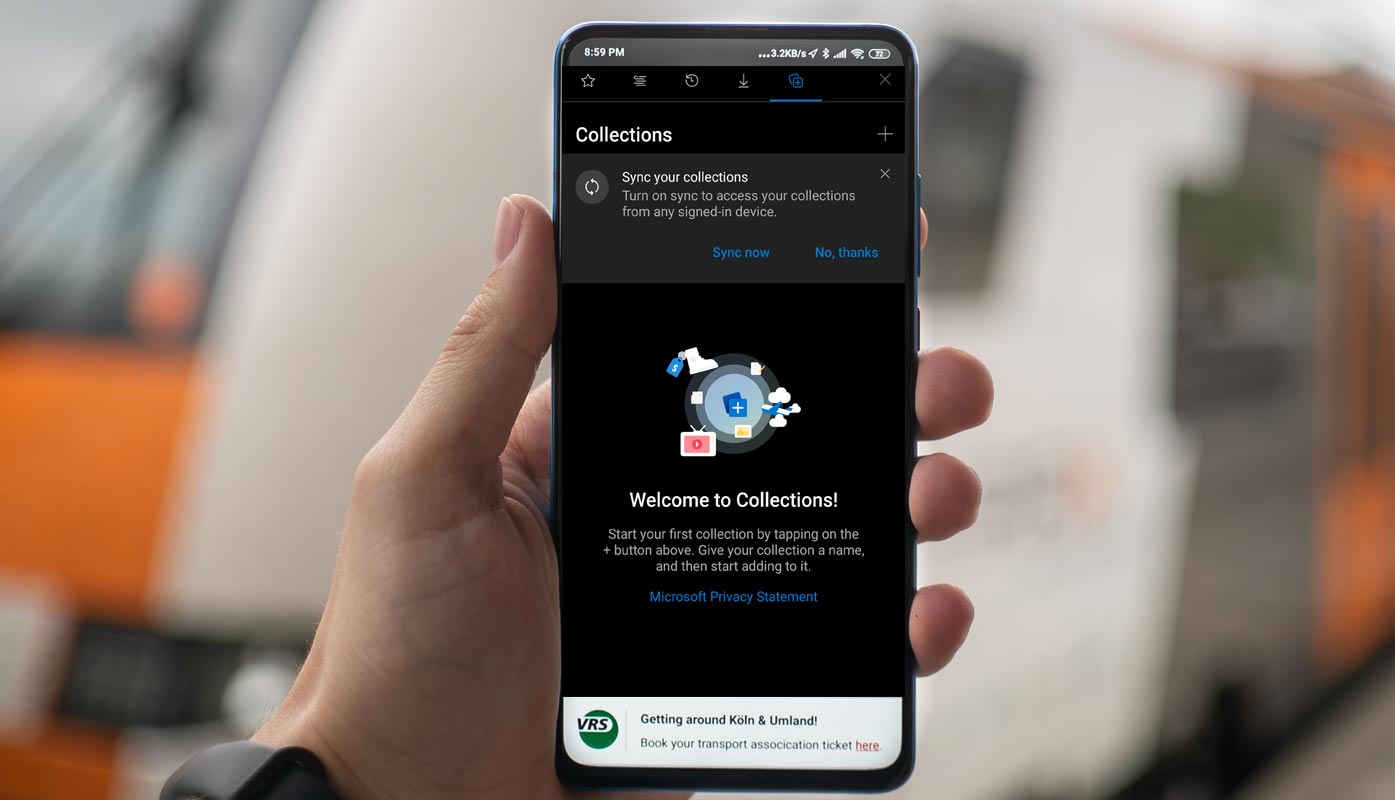 What are Collections in Microsoft Edge Browser?
Either you are, or you are not, but Microsoft is excited by the launch of Collection in its Edge mobile browser. Microsoft introduced it for both android and iso devices at the same time. Earlier Microsoft introduced Collection on its desktop browser Edge (Beta Version) on Dec 19, 2019. They kept getting the user feedback who wanted to get it on mobile too.  Keeping in view the user's feedback, on July 30, 2020, Microsoft announced the mobile version of Collection on Edge.
The chromium-based Edge browser is making its place among internet users by its unique features, and Collections are one of the new features of Edge. It's a kind of Pinterest feature.  Exactly like Pinterest, it keeps track of your web experience. From shopping to research work notes, from lesson plans to recreational trip planning, you can Collect all information and web pages in this Collection. It requires a sign in to use the same account on multiple devices. You can synchronize your data on all signed-in devices, which keeps you update on all of your devices.
What is the use of Collections?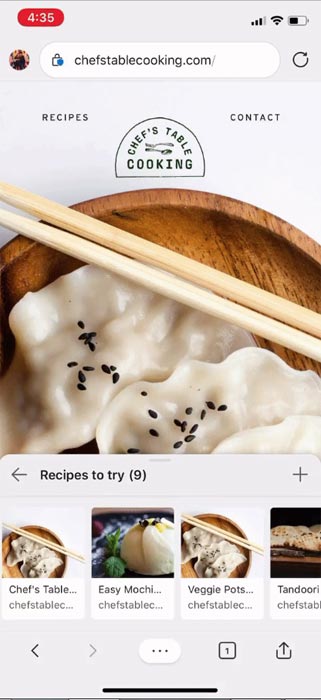 Nowadays, Microsoft understanding users better and make decisions better. Recently they launched Microsoft 365 app package that benefits regular users. With Collection on your mobile Edge browser, you can collect information while on the go. You can obtain information about your desired product while shopping or can manage a pic gallery while traveling. All these Collections are also updated on your laptop or pc for you to use better for your projects.  With a collapsible Collection drawer, you can view the webpages alongside your Collection. With the webpage icons and images of the webpage, you can jump quickly from one website to another to compare your product.
How to use Microsoft Edge Collections in Android Mobiles and iOS?
It is now the built-in feature of the chromium-based Edge browser. Once you install the Edge, you can use all features of Collections easily.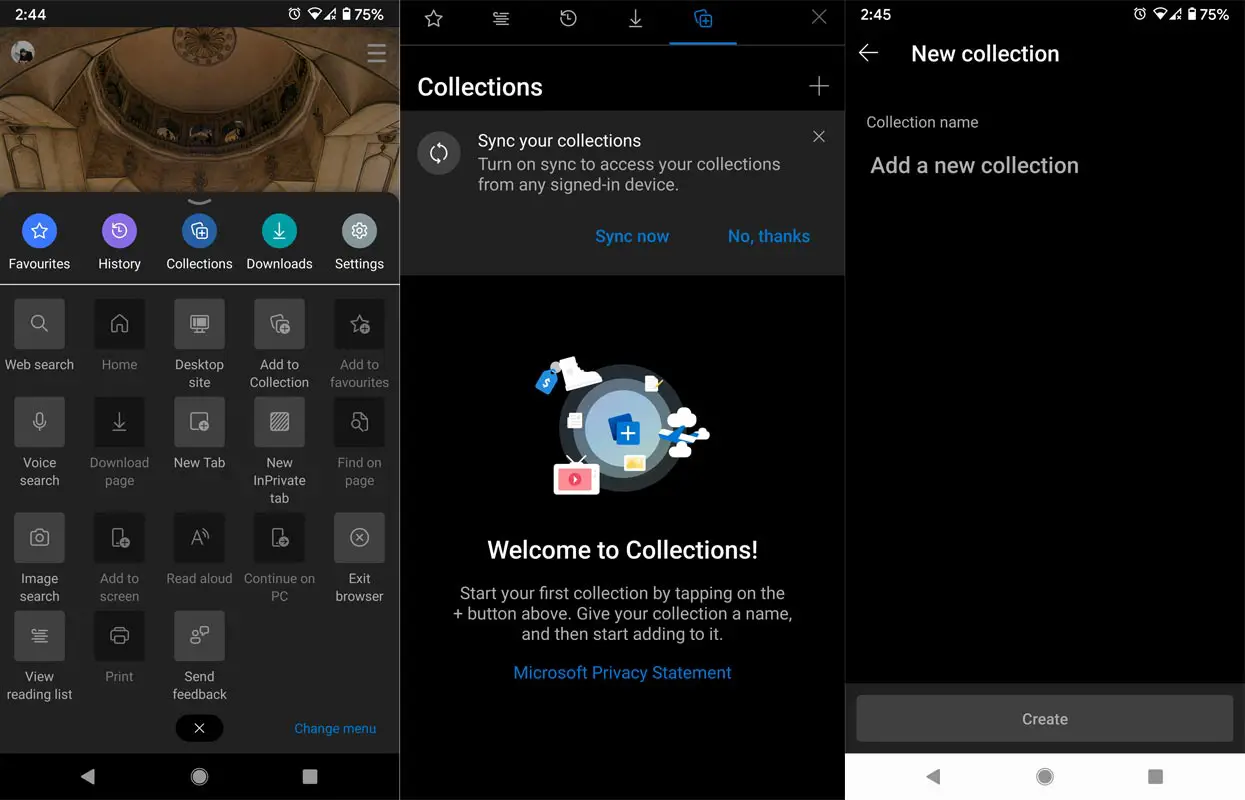 Accessing Collections- You can download Microsoft Edge from the Google Play Store or Apple app store. If you have already installed the Edge browser, make sure to get the latest update 45.06.2.5042 or higher for Android and 45.6.2 or higher for iOS devices. By opening the Edge, you can get Collection by pressing three dots"…" button at the bottom of the screen.
Adding a new Collection- With the three-dot button, you open the Collections, now with the "+" button, you can add new Collection, give it a name, and have done it.
Collapsible drawer- On the small screen, collapsible drawers give you multiple views of your Collections and make it easy to select. To look thoroughly into your Collections, you have an expandable view to see a big image of your selected item. With sliding drawers, you can compare details by moving back and forth.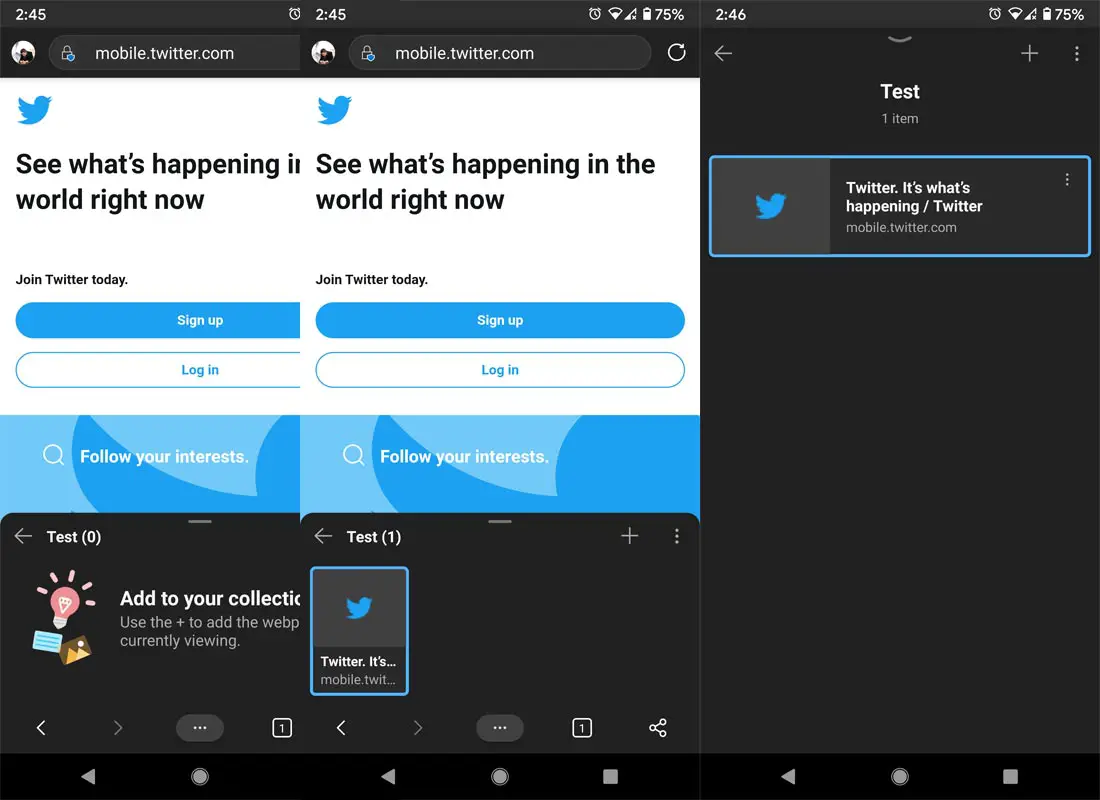 Adding new items in Collections- You can add new items by pressing the "+" button in the drawer mode. If you are in browser mode, tap "…" and then tap "add to Collection," then you can select the desired Collection to add new items.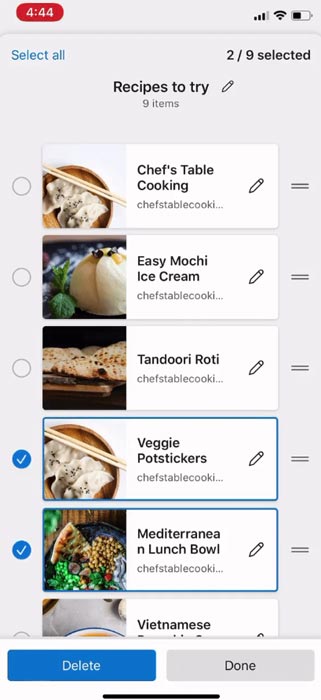 Organizing Collections- You can edit, delete, rename, or hold your Collection from your mobile device. Simple select the Collection and then select the action, rename, delete or re-arrange which you want to perform.
Wrap up
Microsoft keeps releasing user loving and attractive features. To make competitive with Zoom recently, Microsoft released Teams for personal usage. Before this release, it is only available for Enterprise purpose only. Also, they shut down all retail stores and go for Online Store only. So, They know what they are doing and invest the resources in useful projects. Even if Collections is a small feature, it is the best organizer for Bookmarks. With Collections, you can compare your desired items on various websites to get the best. It is a beneficial feature that keeps track of your web experiences and quick access to your selected items or images. How will you be using Collections to track your internet surfing? Do tell us in the comments below.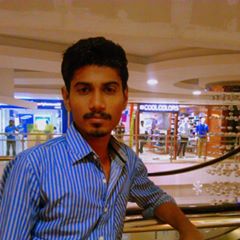 Selva Ganesh is the Chief Editor of this Blog. He is a Computer Science Engineer, An experienced Android Developer, Professional Blogger with 8+ years in the field. He completed courses about Google News Initiative. He runs Android Infotech which offers Problem Solving Articles around the globe.