When you are in a Crowd speech or Seminar, It is wise to record the speech compare with taking notes. Yes, When taking notes, you focus more on speech. But, you may lose essential words, ideas, and quotes if you can't follow the person's speech speed. In those situations, Voice recording apps can be useful. The problem with those apps, You have to convert them to text if you want to use some specific words. Also, Voice to Text can be helpful when making a Shopping list by voice commands. So, where you want to use Voice recording, It is better to use Speech to Text Recording apps. Below I listed Best Three Voice/Speech to Text Recording Android Apps. I limited the number of apps to avoid confusion. When I say Best and I give ten apps, That will not help you.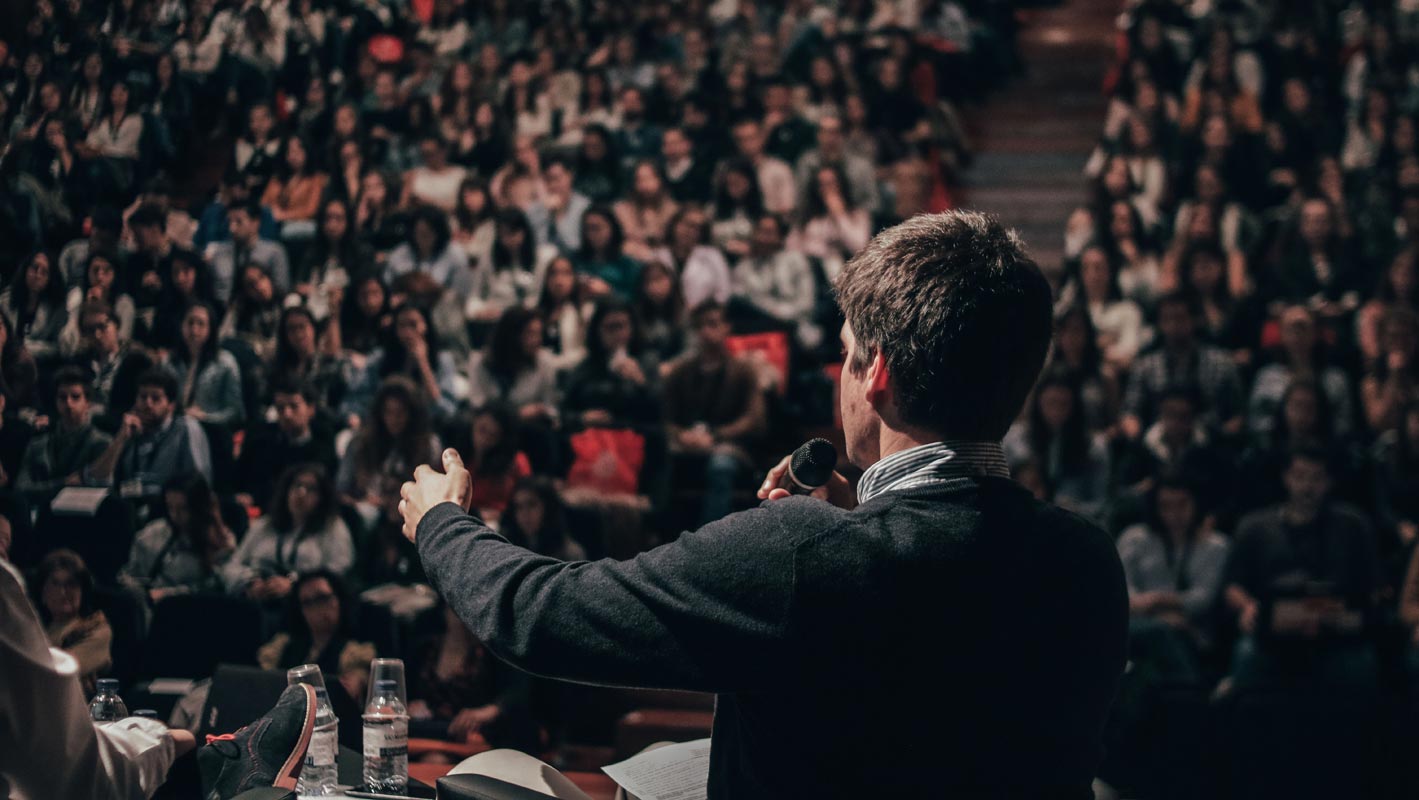 Smartphones now can perform a whole of tasks that needed expensive gadgets/devices in time past. For example, To take the best photos, you don't need to buy a Nikon or Canon camera to capture moments in stunning clarity and details. Smartphones come with incredible AI cameras and many in-built cameras. Also, smartphones have made so many things easy, including voice recording and editing or media files. We always didn't use most of our mobile features. Our mobile default apps can do a lot of things beyond your findings, so, when you install those particular apps, you can now be able to unlock the unique features of your device. This article suggests the best voice-to-text mobile apps for Android smartphone users.
Top Three Voice/Speech to Text and Voice Recorder Android apps (Transcript)
You can use the following apps to store your voice recording also. If the apps didn't work correctly, update your text to the speech recognition system app. These voice-to-text recording apps are great, and they support a couple of other handy features. You can use Voice-to-text apps when you don't want to use your smartphone's virtual keyboard. Furthermore, these apps can be referred to as speech-to-text apps. Interestingly, Google's new recorder app is also in this article, a cutting-edge voice recorder app that works with super-brilliant AI algorithms.
1. Speech notes
Speech notes are one of the best apps to use for this function. It is a pretty intuitive mobile app designed with a welcoming user-interface. Interestingly, this mobile app comes with some automated features, and it is fully available for free for Android users. However, Speechnotes is not compatible with many Android devices. But if you're using a new Android smartphone running on Android 9.0 or 10.0 versions, most likely, this app will work on your device more efficiently.
The developer of this speech-to-text app has included a new auto backup to Google Drive feature; this implies that all your data will be automatically saved to the cloud, and you'll never lose a note! Over a million people have installed this app on their device. But, only 20,000 users have left a positive review of the app. Speech notes work very well for its purpose; plus, the distinctive interface is catchy and easy to navigate.
How to use Speech notes App?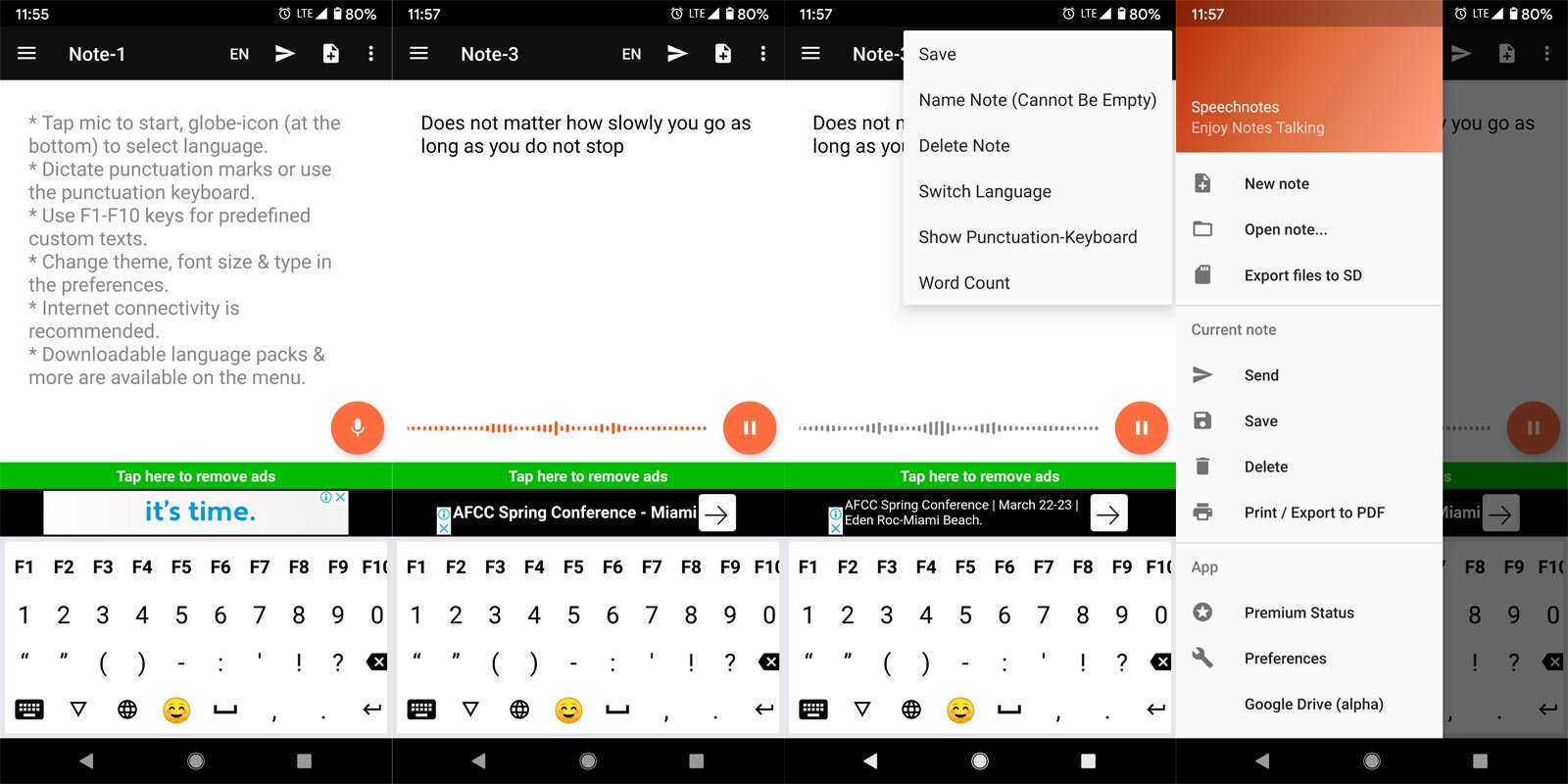 Open the installed app and hit the mic icon.
The app will convert your speech to words in real-time.
When you finish your recording, You can select the pause button. Until you make further actions like Save, Delete, the current Transcript will remain on the home screen.
Features of Speech notes
Comes with a built-in keyboard for inputting punctuation and symbols, seamlessly
Supports quick timestamps
Listens all the time; the app does not stop when you take a break
Utilizes Google's speech recognition algorithm for accuracy in recognizing your speech
Serves as a typical notepad app for Android mobile users
Works offline without internet connectivity
Supports instant sharing, export, or print
Auto capitalization and spacing of words
Edit text in dictation mode
For as long as this app is active, your device's screen will stay awake; this may have a significant effect on your battery. Finally, Speechnotes is a multilingual mobile app, which makes it suitable for users across the globe.
2. Google Recorder App
Google recently launched an advanced mobile voice recorder app with so much capability. They launched the app in the last quarter of 2019, and it also serves as a voice-to-text mobile app. As expected of an app from Google, this mobile app is very intuitive. However, at the moment, this app can only run on selected Android devices. If you want to use this app on your Android 9.0 or 10.0 devices that are not naturally compatible, then, follow the individual part below to install the app.
This Google recorder app is quite different from other similar apps. It's actually for voice recording but comes with transcribing capability. Thus, this app serves two functions at a time; it can be your voice recorder app or your voice-to-text app.
According to Sabrina Ellis, Google's VP in the Product Management Department, Recorder by Google will provide a means for people to transcribe meetings, interviews, lectures, or anything they want to save."
How to use Google Recorder App?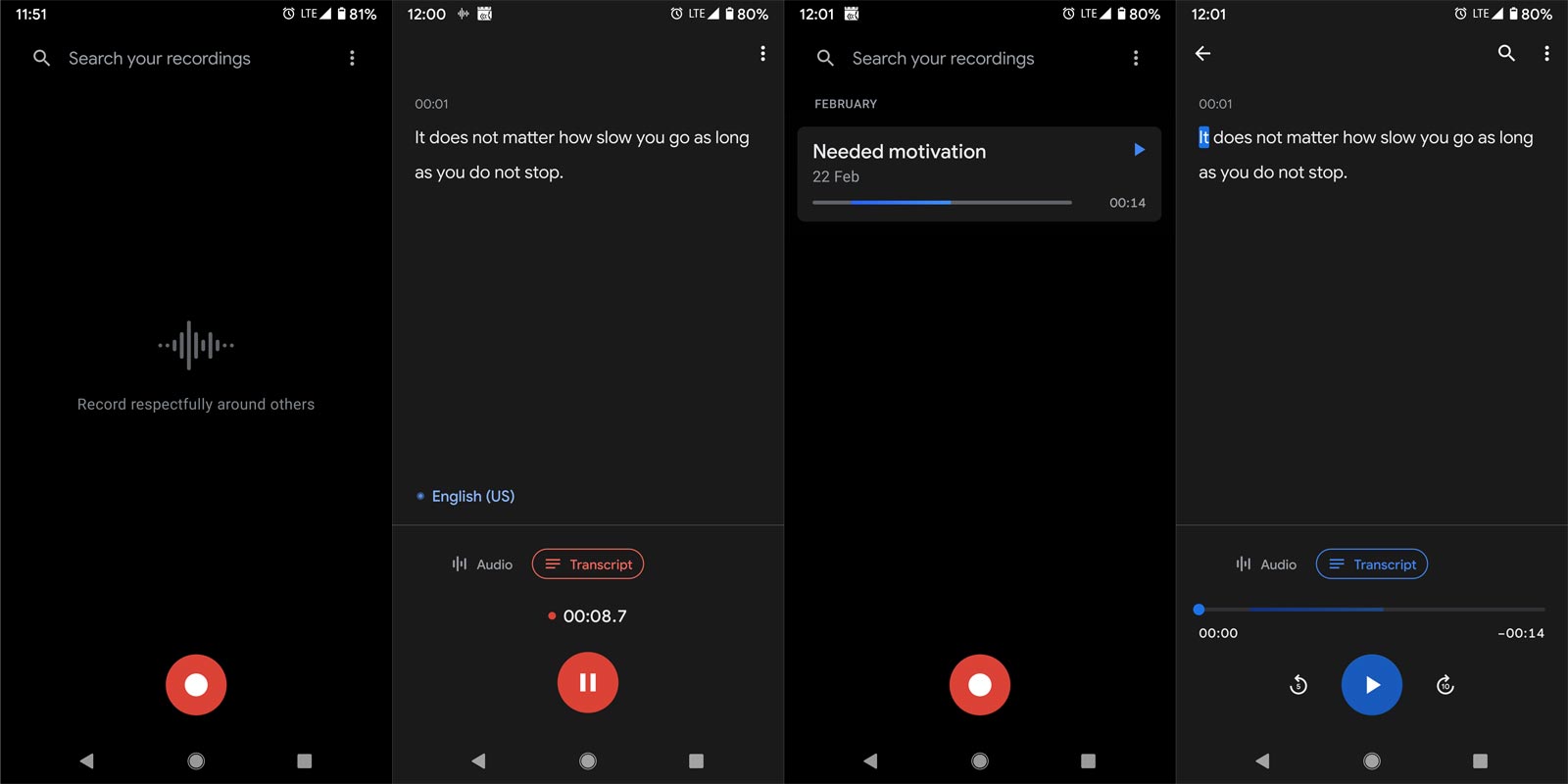 Open the installed app and hit the red record icon, and select Transcript. If you didn't select the Transcript, It might not convert the texts properly.
The app will convert your speech to words in real-time.
When you finish your recording, You can select the pause button. You can search for the particular words in Transcript after you save.
Install Google Recorder App in Non-Pixel Phones
Google Recorder app is exclusive to the Pixel phone period. It may or may not available to other mobiles. But, We can use this app on most of the Android phones. You should be in Android Pie 9.0 or Android 10 version to use this app. You don't need root access for using this app.
Open the installed app and hit the mic icon.
We tried other versions. But only this version works on most of the mobiles. Since the job here is merely one-way work, You don't need to stay with the update.
Features of Google Recorder app
Comes with intelligent systems for excellent voice processing and real-time transcriptions
Voice recorder + voice to text transcriptions
Automatic labeling of transcribed notes
Designed with a new speech recognition system that works offline without internet connectivity
Intuitive and easy to navigate interface
One of the CONs of this app is the huge file size; Google Recorder app will chunk out up to 60MB space on your device. Also, you cannot naturally install this app if you're not using any of the specified Google Pixel smartphones. However, this happens to be one of the best Android mobile apps for voice recording or voice to text needs.
3. Voice Notes
The name explains what this app performs. It is a mobile app that provides Android smartphone users with the ability to speak to their device to write notes, journals, messages, and more. Voice Notes is also available for free on Google Playstore, and it is compatible with most Android devices running on Android Pie (9.0) and Android 10. Also, this is a lightweight app with a friendly interface that anyone can easily understand. With over 5 million installs on Playstore, Voice Notes is one of the best voice to text apps you can get for free.
Interestingly, this mobile app comes with a couple of cool features that help to edit your notes. Voice Notes stays active to capture everything you say and turn them into texts immediately. Its transcription is accurate and perfect; all you need do is to continue speaking. More so, this app integrates with your mobile calendar. Plus, you can export or share the notes on different platforms.
Furthermore, you can backup your transcribed notes to the cloud, and you can categorize the notes for easy access. Use the Recite Option to crosscheck if this app correctly records your notes. , this is an impressive voice to text app for Android devices with multi-language support.
How to use the Voice Notes App?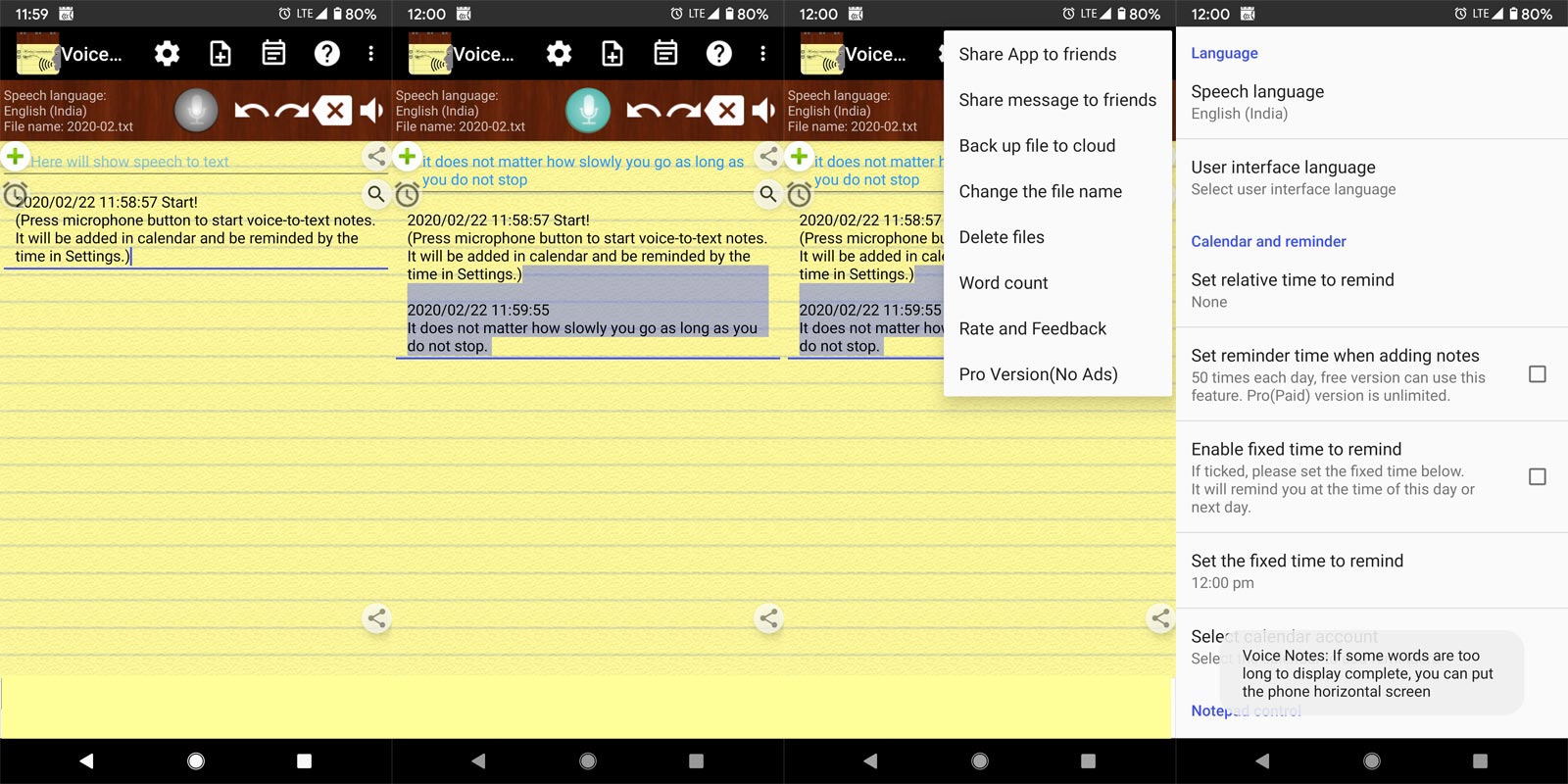 Open the installed app and hit the mic icon.
The app will convert your speech to words in real-time.
When you finish your recording, You can select the pause button. Until you make further actions like Save, Delete, the current Transcript will remain on the home screen.
Features of voice notes
Works even when your device's screen is off
Synchronizes with your device calendar
Seamlessly share your notes to different platforms
Arrange your notes in categories for quick access
Works even when your device screen is off
Multi-language support; up to 120 different languages
Multilingual user interface languages
Tap the microphone button start speaking
This mobile app is a great one, and it works very well for its purpose. Interestingly, most Android phones can run this app.
Other mentionable Voice Notes Apps
The following apps are not direct Voice recording apps. But, they had this recording feature as additional.
Google Keep
Using Google Keep, you can not only make a list and checklist, but You can also make short voice notes. Due to It is Notes based, it will only record the short notes or until it stops recognizing the sounds in the environment. Like Google Keep, You can use this method on most of the Notes or Memo apps like Evernote.
How to use Google Keep Voice Notes?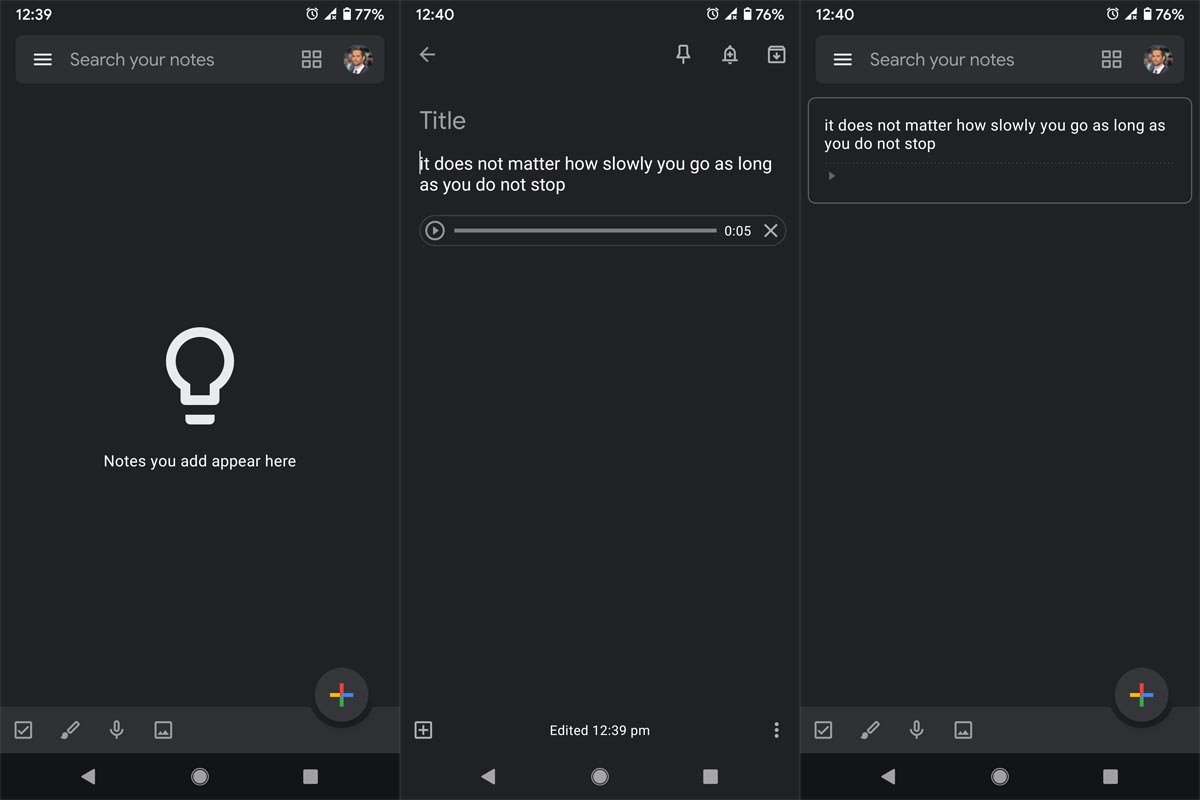 Open the installed app and hit the mic icon.
The app will convert your speech to words in real-time until it can't recognize the sound in the environment.
Google Assistant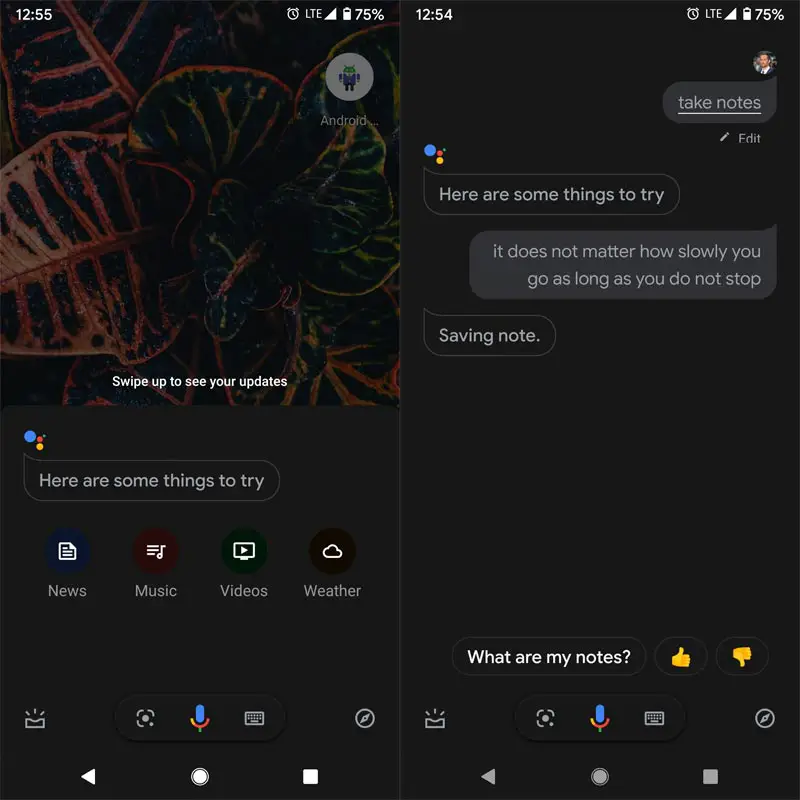 Yes, you can ask your Google Assistant to take notes. Launch Google Assistant on your mobile and ask to "take notes." All your Google Assistant Data will be stored in your Google Account. You can delete them whenever you want.
Wrap Up
For regular users, you can use the Google Keep app. It is handy in most situations to take short notes. But, If you are a journalist or meeting person, It is better to use these Voice/Speech to Text Recording Android apps as a Primary tool or your backup. These apps can work offline and wisely avoid the surrounding disturbance and focus only on voice. If you want to maintain your privacy when installing voice related apps, it is better to use the permission of mic "only while using this app" and avoid third-party app installation. I hope the list can give you a clear and simple list to choose between a ton of apps. But, In Realtime, If you are using the best app better than this list, comment below.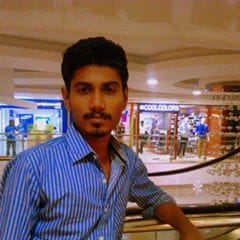 Selva Ganesh is a Chief Editor of this Blog. He is a Computer Engineer, An experienced Android Developer, Professional Blogger & addicted Web Developer. He runs Android Infotech which offers Problem Solving Articles around the globe.