There is probably no other virtual assistant better than the Google assistant. Oh yes, Amazon Alexa is good, but Google's assistant is the best. Across many platforms, you'll find Google Assistant to be beneficial in remotely sending commands to your gadgets. Siri and Bixby, which are the immediate runnerup assistants after the Amazon Alexa, are no way close to matching Google's virtual assistant capabilities.
Since Google's assistant is compatible and integrated into various devices we use every day, such as smartphones, smartwatches, smart TVs, speakers, etc., it will be useful to learn about some hidden tips and tricks on how to maximize the features of this virtual assistant. This article will share the top 10 unknown Google assistant tricks and tips.
Actual Photo Without filter taken using Google Pixel 2 XL
Unknown tricks for maximizing the usage of Google Assistant on your device/gadget
1. Offline commands
Almost all Google assistant commands require an internet connection to go through. However, there are yet some commands that work offline. Since you already have some songs in your music library, the assistant doesn't need to search the internet to play those songs for you.
Also, manage alarms, calendar events, and other actions alike while your device is offline from the internet. Below are the voice queries to trigger offline activities using Google assistant on Android mobiles;
Note: before you say any of these commands, you must start with "Ok Google" to awaken the assistant. Or long-press Home button.
Open "app name." (note: replace the "app name" with the name of the app you want the assistant to launch. E.g., Open "Chrome")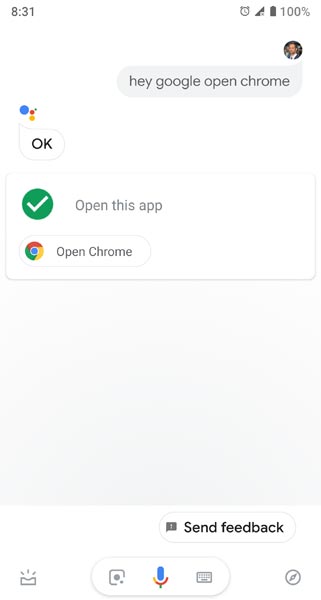 Play Music (this will cause your device to start playing the songs on your music library)

Add an event to your calendar.

Call "contact name" (note: replace the "contact name" with the name of the person you wish to call. E.g., call "John"). By using this feature, you can easily contact your relationship.

Set the alarm (to create new alarms or manage existing ones)

Open WiFi

Turn on Bluetooth

Open Airplane mode

Flashlight

Adjust your device's volume

Dim the screen
2. Control your smart home
This requires internet connectivity. Google Assistant works almost all smart home products (gadgets, accessories, devices, etc.). Entirely of a bunch of smart home product manufacturers such as Nest, Webo, Philips Hue, Honeywell, Belkin, etc. make their products to be compatible with the Google virtual assistant.
So, you can virtually control the smart products in your home from the afore-mention manufacturers using Google assistant.
To control the smart devices in your house from your Android mobile using the Google assistant follow the steps below;
Open up Assistant

Tap on the three-dot menu icon, which is at the upper-right corner.

Select "Settings," then "Home Control."

Follow the subsequent prompts to add your compatible smart devices.
A recent update rollout shows that Google assistant can now work together with chromecast to virtually stream content from YouTube, Netflix, Spotify, etc. using voice commands from your phone. The movie will also be streamed straight to a compatible smart TV on the same WiFi network via voice commands.
To use the assistant with Chromecast request the title of any movie, your Chromecast will start right up. In the same way, you can pause, play, adjust playback volume, and even skip songs with the help of Google assistant. You can also use your Google Assistant to open the footage from your security cam.
3. Search for landmarks around you
With the Google Assistant, you can look out for various notable places you, such as churches, schools, popular restaurants/eateries/cafeterias. Only say, "Okay, Google, find restaurants near me" or "Okay, Google, find popular places near me."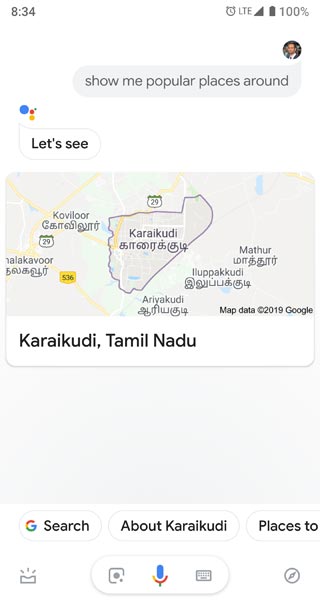 Also, you can even search for job offers from companies around your province or vicinity. Directly go like this; "Okay, Google, find jobs available near me."
The assistant will search the internet and get out the nearest addresses to the query you searched for. Furthermore, you can ask the assistant "which ones are open now," and it will trim down the results to display only opened offices as per your search query.
Finally, you can ask the assistant to direct you to these places by saying, "Give me directions to the closest one." You can also contact nearby shops using Google Maps.
4. Read/listen to worldwide news
Just say, "Okay, Google, tell me the trending news" or "Okay, Google, play current news." The assistant will bring out the recent/trending headline from top news sources. However, to customize the sources you wish to be reading up news from, go to the assistant settings and look for the "news" option.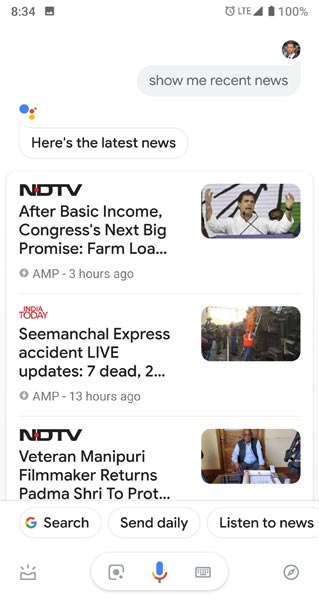 If you use Google Allo, you'll be able to explore more news options, thanks to its "send me daily" option. As a news addict who searches for weather updates more specific information such as the route to work using Allo, you'll spot a prompt that says "send daily."
Clicking on this prompt adds the search to your Subscriptions, of which you'll now be receiving daily updates from the Google Assistant based on your defined requests. This feature is limited to Allo users.
5. Unlock your smartphone
It will generally work for all Android devices with Google assistant integration or support. Google Assistant responds to your voice even when your device screen is off. But, when you activate your screen by voice command, you will still have to enter your PIN or password to unlock the device.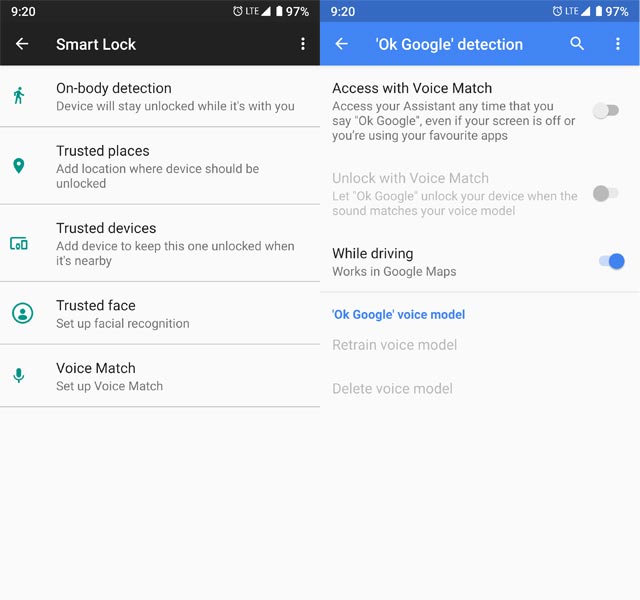 However, there is a way to bypass these additional securities and unlock your device with your voice only. Go to Google assistant settings, select OK Google Detection, then activate "Trusted Voice."
6. Choose your favorite Google assistant voice and Language
Would you want to listen to a male's voice or a female's voice? You can decide the voice you wish always to hear when you send the commands.
Naturally, the Google voice assistance responds with a female voice having an American accent. However, you can switch between a female voice and a male voice with different accents. This virtual assistant by Google is advancing steadily to fit into everyone's comfort.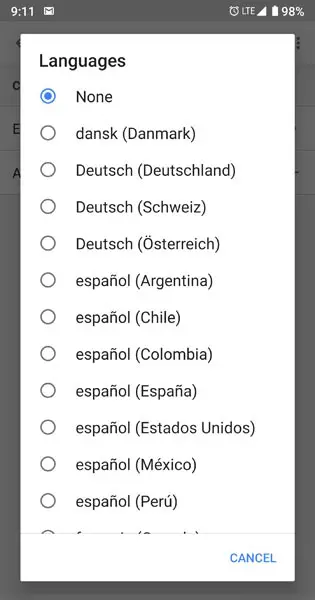 The Google Assistant now supports multiple voices of both men and women voices with different accents. To change the default Google Assistant's voice go to Settings >>> Preferences >>> Assistant Voice and choose your favorite voice.
To change the Language of the assistant go to Settings >>> Preferences >>> Language >>> Choose your Language.
7. Manage quick settings
You now easily switch on your quick settings without dragging down the notification menu on your Android device. Google assistant can help you activate quick settings at ease. It just very simple; say "hey Google or ok Google" the say what you want to activate. Example; "okay, Google, turn on WiFi," Okay, Google, turn off WiFi.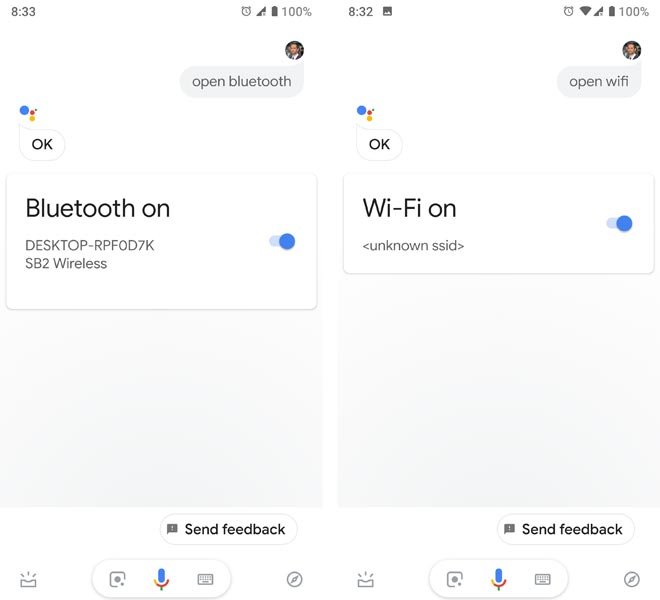 You can repeat this command for settings like mobile data (on/off), Bluetooth (on/off), airplane mode (on/off), and the likes. Unlike other commands, this does not require internet connectivity.
In this same manner, you can launch applications that are installed on your device. Ok, Google, open Gmail.
8. Get Currency and Unit Conversions
Interestingly, you can get the latest currency rates for different currencies. Also, you can convert unit measures such as pounds (lbs) to ounces (oz). "Hey Google, convert 10 pounds to kilograms", the assistant will run the conversion and show you the results.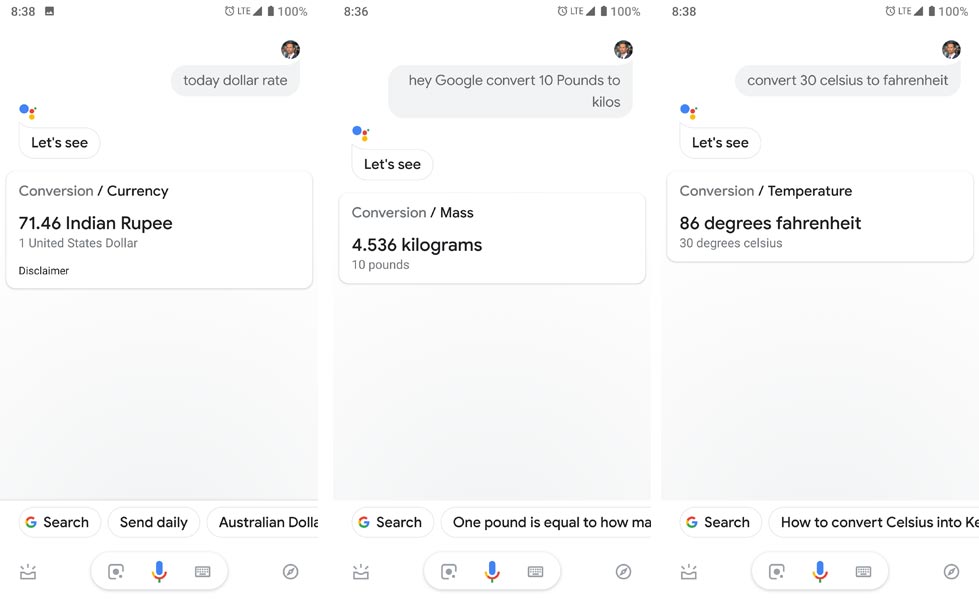 To get current rates to say – "Ok Google, what is the current USD rate to INR" or "Ok Google, convert USD to INR." Either of these commands will show you the current conversion rates of the two queried currencies.
Note: "Ok Google" and "Hey Google" are the same; they are the command(s) you use to activate the virtual assistant.
9. Get the latest sports gist from your source
Similarly, as you'd read up daily trending news using the Google Assistant, you can also stay updated with various sports news.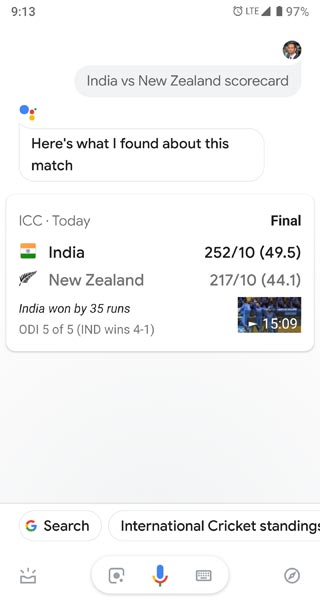 Merely say the following commands;
Google Assistant is also an excellent interface for keeping track of live scores of your favorite team in an ongoing tournament. You can ask questions like,
"Hey, Google, show me the EPL table."

"Hey, Google, show me Ligue one table."

"Ok Google, how many goals did Chelsea make in the last match?"

"Ok Google, who is the highest-paid EPL player "

"Hey, Google, who's playing in EPL today."
And so on…
10. Send voice messages
Lastly, the final trick we will share in this article is how you can send voice messages with the Google assistants. This works very well for parents who want to send a message across to the kids on the other side of the house.
You need a compatible smart speaker before you could use the assistant to send voice messages across. Google Assistant will even go further to transcribe your message if the receiver would instead read it.
That's great.
Bonus Tip
You can ask your Google assistant to Identify which is now playing in your place. It can identify that Song.
Wrap up:
These are some of the collective actions or tricks, which you could do with Google Assistant. To control your home with this technology, you need to turn it to a smart home by bringing in the latest smart devices which are compatible with voice assistants. Compare with other voice assistants; Google can work better in a software way. When considering control on the hardware of the mobile, Bixby can do some things that Google Assistant can't.
One of the best advantages of voice assistants is that they help you to control or do certain things remotely. It is not only Google that has a virtual assistant, but Amazon also has Alexa assistant, and there are quite other ones too.
However, the Google assistant seems the best and most compatible one amongst all. If you have other commands that are not mentioned above, command below to let us know.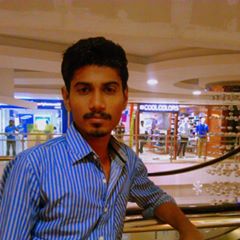 Selva Ganesh is the Chief Editor of this Blog. He is a Computer Science Engineer, An experienced Android Developer, Professional Blogger with 8+ years in the field. He completed courses about Google News Initiative. He runs Android Infotech which offers Problem Solving Articles around the globe.