When it releases new technology in fast chargers, Oppo is always lead compared with other mobile manufacturers. Nowadays, after Oppo, Xiaomi is working great with new fast charger technologies. They already tested 100W chargers successfully. Now Xiaomi is going beyond all limits with its 200W charger.  Xiaomi 200W Charger Can Charge your mobile 50% in 3 Minutes. They are already working on a 200W charger supporting mobile. So, It all makes sense now. Soon, We can expect real-time mobile that can support 200W chargers. Without a supporting mobile 200W, charging in real-time is not possible.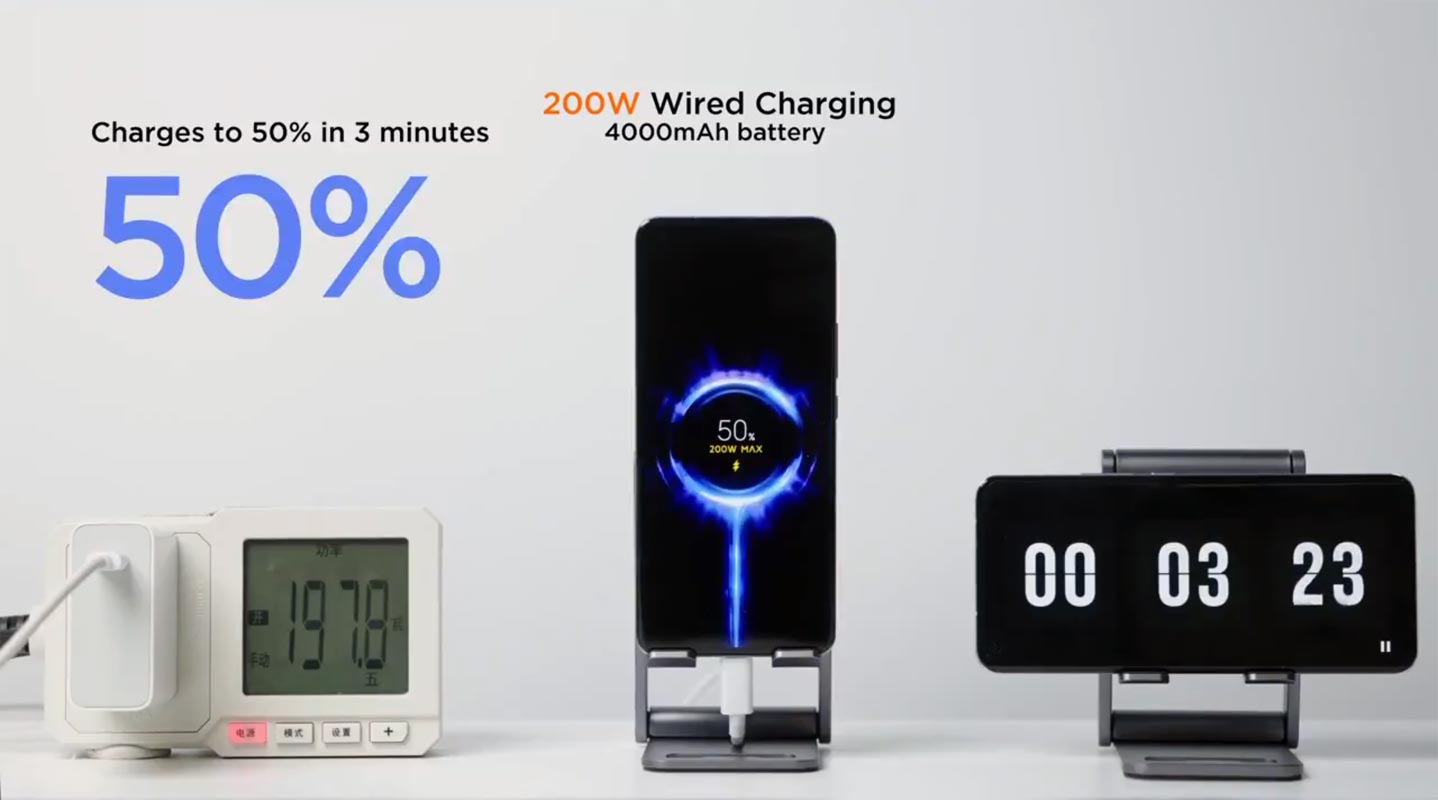 Now technology is becoming more weird and crazy. Well, the world is advancing to making everything easily accessible and available to everyone. Smartphones are apparently the most common companion of many people; some people cannot go for a whole hour without operating their phones unless they are sleeping.
Xiaomi HyperCharge
There is no doubt that smartphones have become a great valuable gadget, especially for techies. However, over the years, one of the major specifications checked by smartphone buyers is the battery capacity. Currently, we now see smartphones with up to 6,000mAh capacity – that's pretty huge, and if the device doesn't come with a quick charge technology, it will take almost a whole day for a device with such battery capacity to get to 100%.
However, most modern flagship smartphones (even mid-range smartphones) now support quick charge technologies – although different OEMs have separate names they call theirs. With the help of quick charge technology, a 6000mAh battery could get fully charged in just one hour or less.
Xiaomi has joined the list of OEMs with dedicated quick charge technology; the technology is called "HyperCharge," and it boasts of crazy speed – such that it has never been seen on any device. We know Xiaomi already working on a 200W supporting mobile, So real-time usage is possible.
Xiaomi 200W Charger can Charge your mobile 50% in 3 Minutes and 100% in 8 Minutes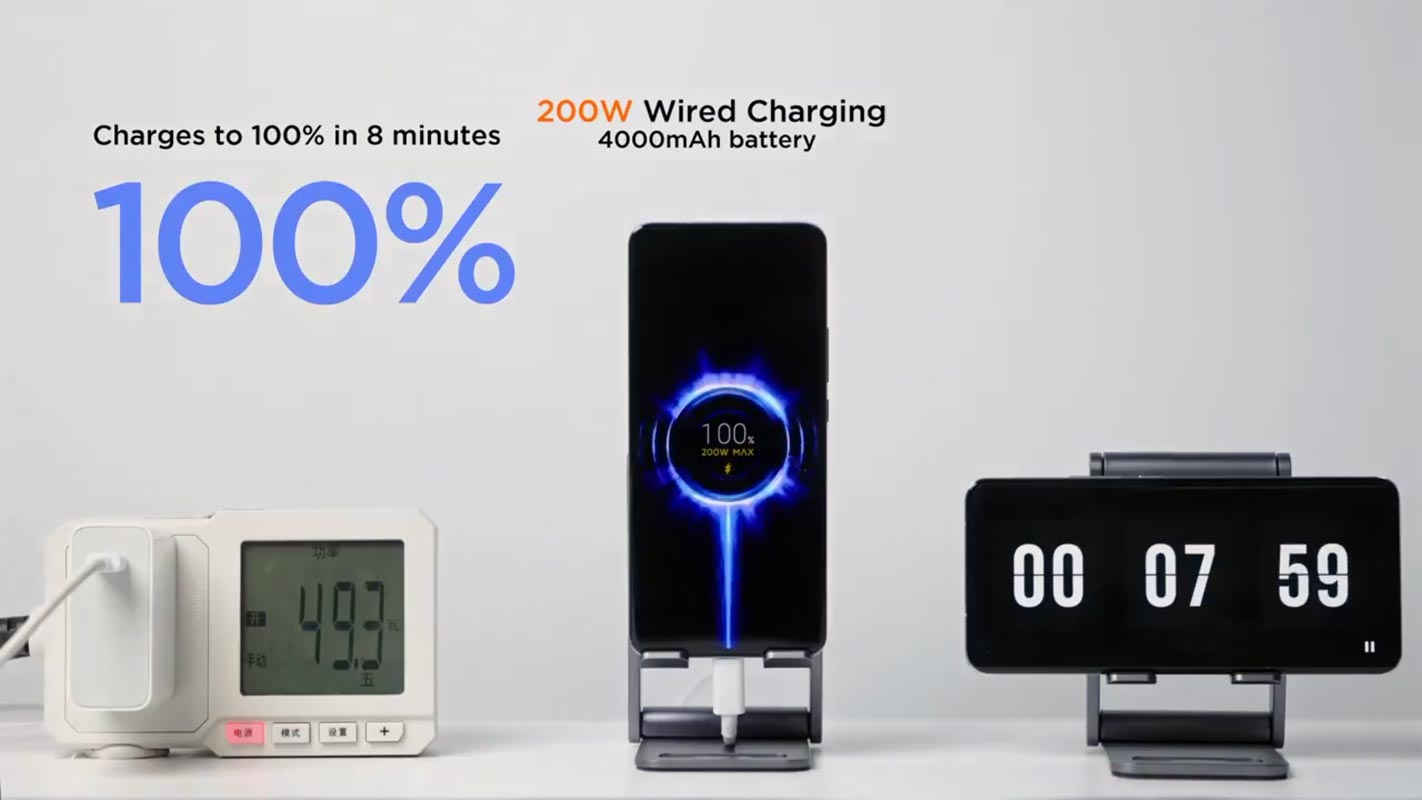 In a recent Tweet, though a video, posted on the official Xiaomi handle on Twitter, the company showed off a new 200W charger and claimed it could charge up your smartphone in less than 10 minutes. The tweet read, "Charge up to 100% in just 8 minutes using wired charging and 15 minutes wirelessly! #XiaomiHyperCharge
Too good to be true? Check out the timer yourself! #InnovationForEveryone."
The video clip showed where the new charger could charge a smartphone from 0% to 100% in seven (7) minutes and 57 seconds. This speed is authentic, and definitely, almost everyone is going to buy this charger because we all want our devices charged up as fast as possible. Xiaomi already working on Mi Air Charger also.
Xiaomi's 200W Wired and 120W Wireless Chargers
The 200W Xiaomi charger has a wired variant and a wireless variant. Particularly, the wired variant charges a smartphone from 0% to 100% in 8 minutes. In contrast, the wireless variant has a 120W Charge capacity and can charge a smartphone from 0% to 100% in 16 minutes approximately.
However, before you start craving to get any of these chargers, Xiaomi confirmed that it managed these speeds on actual smartphones with a custom Mi 11 Pro.
Wrap Up
There are a lot of things Xiaomi needs to make clear here. For example, would the battery last for a long time after such a fast charge? Also, does this fat charge technology affect the device's battery in the long run? Also, would it be based on USB Type-C for the wired variant, which can now handle 200W? Or is the company working on new hardware? Finally, most people know these chargers are not yet available to customers and the public; maybe there would be more news about this technology, HyperCharge.
All of these Fast chargers can rapidly affect the battery and mobile. That's why for 30W Wireless charger comes with a cooling fan in OnePlus. What are your thoughts about the Xiaomi 200W charger? Did you feel it can work flawlessly in real-time? Share your thoughts.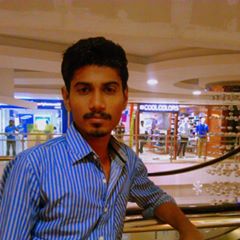 Selva Ganesh is the Chief Editor of this Blog. He is a Computer Science Engineer, An experienced Android Developer, Professional Blogger with 8+ years in the field. He completed courses about Google News Initiative. He runs Android Infotech which offers Problem Solving Articles around the globe.