We may miss some good opportunities in our life. But, In the long run, Everything happens for a reason. When Disney talked with Netflix to stream their content, Netflix did not negotiate what Disney expected. So, They left them and started a new Stream service. In the early stage, most people thought Disney couldn't survive in the Stream service against Netflix. But, after they began the service, It gained 100+ million subscribers and proved its potential. Now, Disney Streaming Services Surpasses Netflix in the Total Subscribers count. The Total subscriber count includes all Disney primary and sub-stream services.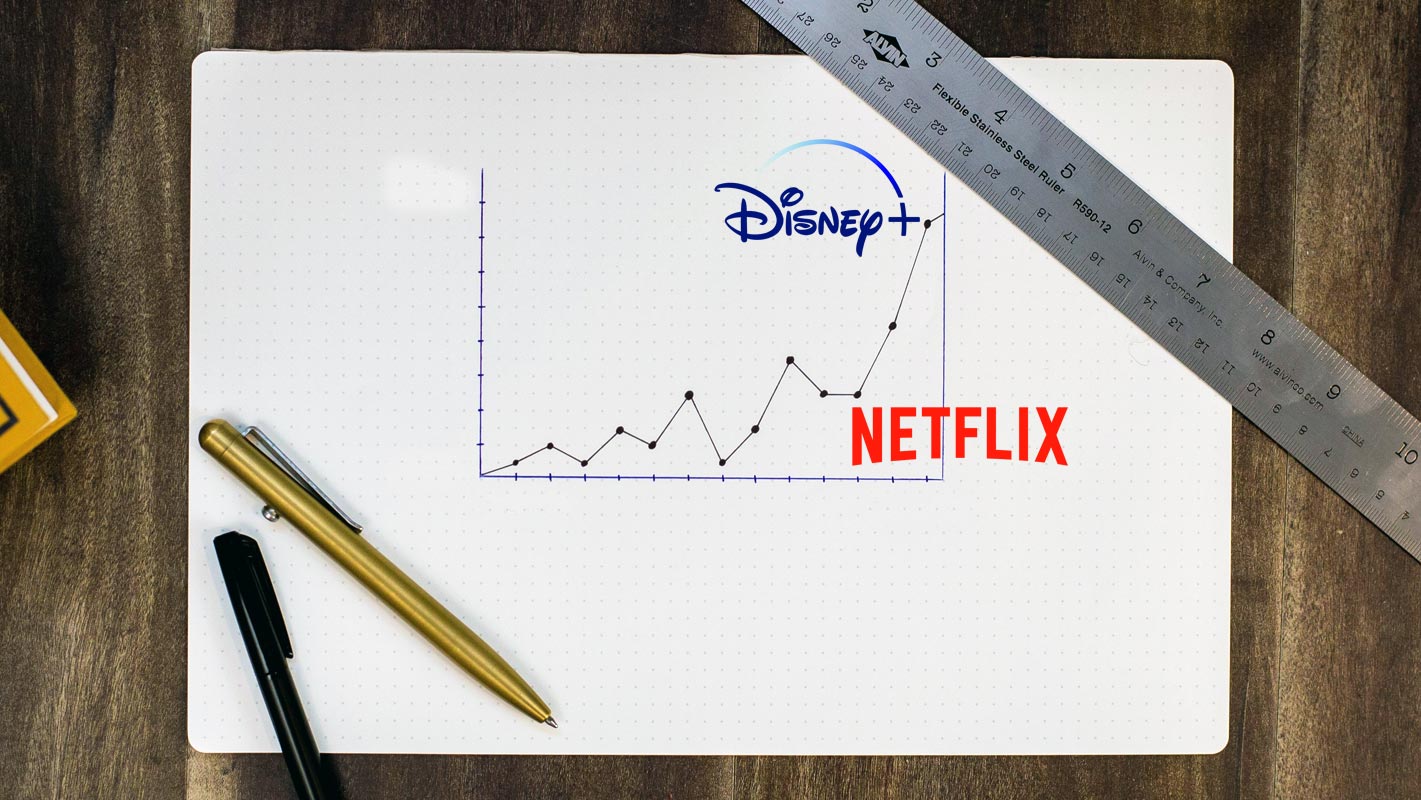 Disney Streaming Services Surpasses Netflix
The Disney streaming platform was launched in 2019 and houses franchises like Star Wars, Disney, Marvel, and many more. The addition of the brand new show "Obi-Wan Kenobi" and "Ms. Marvel" has brought an additional 14.4 million subscribers to Disney+.
Disney has added 14.4 million users on the Disney+ streaming platform during the fiscal quarter that ended in April-June. The total number of subscribers to every Disney streaming service, including Hulu and ESPN+, amounted to approximately 221 million, placing the entertainment giant just a bit over Netflix in the streaming war.
This is coming in the wake of Netflix has reported that its customers are leaving – Netflix has lost over 1 million customers from the beginning of the year due to the price hikes and the gloomy economic conditions.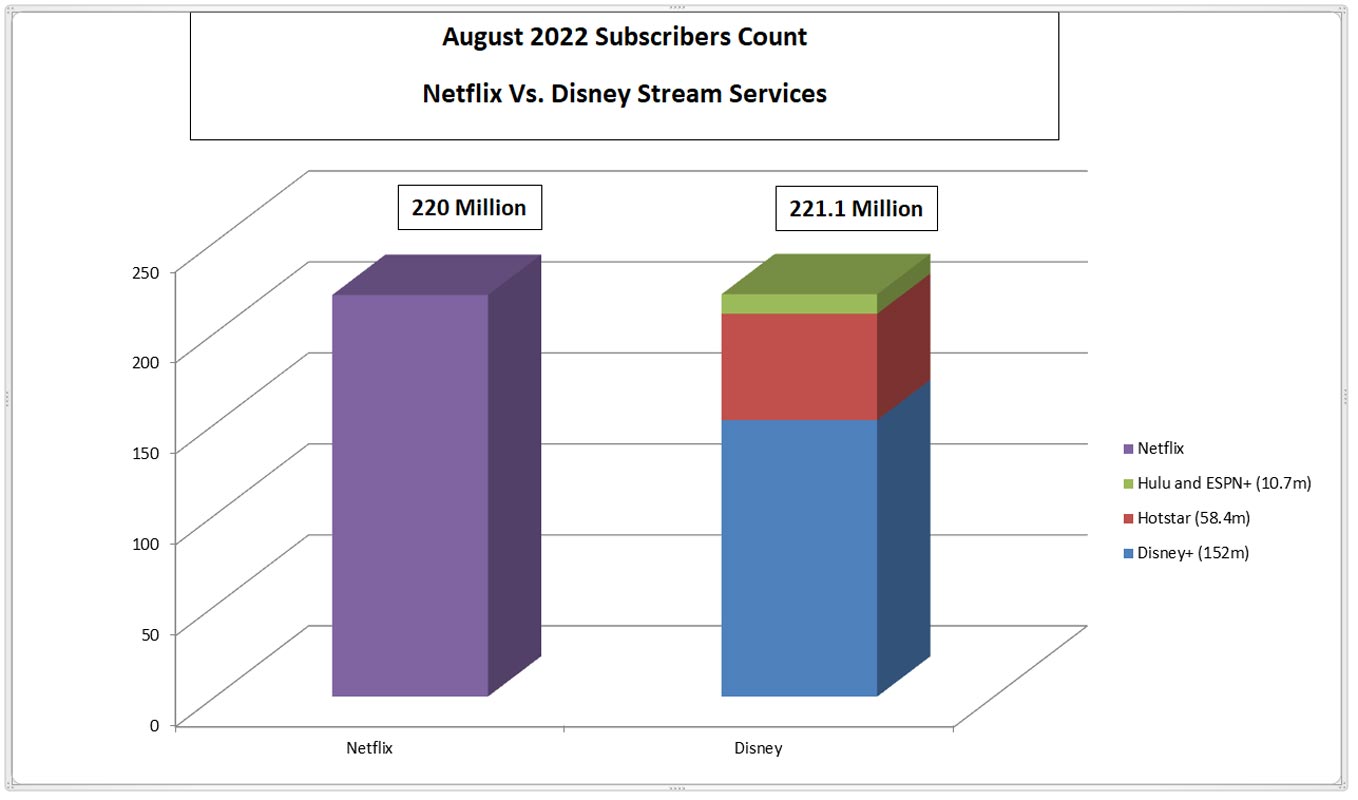 Why are subscribers leaving Netflix?
This latest price increase came out at the beginning of the year. It resulted in the cost of the premium subscription increasing by US$ 13.99 to 15.99. It was also the first time the price of the initial subscription increased throughout the company's history.
According to Netflix that over 100 million people worldwide don't have to pay Netflix. The company has already started tests for the system that requires subscribers from various households to pay to use Netflix on the same account. Netflix has also pledged to take a stand against access to passwords, which it views as a significant issue.
The most popular Netflix streaming subscription across the US is $15.50 monthly, while the top plan costs just $20 per month. This follows a series of rate increases to fund the company's original programming, which is now even more critical in the wake of Disney's removal of its content and classic films from Netflix when agreements for licensing between the two companies ended.
Disney+new Ad-Supported Plans and Price Increase
Walt Disney Co. said on Wednesday that it would raise prices for subscribers to streaming within the US who wish to stream Disney+ without ads as more people change to the service that chief executive Bob Chapek described as the "best price in streaming." The AP report that price increases are tied to a brand new connected service Disney will begin offering in December to US customers. Basic Disney+ service today costs $7.99 per month. In December, that basic service will be ad-free, and subscribers who do not want ads must change to the premium plan, which starts at $10.99 per month, a 37.5 percent increase over the current price. A year-long program costs $109.99.
"We expect the advertising tier to be a hit and expect certain people to prefer to stick with ads-free," Chief Financial Officer Christine McCarthy said on a conference call with analysts.
Reasons for Disney+ Streamings service success
The main reason is they have a vast library of content by themself. They don't have to depend on other creators. Also, they don't spend much on OTT movies. They release mostly web series in the OTT and Movies in theatres. Which makes sense; web series always cost less than movies. Also, Web series increase the spending time of users. The UI is smooth and works better on all devices without issues. They have familiar characters from the MCU.
Wrap Up
Compared with any other competitors, Disney has lost the content itself. Other companies have to buy from the creators or produce content that purely depends on Hollywood. But, Disney has had its content and ideas for decades. They can't fail in any situation. On the other hand, Netflix didn't focus on content and spent massive money on Action movies and released them in the OTT. Movies always have less time spend compare with web series. Recently, Walmart is also planning to start a new Stream service. What are your thoughts about Disney Streaming Surpasses Netflix Subscribers? Share your thoughts below.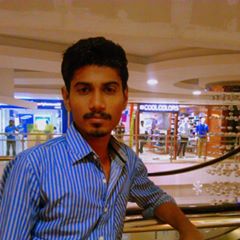 Selva Ganesh is the Chief Editor of this Blog. He is a Computer Science Engineer, An experienced Android Developer, Professional Blogger with 8+ years in the field. He completed courses about Google News Initiative. He runs Android Infotech which offers Problem Solving Articles around the globe.