Original Chargers and adapters are not available with every device. Also, When we go for Original replacements, they always charge way more. There are plenty of third-party alternatives available. But the problem is compatibility and reliability. Among all those Adapters and Charegsr, Anker is always great among users. Their latest technologies and intelligent chargers grab the market quickly because of their latest technologies and smart chargers. Now, Anker launched Four Type-C Ports 120W Chargers for $120. It can have two fast 20W ports and two high-power ports to share your Laptop and other consequential accessories. The charger is available in most retail stores, including Amazon.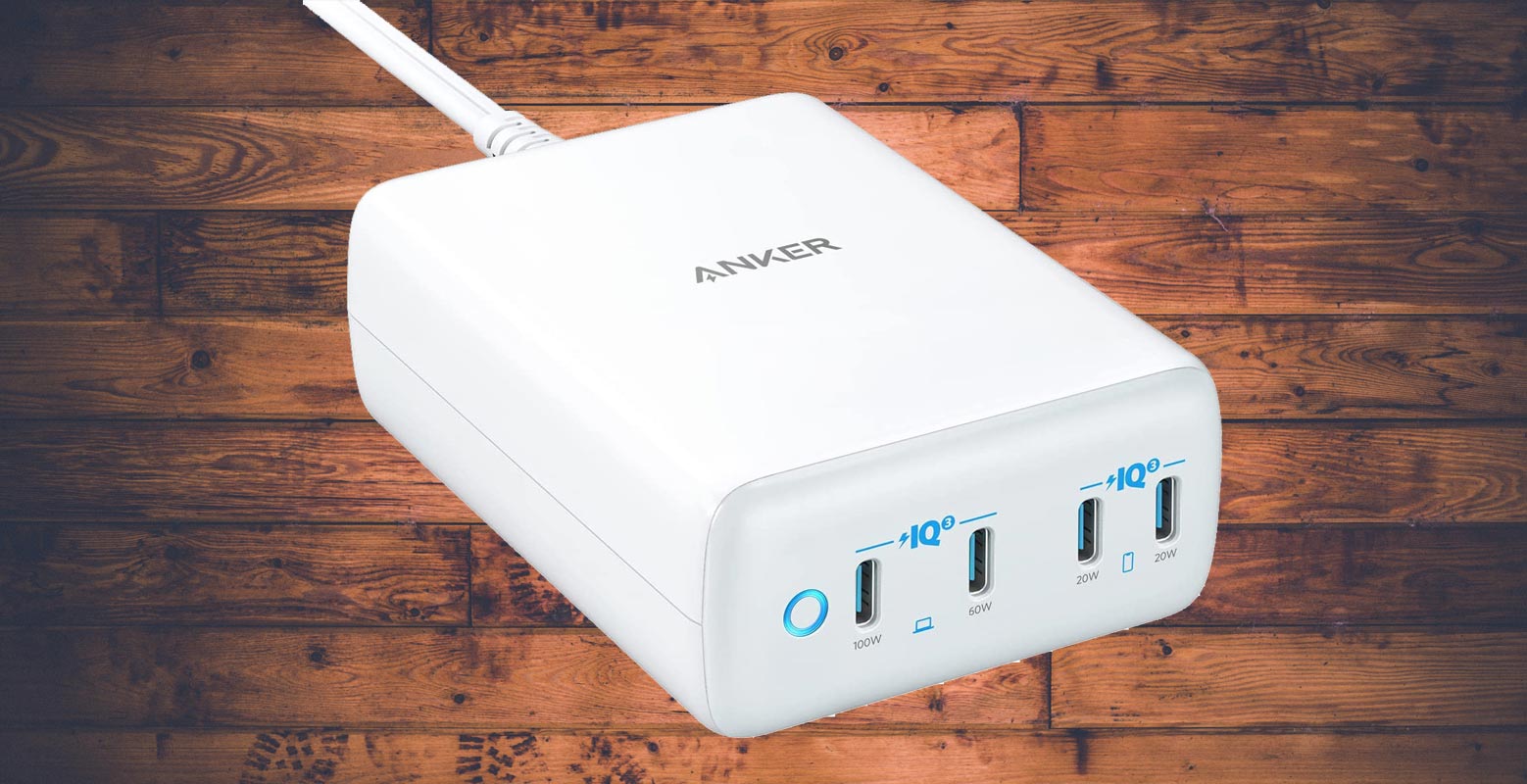 Anker Four Type-C Port 120W Charger
Anker USB C Charger 120W, 547 Charger, PowerPort III is Anker's most robust charger. It can deliver 120W of power. The four USB-C ports can deliver 100W, while the rest can provide only 50W. The package includes a pair of 20W ports and a 60W option. This is the brand's first offering with more than just a pair of USB-C ports.
This is because different ports on the charger can produce different outputs. If it is the only one used, the port can send up to 100W power. One port can output up to 60W, and the other two can deliver 20W each. Oppo is already working on a 125W charger specially for mobiles.
Anker 120W 547 Charger Output Chart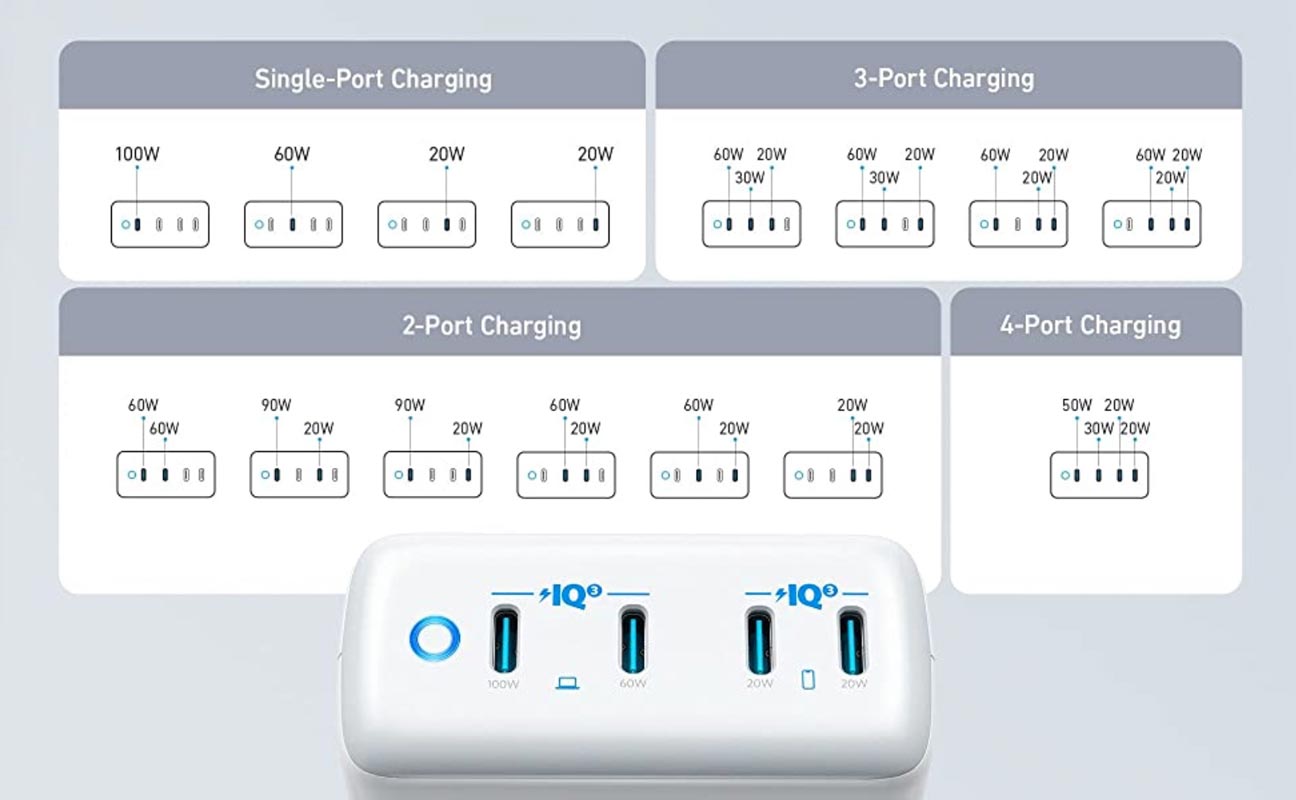 The chart that adjusts the output wattages will be handy. There will be different charging speeds depending upon which port you plug into and how many devices are connected. Although understandably, not all ports can supply 100W, you will be unable to plug in your most potent Laptop without thinking. The two ports to the right are suitable for charging phones at reasonable speeds in any configuration. There are also little icons that indicate which ports are for higher-power devices or phones.
When we plug in two devices, the 100W port drops to 90W if one of the 20W ports is used, or 60W for the 60W port. The 100W port drops to 60W if you charge three devices. The 60W port drops to 30W power depending on which port is used. If all ports are used, the 100W port drops to 50W.
Output Power calculation
Total Output: 120W Max. To Calculate the Watt, We have to multiply the Voltage and Ampere power requirements.
Output When Using One Port:
USB-C 1: 5V==3A / 9V==3A / 15V==3A / 20V==5A (100W Max)
USB-C 2: 5V==3A / 9V==3A / 15V==3A / 20V==3A (60W Max)
USB-C 3 & 4: 5V==3A / 9V==2.22A (20W Max Per Port)
Output When Using Two Ports
USB-C 1 + USB-C 2: 60W + 60W
USB-C 1 + USB-C 3 or USB-C 4 : 90W + 20W
USB-C 2 + USB-C 3 or USB-C 4: 60W + 20W
USB-C 3+USB-C 4: 20W Max Per Port
Output When Using Three Ports
USB-C 1 + USB-C 2 + USB-C 3 or USB-C 4 : 60W + 30W + 20W
USB-C 1 or USB-C 2 + USB-C 3 + USB-C 4: 60W + 20W + 20W
Output When Using Four Ports
USB-C 3 & 4: 20W Max Per Port
The calculation may look a little complicated; you won't need to pull out a calculator every single time you use the device. The Anker 547 can charge many USB-C devices at once, so you can get at least 20W per port even with all ports open. This can be sufficient for many devices.
The charger also uses a cable instead of directly plugging into the mains. It is also easily removable, making it easy to carry around. You will find the usual safety features such as output high voltage protection and input short-circuit prevention.
Wrap Up
Leading companies like Xiaomi are already working on 200W chargers for their mobiles. But, It still in development status. When we buy Original chargers for adapters, They come with perfect compatibility. So, We don't have to note any input or output specifications. But when it comes to third-party chargers, We have to verify some details before purchase. In the long run, cheap charges may affect our device. Also, When we push more power, our battery may get affected. Anker 120W 547 Charger comes with Intelligent technologies to handle various issues. Since it is available for $120 and most of the other Original chargers cost more, It will be a better choice. Did you plan to buy Anker 120W 547 Charger? Share your thoughts below.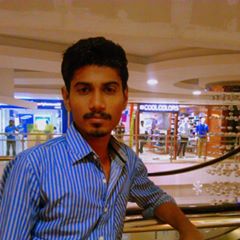 Selva Ganesh is the Chief Editor of this Blog. He is a Computer Science Engineer, An experienced Android Developer, Professional Blogger with 8+ years in the field. He completed courses about Google News Initiative. He runs Android Infotech which offers Problem Solving Articles around the globe.