If companies give mobiles for affordable prices, they have to cut a few things in the hardware. A simple headphone jack can save them a lot when considering the high volume. Even if Apple said due to environmental protection, they removed the charger; It saved them tons of money. Not only Charger itself, but the shipping cost is also reduced due to the reduced retail box package size. We know companies know the business model and feedback among them. Samsung also planning not to chip the charger in some regions for S21. After Apple and Samsung No Charger Trend, Now Xiaomi Mi 11 will not ship with Charger. Unlike Samsung, the whole Mi 11 retail box in all regions will not come with the charger.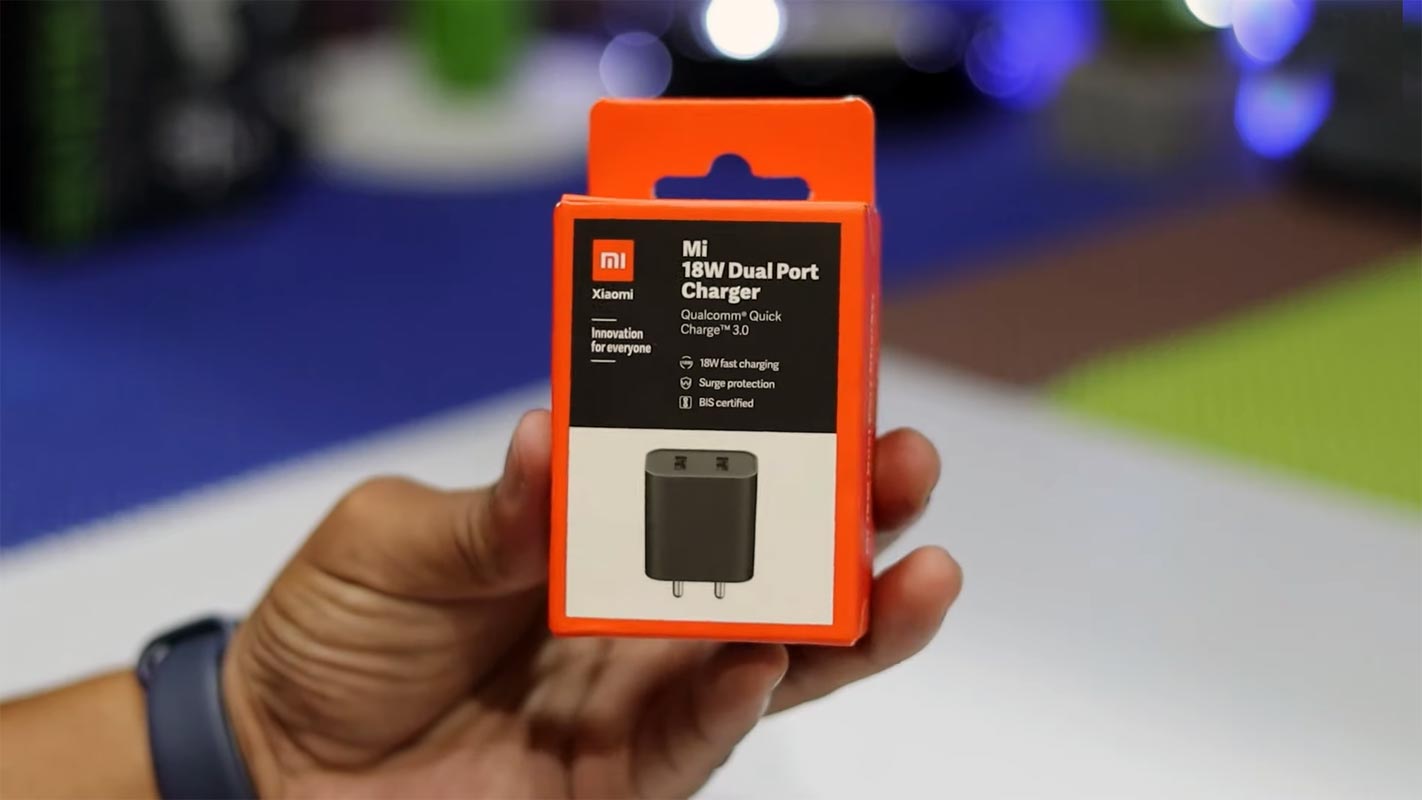 Xiaomi CEO confirmed that it would be the next manufacturer to deliver its coming flagship mobile phones without any Chargers after Apple and Samsung. They also confirmed that the upcoming Xiaomi Mi 11 would have sleek packing without any Charging brick. Also, E-Wastage is the main reason for this cut-down. When Apple asks users about no charger in a box in the survey, They highlighted the same fact.
Xiaomi Mi 11 will not ship with Charger
Yes, it is a U-turn from Xiaomi policies. They followed what they used to make fun of. This October, when iPhone announced that its new iPhone 12 series phone would not be shipped with Charger, it was Samsung and Xiaomi who mocked iPhone for that. They made fun of Apple by many marketing jokes, and through ads, they showed that they are not taking out any accessories from the packing.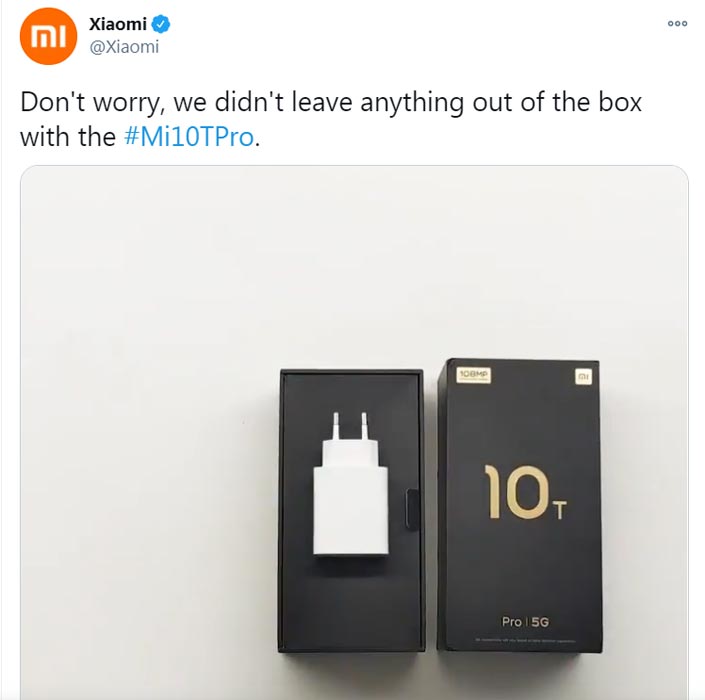 A month later, Samsung removed such posts and ads from social media when they announced Samsung Galaxy S21 to ship without a Charger. Now the same is happening with Chinese tech giant Xiaomi.
How Xiaomi Confirmed this Charger Removal?
Earlier, Xiaomi didn't announce the Charger removal from packaging. But it released some of the pics of the upcoming Mi 11 on social networks. Surprisingly the package size was the same as of iPhone 12. The Xiaomi fans started asking whether this packing can contain Xiaomi fast Chargers.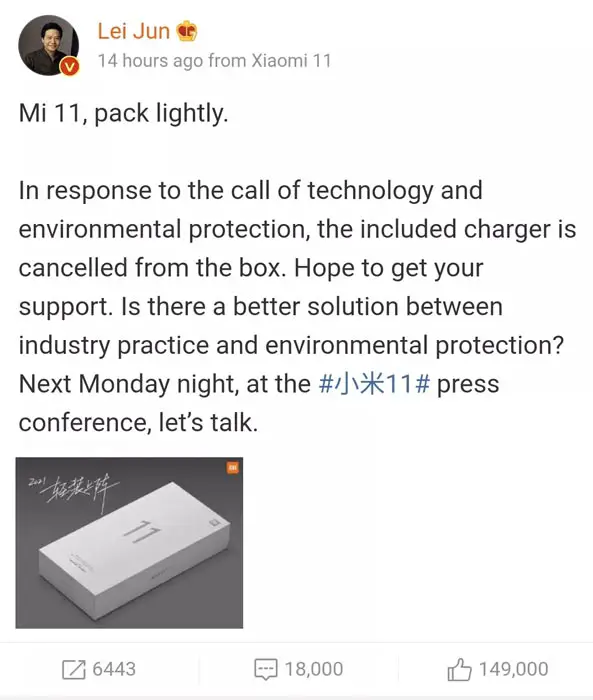 Soon, Xiaomi cleared the fog, and Lei Jun, the CEO of Xiaomi, announced on Weibo that the upcoming Xiaomi Mi 11 would not be shipped with a Charger.
What Xiaomi Reasoned for the Mi 11 Charger Removal?
Nothing new but Xiaomi reasoned the same E-Wastage, Environmental protection, and all those that Apple and Samsung had been justifying. The same excuse that most phone buyers already have the Charger and actually don't need another one. Like Apple and Samsung, Xiaomi also didn't consider the annoyance of the buyers who have to buy a new Charger with the phone if they don't have the one. That will increase their cost price for the new phone as well. Oppo begins selling separate chargers in all categories. Xiaomi already selling separate chargers. So, You can buy them if you didn't have fast chargers.
Will Buyers get any Advantage of this Charger Removal in Terms of Cost Price?
Guess not! As Xiaomi didn't deliver a single word on the buyers' compensations in terms of cost price. However, it's a huge saving when you ship the phone without accessories. It saves the shipping price and space from accommodating more phones in that place. This shipping cost savings should be passed on to buyers. But neither Apple did so, nor Samsung set any such price cut off trend. The same will Xiaomi follow.
Wrap Up
By removing the charger, You can literally place two boxes in the one Box place with the charger. So, It will reduce the cost when shipping in high volume. Companies begin to cut the inbox headphone because no one uses the generic headphones. But Unlike iPhone, Android mobiles use different specs chargers. So, It is necessary to include the compatible one. When the choice goes to users sometimes, they may use incompatible chargers, affecting the battery cycle. Xiaomi Mi 11 will be unveiled with no charger during a digital press conference on December 28th, 2020. No charger trend is actually not a surprise now, as the manufacturers are now forwarding it. So, get ready to buy a charger for your new phone if you don't have any compatible chargers. Do tell us in the comments how you are affected by this new trend.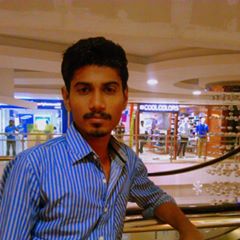 Selva Ganesh is the Chief Editor of this Blog. He is a Computer Science Engineer, An experienced Android Developer, Professional Blogger with 8+ years in the field. He completed courses about Google News Initiative. He runs Android Infotech which offers Problem Solving Articles around the globe.