If you have a habit of using Social media with the latest news feed, You probably came across this news. An Artist Tricks Google Maps Traffic and makes fake traffic jams. You may think he entered the Google server and done some works. No. Using some old school trick, he did the job. He didn't manipulate Google Maps. Instead of that, he uses the Google Maps algorithm and tricks the traffic. If you didn't know in a long time, Google shows the live traffic on the map, So that you can choose alternative ways in emergencies. End-users do not only use Google Maps. Most of the Cab booking services using the API as a navigation map. He experiments this in Berlin. Some of the users got massive traffic notification in real-time.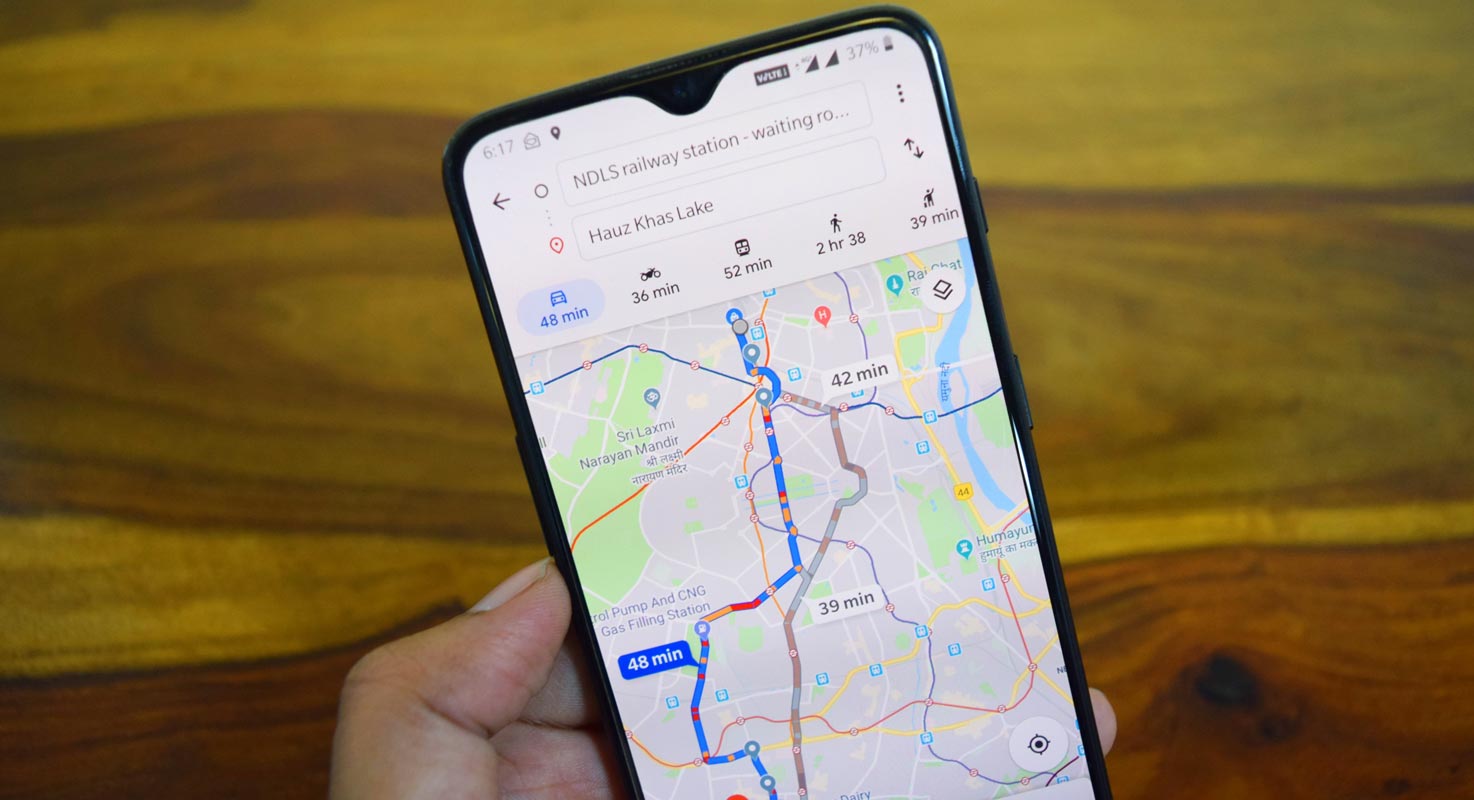 How Simon Weckert- Berlin Artist Tricks Google Maps Traffic?
He bought 99-second handed smartphones. He turned on navigation on all mobiles with Google Maps app and put in his cart and roaming around the Berlin streets. As per Google, When you request for direction for car, and you move, You will be considered as inside of your vehicle. So based on the direction way you choose, your mobile will be regarded as inside the car or motorbike. Now you can understand how he can make traffic. When you turned on navigation in all 99 mobiles, Google Maps thought they are vehicles, and they move slowly due to some incidents. Due to this, Maps shows traffic in some Berlin streets.
Does Google rely only on user Navigation GPS?
No. After this incident, Google made a statement that they don't use only user navigation. They are using multiple factors like Anonymous Mobile signals in a particular area like that. Also, they mentioned they have a facility to distinguish the difference between Motorcycle and cars in some countries like India, Indonesia, and Egypt. Additional to this, they can get the data from the Google Maps community members.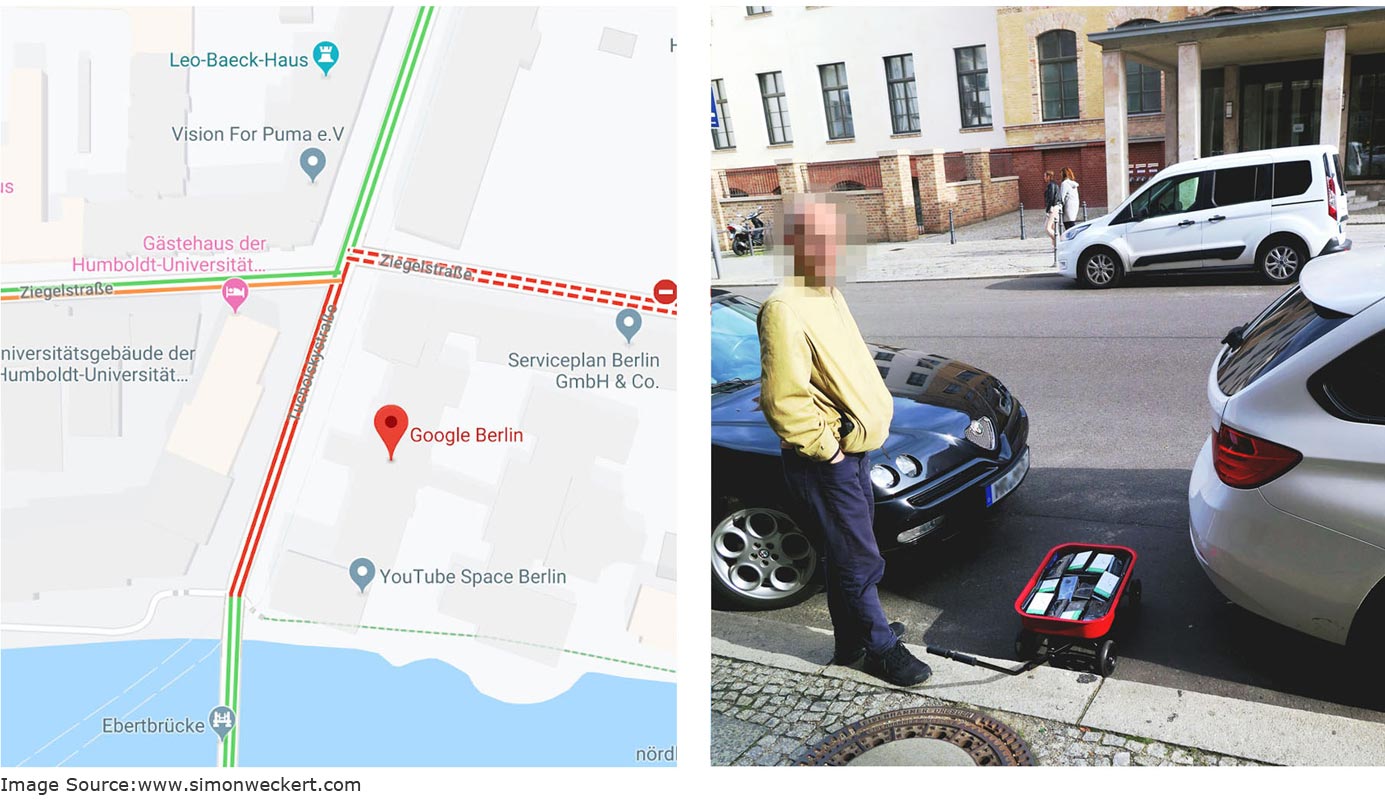 In the Artist side, he explained each mobile has it's own SIM card, and navigation turned on. So, As per the Google statement, we can know that the Anonymous mobile signal also a factor. Additional to this, a small movement in the time interval needed to make the continued traffic. When he stops for quite a long time, Google considered the vehicle as parked and free up the street on the map.
Does the Google Maps Virtual Traffic experiment affect real users?
Not that much. The artist doesn't do this experiment in real heavy traffic timings. Also, he is only roaming in the less traffic Berlin streets. So, only a few realm time drivers may get affected. But, After this experiment, we can know that every system can be tricked in some way. We know about Google; They always go ahead beyond our thinking. I hope they will make some adjustments in their algorithm in the future to manage this kind of experiments also. He also referred to the article "The Power of Virtual Maps" to explain how Geo tools work.
Wrap Up
Every experiment allows the service to work better. So, Google will add some extra measures in the future to avoid this kind of Virtual traffic. This artist knows what he is going to do and consider the real users also. So, he did this in small streets. But, What if somebody manipulates the Google Maps for their works. Because most of the people use Google Maps as their daily navigation system. So, on the other hand, this trick should be patched in the future. As a user, sometimes you didn't even know you are the victim. So, Always download apps from Play Store, Apple app store, and other trusted stores. Don't download any third-party apps. They may use your location and other data. If you have Android 10, you can limit your location access while using the app.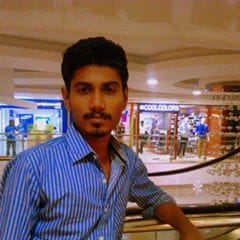 Selva Ganesh is a Chief Editor of this Blog. He is a Computer Engineer, An experienced Android Developer, Professional Blogger & addicted Web Developer. He runs Android Infotech which offers Problem Solving Articles around the globe.