Choosing the best keyboard for your tablets is a difficult task. We can't use any keyboards for our Tablets. They are big size. Most of the time, we can't reach a full Keyboard. Our mobile type speed and Tablet Type speed can vary by 50-80%. We are slow when using the Tablet Keyboard. In the worst case, We feel, We are living in old age. We have to find every essential type and see the screen. We entered correctly or not. When you receive your Transaction OTP, You will finish the process in the last time…:) It all can happen. If you face any one of these issues, don't worry. You are not alone. So, I listed here, the best Six Keyboards for Android Tablets to resolve your daily problems. They are fully compatible and work well with your device.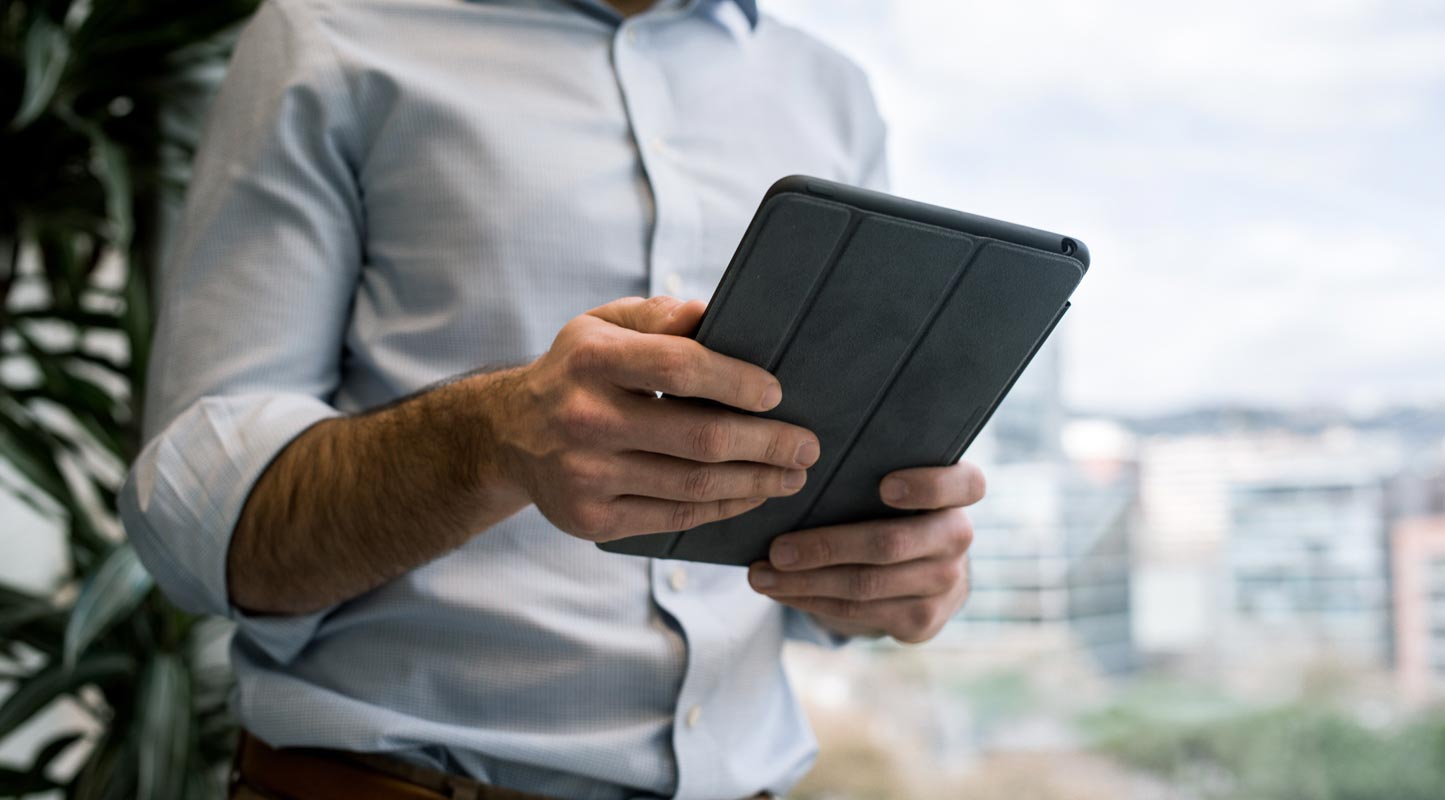 While it is not a bad idea, you don't have to stick to the default keyboard on your Android tablet PC. There are quite a lot of flexible keyboard apps out in the app store that will boost your experience. A useful tablet keyboard will cause you to type faster on the device. Unless you are attaching an external keyboard, you genuinely need one of these tablet keyboards for a mind-blowing tablet experience.
Best keyboard apps for tablets
You'll be doing a lot of typing on your Android tablet, which includes typing SMS messages, replying chats, or Messages in IM (instant messengers) such as WhatsApp or FB messenger, searching for a query/keyword online, and so many other things.
However, you may not have experienced any issues or difficulty using the default keyboard on your table, but how about you try out some new stuff? There are keyboards with A.I. (Artificial Intelligence) engines, and they are brilliant to minimize a lot of frequent typing actions so you could type much faster. Also, there are other keyboards apps with extensive features that will not be available on your table preload keyboard. With these few points so far, it is somewhat needful to change your default/current tablet's keyboard to any of these for a "next-level" mobile experience.
1. A.I. Type Tablet Keyboard
I use this keyboard on my tablet. It has high flexibility when using it. You can change the layout and size dynamically anytime and anywhere. It is one feature where all other apps lack. This unique feature makes this keyboard best for Android Tablet usage. A Keyboard with artificial intelligence integration is useful. Almost everything in the world today is trying to adapt to A.I. technologies. This keyboard is flexible and stylish, a kind of Keyboard you have never seen before.
It splits into two and floats on the screen, and because of this, you could place it anywhere while typing messages on your tablet device. The A.I. type keyboard is the most flexible you'll see at the moment. Also, many languages are supported by this keyboard; however, you have to download them individually (English is the default).
There are other features available on the settings menu of A.I. type keyboard with good themes to spice your keyboard background. One of the best features of this app is its seamless compatibility with nearly all Android versions (from 3.0 through to 9.0 (Pie)).
1.1 Features of A.I. type keyboard for Android tablets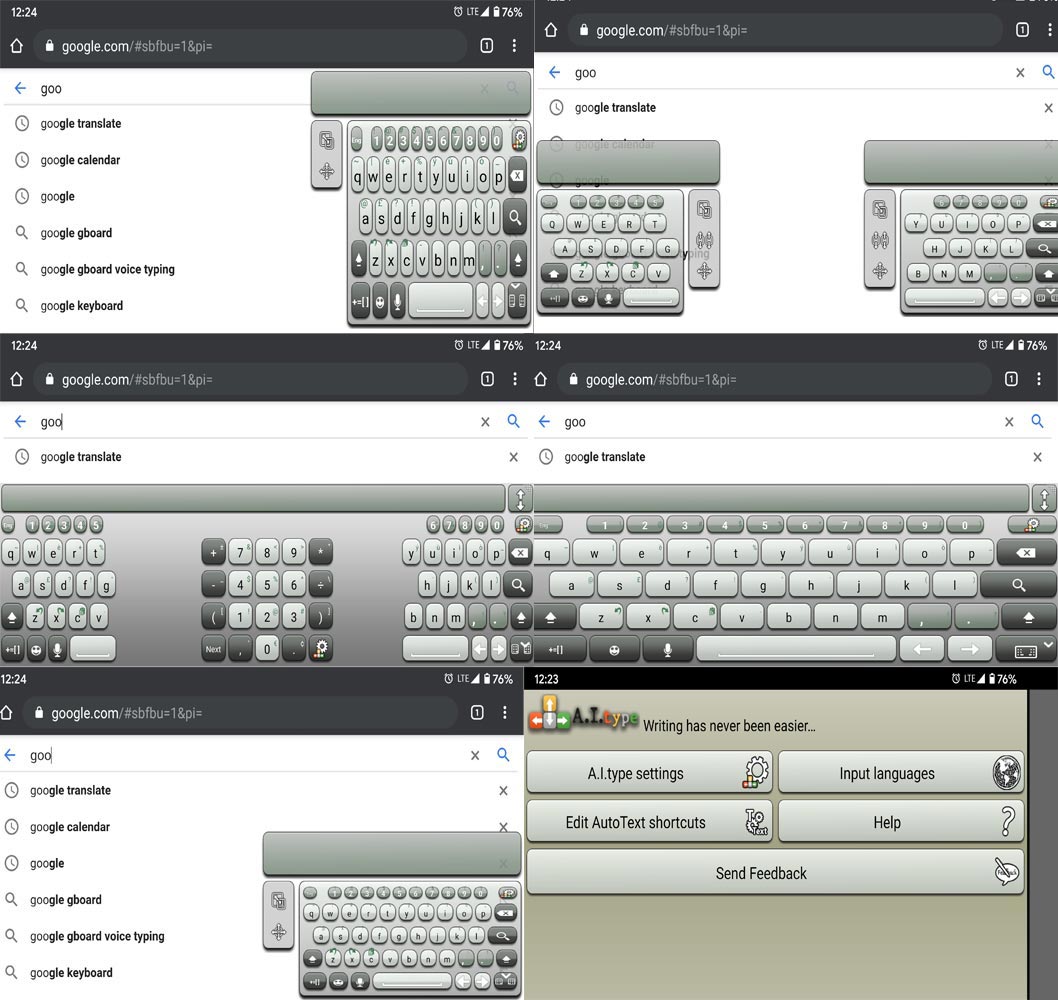 Drag and drop anywhere on the screen
Splits into two for more flexible typing
Supports a wide range of different languages
Adjustable customization features
More themes for your keyboard background
Compatible with Android 3.0 and all other later versions
Install A.I.type Tablet Keyboard
2. Gboard for tablet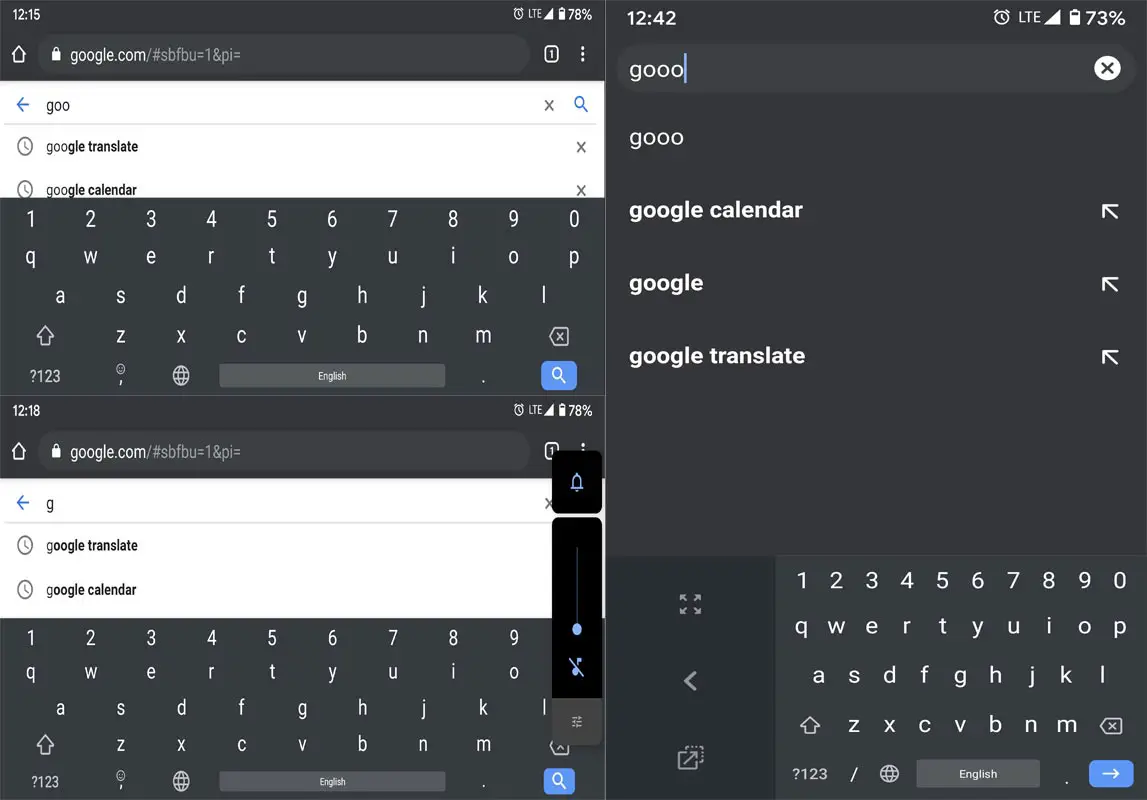 Here is another excellent keyboard app for tablet users. The owner of this app is Alphabet (Google), and it is the favorite of so many people. The Google keyboard (Gboard) comes with customization features so you can redesign the look and feel of your keyboard. You should enable the One hand mode in this app to use in the Tablet Flawlessly.
This app also comes with features such as Glide Typing, voice typing, plus an inbuilt Google Search option so you can easily research what you're writing/typing. The emoji collection is another great feature of the app, and it doesn't require additional plugin download before you could access all of its features
Distinguishingly, this is the only Android tablet keyboard with tons of preload GIF collection. Gboard is just the keyboard you need. It is equally smart and intelligent. You'll freely get Google to translate for translating your words as you type.
2.1 Features of Gboard for tablet
Native handwriting for cursive and printed letters in 100 languages
Inbuilt Google search and Google translate feature
Automatic language detection based on your choice languages in settings
Use your photo as the theme background image
3. SwiftKey Keyboard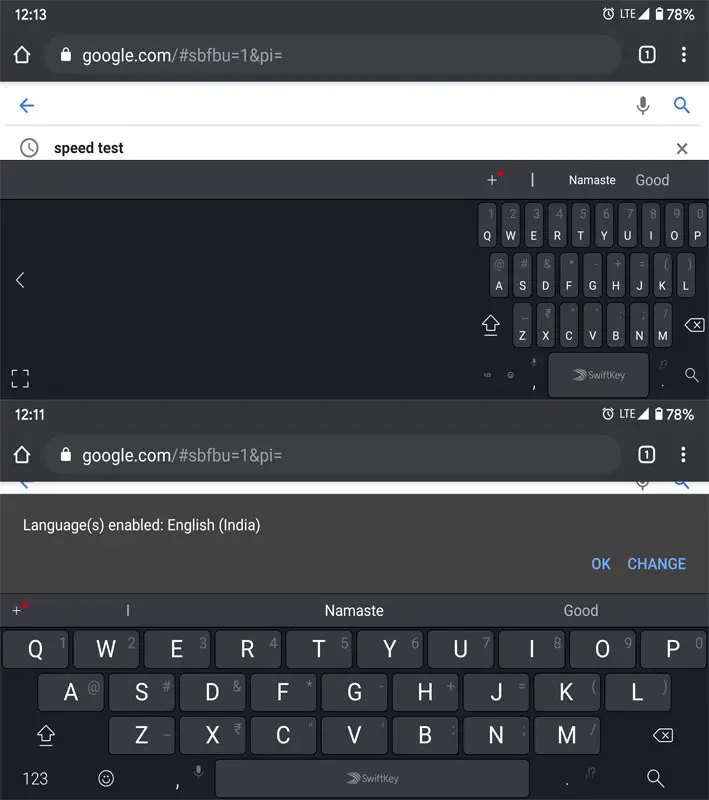 SwiftKey is probably the most popular keyboard across mobile platforms; it is very light and fully customizable. The SwiftKey keyboard is a product of Microsoft, and it is brilliant that it learns and saves writing styles for faster typing.
Also, it supports GIF, emoji, and stickers; hence, you'll enjoy using the keyboard exploring all of its exciting features. Equally, as you keep writing, SwiftKey takes notes of the slangs, short-words, or acronyms you often use and save them so you could type faster, subsequently.
However, or instead, unfortunately, this app is only compatible with tablets running on Android lollipop (5.0) or later versions. There are free designs, themes to customize your keyboard display. Plus, you'll enjoy enticing features such as swipe-to-type, tap-to-type, predictive emoji typing, and more!
Honestly, you'll have a better experience with SwiftKey. I already covered Swiftkey Keyboard Features and Tips. I hope that it will be useful for you.
3.1 Features of SwiftKey for tablet
Tap to type or swipe-to-type
Auto-text with A.I.-powered predictions
Flexible toolbar with an expandable menu filled with quick shortcuts
Wide-range of GIFs, Emoji and Smileys collections
Enable and use up to five(5) languages at once; plus, there are over 300 worldwide languages supported by this app
Use your local photos as the keyboard theme background image
4. GO Keyboard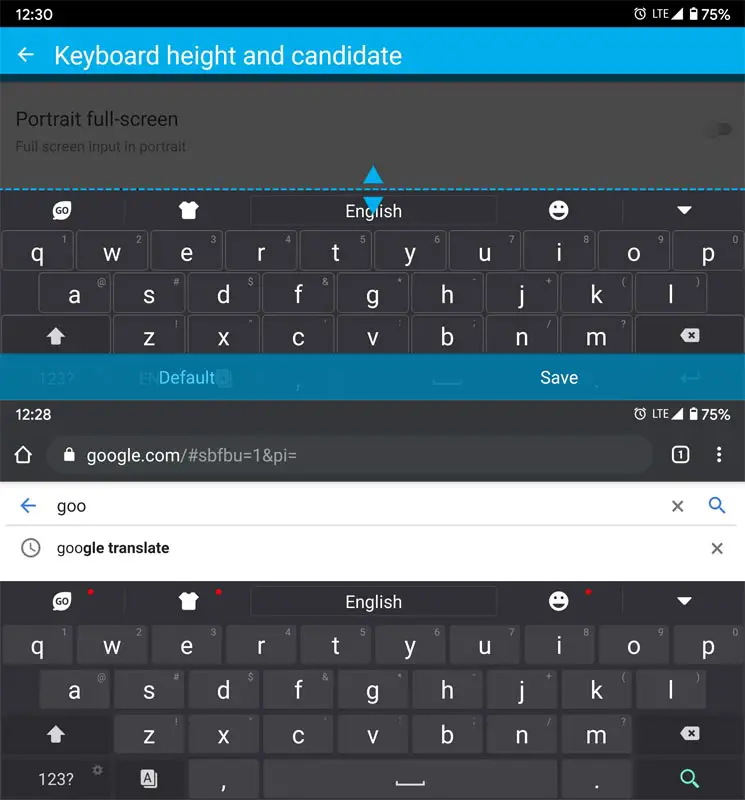 This is the highest-rated keyboard app on Google Playstore with over 1billion users. It is the best Android keyboard app for both tablets and typical Android smartphones. This app is 100% free, customizable, lightweight, and compatible with Android v4.1 or later versions.
To enjoy this app, the more, the developers have provided the users with so many fancy add-ons for further customization and personalization of the Go Keyboard app. There is a LITE version of this app anyway, and it occupies lesser storage than this original app on your device while still providing the same offers.
It is one of the best Android tablet keyboards because it provides various layouts such as QWERTY, QWERTZ, and AZERTY Keyboard for tablet devices. Gesture typing, voice typing, emoji search, etc. These are some of the main features of this app.
Everyone using the Go Keyboard will find it helpful, thanks to its seamless flexibility and compatibility with Tablet devices.
4.1 Features of Go Keyboard for Tablet
Precise emoji prediction/search
Flexible auto-correct function
Several layouts which are suitable for tablets and typical Android smartphones
More customization themes available for download
5. Classic Big Keyboard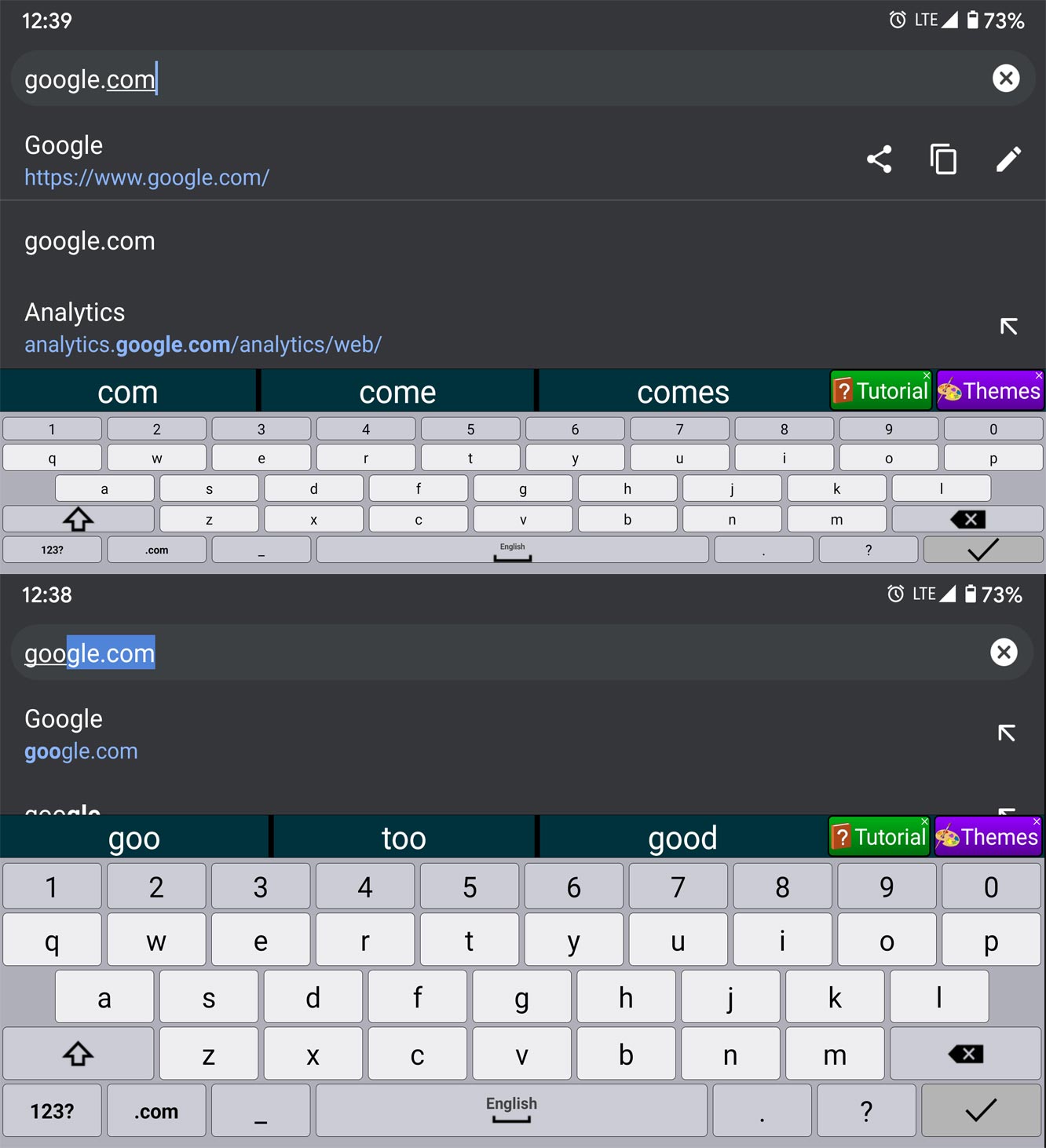 When discussing the best keyboards apps for tablets, Classic Big Keyboard is one of those apps you would have to mention. It is a multi-feature packed keyboard app that enhances your typing. You'll type messages faster with this keyboard.
Also, it has quite a lot of intelligent features; so, it recognizes and stores the slangs or acronyms you type often. Classic Big Keyboard is available in many languages, and it is freely compatible with Android devices running on Android OS version 4.0.3 or later versions.
Other fancy features, such as voice and gesture typing, are supported by this app. Furthermore, it is lightweight, occupying a few megabytes space on your device. You could install compatible plugins for further customization of this app.
Classic Big Keyboard is an excellent ideal for Tablet device users in general. It can be customized to fit the user's taste.
5.1 Features of Classic Big Keyboard for tablet
Excellent multilingual typing
Precise predictions and auto-correct feature
Voice typing, glide/slide typing
Number row always available on top
Stylish smileys, and emojis
Imports your contact names into the inbuilt dictionary for suggestions while typing
6. Escape keyboard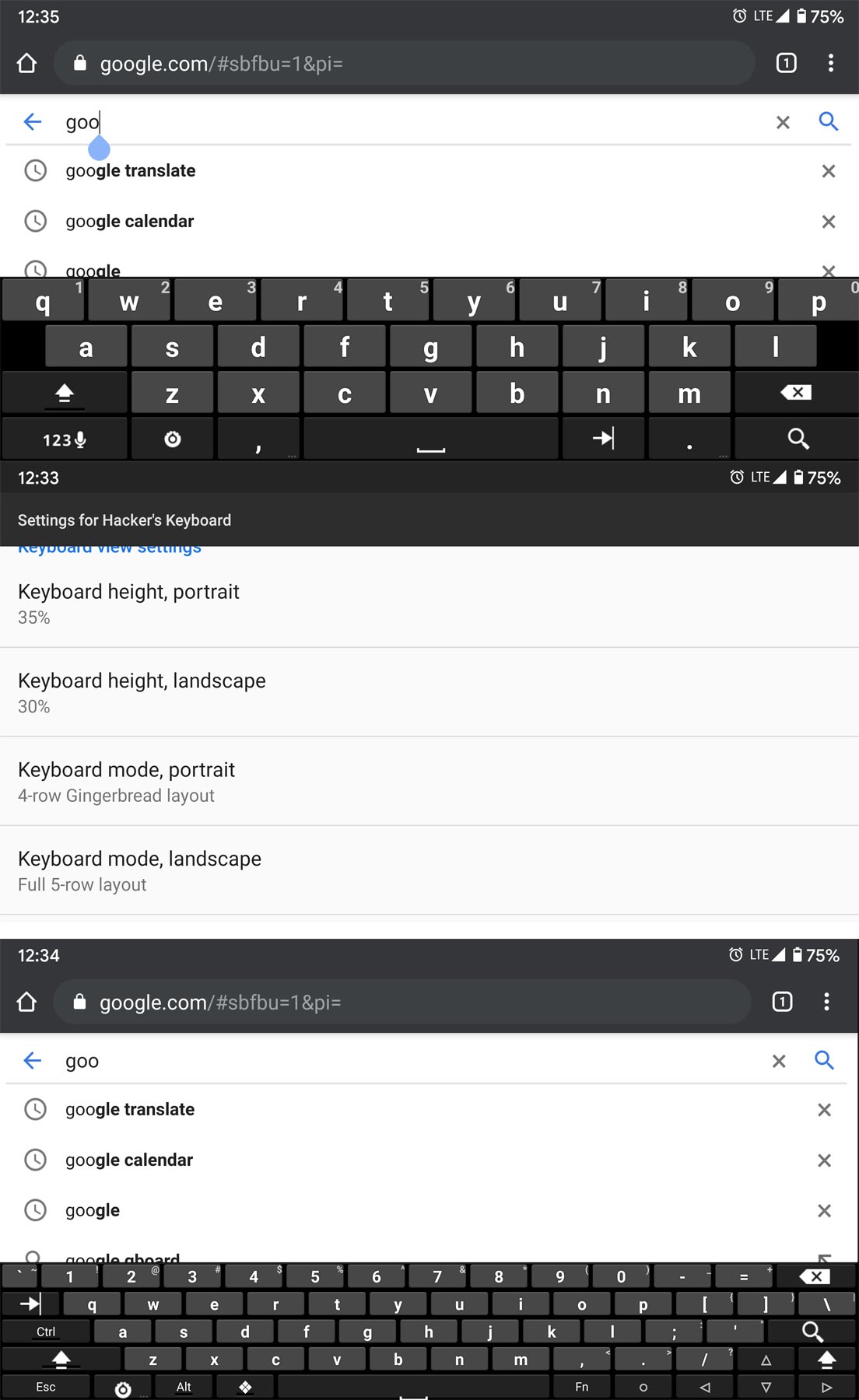 Not a popular keyboard app anyway, but the Escape aka hacker's keyboard brings the perfect PC keyboard experience to tablet devices; Don't panic by the name. The App is safe. The Keyboard includes all PC keys. So, It is not for regular users. Only techies need that. So, they named this app like this. It has separate number keys, punctuation in the usual places, and arrow keys.
Even so, this app is centered on the AOSP Gingerbread soft keyboard; therefore, it supports multi-touch for the modifier keys. A perfect Keyboard for people who use ConnectBot for SSH access; you get the CTRL, Tab, and Esc keys just as on your PC keyboard.
Also, this keyboard supports a wide range of different languages; you could even type Hebrew, Lao (ພາສາລາວ), and many other character languages with this keyboard.
However, some languages and layouts may not be usable on your tablet device if it lacks the necessary fonts. Escape keyboard comes with "Esc" as its logo icon. It is compatible with Android OS 4.0 and above.
6.1 Features of the Escape keyboard
Compatible with older Android versions
Brings the PC experience on tablet devices
Includes PC keys such as CTRL, ESC, Tab, and arrow keys
Wrap up
The best keyboard apps for tablets should be compatible with almost all tablet devices irrespective of the OS version. Here, we have listed the best ones available on Google Playstore. Also, these are not just the best based on personal assumptions preference, but they are also top-rated on app stores. Beyond the Rating based conclusion. In my opinion, AI Type Keyboard is handy in most situations. Google One Hand mode and Swift Keyboard are also high. Each user is unique. Based on your compatibility, choose one. All other apps than these mentioned apps are not so great in realtime usage.
A useful tablet keyboard will cause you to type faster on the device. Unless you are attaching an external keyboard, you genuinely need one of these tablet keyboards for a mind-blowing tablet experience. If you worry about your RAM, you can use Less RAM consuming Apps. The Classic keyboard app will consume less RAM compare with other apps. Most of us don't use Important apps on our mobile. Other than this, we always filled our devices with unnecessary apps and complained about the storage.
With all full trust, these tablet keyboard apps are safe for download from the Google Playstore, and the links have been listed out here. Know of other useful apps out there? Comment below.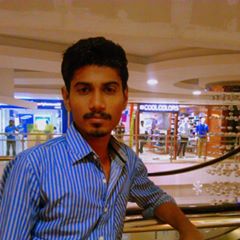 Selva Ganesh is the Chief Editor of this Blog. He is a Computer Science Engineer, An experienced Android Developer, Professional Blogger with 8+ years in the field. He completed courses about Google News Initiative. He runs Android Infotech which offers Problem Solving Articles around the globe.