Planning Holidays happen in reality is a beautiful moment. Don't give a single chance of incidents ruin that moment. The day your long-awaited vacation begins here, but you still haven't had time to plan your trip correctly? Our list of the five best travel guide apps for your Android phone is here to help. It gives you in-Depth details about your Local visiting places. It will help you when you stay for the same place and want to explore big things near you.  The applications on this list use real reviews to separate the areas worth visiting from those you should avoid. With the GPS of your smartphone, you can receive relevant suggestions for your current location, so if you want to be spontaneous and make plans on the go, you can do so. There are plenty of Local guide apps are available. I try to provide the best apps based on a lot of criteria.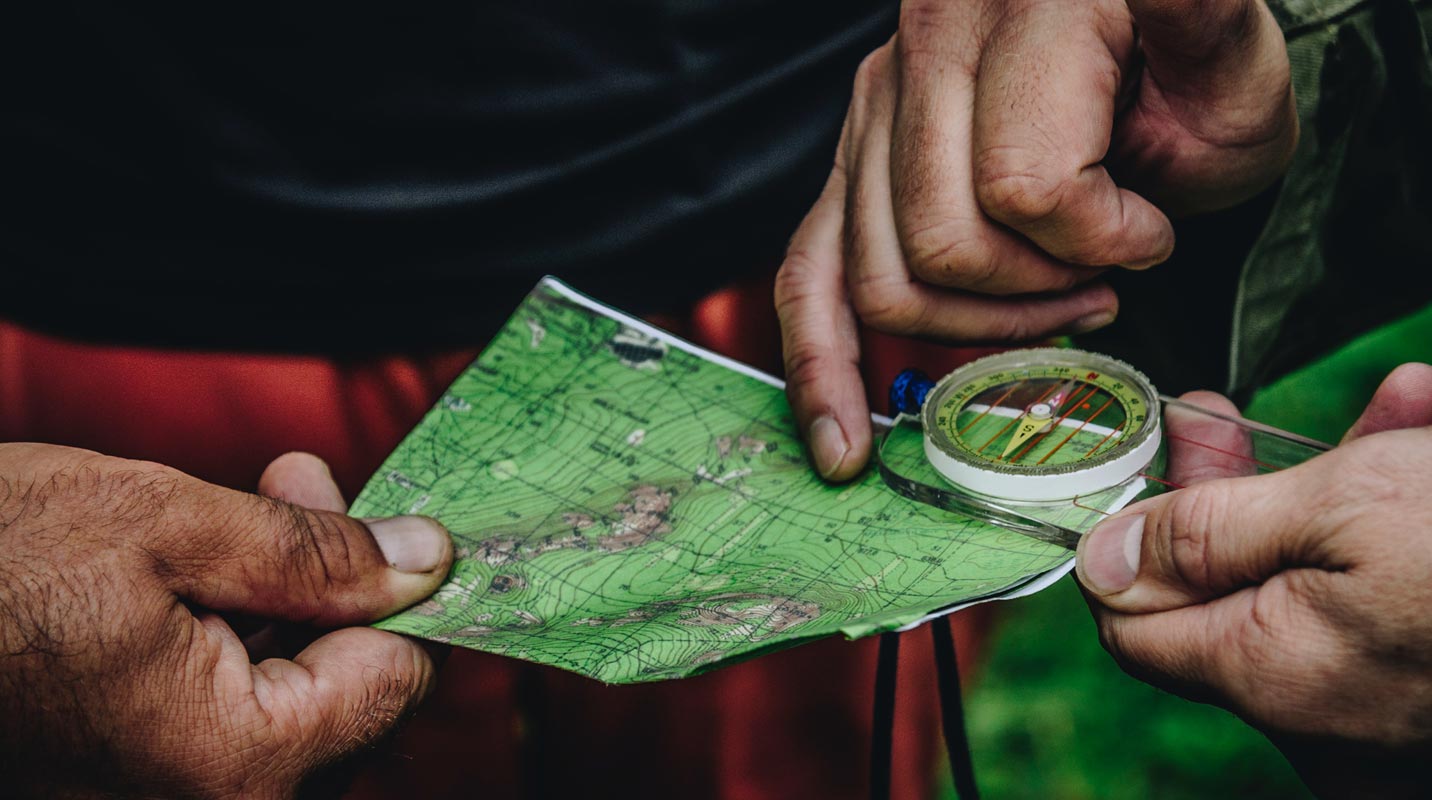 Find Popular places nearby using these
Best Local Guide Android apps
The following list will contain self-help guides and People assistant guide. Based on your comfortable, you can choose one. You can explore a lot of places within the limited area. So, If you missed any location, due to not available on that particular date, you can explore other sites. The apps also contain user reviews, so you won't get disappointed when you visit those places.
1.Airbnb Experiences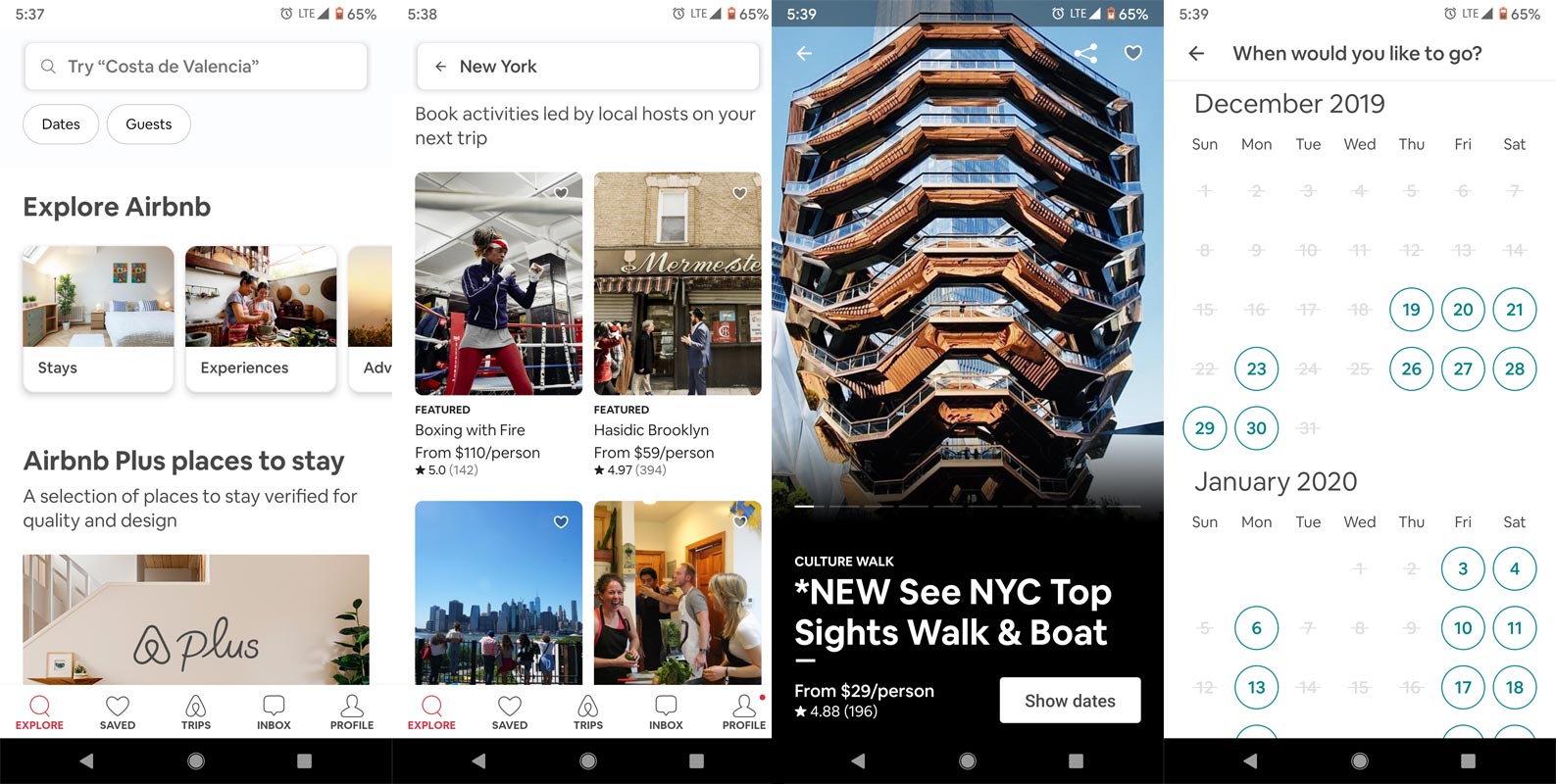 Airbnb is a travel application developed to rent apartments worldwide. Airbnb offers an attractive solution for owners and people looking for short-term accommodation. It is a digital platform that serves as a market and an interactive environment for hosts who earn money by renting their property to guests, so Airbnb is such a great app that links you with the locals around the world without any hitch.
Airbnb initially positioned itself as the first air mattress rental company but followed a more traditional path. Now users benefit from a network. The company offers additional services for hosts (free photo sessions, insurance, reviews, and rating systems).
Now they offer sightseeing, a Museum guide and a lot of things. Full details, including the address, available timings, are detailed within the app. There is also a paid service available. When you get the paid service, Local Guide People can assist you.
What do users say about the Airbnb?
"The Airbnb app has thousands of culturally exciting experiences to discover and book, from tastings in Rome to dance classes in Havana and surf schools in Maui."
"Corporate hotels are generic, sterile, and excellent compared to a large number of unique, cozy, and affordable accommodations that some offer."
Features
Seamless UI Experience. Easy Navigation and Planning.
You can access Whole Bundle Packages From Planning Tickets to Hotels and other Entertainment places.
Within App Payments and Management.
Plenty of bundle packages based on the cost are available. This app covered most of the Countries.
Not only places are available. You can get Experiences like traditional food making, Arts learn and a lot of things. Some of these are only available in those regions. You can't find that art-making in other places in the world. 
Cons
Some users said updates crashing the App.
Based on the timings, The App suggests only High-Cost Plans.
2.Yell App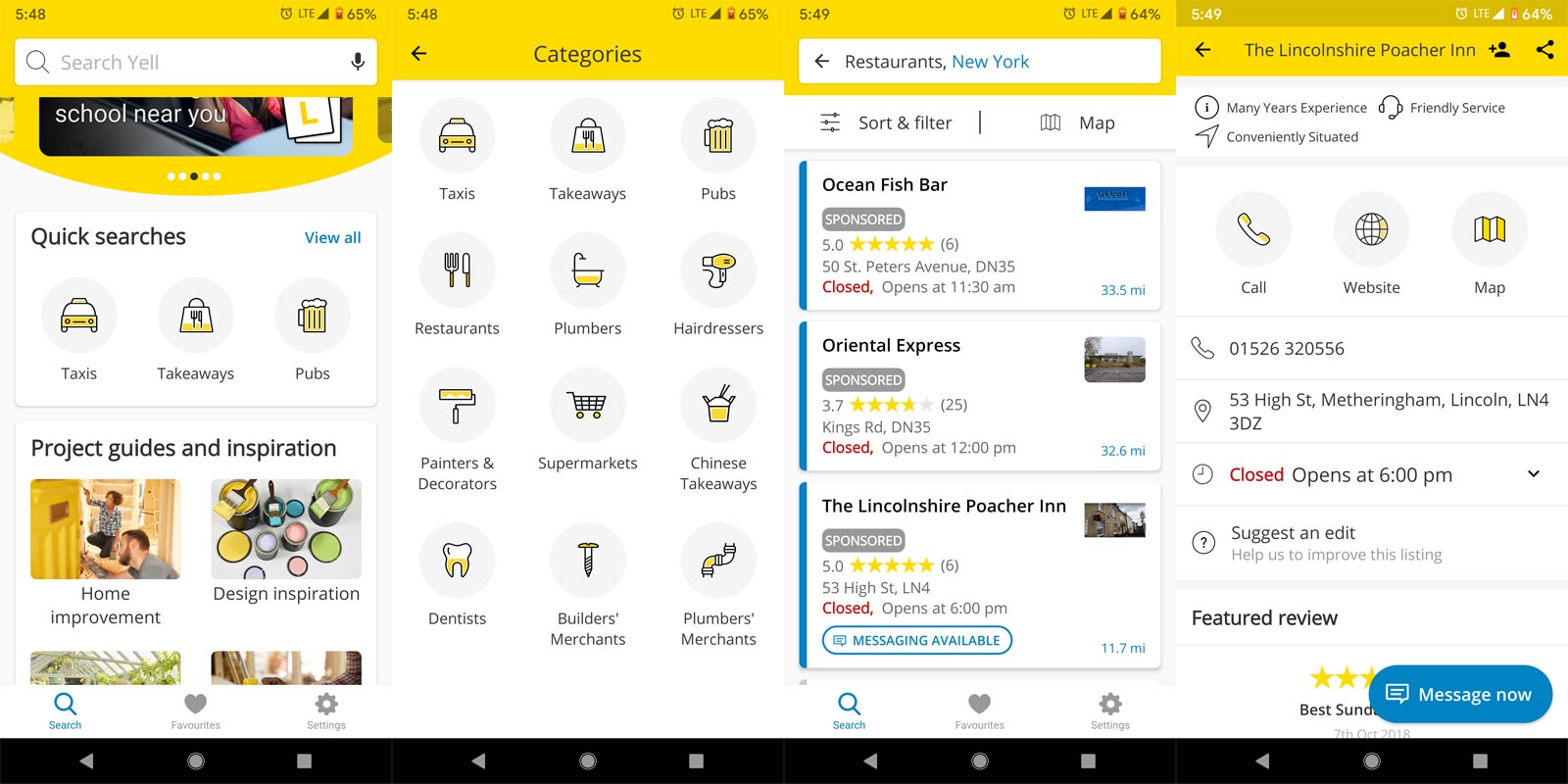 Yell is not a full travel guide. It is like Yellow pages that can tell you the best restaurant, Visiting places. Google Assistant can do a lot of things. It can show you the best restaurants nearby. But, When you see the actual locations, you can know that not all shops are covered. You may miss the best shop or site. The Yell app has a lot of place database. You can either contact the phone or visit directly. There are also paid guides are available If you need them.
Users thought on Yell
"Yell's fingertip search is way better than locally posted business directories Because it's quicker and more convenient. I've uprated your stars to 5 max! Yell, because you offer a great service to customers. The problem reading locally posted business directories is you need a super large magnify…"
Features
Better than Local Directory and other Apps.
Direct Business or place contact within the app using messages.
Google Maps used to guide the place.
Cons
Sponsored places are available. That can make trust issues.
3. Visit A ​​City app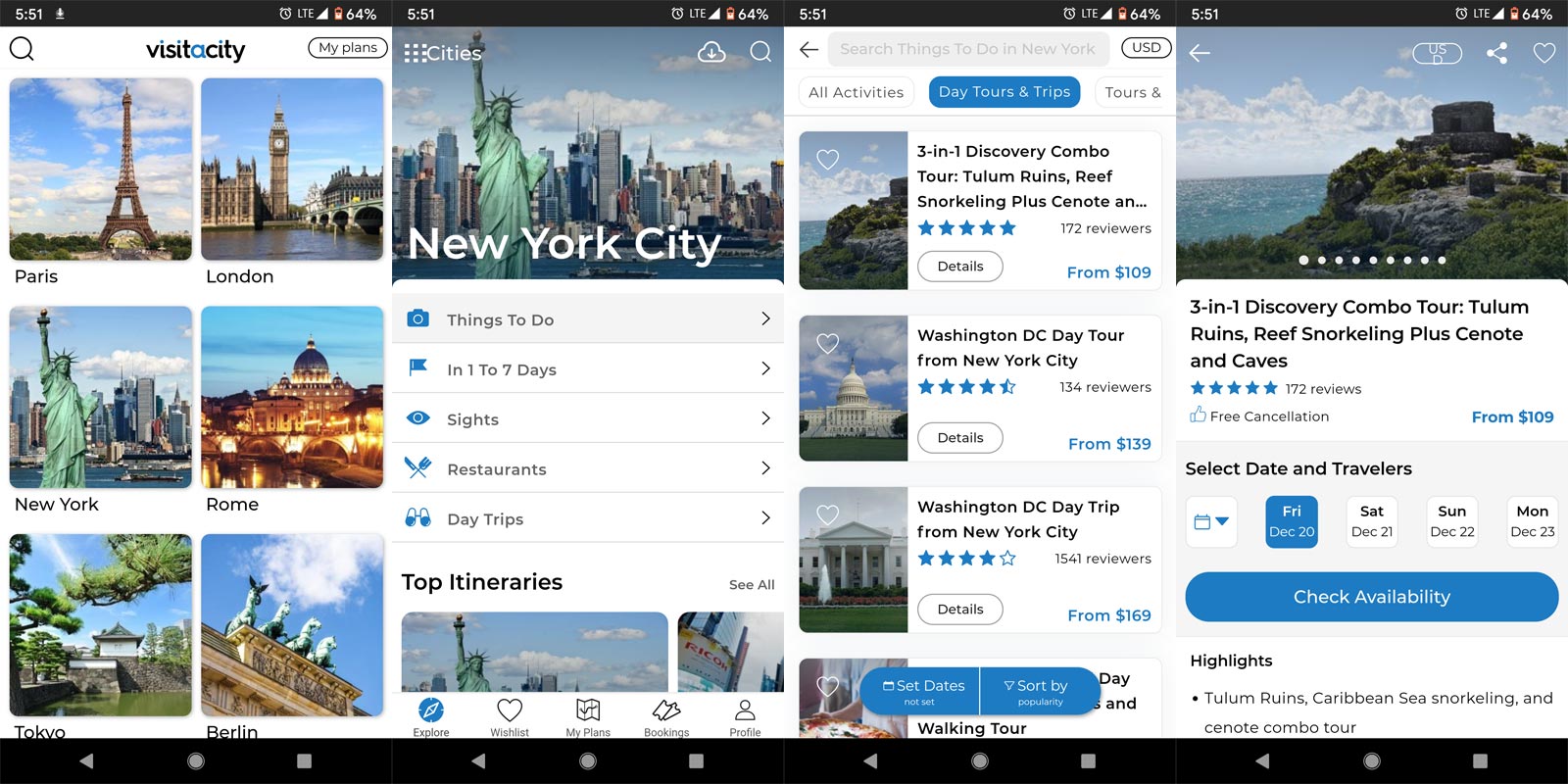 One of these tools that makes life easier is Visit A ​​City, which, as its name indicates, serves to organize your visit to any city around the world. This application is perfect for preparing a personalized guide with all activities, events, and tourist attractions with its location, prices, and detailed descriptions.
So you can organize daily itineraries with the app schedules, the distance between the different points to visit, the travel time in various means of transport. You can also see the comments of other travelers, whether it is worth visiting or not, cost, as well as book a tour or buy tickets. The saved information can be consulted offline always to have it on hand and can be modified online, showing the best route. It's a free application available on Android too. There is no charge for subscription. But, When you hire a guide, You have to pay.
User Thoughts on the Visit A ​​City
"Great app! We use this on vacation in Italy. It was great to plan our itinerary and find excellent restaurants."
"Excellent plans, linked to time, and visible on the map, it's also straightforward to edit the schedule, says a tourist."
Features
Filtered Best places are availble.
Everything from Pick Up to visiting places and drop after visiting is organized. A well-paid guide from user reviews.
Cons
Prices are slightly high compare with other guides. But, Compare with the quality they are providing, it is ok.
4. Trip Advisor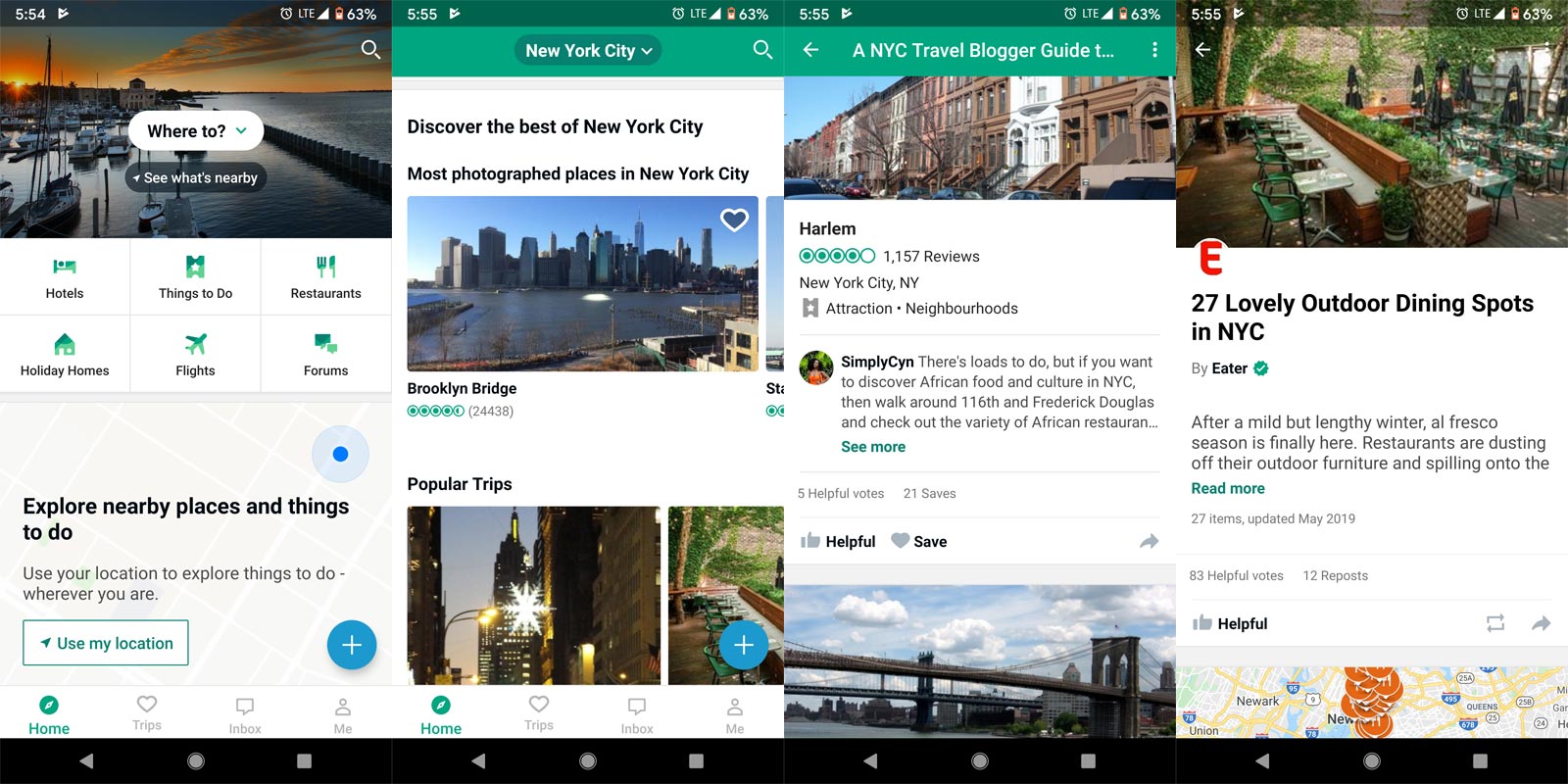 Compare with other apps, this guide is entirely free. Also, there are plenty of places available. It is like a General Platform for the Local Guide. You can refer to a lot of user reviews with photos and videos.
The TripAdvisor application uses your location to send you useful recommendations about accommodations, restaurants, activities, and nearby. You see these locations even when the app is in the background (offline).
User Thoughts on the Visit A ​​City
"Informative! It is the "Go-To" app when traveling in Central America. Everyone uses it, businesses depend on it, and travelers share their opinion and advice. It's been an excellent resource. I've booked our excursions, our flights, found a few restaurants. We even needed to find a taxi driver who spoke English for a 6 am pick up in Panama. Found a local who did it (because Taxis don't start until 7:30 am). Without seeing him, we would have missed our bus to Costa Rica!"
Features
It is like a Travel Forum; Users share their experience with the Photos and Videos.
You will get a Huge Local Travel places list. If you search for your home place, you will be surprised by the record. You can explore a lot of places.
Cons
There is no in-built payment and Travel management. Third parties will handle ticket booking and Hotel Booking.
The app is moreover like a Forum and Review app.
5. World Travel Guide by Triposo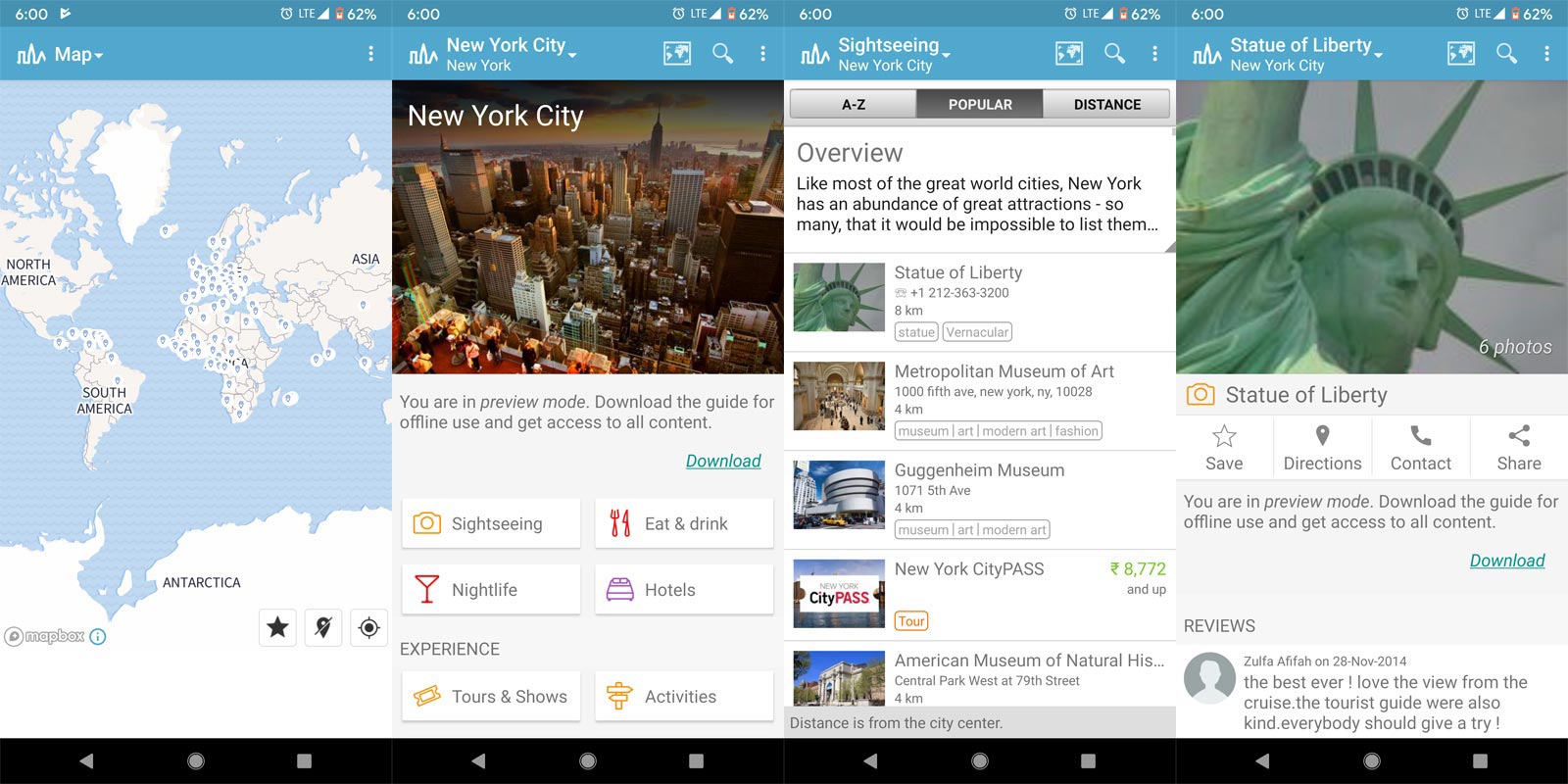 You can choose places from the World map and your current location. Both paid and free Instructions are available. They have more than 100+ Individual country apps. This is great. When You install the Specific Country app, You will get more in-Depth Results.
User Thoughts on the Visit A ​​City
"Love this app when I travel. It gives you so much information about everything that you need or want, even the one you didn't know you wanted. I highly recommend downloading the country you are going to visit. The app will do the rest."
Features
Individual Country specialized apps.
Easy Navigation and explore.
Cons
There is no Paid guides are available. Sometimes it will help you If you need assistance.
Download World Travel Guide-Country Specific Apps
Other Considerable Local Guide Assist Android apps
ShowAround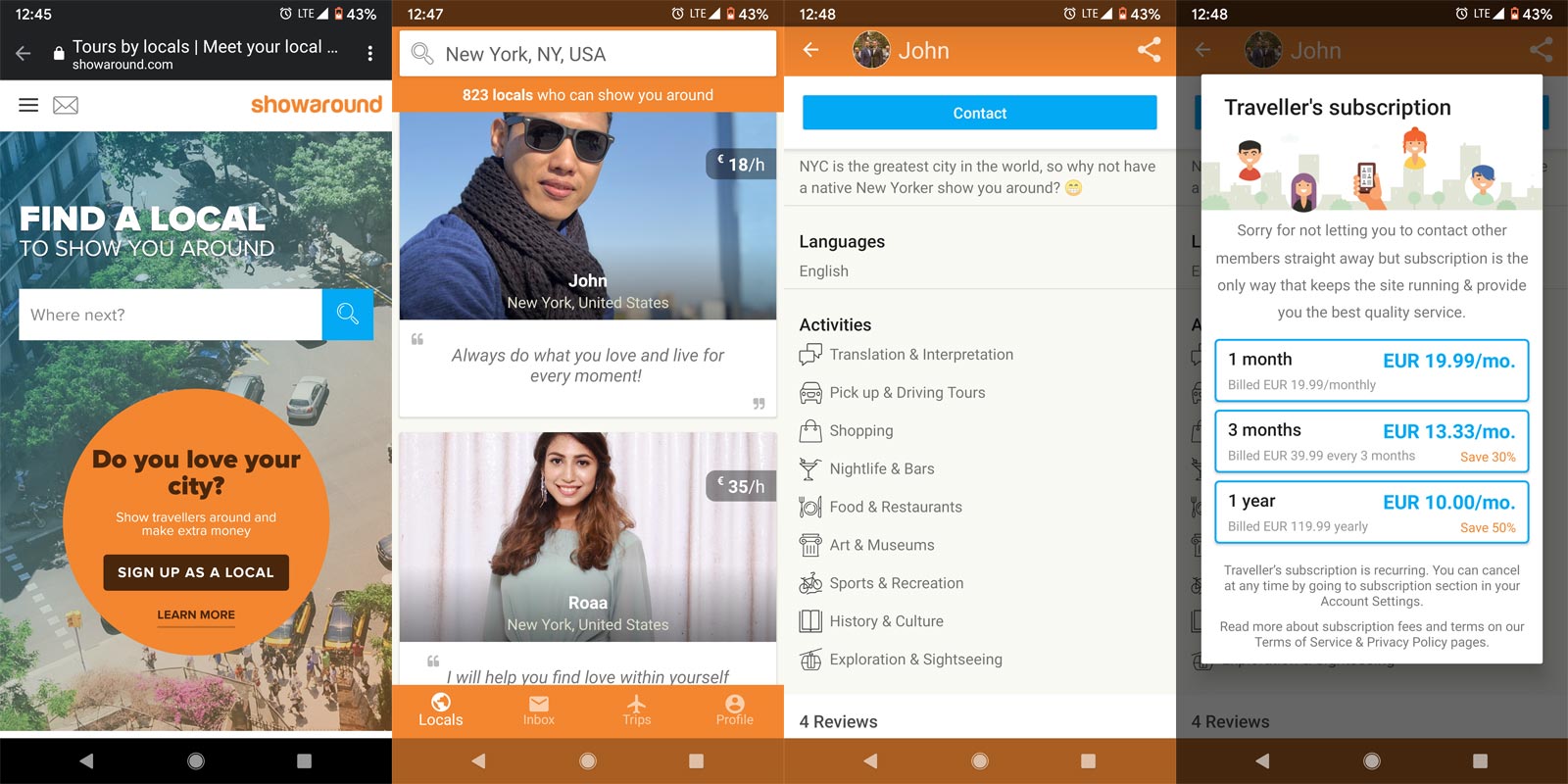 Traveling alone is a great and unforgettable experience that each of us has to experience. It will make you stronger and more rewarding. Sightseeing, visits to museums, monasteries, temples, and churches, a walk along the river, or an ethical wine in the nightlife of a city. And if you find locals, it gets better. You can visit places where you would not be alone
Through this application, you can find local people who will guide you through the city, or you can schedule a trip and wait for the villagers' offer. There is no other way to contact your guide than to contact him/her. Contact the person you have selected and asked if they have time at the specified time.
The app is not free — you have to pay for the subscription. If you are not a regular traveler, Take a month plan. Don't go for the annual plans.
What do users say about the Showaround?
"Although I only used Showaround for a relatively short time, the application works above my expectations."
"I found two excellent local guides who showed me the city from a completely different perspective, both day and night, and they told me about life and lifestyle in a different country than the one I abode."
Embark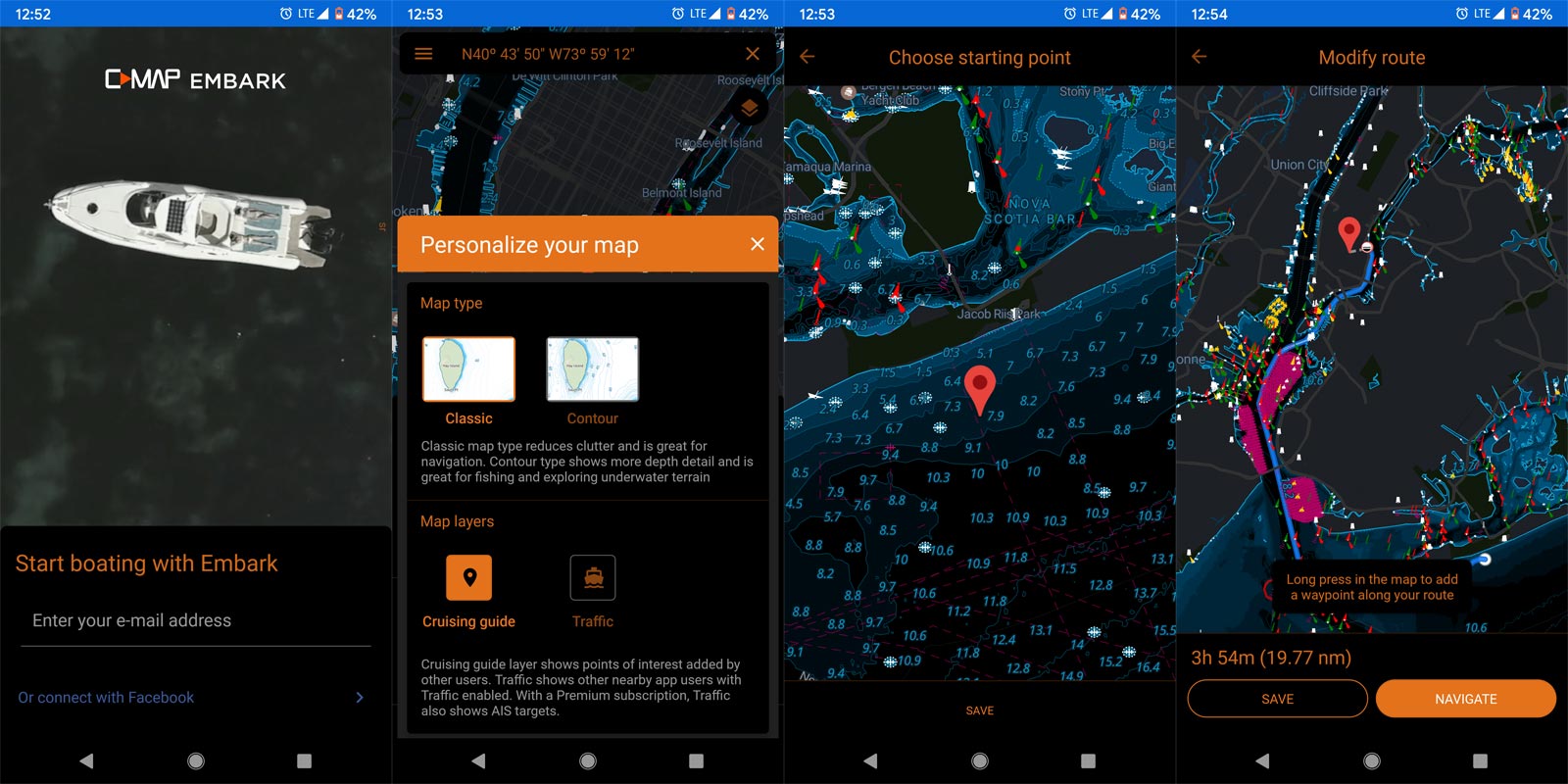 Embark offers high-quality nautical charts, as well as navigation, traffic, and weather information to help you plan your next trip on the water. With downloadable maps offline, you will be safe when navigating, or maybe fishing so that you can enjoy a stress-free time. Get on board Customize your plans: Save routes, waypoints, and tracks that you can access offline. You can also add comments and images to remember that particular day, or share your trips with friends and family!
The Embark idea itself sounds great, especially if you travel to a new country or a new city where you don't speak the local language or don't know much about it. It will be beneficial if you are going to make a trip to Boat.
User thoughts on the Embark
"Very useful. I find it very accurate for Moreton bay. I use it on every fishing trip."
Useful Apps and Sites that can help you during the Travel
ToursByLocals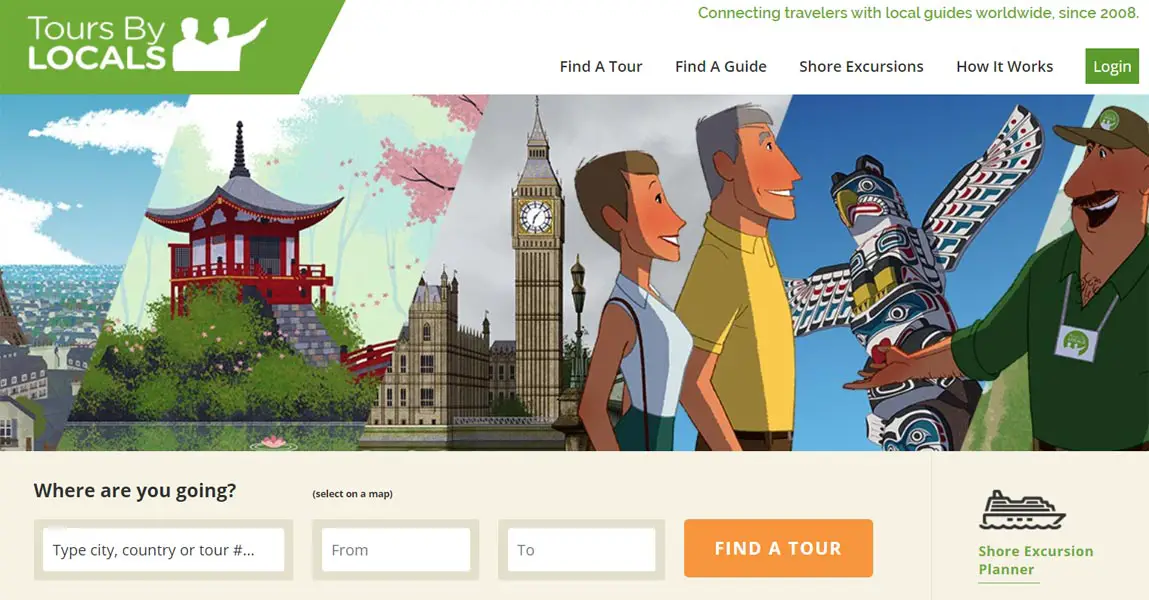 Have you ever imagined sharing your knowledge of the Eiffel Tower, the Champs Elysees, the Louvre, or the Montmartre? With ToursByLocals, you can make this dream come true. ToursByLocals gives you complete freedom. Design your tours with all the elements you want. Your interests could serve as a compass to find out what to do. Or list different tours online.
With ToursByLocals, you can concentrate exclusively on your work. Administrative tasks are carried out by the team, which also offers round-the-clock support. People with similar interests send you a message. You must know when, where, for how much and how many people you have with you.
You should pay for the guide. But, It is well organized official support from the site. The guides are regular employees of this company. It is a trusted site among users.
User thoughts about the ToursByLocals
"My wife and I enjoyed the tour of the Washington region and especially the knowledge and information."
"The ToursByLocals helps my family on a tour of Malaga from the afternoon all through the night. Our preferences were quickly, easily, and enjoyable thanks to the elements or features of this service".
Google Translator App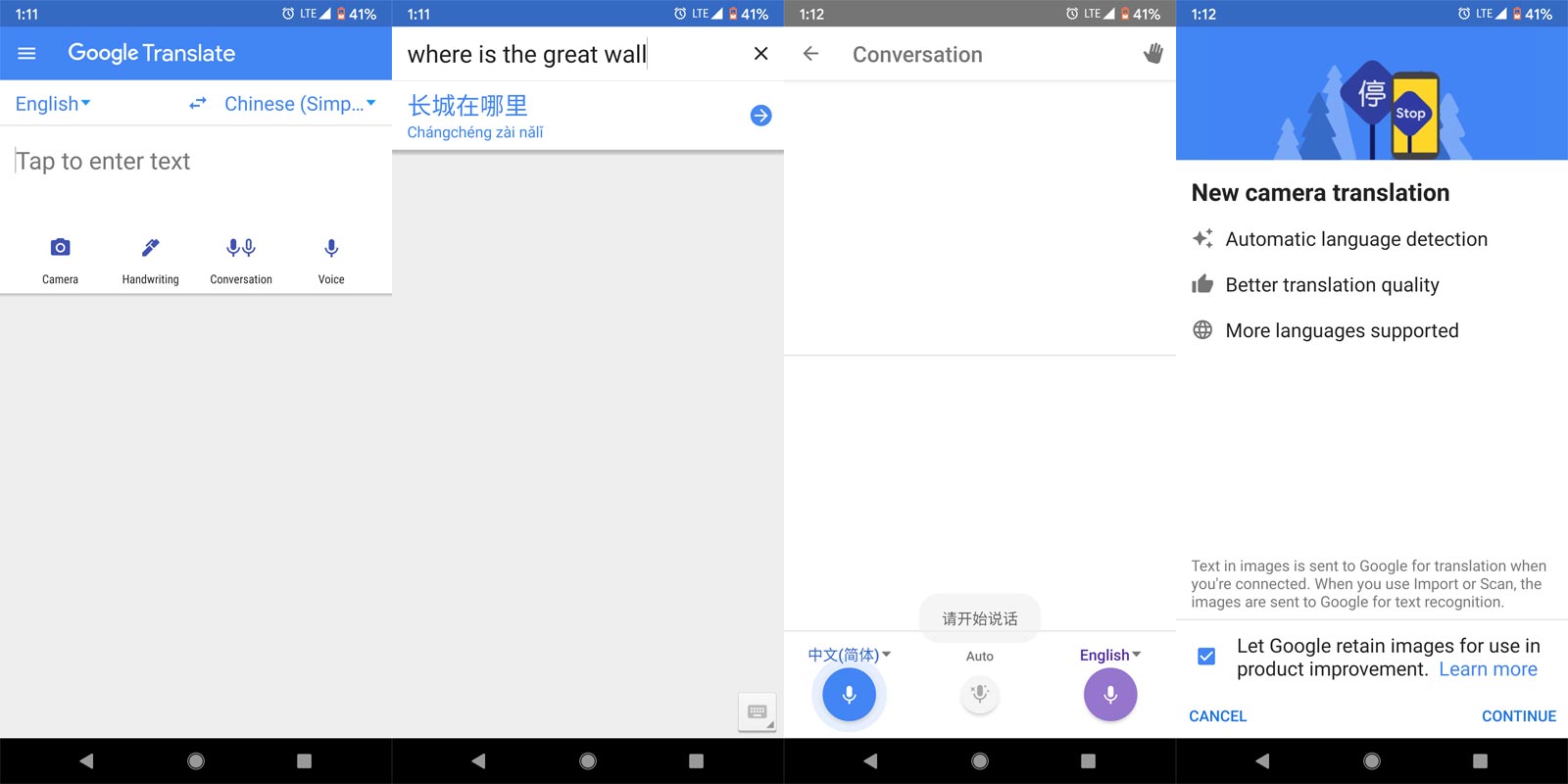 Google Translate can help you when you face the language barrier. When you hire a local guide, they can help you through this process. But, If they can't understand your language or You are going places on your own, Google Translator can help you in most of the situations.
Simple Translate– You can type your Language and convert the respective meaning in a foreign language.
Conversation– You can use this app as a translator. Set your Local guide language on one side and set your style on another side.
Sign Analyze– Using your mobile camera, You can Read the Sign Board in any language. The Google Translator will translate most of the language
Other Travel Guide Sites
Yelp– You can access more than 135 million+ restaurants, shops, and visit places.
Wiki Travel– This is a Community supporting guide to finding information about the places.
Conclusion
Even if you don't mind the opinions of others, these apps are still great to have on your smartphone just because they contain accurate contact information with business hours, phone numbers, and addresses. These apps stand as travel guides; they offer reviews of all major tourist destinations, and they excellent for researching places to visit and things to do at the destination you favor. We already covered Travel planning Apps. When you are traveling, VPNs will help you. Unless you are using paid subscriptions, you can use Free unlimited VPNs for Android. We checked the speed results on those apps. Based on your comfortable, you can choose one. To make local travel, you can use Uber Cabs. If you are not a regular Traveler, You may not use the apps. You can book Uber Cabs without App.
When Contacting Local Guide Peoples, It is wise to choose the best service providers and based on the reviews. If you have any best experience Company that can provide better assist, comment below. It will help other users.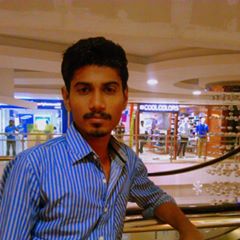 Selva Ganesh is the Chief Editor of this Blog. He is a Computer Science Engineer, An experienced Android Developer, Professional Blogger with 8+ years in the field. He completed courses about Google News Initiative. He runs Android Infotech which offers Problem Solving Articles around the globe.