The holidays are fun and happy. But Planning for Holidays is not an easy process. The person who is planning for the holidays will struggle a lot. No one can understand the pain of us..:). So, To Avoid mistakes and make the Happy Holidays, Planning is Important. To reduce the Work, There are plenty of Travel Trip Planning apps are available. Here I mentioned the best five. It is not the best five in overall apps. But, Each app can be useful for different things. Our smartphones can become great allies when traveling. Whether to plan summer vacations, multi-day getaways, or to discover new places nearby that are worth visiting, in Google Play, we can find great tools with which to see everything you need before embarking on a new adventure.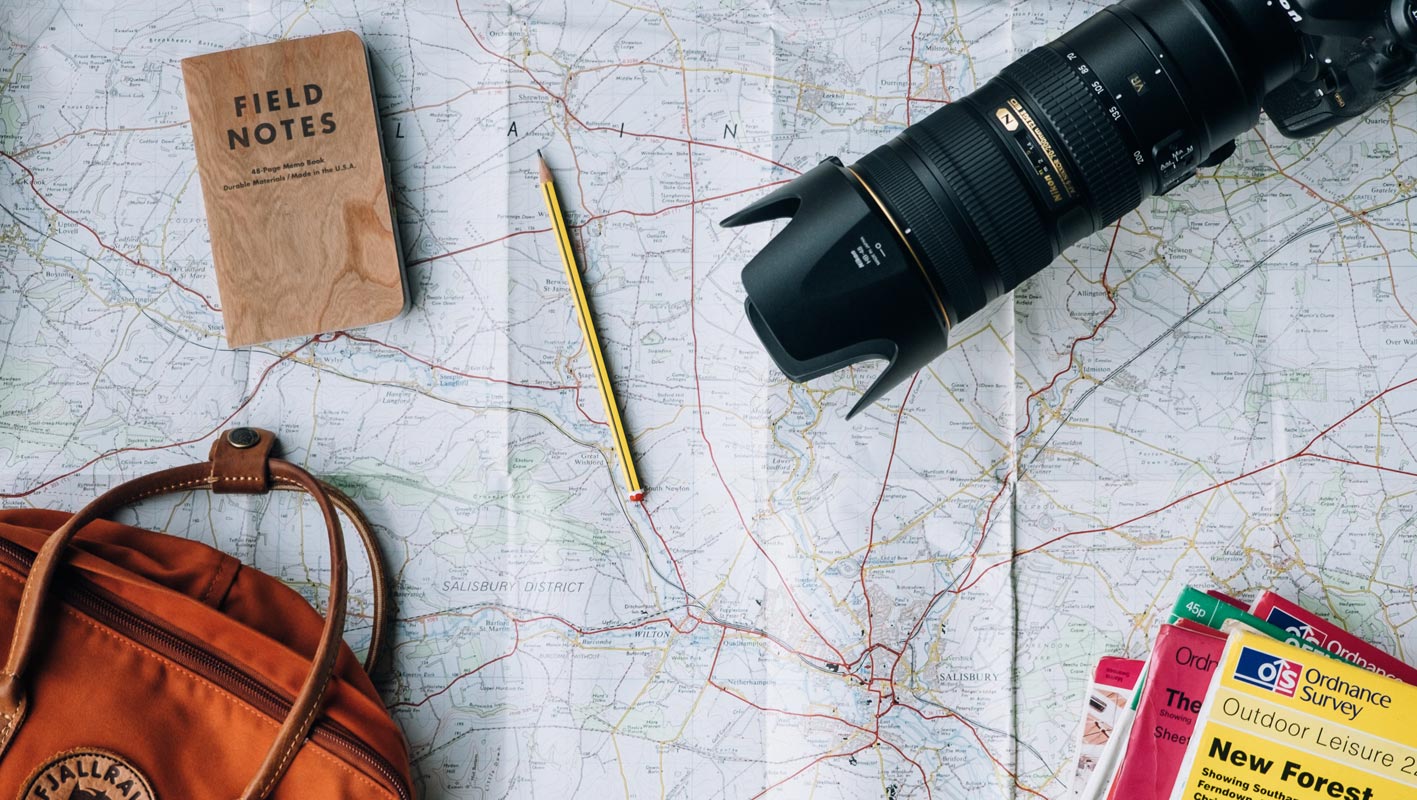 There are many trip planning apps on Android. However, only some of them are worth it. In this article, we select the best ones you can use, organized in different categories corresponding to each of the stages of a trip. I will try to explain the overall usage and the best use of each app. Based on your requirement, You can choose the best one.
General Instructions
Unplanned trips are great. But only in Words. When we make unplanned trips with our friends, It can become fun sometimes. But when it is with our family; It can become a nightmare. Because everything should be fine with them. When we collapse anything, all our hard work for the planning will disappear. We will get only these words- "Did you plan correctly?". So, To make our trips happy, We should do some groundwork. Don't panic. We are not in the Old days. We can do the job with the help of apps and websites. But, Before going to the apps, I will tell some Instructions that will be undoubtedly helpful to you. The Instructions are general. Based on the Environment, use your best.
Ticket Booking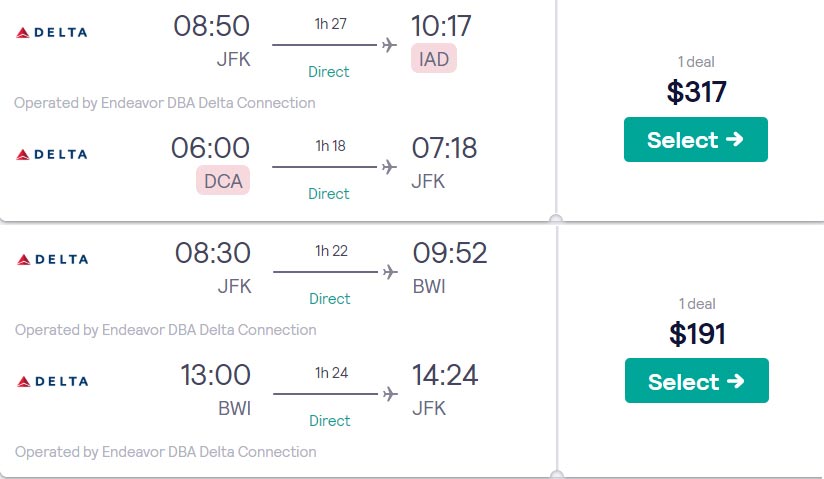 It is wise to Book Flight Tickets before 2-3 Months. If you planned for the 5-7 Days Trip, It can't happen within a night. You always talk about the trip and What are the places you are going to visit like that. This talk can happen before the 2-3 Months. So, you know where you are going. Most of the Booking sites have a full refund policy. If you cancel before some days. So, You can easily cancel the ticket, If you postponed the Travel. When you book tickets early, You will get a lot of Discounts. The Ticket rated maybe a lower price.
If you noticed in the above-attached example, You could see, The Same flight provider offers $317 for within One Week booking and $191 for 2-3 Months early booking. By booking early, you can save up to 60%.
Consider Booking Round Trips
When you book the Round Trips with the same flight, Sometimes you will get the lower price. But, If you can't predict your return date because of the works or extend holidays, It may not work for you.
Try with Different Apps
Unless you have some exclusive discounts for you, then you should try with different apps and sites for Reasonable price. You will get lower for the price for the same trip to other websites. It is not a myth. It is true.
Split Trips
Consider if split trips make lower price instead of the direct flights. If you have time, You can also visit more places in between those places.
Luggage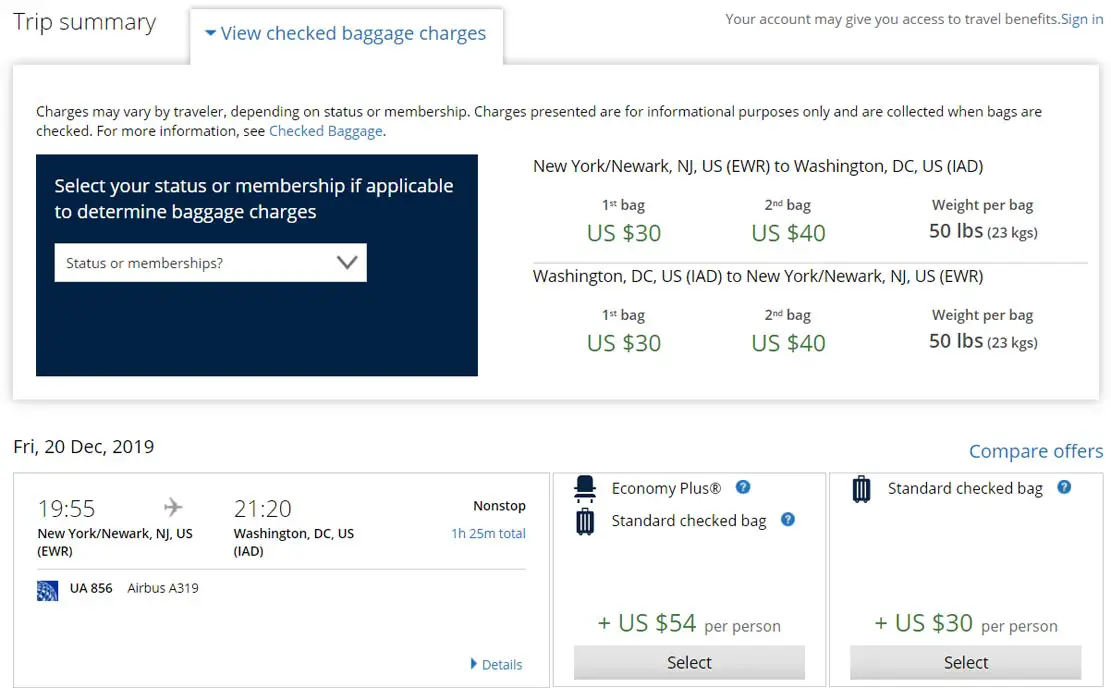 You should check these things carefully. Some flights offer lower prices without adding the charge for Luggage. They will charge for your luggage separately. So, Before excited about the lower price, always check these things. In the example, as mentioned earlier, You can notice, they will charge for the luggage as an additional charge.
Skyscanner- Full Travel App
Planning the round trip flight for a vacation is usually not a simple task. Luckily, there are applications like Skyscanner that facilitate us, and much, the work by having a built-in search engine that automatically compares and filters the best deals on available flights to offer only the best prices. While the app provides other functions beyond the search for flights, this is undoubtedly its most important feature and for which the application has achieved success.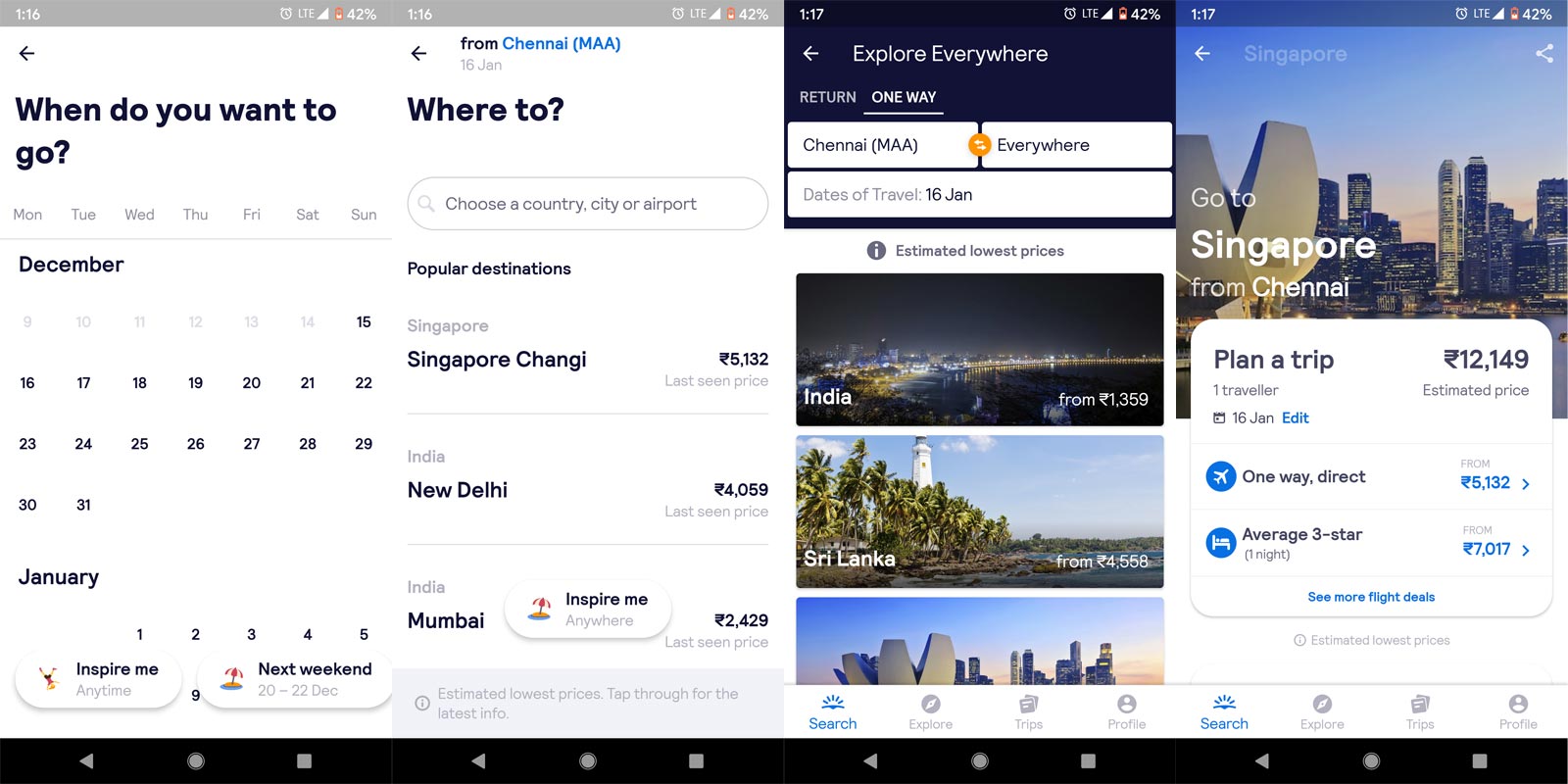 If you already know your destination and your travel dates, you can easily access prices and itineraries through the clear interface of the application. The Best deal per month feature is enjoyable and allows travelers to find the most refreshing and cheapest destinations in any season. Once you have selected a flight, you will be redirected to the airline's website or to an online travel agent to book a trip.
Users thought on the Skyscanner app
"Skyscanner is the best application to find flight deals and show all available options."
"Skyscanner checked things until their completion. I can't praise it enough. Skyscanner, you rock!!!."
Features
Seamless UI Experience. Easy Navigation and Planning.
You can access Whole Bundle Packages From Planning Tickets to Hotels and other Entertainment places.
Within App Payments and Management.
Plenty of bundle packages based on the cost are available. This app covered most of the Countries.
If you Pre-Planned the trip, say before One month, You could set the price alert to get low prices on the bundle and Flight tickets.
Cons
Some users said updates crashing the App.
Based on the timings, The App suggests only High-Cost Plans.
When to Use?
When you want to plan based on the Budget, This app will be helpful. All-in-One App From Planning to payment. You can manage Everything within the app. There is no need to go to third-party sites and apps.
2. Jetcost
A perfect alternative to Skyscanner when it comes to finding cheap flights is JetCost. Like the previous tool, this app automatically compares the prices of the leading airlines in search of the lowest prices. Various filtering options are on it to find the perfect flight according to your trip.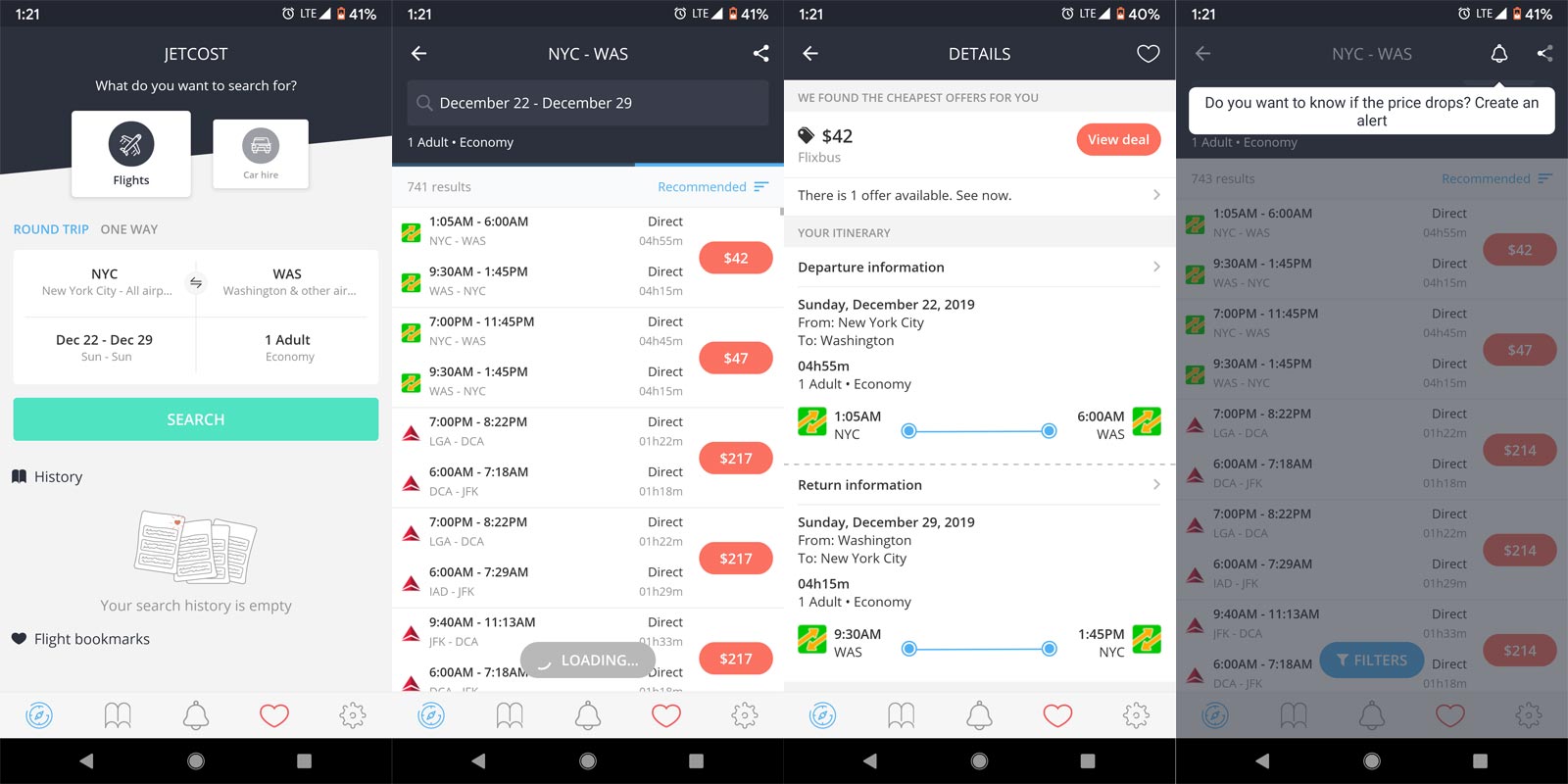 Jetcost offers the usual comparison service and provides a personalized search function that allows users to access their search history and the marked results. Users can do this even if they are disconnected! The usual comparison makes it perfect for navigating your itinerary while you are still on an airplane or at a distant destination where there is no signal or maybe Wi-Fi. This feature only works if you already pre-loaded some pages.
Users thought on the
Jetcost application
"Compare and also save anytime! You will get the cheapest travel options, which fit your taste as well as budget, without problems and stress."
"Compare hundreds of flights with dozens of airlines: Ryanair, Easyjet, Virgin Atlantic, British Airways, American Airlines, Emirates, WizzAir, and more."
Features
Reasonable cost plans from Low Cost to High Cost. Cheap flights compare with the official and other apps.
Worldwide, most of the flights are covered.
Within App Payments and Management.
Cons
We can book only flight tickets. You can't choose Bundle packages and Hotels.
In rare cases, users complaint about the discount percentage.
When to Use?
When you want to book flights at a comfortable price range, say, You are making a surprise trip or immediate plans. The price is always reasonable compared with all sites and apps.
3. Google Flights
Google Flights is undoubtedly one of the best tools that exist to discover the best deals on air tickets. The Google Flights app is one of the most complete, and among other things, allows you to create alerts to keep you abreast of price changes.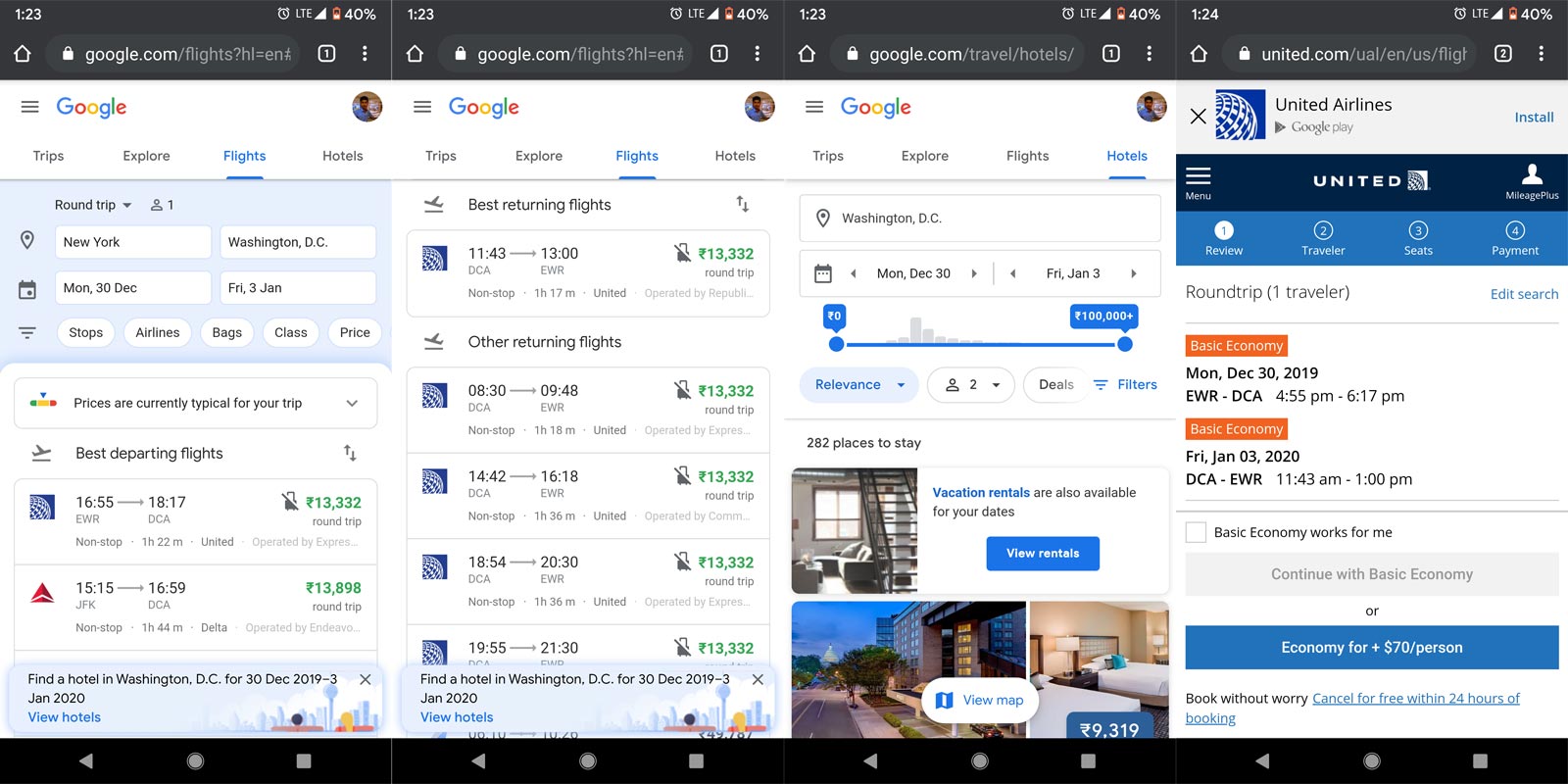 With Google Flights, you can search for flights quickly and easily. Enter travel dates, departure and arrival locations, number of passengers, and a class of service. One-click later, you have a selection of flights at the lowest cost in dollars. The difference between Booking, Expedia, and the popular Google Flights is that Google Flights does not sell you the ticket. It will take you to your desired airline's website to book.
What users say about Google Flights Site?
"I like the new feature that allows you to choose the duration of your trip in the calendar window."
"Users like Google Flights a great deal, someone says he keeps track of prices, and I always get the best price and schedule for me thanks to Google Flights."
Features
Regular Trips and Flights save feature.
Reasonable price and bookings.
Cons
A limited number of flights.
Third-party bookings. You can't book flights directly from Google Flights.
When to Use?
Google Flights is not a full travel app. You can use this site to cross-check the prices and reliable suggestions when you have doubts about the price.
4. Expedia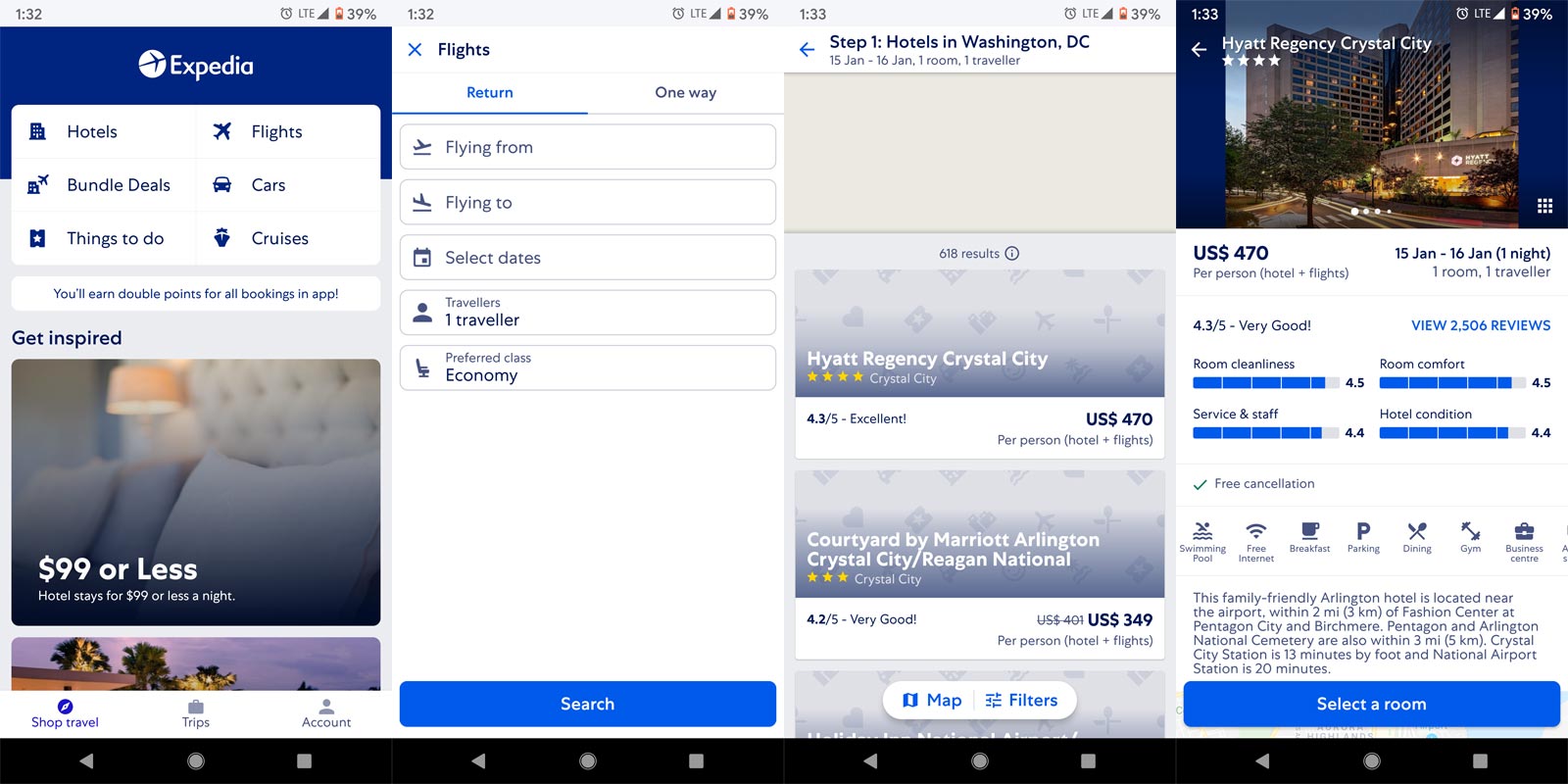 In any selection of essential applications for travel, you cannot miss Expedia, it allows you to find flights, hotels, and rental cars, and Expedia offers exclusive offers. Besides, it will be possible to receive important alerts with possible price changes, availability changes, and more.
One of the things we love most when booking through Expedia is the comprehensive coverage of virtually all airlines and hotel chains. You get a clear picture of almost all the offers that exist. You can be sure that you will also get an excellent price because the list of search results varies from the lowest to the highest price.
What do users say about the Expedia Android app?
"I booked my hotel and flight through Expedia. I bought the insurance to cancel my trip if I had to! They told me it would not be a problem. I called to cancel my flight, and they did what they promised."
"I have loved Expedia since I traveled alone, and the payment process is always easy for me. Overall, the application is decent."
Features
Full Refund Insurance Cancellation plans.
Packages available including, Flights, Hotels, and Entertainment places.
Low-cost packages compare with other sites and apps.
Cons
The Final Checkout page doesn't include full details. I hope they will fix this issue in the new update.
Some users tell us that, You can get a low cost of the same flight if you tried on their official site instead of the app.
When to Use?
Uncertain plans. The Package deals come with the insured deals. So, If you cancel the trip, most of the time, you will get a full refund.
5. TripAdvisor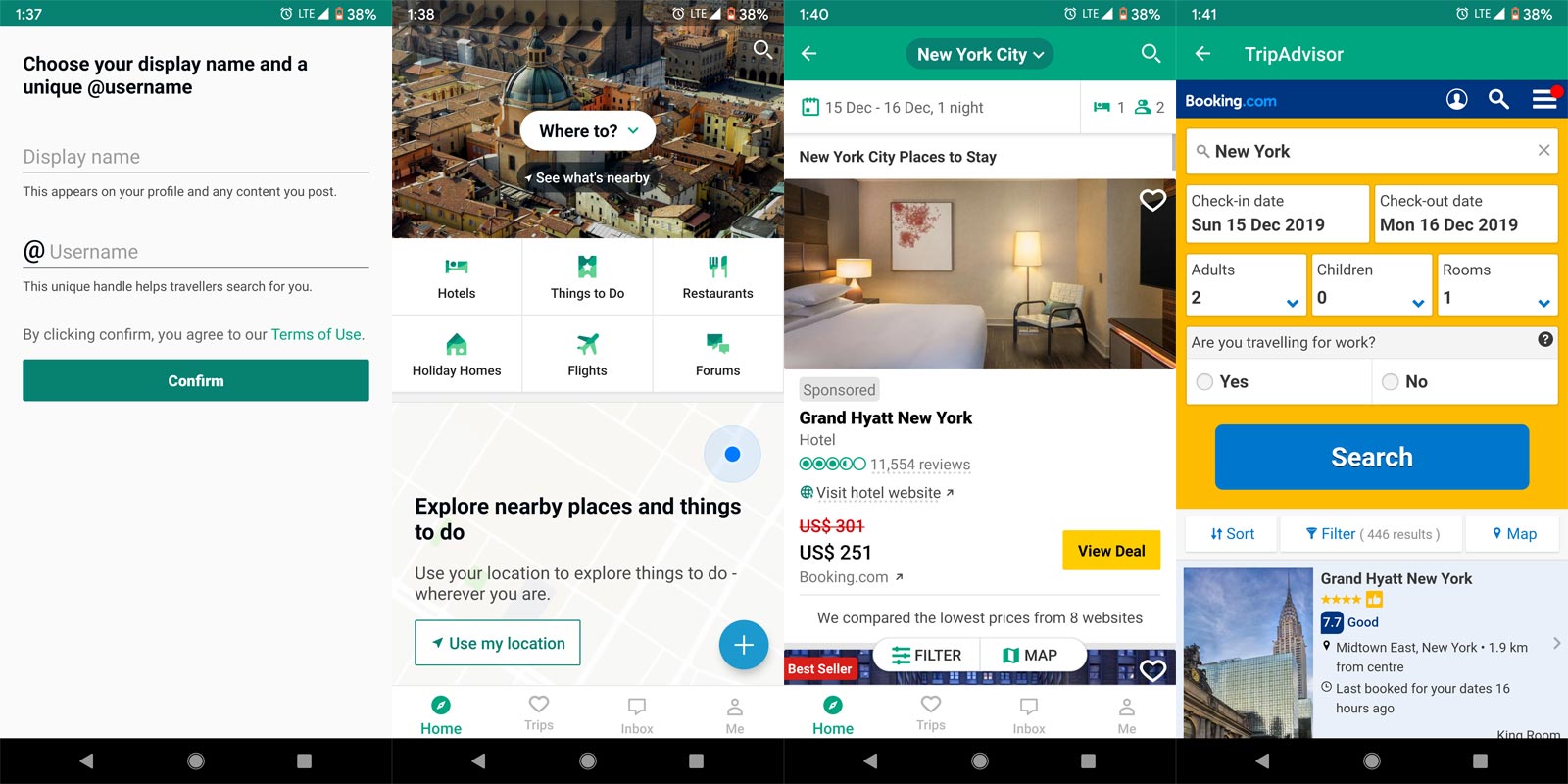 Another app that cannot be missing in the mobile of any traveler is TripAdvisor. Although you probably already know it, it's one of the most popular platforms that exist to find opinions and information about hotels, restaurants, or any place you might want to visit during a trip. Also, it has a large community of users who publish reviews on the different sites so you can get first-hand information.
The TripAdvisor application uses your location to send you useful recommendations about accommodations, restaurants, activities, and nearby. You see these locations even when the app is in the background (offline).
What do users say about the TripAdvisor application?
"I think the whole application works well and gives people a wide variety of opinions about a place as well."
"Also, I have found all the reviews, photos, places to stay, sightseeing, and even worthwhile attractions. I am optimistic and positive, so give all the tips a chance, but I prefer to make my assessment. We are all very different, and TripAdvisor even demonstrates it in its many reviews."
Features
It is like a Travel Forum; Users share their experience with the Photos and Videos.
You will get a Huge Local Travel places list. If you search for your home place, you will be surprised by the record. You can explore a lot of places.
Cons
There is no in-built payment and Travel management. Third parties will handle ticket booking and Hotel Booking.
The app is moreover like a Forum and Review app.
When to Use?
If you planned a Single City and want to view a lot of places within the city, You can use this app. You can explore a lot of places in a particular area.
Conclusion
You no longer have to travel to an agency or turn on the computer to plan your best vacation. Now from your mobile device, you can book flights, hotels, restaurants, get tickets, and much more comfortable while you are on the sofa in your home or on the terrace of a cafeteria. When you are traveling, VPNs will help you. Unless you are using paid subscriptions, you can use Free unlimited VPNs for Android. We checked the speed results on those apps. Based on your comfortable, you can choose one.
You will take a lot of photos in different places. It is best to use AI camera phones or Apps. In your mobile Display always put your other phone number, If you have a secondary phone. When traveling, there is a chance of losing mobiles. Putting a number on my phone brings back my mobile twice- How I Got my Lost Google Pixel 2 XL. Most of the people always find a way to find us. If they can't, they have the phone.
To make local travel, you can use Uber Cabs. If you are not a regular Traveler, You may not use the apps. You can book Uber Cabs without App. If you have Long time Flight and you are a techie, you can listen to the best tech podcasts apps. To Stay with your favorite NBA Team, you can use the NBA Scores app. I try my best to give overall Instructions and some best apps based on different situations if you have the best app experience, compared with the apps mentioned above, comment below.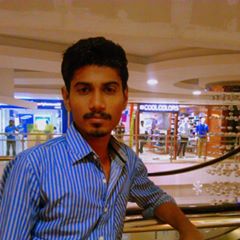 Selva Ganesh is the Chief Editor of this Blog. He is a Computer Science Engineer, An experienced Android Developer, Professional Blogger with 8+ years in the field. He completed courses about Google News Initiative. He runs Android Infotech which offers Problem Solving Articles around the globe.