After Samsung agreed to replace Bixby with Google Assistant, They slowly accepted lots of Google features and replaced them with Samsung's existing products. They begin to roll out the Google Discover home page instead of their customized page. They are also planning to drop Samsung Galaxy Store. Google also supporting a few features in exchange. Soon You can control Samsung SmartThings from your Car with Android Auto. You don't have to worry about your Samsung products are running or not. You can control everything from your mobile and Android Auto app.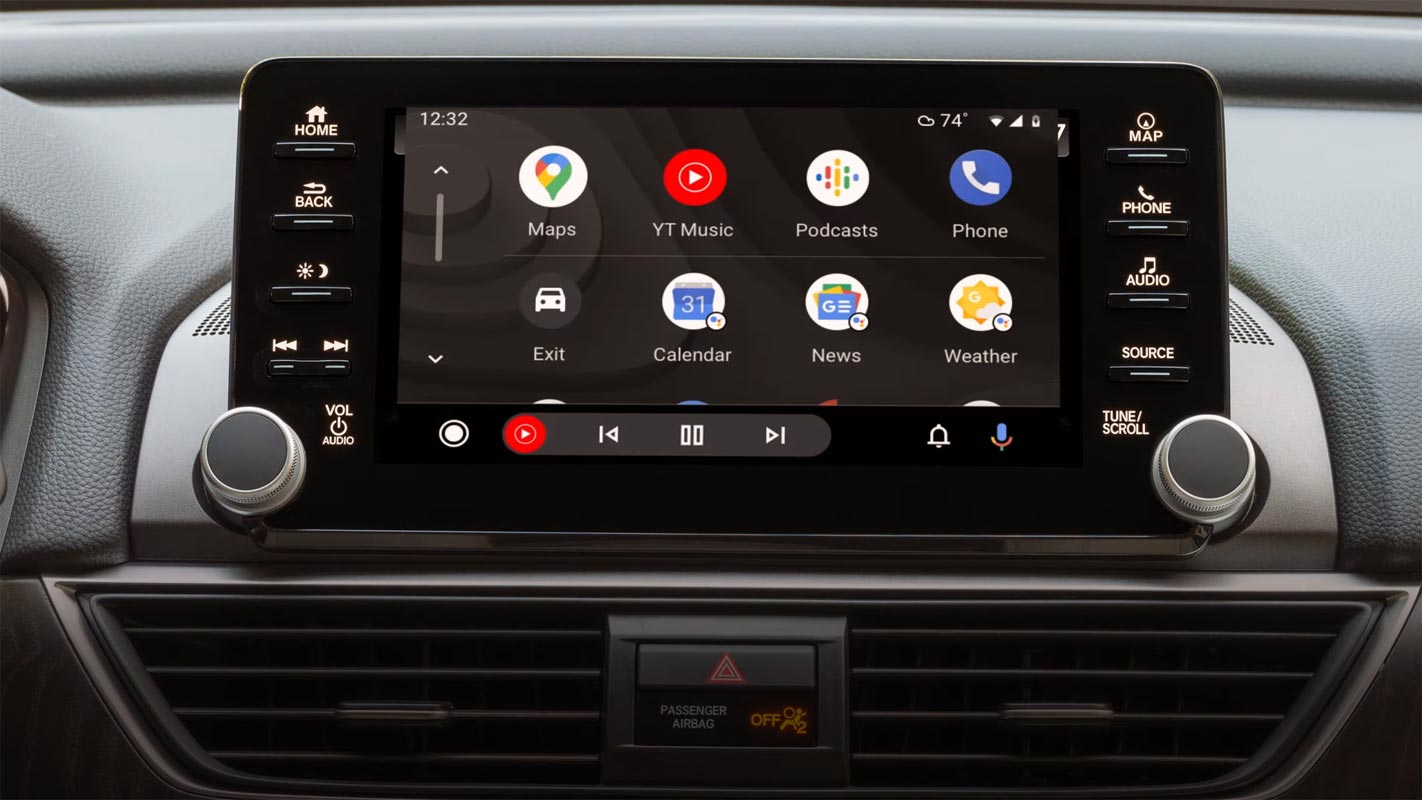 January 14, 2021, was a special day for Samsung regarding the Galaxy S21 series mobile phone launch and Galaxy Buds Pro and Galaxy Smart Tag, guiding you to the accessory location tagged with this tracker. Another announcement was about the collaboration of Samsung with Google to integrate the SmartThings with Android Auto. This integration will help you control the SmartThings smart devices like lights, thermostats, cameras, and doorbells from your cars' display.
Features of Samsung SmartThings Integration with Android Auto
At CES 2021, Samsung announced many new devices. Along with new things, Samsung also announced SmartThings with Android auto to collaborate with Google. When you open the SmartThings app on your car display, some of the cool features will display on your cars' dashboard screen. These are the shortcuts of some of the daily routines. It lets you control smart home devices like a thermostat, washer, robot cleaner, and lights. Samsung explained some of these features and how to use them as: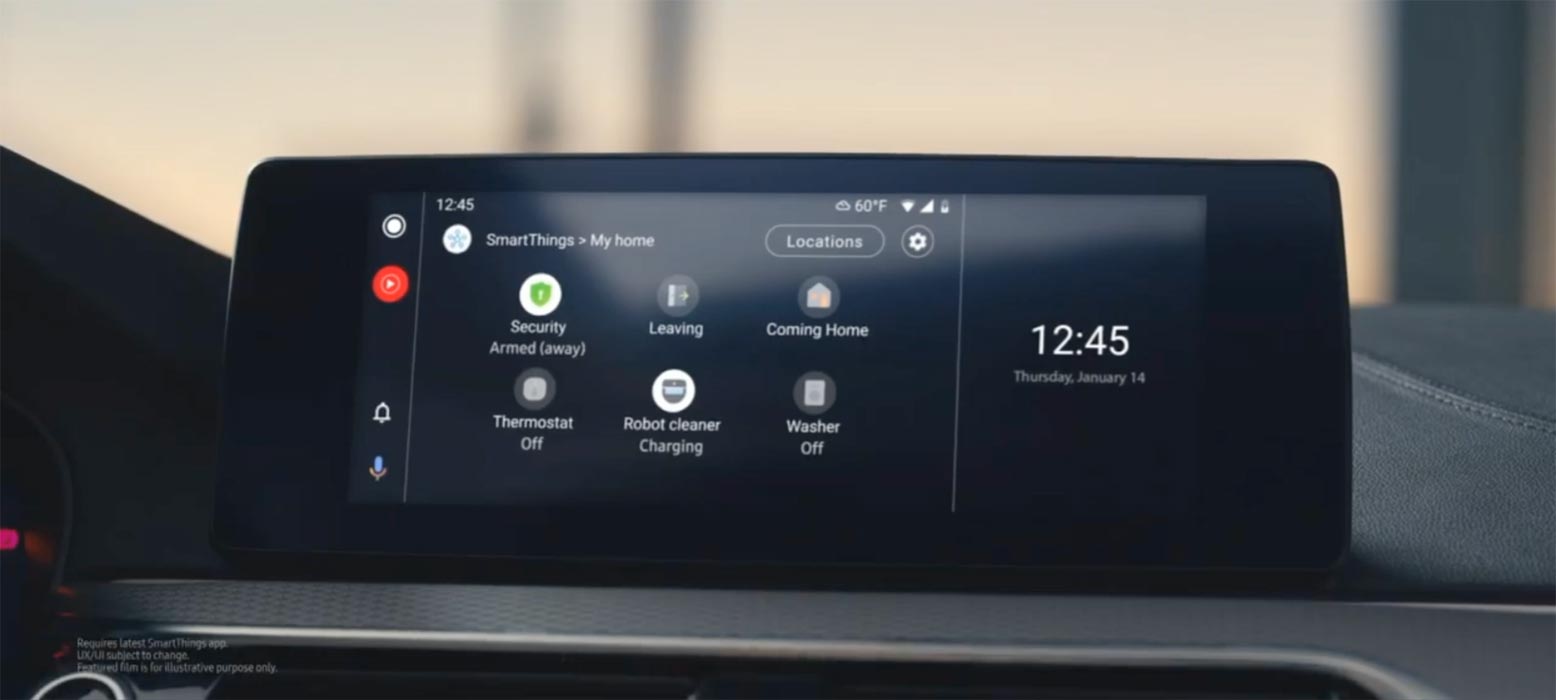 Security away
Taping this button will set the home security system to activate, including cameras, security alarms, or motion-detection.
Leaving
Taping this button will run a routine to switch off the bedroom lights, turn off the heating or cooling system, and close all doors and windows for security purposes.
Coming Home
Selecting this option will make the arrangements for your home arrival by turning on the porch lights, turning on the cooling or heating system, and opening the porch door to park the car.
Thermostat off
If you forgot to turn off the heating system, you could now do it from your car while on your go. Selecting this option will only turn off the thermostat while leaving other devices working as per routine.
Robot Cleaner Charging
It also facilitates you while in your car if you forgot to put your robot cleaner on charging. You can put your robot cleaner on charging by simply taping this option.
Washer off
Another facility right on your cars' dashboard is to turn off the washer if you forgot. Tap this option, and the washer will set to off position.
Location
There was a location button on the SmartThing app auto screen, but Samsung didn't elaborate on its functionality. Maybe it helps you control the SmartThing smart devices from more than one location, yet not clear.
Samsung introduced the SmartThings app on the Android Auto dashboard screen, but it is not clear whether you can control the smart home devices through Google Assistant from inside the car.
Availability
You must be excited to use this integration, but you cannot enjoy it right now. Google announced that this integration would be available next week. So wait till next week for this thrilling integration to activate.
Wrap Up
Samsung is already providing useful features like Find your Galaxy accessories with the SmartThings app. Additionally, with Android Auto, you can control more devices. The combination of Samsung innovations and Google's tremendous service always results in an awesome. This SmartThing integration with Android Auto will open the doors of new ease and comfort. You will get full control, whether you are at home or on the go. Last December, Google announced that Nest devices would work with the Samsung platform. It means you can control the Nest device right from your Android Auto dashboard while on the go. Merging both Samsung SmartThings and Android Auto technologies always bring easiness for you. Do tell us in the comments below when you control your home smart devices from your car.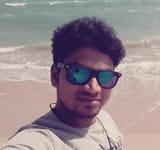 Selva Kumar is an Android Devices Enthusiast, Who Can Talk and Write About Anything If You Give a Hint About the respective devices. He is a Computer Science Graduate and Certified Android Developer, Making His Career towards this Technology. He is always eager to try new Android devices — not only Software level but Hardware-level Also. Beyond this, He is a Good Swimmer, Guitarist.