Even though there are many Drone Camera Companies available, DJI is one of the trusted companies among Vloggers and other Camera Professionals. Every year, DJI releases successor versions of the Drones. Recently, DJI Mini 3 drone launched for $469 with up to 51 Minutes of Fly Time. It is a Direct successor version of DJI Mini 2. It has considerable upgrades that judge the price of the DJI Mini 3. You can buy the device in the official Store and other Authorized retailers.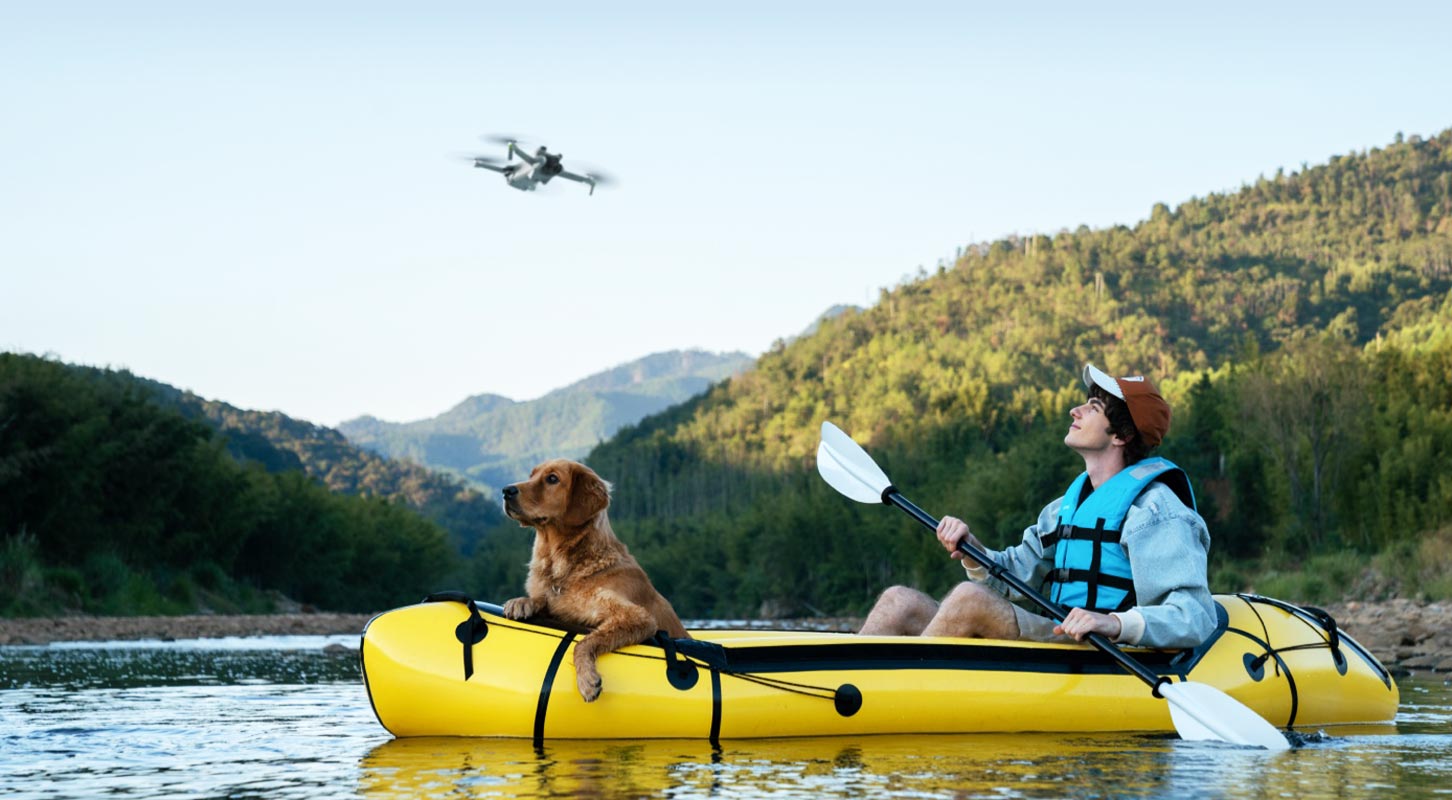 DJI Mini 3 drone Launched
DJI specifically developed it's Mini 3 to weigh under 249 grams. However, its size isn't a reflection of its capabilities. DJI claims that the Mini 3's lightweight meets drone regulations in various areas of the world, allowing drones weighing less than 250g to fly in compliance with regional laws.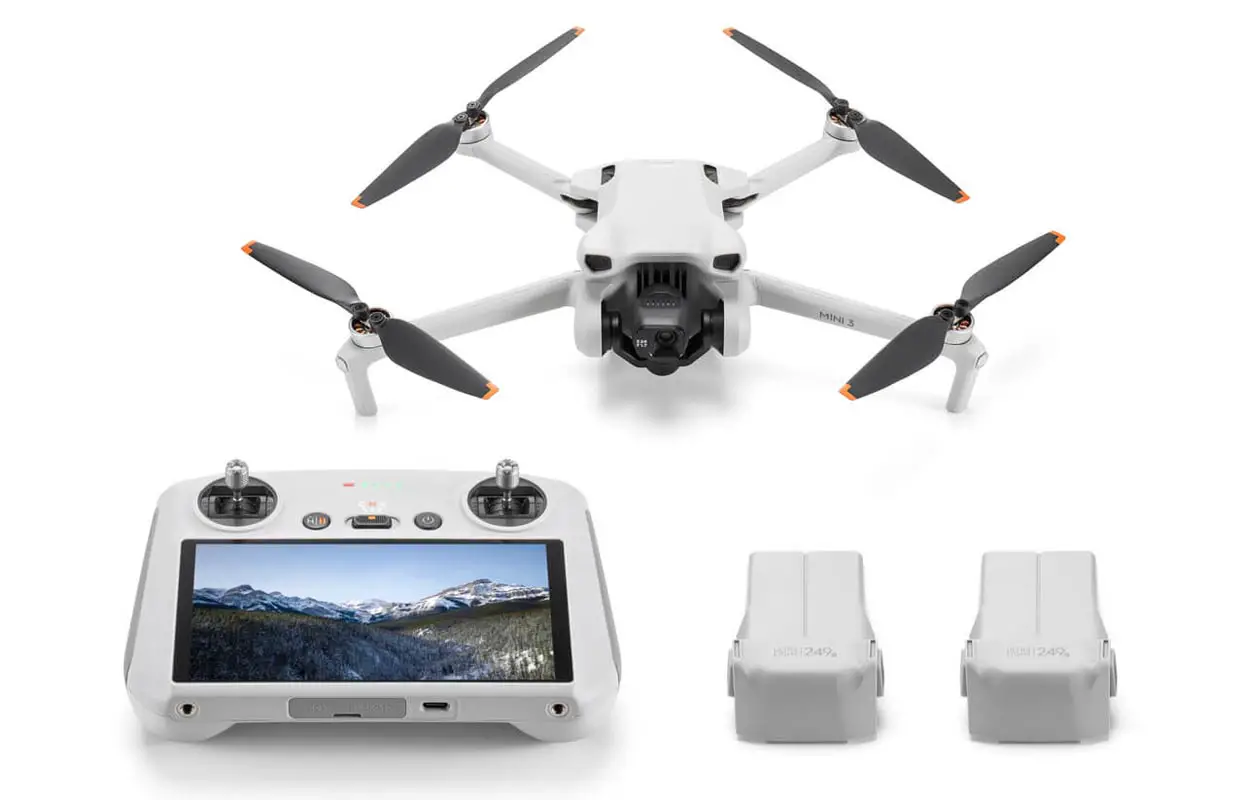 Mini 3 DJI Mini 3 weighs 249 grams (or 8.8 ounces), as does the Mini 3 Pro. Mini 3 Pro is designed to fit in pockets or bags easily. This lightweight also meets regulations from regulators such as the FCC that allow drones weighing less than 250 grams to fly with no registration requirements in the US and abroad. Mini 3 can handle wind resistance as high as 10.7m/s despite its tiny size, which assists in hovering and maintaining an image stable in turbulent conditions.
Features and Highlights
Its 1/1.3-inch camera sensor can capture video at 30fps or 4K in HDR and take photos ranging between 48MP and 12MP in dimensions. Digital zoom is available at 2x in 4K 30fps, 4x in 1080p, and 2x on 12MP images. 180-degree field of view, Wide, and Sphere panoramic shooting modes are all available.
The drone also has DJI's auto-scanning mode for Quickshots and a set of pre-programmed flight and recording paths, as well as the DJI O2 Digital Video Transmission delivers the live 720p/30fps stream from a distance of 10km (around 6 miles).
DJI claims that it uses the 4-in-1 pixel technology, which allows photos ranging from 12MP to 48MP with individual pixels that can be as big as 2.4 millimeters, which sounds like Apple's " quad pixel" technology, which is used in iPhone 14 Pro models. iPhone 14 Pro models.
DJI Mini 3 Modes
Dronie: The Drone can fly back and forth while the camera is locked onto the subject.
Helix: The Drone takes off and down and then spirals over the subject.
Rocket: The Drone can fly upwards, and the camera faces downwards.
Circle: It will revolve around the subject.
Boomerang: The Drone can fly around the subject on an oval pattern, climbing while it goes away, then returning to a lower altitude.
Battery Life
DJI Mini 3 DJI Mini 3 can achieve a maximum flight time of as long as 38 minutes when using an ordinary Intelligent Flight Battery or 51 minutes when using Intelligent Flight Battery Plus. Intelligent Flight Battery Plus.
Mini 3 has automated flight features like auto Takeoff and return to Home (RTH). RTH can automatically adjust flight settings, such as Smart RTH, Low Battery RTH, and Failsafe RTH, which instruct that the drone returns to its original position when problems such as dropping signals or low battery are detected.
Availability and Pricing
The earlier DJI Mini 2 is sold for $449 (which includes a controller). The new DJI Mini 3 features a more powerful sensor and a larger aperture that lets in more light. It also has a wider gap to let in more light. Mini 3 also offers a longer battery life and the option of adding the battery's life if you're interested in upgrading to its Intelligent Flight Battery Plus.
DJI Mini 3 is available today. DJI Mini 3 is available now and retails for $559 when paired with the DJI RC-N1 controller or $699 when paired with the DJI RC controller. Also, the DJI Mini 3 Fly More Combo is available for $858, that comprises a Mini 3 drone, Mini 3 drone, a DJI Remote Controller RC-N1 as well as a shoulder Bag as well as a two-way charging Hub, and two more intelligent flight batteries.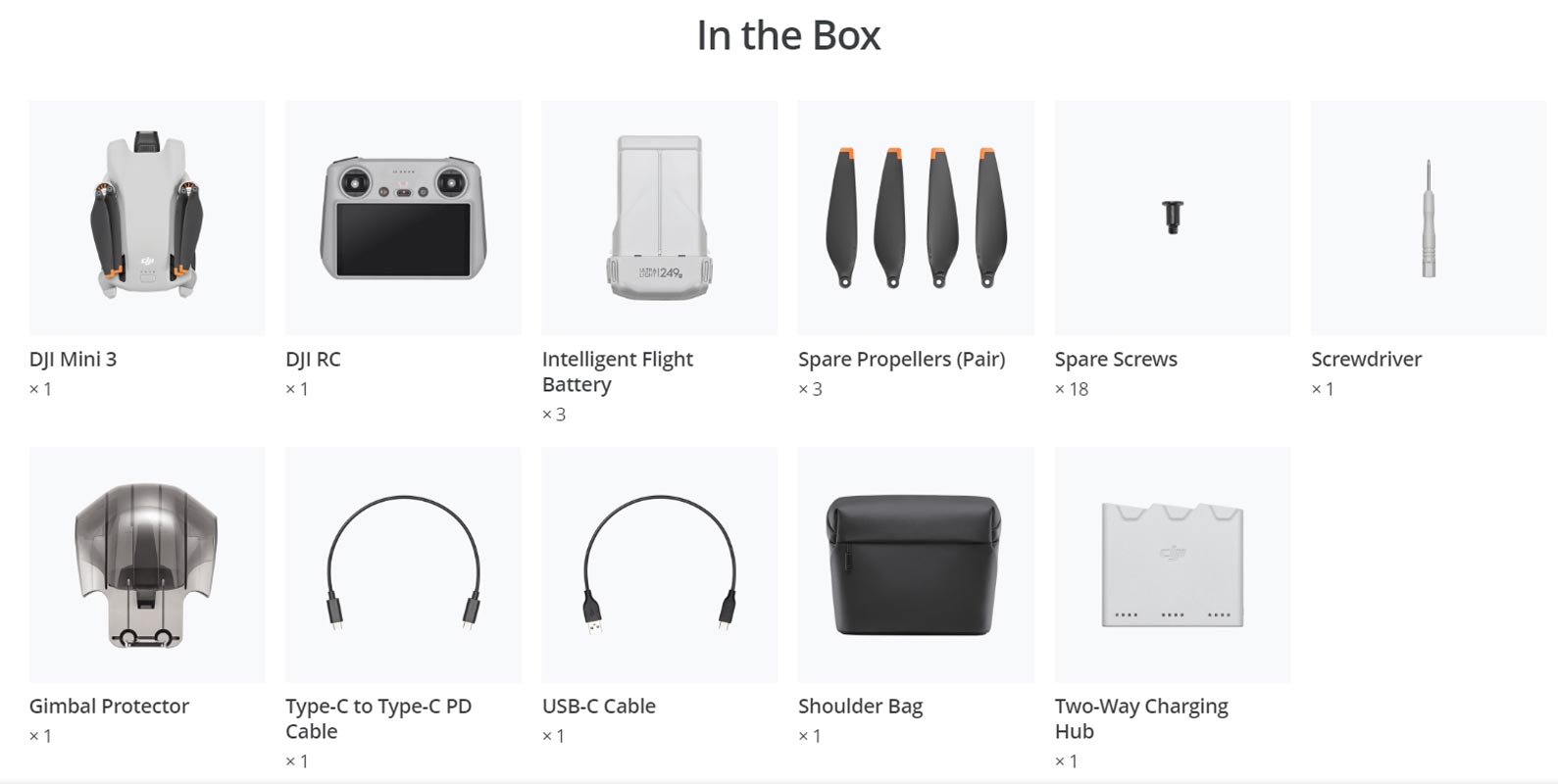 The Mini 3 Pro prices start at $759 when paired with the DJI RC-N1 controller. It is expected that the DJI Mini 3 will also be available for purchase at $469 as a drone-only device (not comprising a controller or charger) at some point in early the month of January 2023. The whole bundle with of $858 package comes with DJI mini 3, DJI RC, three pieces of Intelligent Flight battery, three pairs of Propellers, 18 Spare Screws, 1 Screw Driver, 1 Glimbal Protector, 1 Type-C to Type-C PD Cable, 1 USB-C Cable, 1 Shoulder Bag and 1 Two way charging hub.
DJI Mini 3 Comparision with DJI Mini 2, DJI Mini 3 Pro, DJI AIR 2S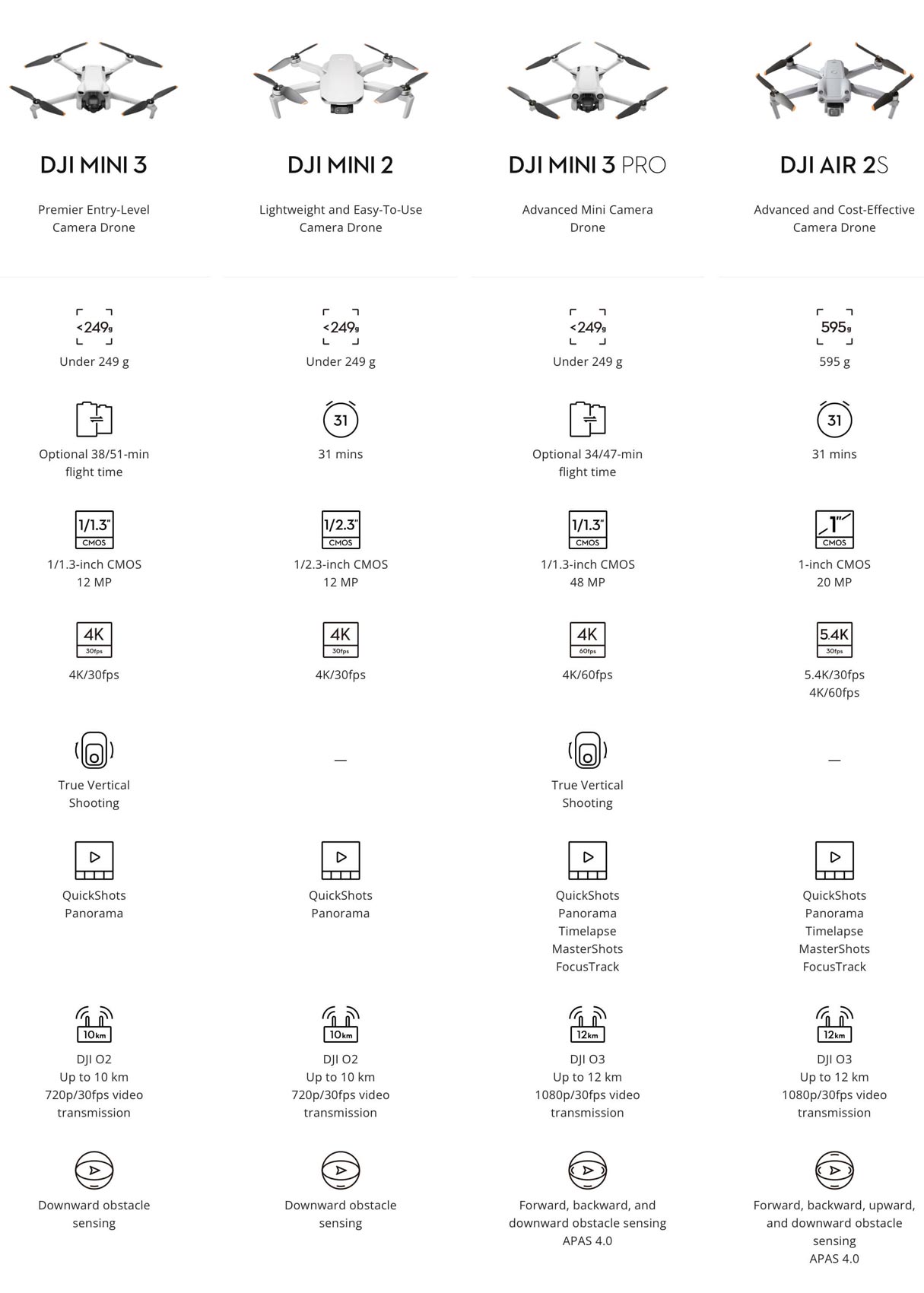 FAQ
What are worthy enhancements included with DJI Mini 3 compared with DJI Mini 2?
In comparison to DJI Mini 2, DJI Mini 3 has vastly upgraded the imaging device, its battery lifespan, and other aspects. With an ultra-lightweight and compact design of just 249 g, DJI Mini 3 features a 1/1.3-inch imaging sensor compatible with the dual-native ISO and chips-level HDR technology. It also supports shooting in 4K HDR video. The new gimbal model allows the possibility of True Vertical Shooting and large-angle tilt.
What is the resistance to the wind speed of the DJI Mini 3?
The maximum wind speed resistivity to wind speed DJI Mini 3 is 10.7 milliseconds (Level 5.). The drone can maintain a steady hover and ensure that the image remains stable at speeds of 10.7 milliseconds (Level 5). It will be able to determine the speed of the wind in real-time and alert users to come back if strong winds are forecast.
What are the supported remote Controllers that work with DJI Mini 3?
Yep. DJI Mini 3 currently supports two remote controllers, the RC-N1 Remote Control and DJI RC. You need to be aware of this when purchasing a Drone by itself and do not have a Controller or want to switch controllers. Make use of the DJI RC-N1 Remote Control with an Android smartphone. Equipped with an integrated 5.5-inch HD display, the new DJI RC gives you crisp, clear images even in direct light. Equipped with its installed DJI Fly app, it will connect directly to your drone when powered on without linking to a smartphone, allowing you to shoot straight away.
Supporting Memory cards
SanDisk Extreme 32GB V30 A1 microSDXC/ 64GB V30 A1 microSDXC/ 128GB V30 A2 microSDXC/ 256GB V30 A2 microSDXC

SanDisk Extreme Pro 32GB V30 A1 microSDXC

Kingston Canvas, Go! Plus 64/256GB V30 microSDXC

Kingston Canvas React Plus 64/128 GB V30 microSDXC

Samsung PRO Plus 256GB V30 A2 microSDXC
Wrap Up
DJI Mini 3 is one of the anticipated Drones in the budget category. Even though it does not come under budget for First buyers, it was a Worthy deal for Upgrades or Already Drone having users because first buyers have to buy everything, including controllers and other Accessories. Moving part Electronic devices always need service. So, It is worth purchasing other parts in the package. What are your thoughts about buying DJI Mini 3? Did you consider as worthy of buying? Share your thoughts below.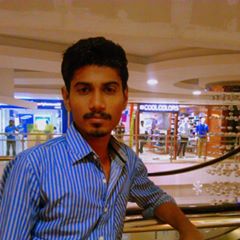 Selva Ganesh is the Chief Editor of this Blog. He is a Computer Science Engineer, An experienced Android Developer, Professional Blogger with 8+ years in the field. He completed courses about Google News Initiative. He runs Android Infotech which offers Problem Solving Articles around the globe.