We are in a day where we have a seamless data connection, but in some areas, we are struggling to get mobile networks. So to utilize the situation, mobile operators introduce a lot of data-based calls. Most of the mobile operators already introduced the VoLTE feature. It uses the LTE connection to make better voice calls. Now VoWiFi is becoming a trend. Compare with VoLTE; It helps to make calls where the network is not available. Your mobile should support VoWiFi to use this feature. Most of the OnePlus mobiles support VoWiFi. Below we are going to explain How you can enable VoWiFi in OnePlus Devices. You can use any broadband data connection or other network mobile hotspot to make VoWiFi calls. This feature will surely help if your home doesn't have mobile network coverage but a broadband data connection.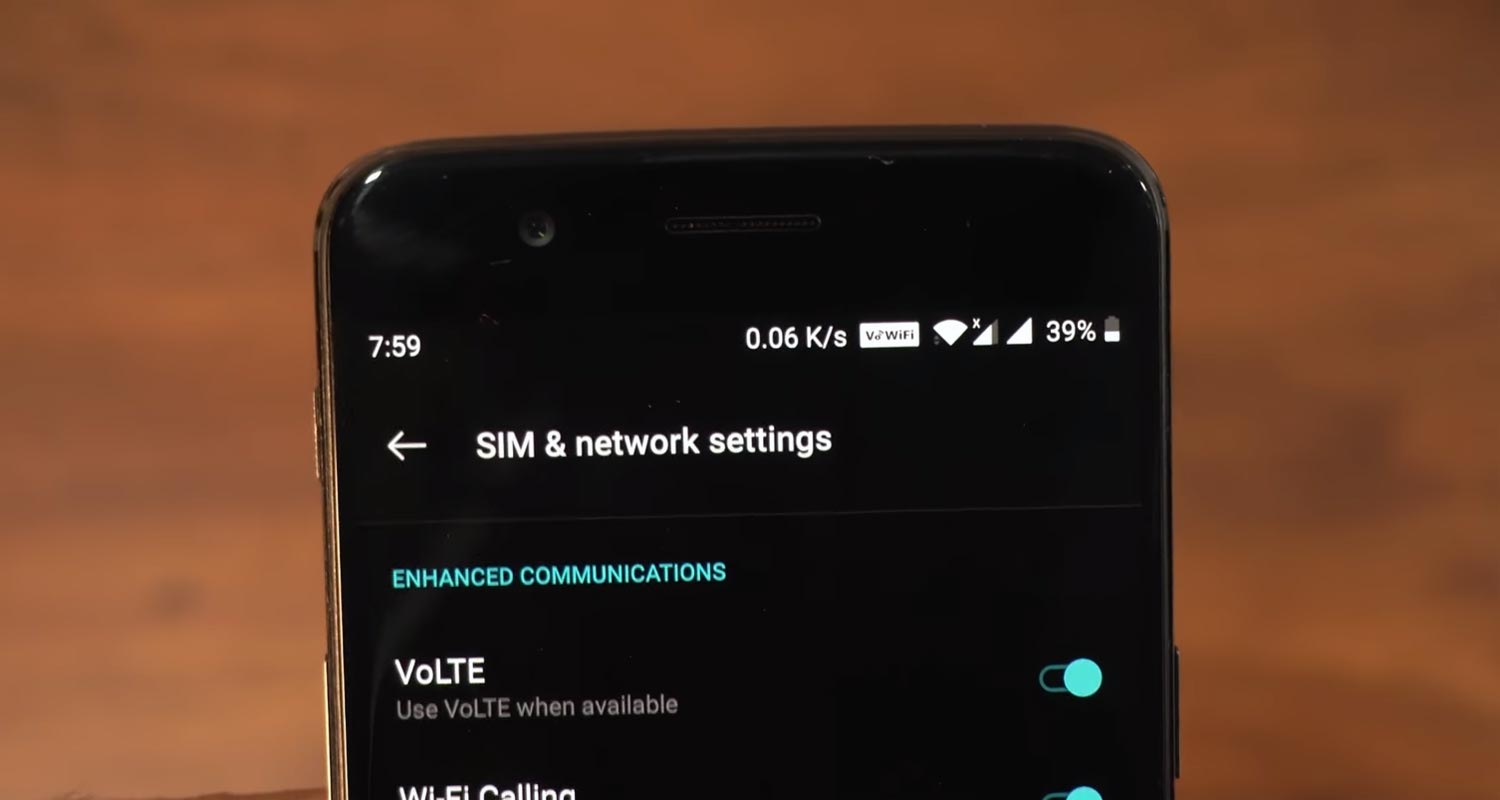 What is VoWiFi or Wi-Fi Calling?
With the help of Wi-Fi Calling, You don't need your mobile operator Signal to make calls. What? It is a little bit confusing, Right?. Your mobile will make calls over the mobile signal when it has strong Tower. When It can't connect to the Operator, But Your mobile has a Wi-Fi signal, It will utilize the Wi-Fi Signal to make calls and texts.
How Does VoWiFi work?
We can understand this feature using a scenario. Your house always receives a weak Mobile signal because it is wireless. Or Your Primary mobile has weak signals in the area. But, On the other hand, you have a robust wired Broadband data connection Or Secondary mobile with a strong mobile message. You can use your Broadband Wi-Fi or a mobile hotspot to make the calls. There will be no additional charge to use this add-on feature. You need only Wi-Fi Calling featured cellular and Wi-Fi connection. That's All.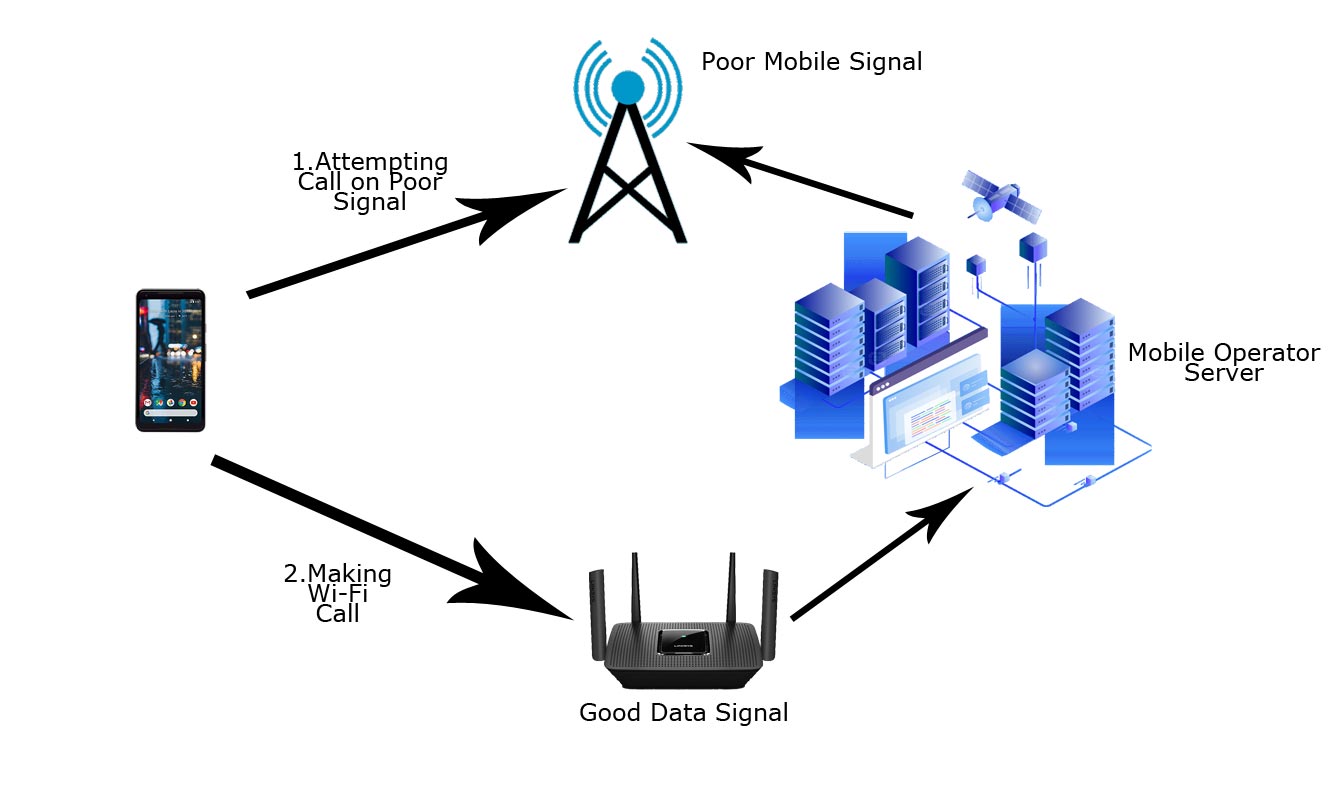 From the above work chart flow, you can better understand the concept. First, your mobile will try the regular Voice call. When it fails due to inadequate network coverage, It will utilize the Wi-Fi calling feature If your mobile has a Good Wi-Fi connection and with the help of some server-side works. You can Efficiently make the call. You may wonder what the difference between the Whatsapp Calls and this new Wi-Fi calling is. Both Sender and Receiver need the Whatsapp app in both mobiles to get the calls. But, Here, you making usual calls without any app using Data connection.
VoLTE vs. VoWiFi/Wi-Fi Calling

VoLTE is Voice over LTE connection. It will help you to make High Definition calls and Prevent Data connection drop when making calls. If you didn't have VoLTE, you can't connect to the internet when making calls. As you notice in that mobile, There is no VoLTE feature. So, When making calls, The Signal changed to 3G, and even worst, We can't connect to the internet. When we have VoLTE, It won't happen. We can easily use the data connection.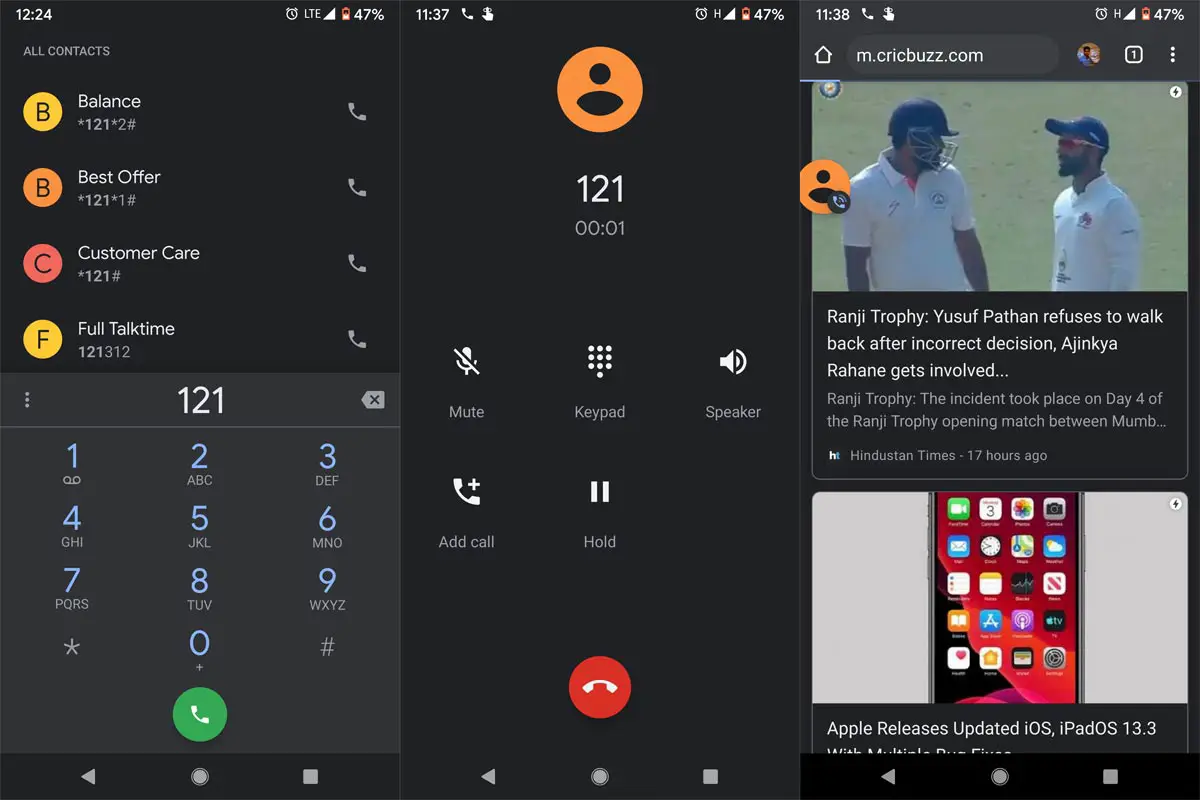 Wi-Fi Calling/VoWiFi is making usual calls without any third-party apps that should be present in the sender mobile. It will be like a regular call over the data connection.
Supporting Devices
In the Warm Start, Not all mobiles on this list. The Wi-Fi calling feature is purely mobile manufacturer dependent. Mobile Network Operators can't do anything in your mobile updates. If your mobile supports this feature, you can use it.
How to Enable VoWiFi/Wi-Fi Calling in OnePlus Devices?
The settings may vary depending on the mobile. But, I will give you general instructions. If you can't find the feature, you should update your mobile to the latest software version.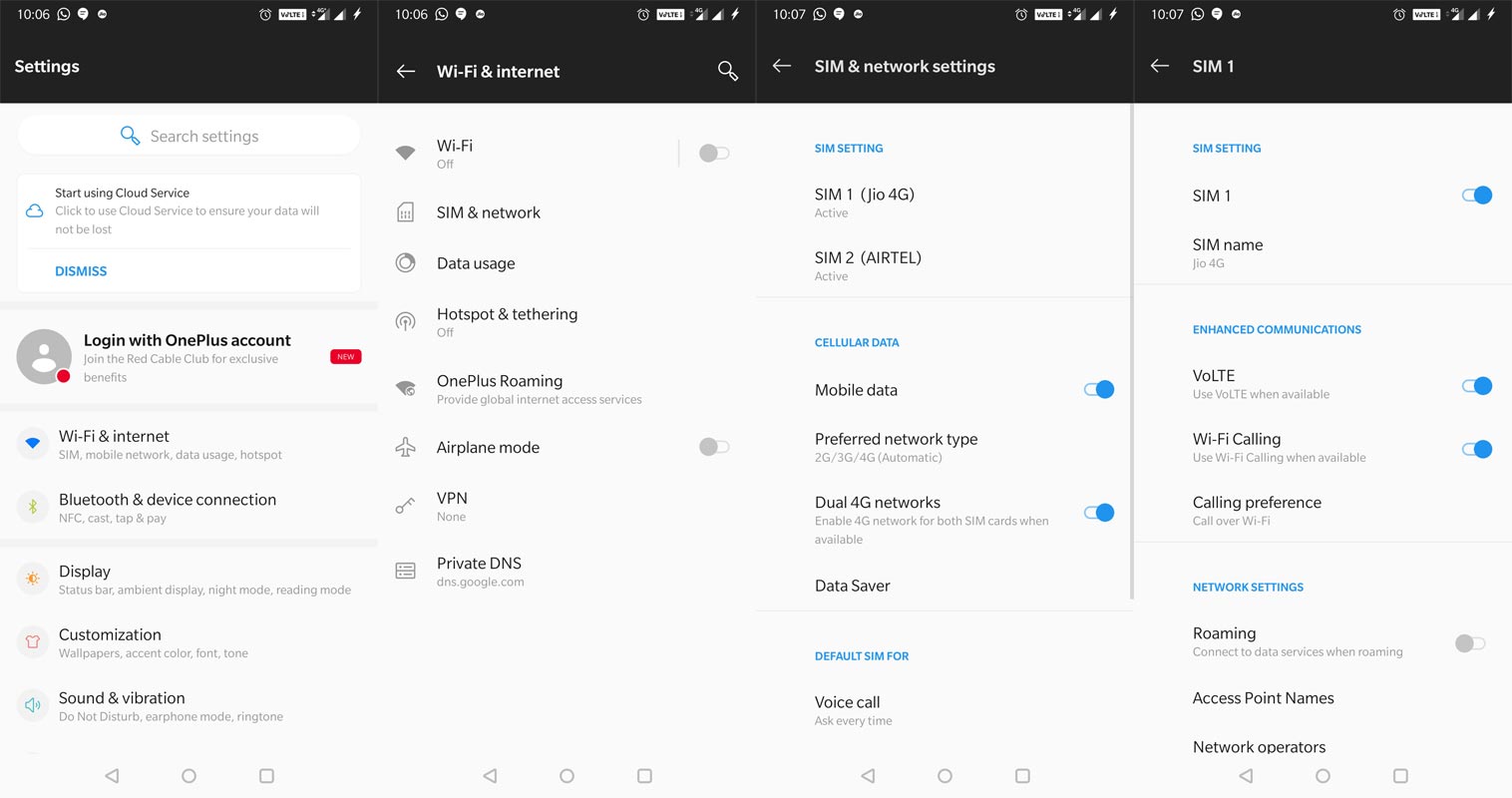 Like VoLTE call enable, you can find this feature in your Mobile Network Settings. Go to Settings> Mobile Networks> Wi-Fi Calling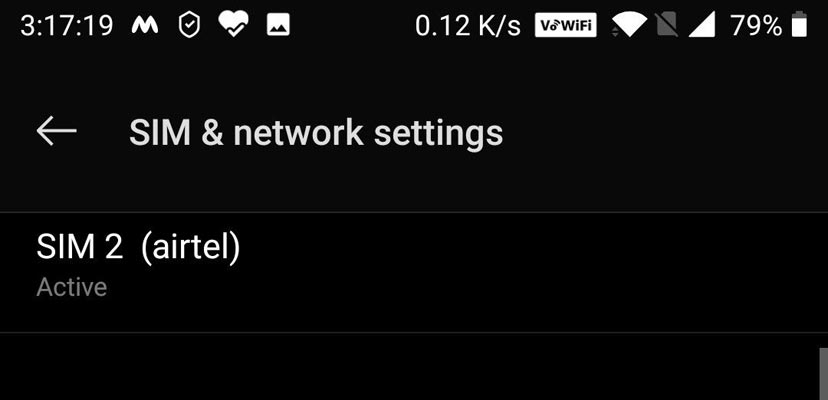 After you enable the option, You should connect your mobile to a Wi-Fi connection. Now you can notice there is a new VoWiFi symbol in the network area.
Method 2- VoWiFi enable using the OnePlus Log kit
In rare situations, you may not get the Wi-Fi Calling option in your mobile settings. In those situations, follow the below method.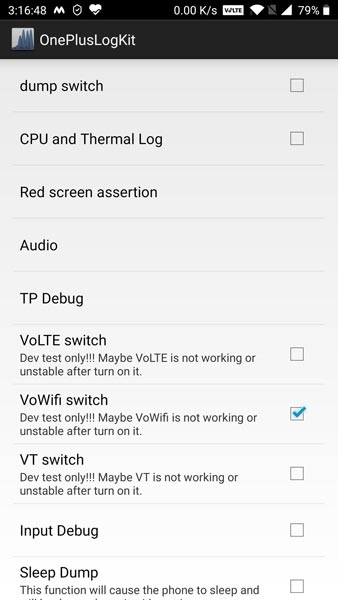 Dial *#800# in your dial pad. You will get an OnePlus Log kit.
From the options, you can notice the "VoWiFi switch." Enable the option.
Now you can find the VoWiFi option in the Network settings.
Dual VoWiFi/Wi-Fi Calling in OnePlus Devices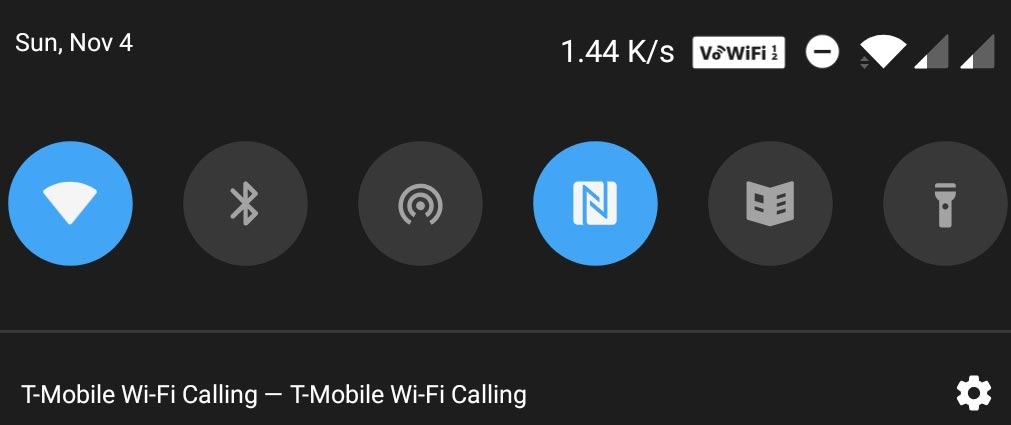 The latest software updates in some OnePlus mobiles allow dual VoWiFi standby. Before that, Based on the network availability, only one of your networks will be available as VoWiFi compatible. You don't have to do any unique methods to enable the feature. When your mobile has this feature, you can notice dual standby in the VoWiFi symbol.
Wrap Up
Mobile networks may advertise them as we have coverage in every corner. But real-time users know we can't get the signal in some rooms of our house and make a call we have to use the mobile like landline connection and find the perfect spot. But most of the homes now have a stable wired internet connection. By using the VoWiFi/Wi-Fi call facility, we can seamlessly call experience to our friends.
There are plenty of alternatives like Facebook Messenger Room which gives you video call support up to 50 People. But when you want to make a call to regular peoples, You can't force the receiver to be available with third-party apps. During those situations, VoWiFi can help you. It will give real voice call experience over data. You need a minimum of 80Kbps speed for making Wi-Fi calls. It is better when you have a minimum of 1Mbps speed. OnePlus always support local region mobile operators' band and features. Supporting VoWiFi in Oneplus is excellent because some of the mobile manufacturers don't provide this feature even in the flagship mobiles. What are your thoughts about OnePlus always listening to user request features and implement them as much as possible? Did you have VoWiFi in your Oneplus mobile? Comment below.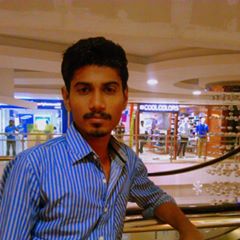 Selva Ganesh is the Chief Editor of this Blog. He is a Computer Science Engineer, An experienced Android Developer, Professional Blogger with 8+ years in the field. He completed courses about Google News Initiative. He runs Android Infotech which offers Problem Solving Articles around the globe.