The Samsung Galaxy S23 FE, Tab S9 FE, and Buds FE represent the pinnacle of Samsung's product offerings, tailored to meet the needs of a diverse and extensive audience. These devices stand as a testament to innovation, seamlessly blending state-of-the-art technology with a commitment to sustainability and practicality. Samsung crafts a trifecta – Galaxy S23 FE for sleek design, Tab S9 FE for productivity, and Buds FE for audio excellence. Whether it's the vibrant colors, long-lasting batteries, or user-friendly features, these additions epitomize Samsung's dedication to providing a holistic and satisfying experience for a broader user base.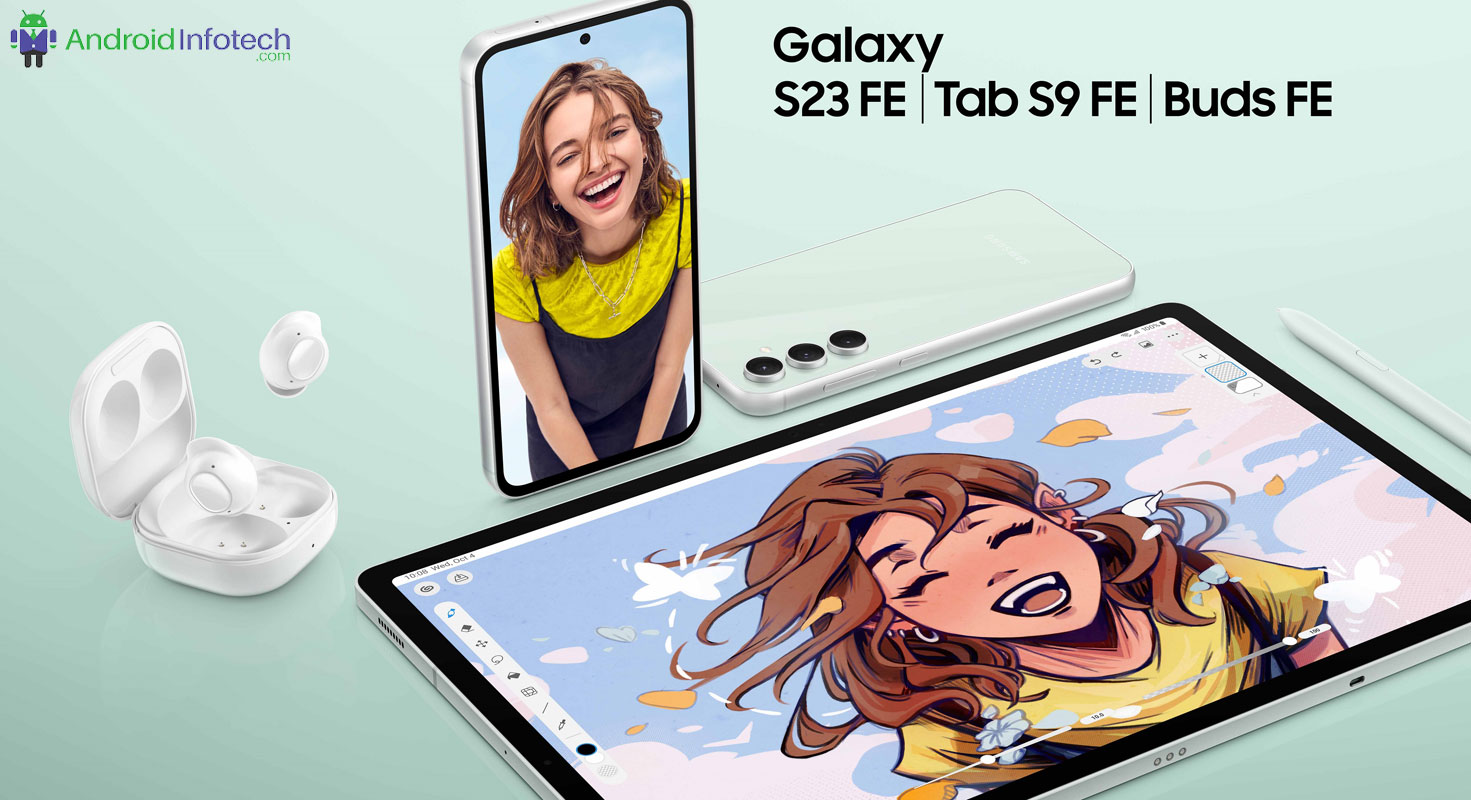 Galaxy S23 FE: A Sleek and Sustainable Choice
The Galaxy S23 FE maintains the iconic S series design with a new floating camera and a premium finish, boasting IP68 water and dust resistance for an even sleeker display. Notably, it integrates recycled materials and packaging, embodying durability and sustainability. Users can choose from vibrant colors that suit their style.
Capturing Everyday Moments in Brilliance
Equipped with pro-grade camera features, the Galaxy S23 FE elevates everyday moments.
A 50MP high-resolution lens and 3X optical zoom ensure sharp details in every scene. The Nightography feature enables clear selfies and portraits even in low light.
Advanced digital image stabilization ensures steady shots, making it an ideal choice for photography enthusiasts.
Editing Studio on the Go
The Galaxy S23 FE doubles as an editing studio, providing controls for shutter speed, aperture, ISO, and more in Pro Mode.
The Camera Assistant app and AI-powered editing tools allow users to customize their shots, enhancing creativity and personalization.
Power-Packed Performance for Gaming and Streaming
Featuring a powerful processor and a vapor chamber for heat control, the Galaxy S23 FE ensures rapid and fluid actions during gaming and streaming.
The 4,500mAh battery offers long-lasting usage, charging rapidly with a 25W Adapter.
The 6.4-inch Dynamic AMOLED 2X display further enhances the user experience.
Pricing and Availability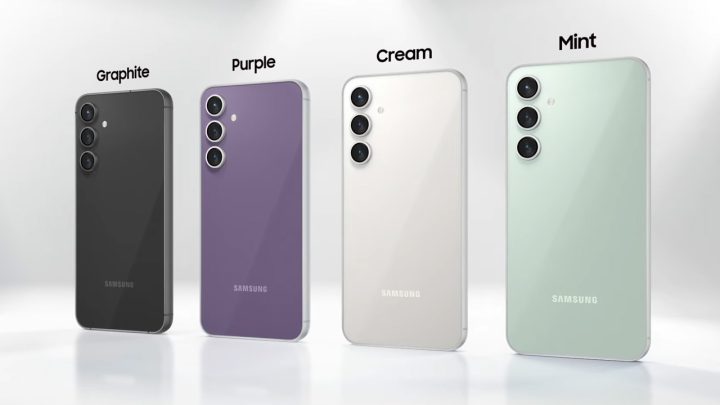 The Galaxy S23 FE series is available at an attractive starting price of $599, offering a range of modern, bold colors.
Galaxy Tab S9 FE and S9 FE+: Versatile and Powerful
The Galaxy Tab S9 FE and S9 FE+ provide essential entertainment, creative capabilities, and seamless productivity.
These devices cater to a diverse audience, including digital creators, students, artists, and gamers, offering improved device speed and performance compared to the previous FE Series.
Enhanced Viewing and Productivity
With responsive and immersive displays ranging from 10.9 inches to 12.4 inches, the Tab S9 FE series offers an optimal viewing and creating experience.
The automatic refresh rate of up to 90Hz and Vision Booster technology ensures exceptional visibility, even in varying lighting conditions.
Durable and Long-Lasting
Both Tab S9 FE and Tab S9 FE+ are built to last with an IP68 rating for enhanced durability.
The devices have a durable battery, offering 20 hours of video playback on a single charge.
Creative Tools and Storage Options
The Galaxy Tab S9 FE series has the signature in-box, IP68-rated S Pen for effortless note-taking and creativity.
Users can store class notes, sketches, videos, and more with ample storage options.
Pricing and Availability
Galaxy Tab S9 FE starts at $449, offering fashion-forward colors to match every user's style.
Galaxy Buds FE: An Audiophile's Delight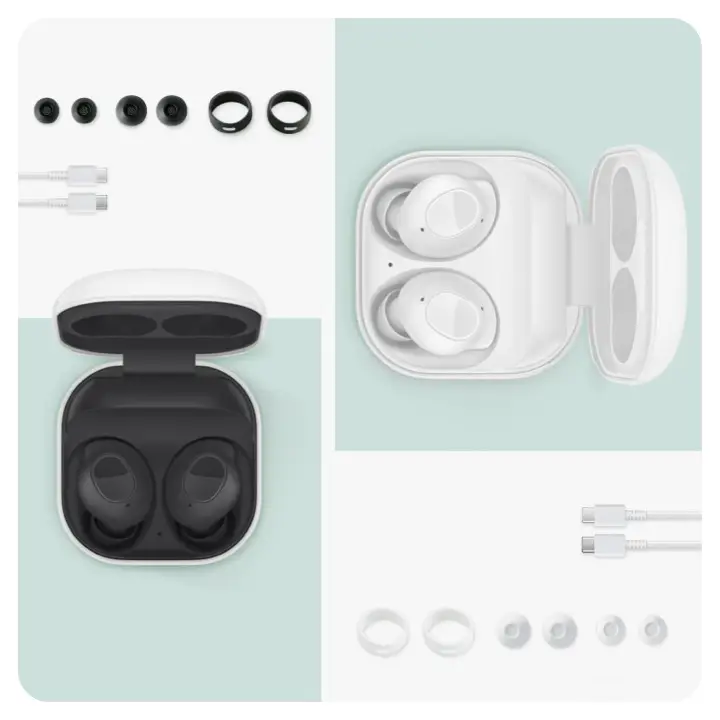 Samsung's Galaxy Buds FE delivers an unparalleled sound experience to a broader user base.
The powerful bass and advanced Active Noise Cancellation (ANC) offer a rich auditory experience tailored for music enthusiasts.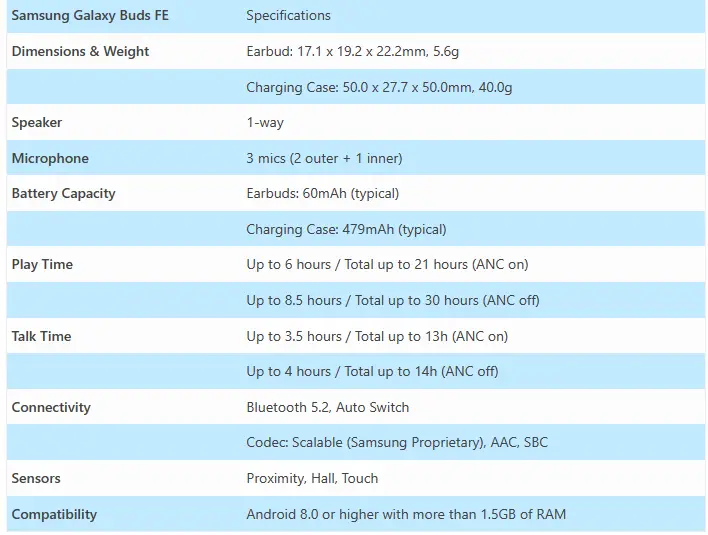 Extended Battery Life and Comfort
Galaxy Buds FE provide an extended battery life, making them ideal for prolonged usage.
The ergonomic design ensures comfort, with customizable ear and wingtip sizes for an optimal fit.
Pricing and Availability
Available at an attractive price of $99, the Galaxy Buds FE comes in two modern colors, catering to diverse tastes.
FAQs
What are the standout features of the Galaxy S23 FE?
The Galaxy S23 FE boasts a sleek design, exceptional camera features, powerful performance, and sustainability through recycled materials.
How does the Galaxy Tab S9 FE enhance productivity?
The Tab S9 FE series offers responsive displays, improved device speed, ample creative tools, and extended battery life, ensuring seamless productivity for users.
What sets the Galaxy Buds FE apart in terms of audio quality?
Galaxy Buds FE provides powerful bass and advanced Active Noise Cancellation, delivering an immersive sound experience that caters to audiophiles.
Is the Galaxy S23 FE available in various colors?
Indeed, the Galaxy S23 FE comes in various lively colors, enabling users to select the one that suits their style preferences perfectly.
How does the pricing of the Galaxy Buds FE compare to other Samsung earbuds?
The Galaxy Buds FE are attractively priced at $99, offering a compelling option for users seeking quality audio without breaking the bank.
Wrap Up
Samsung Galaxy S23 FE, Tab S9 FE, and Buds FE embody innovation and versatility, offering diverse features for diverse audiences. The trio excels with cutting-edge cameras, capturing each moment with exceptional detail and clarity, redefining photography and videography. The Tab S9 FE entices productivity enthusiasts with its seamless interface, ergonomic design, and varied apps, fostering efficient and creative tasks. The Buds FE enchant audiophiles on the auditory front, boasting immersive sound quality and a snug fit for a remarkable audio journey.
These devices go beyond mere utility; they testify to Samsung's commitment to delivering an all-encompassing experience. Whether it's the vibrant color options, extended battery life, or the seamless integration of technology, the Galaxy S23 FE, Tab S9 FE, and Buds FE cater to diverse needs, ensuring a perfect match for every discerning individual.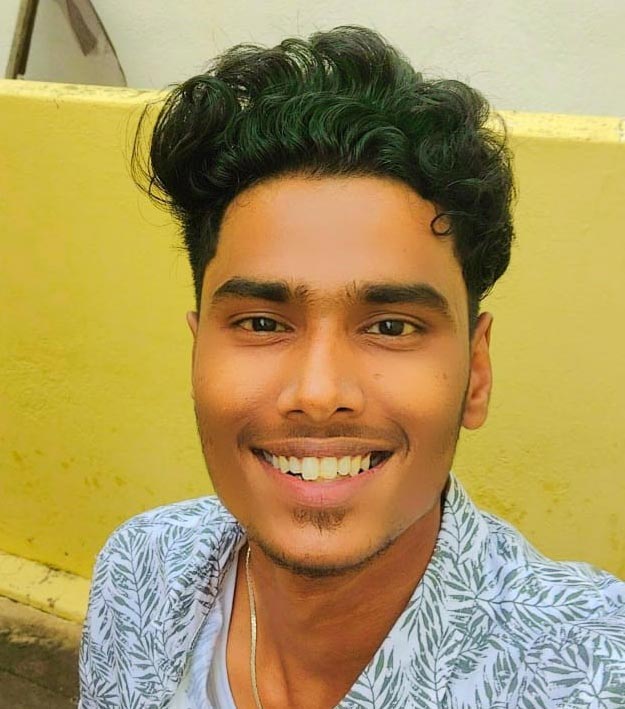 Arun Karthick is a highly skilled and versatile individual with a computer science background. He completed his undergraduate degree in this field and has since worked as an Android developer. Arun is known for his expertise in break dance and is highly regarded in this field. In addition to his dancing abilities, Arun is also a mobile hardware-level technician, making him well-rounded. He is known for his intelligence and is considered an intelligent individual in his professional and personal life.