Mobile operators are slowly plating 5G towers across the world. Each Operator begins to plant at least a small area that covers under 5G. Thus, They have utilized the already existing resources and replace less useful devices. Currently, most of the carriers support 2G,3G, and 4G. So when you have old feature mobiles, you can make voice calls seamlessly. But the plans are not suitable for 2G and 3G phones. After AT&T sends emails about the 3G shutdown, there is some news point around that T-Mobile also requires VoLTE facility ion your mobile to make voice calls. It means, even if you have smartphones, it is not enough to make voice calls. You need VoLTE enabled mobile that is compatible with your current carrier frequency.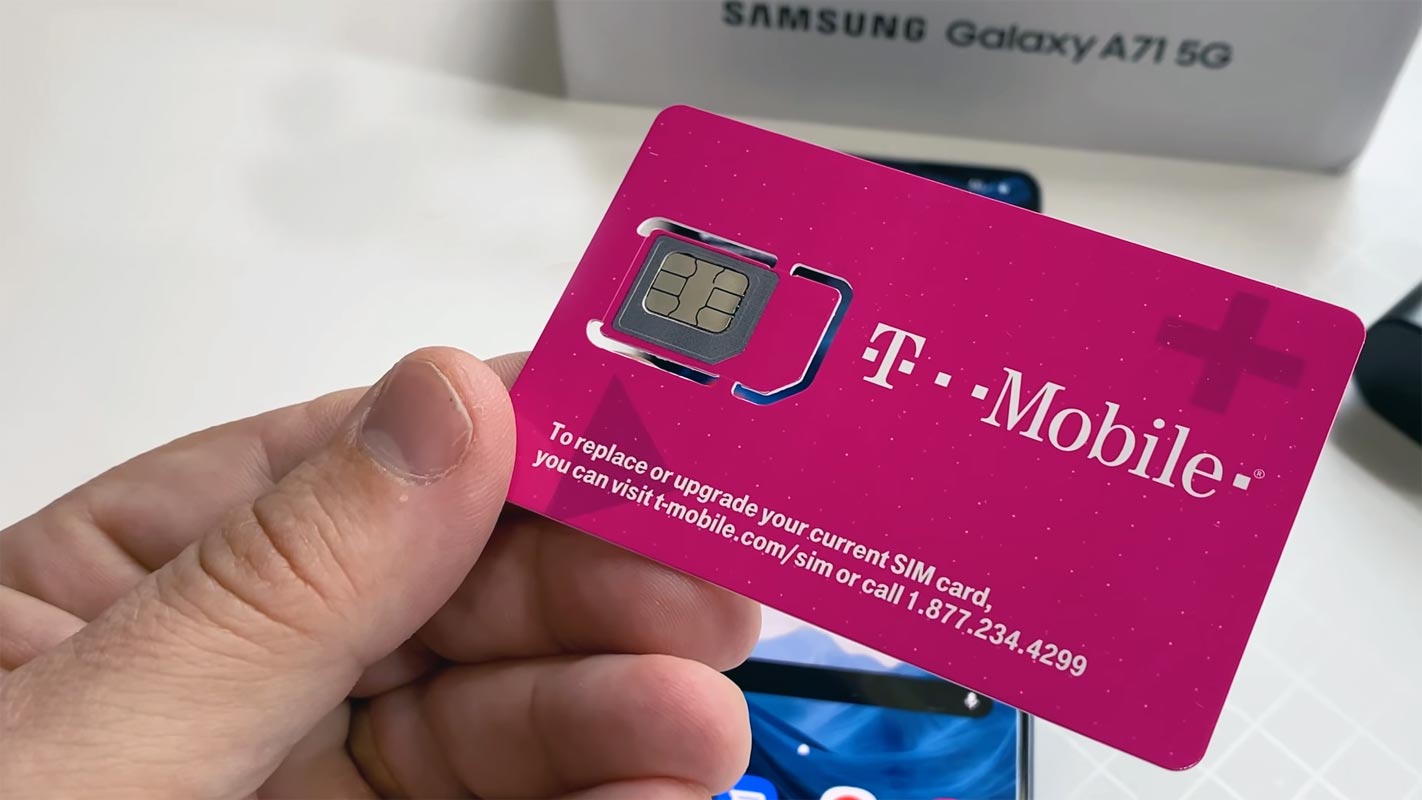 5G effect on 2G and 3G
Every mobile phone service provider is updating its system to introduce the latest 5G band spectrum. The real 5G uses mmWave low band frequency, which requires the installation of specialized equipment and infrastructure. That is why every carrier is replacing 4G LTE with the high-speed 5G equipment. In this scenario, it is not economically feasible for these carriers to run multiple band spectrum at the same time.
On the other hand, mobile manufacturers have set 4G LTE as the standard of manufacturing. So, there is no room for 2G or 3G mobile phones as mobile phone service providers stop the 2G and 3G service. The USA's largest telecommunication company AT&T has already announced to shut down 2G and 3G service from 2022. AT&T has set the VoLTE (voice over LTE) as standard for the mobile phone to continue its services after 2022.
What is VoLTE?

It is the same as its name suggests, voice over LTE. Usually, we think 4G LTE is to transfer data, downloading, or streaming only, but it gives you a super voice quality. Some carriers have set the standard as VoLTE rather than 2G and 3G. They charge you in data in Mbs rather than in minutes. VoLTE gives you super voice quality, maximum coverage area, better data transfer rate, saves battery life, and allows video calling. VoLTE is not available on every network or any mobile phone.
T-Mobile Plans on 2G and 3G shutdown and goes VoLTE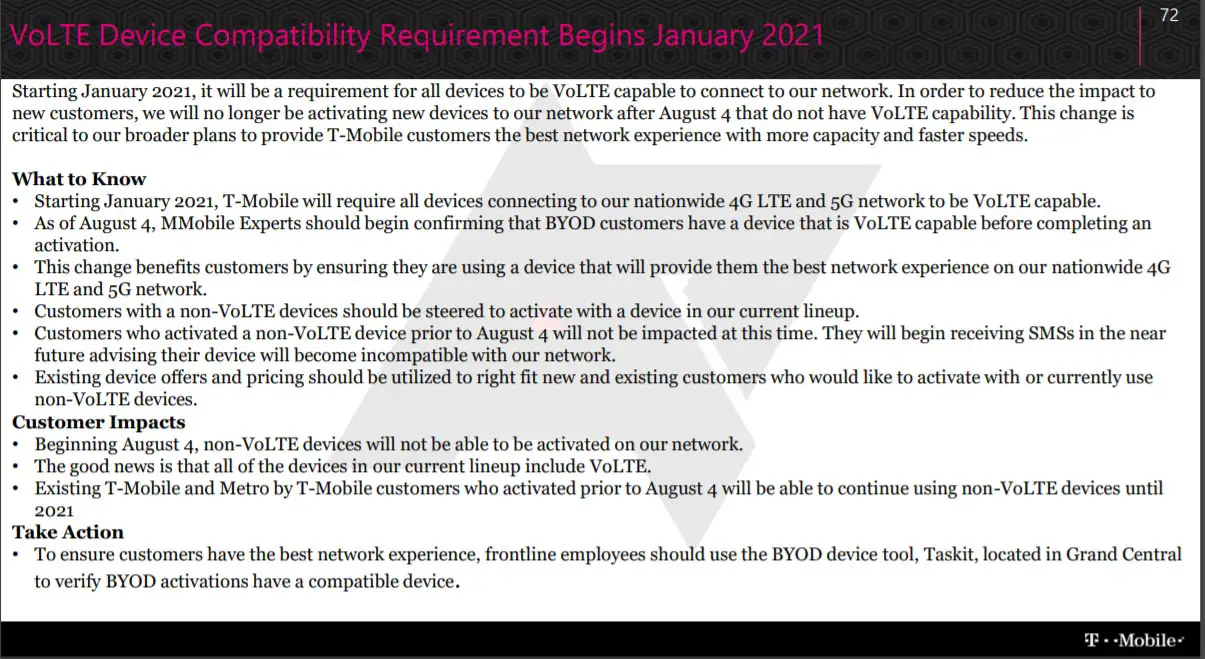 T-Mobile already covered 50 states with its 5G. They won't soon shut down the networks, But they want to prepare users. T-Mobile didn't officially announce anything about the shutdown of 2G and 3G. But a leaked document from T-Mobile shows the company's intentions. According to this leaked document, T-Mobile will not support non-VoLTE devices from January 2021. One of the company's spokesman confirms this shutdown but didn't confirm the shutdown date. He said that T-Mobile is phasing out some older technologies to free up space for 4G LTE and high-speed 5G.
As at the time of the merger with Sprint this April, T-Mobile announced continuing to support sprint customers for three years. In the merger context, January 2021 is too early for the shutdown. However, T-Mobile announced not to register non-VoLTE devices from August 4. 2020, on its network.
How to check your phone VoLTE compatibility?
Phone settings
You can check your phone compatibility inside your phone settings. Go to settings and tap "About phone" option.  Find the SIM Status form the menu and tap. You will get complete information about your SIM card. If you find VoLTE under your mobile voice network option, then congrats, your phone is VoLTE compatible.
Dial-up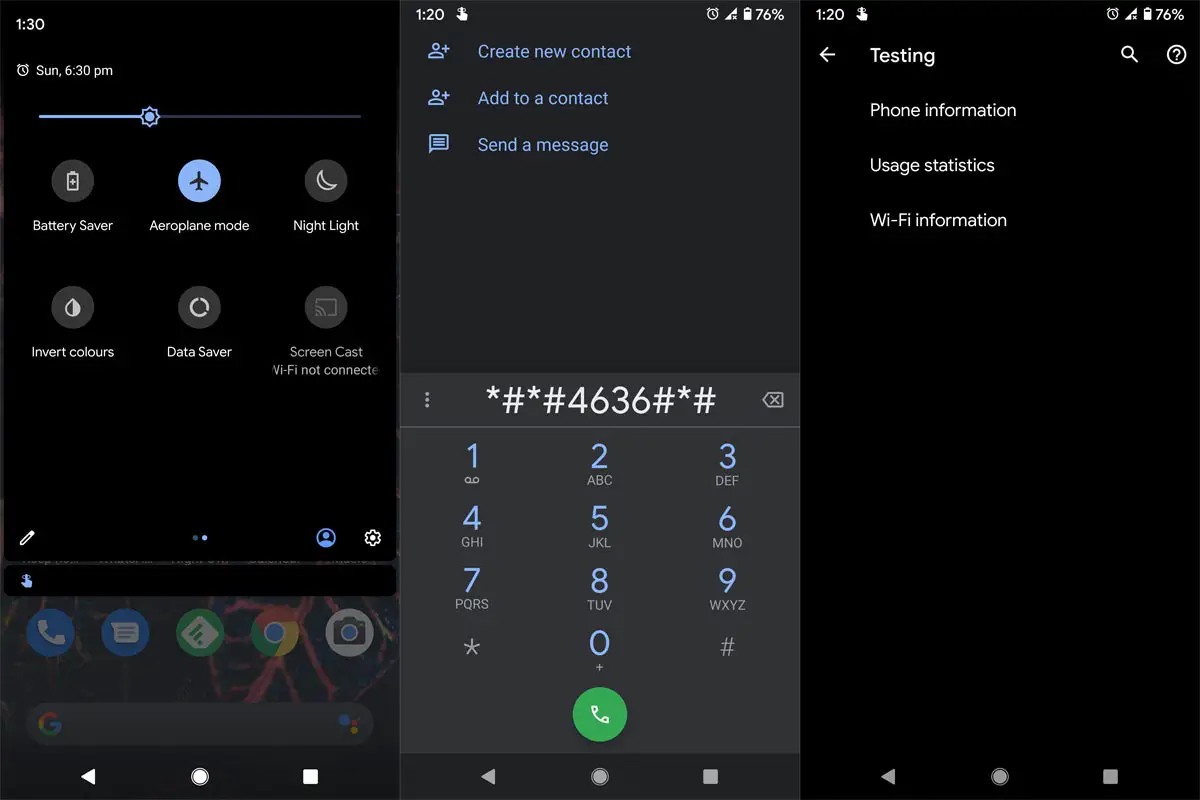 The second method is to dial *#*#4636#*#* from your dial pad. It will open the hidden diagnostic menus on your phone information. Here if you find VoLTE under voice network type, then your mobile is VoLTE compatible.
Company's compatibility page
There is a third method too. You can check the compatibility on the company's compatibility page. Just open the company's compatibility page and enter your phone's IMEI number, which you can find by searching IMEI under the 'About phone' menu in your phone settings. When you enter the IMEI number, the company tells you whether your phone is VoLTE compatible or not.
What does T-Mobile VoLTE only voice calls mean for 2G and 3G customers?
It will directly affect those customers who are still using a 2G or 3G mobile phone. They have to buy a new phone to continue enjoying T-Mobile services or to shift to any other network which still supports their old phones. Those customers who have imported their mobiles, and not registered in the USA will get this impact. A list of these imported mobiles includes Oppo, Huawei, and Xiaomi. Customer having these unregistered set which is using T-Mobile right now will also be facing it after December 31, 2020. 
Wrap up
T-mobile is focusing more on future technology and already achieved 1Gbps speed in their mid-band 5G, while Verizon struggles to plant mmWave technology across the country. There are thousands of users of T-Mobile users who are still using the old mobile set. T-Mobile should launch some leasing phone offers to such customers to get them along on this journey of high-speed communication.
When all of the US carriers change their band to VoLTE compatible, You can't make voice calls from your feature mobiles. Even if you have LTE mobiles, It doesn't mean you have VoLTE. Your mobile manufacturer or your carrier should roll out OTA to make your mobile VoLTE compatible. Most fo the mobile manufacturers don't roll out software updates regularly. Do you have an older mobile phone with T-Mobile yet? Do tell us your experience in the comments below.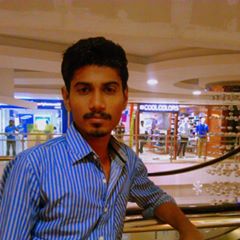 Selva Ganesh is the Chief Editor of this Blog. He is a Computer Science Engineer, An experienced Android Developer, Professional Blogger with 8+ years in the field. He completed courses about Google News Initiative. He runs Android Infotech which offers Problem Solving Articles around the globe.