You can buy any mobile. But for the basic things we buy our mobile is to make calls and use data. So, Your mobile should be compatible with your mobile operators. Your mobile may not be compatible with all the network providers in the world. But, It should be compatible with your current Region. US  and Canada Mobile operator frequencies are different from other countries. So, When you buy your mobile in the US, you should check your mobile bandwidth with the mobile operator you are going to use. Below I try to cover most of the major mobile carriers band and frequency as possible with all the Network bandwidth till the date.

US Mobile Network Carriers bands and Frequencies compatibility list (AT&T, Verizon Wireless, T-Mobile, Sprint, US-Cellular)
You will not get confused when you buy the Carrier plan mobiles. But the doubt arise when you purchase carrier unlocked mobiles. Most of the mobile carrier unlocked mobiles well work with the T-Mobile, Sprint, and US-Cellular carriers. But, Verizon Wireless and AT&T operators are different. So, It is wise to check when you buy new or refurbished unlocked mobiles bandwidth.
How to find a mobile band and frequency list?
Most of the mobile manufacturers don't provide the band and frequency list in the retail box. So, you can't find those details. Without those details, how can you find the compatibility? You can refer the websites like gsmarena.com, where they listed all supporting bands for your mobile model. You can find the details in the Network area. Below I listed for all the carriers on various bandwidth(3G, 4G,5G). I also attached the table image to compare the bandwidth easily.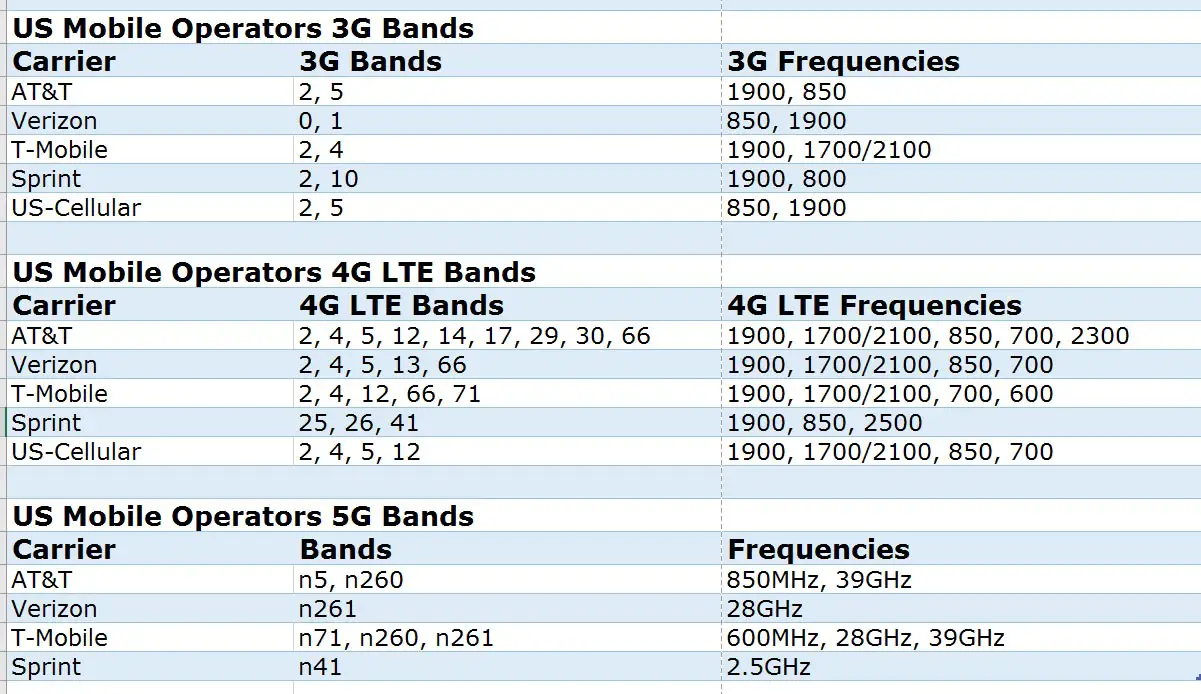 Carrier Supporting Technology Types
You may know the terms like GSM, CDMA. These terms are essential factors with the compatibility of your mobile carriers. You should check this also when you buy a mobile.
Feature phone supporting US mobile bandwidth and frequency list
Most of the users have a feature phone as a backup with their Android Mobile and iOS. It is easy to handle, and the battery backup is better to compare with the smartphones. So, If you are a frequent traveler, surely you have the feature phone. But, when you buy your mobile, you should know your mobile is compatible with the network or not. Your mobile should have below the band to work with 2G or below network. When you buy other mobile frequency, it will not work with the US mobile operators.
AT&T
AT&T mobile operators support GSM frequency. So, When you buy your mobile in the US region, most of the mobiles already compatible with the operators. But, when you buy a mobile outside the USA, you should check the following bands and frequencies.
3G band/frequency– 2, 5/ 1900, 850
4G LTE band/frequency– 2, 4, 5, 12, 14, 17, 29, 30, 66/ 1900, 1700, 2100, 850, 700, 2300
5G band/frequency– n5, n260/ 850MHz, 39GHz
Verizon Wireless
Verizon wireless is not compatible with all the devices. Because they provide separate software support, unlike other mobile operators. That's why Verizon smartphones receive late updates. They also try to provide high bandwidth 5G, which can give massive speed but within a limited area.
3G band/frequency– 0, 1/ 850, 1900

4G LTE band/frequency– 2, 4, 5, 13, 66/ 1900, 1700, 2100, 850, 700
5G band/frequency– n261/ 28GHz

T-Mobile
T-mobile supports both GSM and HSPA+ network technology. They also stay with the latest technologies. They provide limited 5G speed in the Wide area. Which is not that much speedy compare with the Verizon limited area. But, It is better speed compare with the existing 4G LTE.
3G band/frequency– 2, 4/ 1900, 1700, 2100

4G LTE band/frequency– 2, 4, 12, 66, 71/ 1900, 1700,2100, 700, 600
5G band/frequency– n71, n260, n261/ 600MHz, 28GHz, 39GHz
Sprint
There is talk, and some steps happen to merge the Sprint and T-mobile. But, that does not go well. But most of the phones compatible with T-mobile also supports the Sprint network. Sprint supports CDMA technology.
3G band/frequency– 2, 10/ 1900, 800

4G LTE band/frequency– 25, 26, 41/ 1900, 850, 2500
5G band/frequency– n41/ 2.5GHz
US-Cellular
The US-cellular operator doesn't have 5G technology yet. Even if they don't have their band, I think they will share the tower technology with other operators. But, It purely depends on the US-Cellular decision.
3G band/frequency– 2, 5/ 850, 1900

4G LTE band/frequency– 2, 4, 5, 12/ 1900, 1700, 2100, 850, 700
Setup Unlocked Phone Data
When you buy unlocked mobile, you may configure the APN profiles initially. After you insert the SIM in your mobile, the mobile operators automatically send the profiles with APN and Port. When you can't get the profiles automatically, request the Mobile operator to send it to you with the help of customer care. If those methods fail, follow the below manual method to set up the profile.
Steps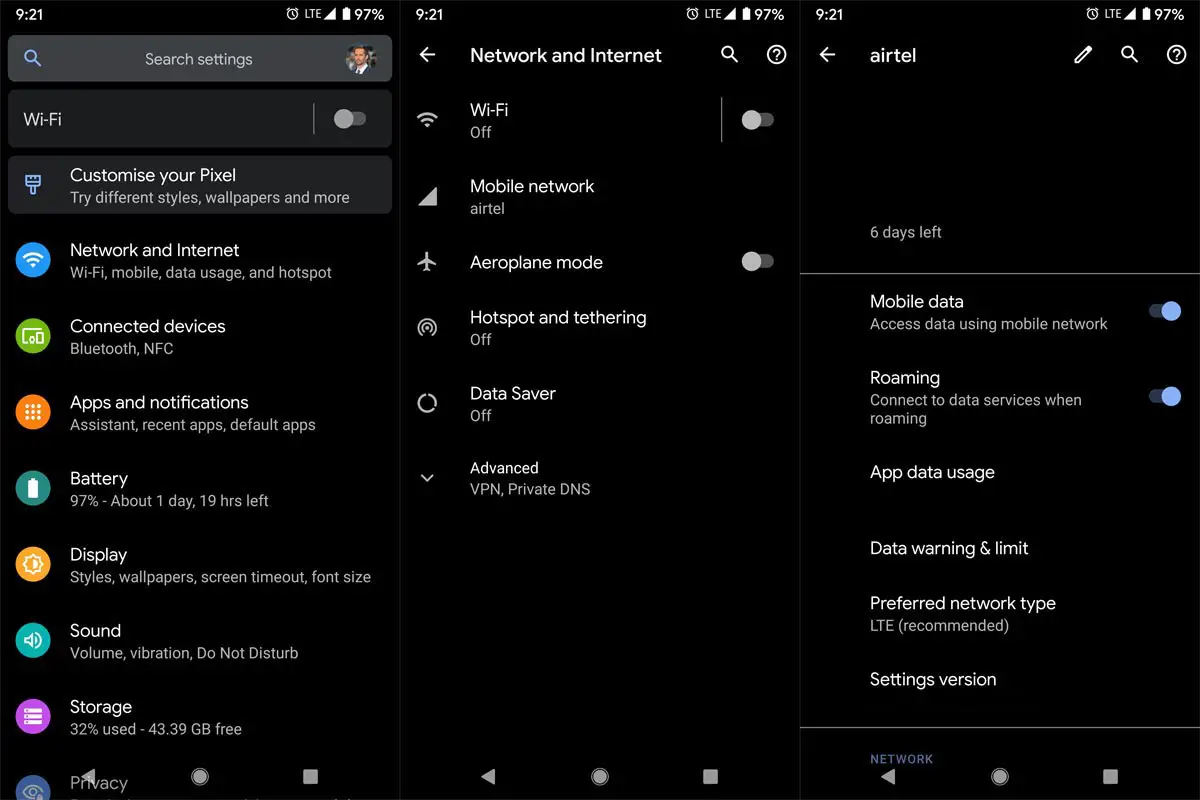 Go to settings and select Network and Internet.
After the selection, you will receive the network menu with Mobile network operator details. Select the on the Mobile Network.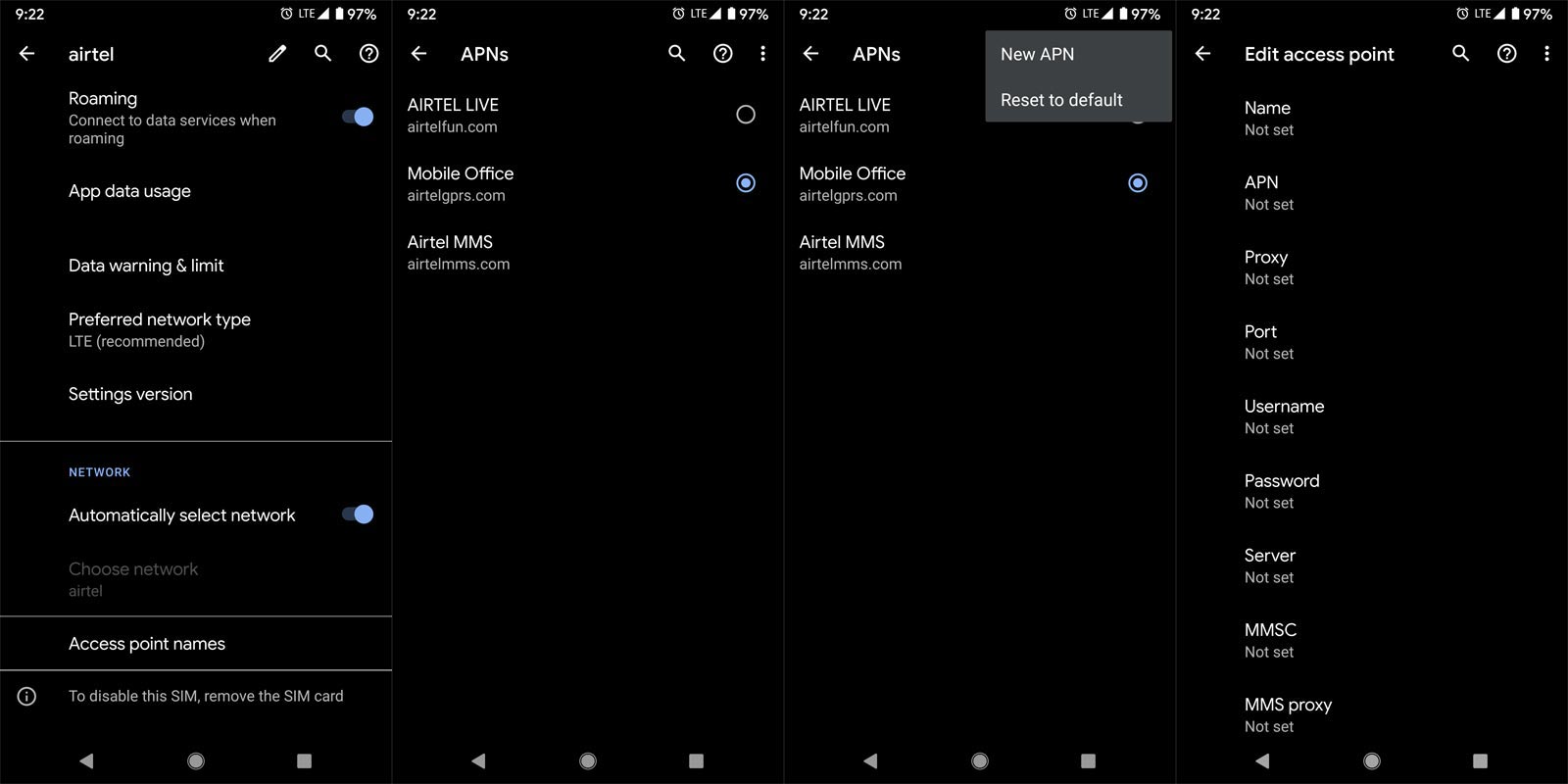 Scroll down to the bottom of all options and select "Advanced" and then "Access Point Names."
Select the top right corner with the three-dot menu. You will get the New APN option. From there, you can configure the APN and Port details. You can get your mobile operator APN by searching your Operator name with the APN term. Save and Select this profile to use the Data with your carrier.
Wrap Up
When you buy a new mobile, you either purchased with the 12/24 Month plan with your carrier. So, there will be no issues in the band. They always provide the correct pre-configured mobiles. But, When you buy Unlocked or refurbished mobiles, the problem may come without our view radar. We bought a low price mobile in deals and found the compatibility issues make us unhappy. So, When you buy used or unlocked mobiles, Don't forget to check these things also. I covered major US carriers. When you want a band for other operators, comment below.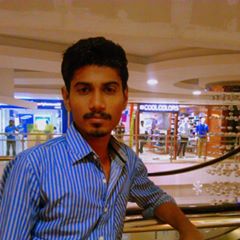 Selva Ganesh is the Chief Editor of this Blog. He is a Computer Science Engineer, An experienced Android Developer, Professional Blogger with 8+ years in the field. He completed courses about Google News Initiative. He runs Android Infotech which offers Problem Solving Articles around the globe.