In today's rapidly evolving digital ecosystem, the ubiquity of smartphones has become more pronounced than ever. Among the top-tier smartphone manufacturers, Samsung, renowned for its high-end devices, has emerged as a pivotal player in adopting eSIM technology. As the mobile landscape gravitates towards eSIMs, promising unparalleled convenience and adaptability, navigating the intricacies of eSIM activation and Transfer remains daunting, marred by disparities among carriers and countries. However, industry giants like Apple, Google, and, significantly, Samsung have set their sights on streamlining this complex procedure. Using this guide, you can Transform e-SIM Between Samsung Galaxy Mobiles.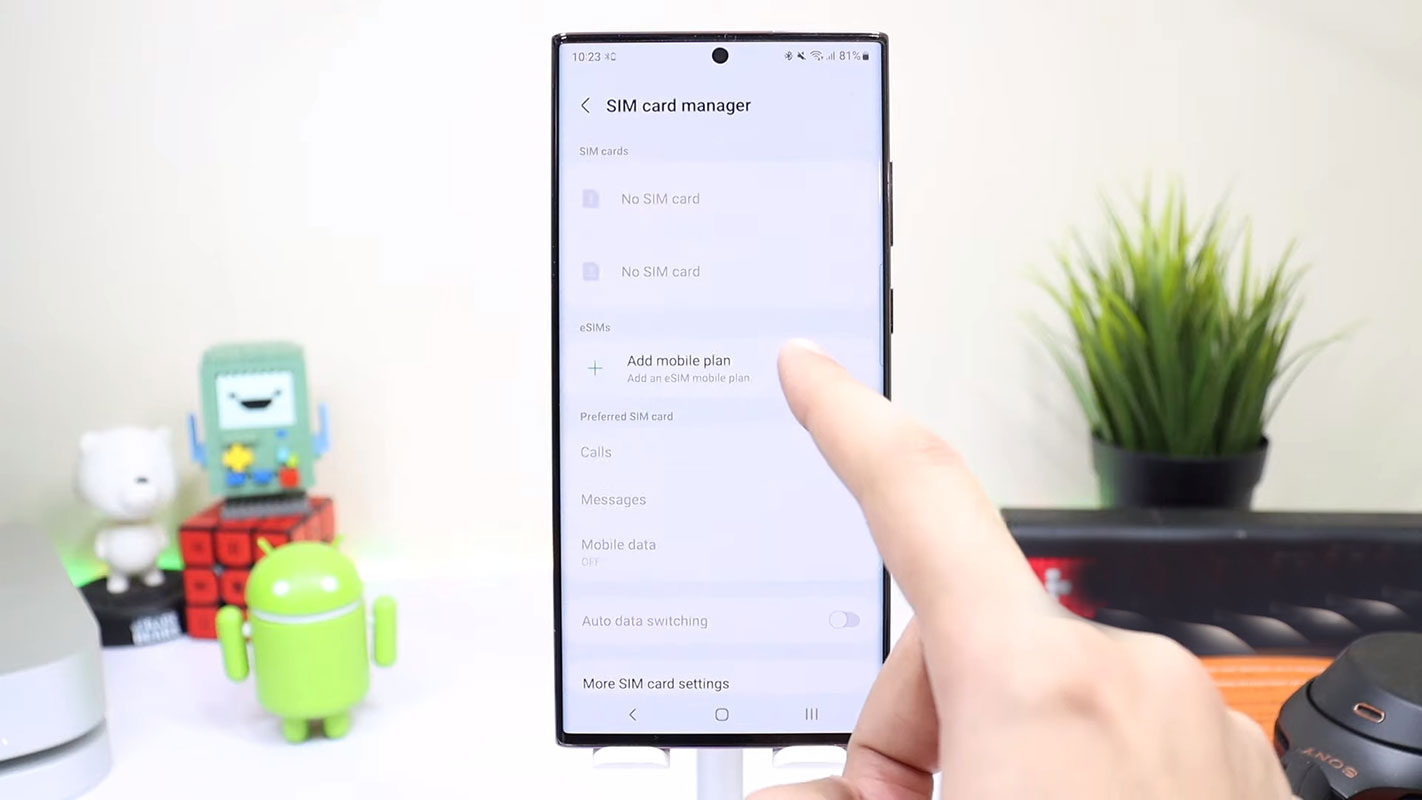 Samsung's Innovative eSIM Transfer Tool
Samsung has made significant strides in streamlining the eSIM transfer process thanks to the brilliant minds of Mishal Rahman and Dylan Huynh. With the introduction of One UI 5.1, Samsung has incorporated an eSIM transfer tool into the Settings app. Moreover, Samsung has taken it further by allowing users to convert a physical SIM card to an eSIM. To make things even more accessible, they've compiled a comprehensive list of supported countries and mobile network carriers.
The Simple Steps to Transfer eSIM between Samsung Galaxy Smartphones
If you own two Galaxy smartphones or tablets, both running One UI 5.1 and secured with a lock, you can easily transfer your eSIM from one device to another. Follow these step-by-step instructions: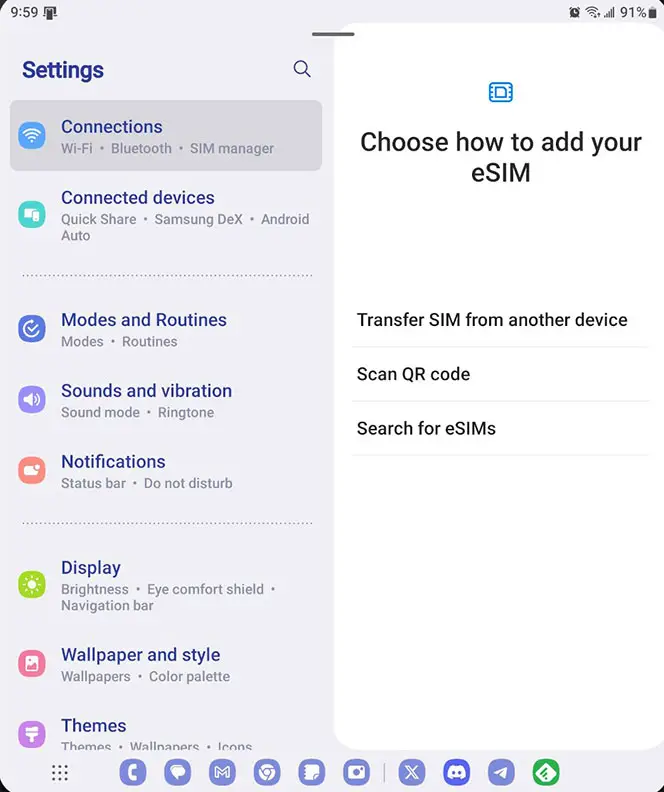 Access the Settings: Open the Settings app on the Galaxy smartphone from which you want to transfer the eSIM. Navigate to Connections » SIM Manager » and Add eSIM.
Explore Connectivity Options: Once inside, tap on Other ways to connect to a mobile network.
Initiate Transfer: Select Transfer SIM from another device.
Prepare the Old Device: Unlock your old smartphone, the one currently holding the eSIM, and place it near your new device.
Execute the Transfer: Finally, tap Transfer on your new smartphone.
Compatible Devices
As of now, the device-to-device eSIM transfer feature is supported by the following Galaxy models:
Galaxy Note 20 Ultra

Galaxy S20

Galaxy S20+

Galaxy S20 Ultra

Galaxy S21

Galaxy S21+

Galaxy S21 Ultra

Galaxy S22

Galaxy S22+

Galaxy S22 Ultra

Galaxy S23

Galaxy S23+

Galaxy S23 Ultra

Galaxy Fold

Galaxy Fold 5G

Galaxy Z Flip

Galaxy Z Flip 5G

Galaxy Z Flip 3

Galaxy Z Flip 4

Galaxy Z Flip 5

Galaxy Z Fold 2

Galaxy Z Fold 3

Galaxy Z Fold 4

Galaxy Z Fold 5
In a world where technology continually evolves, Samsung's eSIM transfer tool marks a significant step towards simplifying managing your eSIM card. Whether upgrading your device or switching your eSIM to another Galaxy smartphone, this feature ensures a seamless transition.
FAQs
What is an eSIM, and how does it work on Samsung Galaxy devices?
An eSIM, or embedded SIM, is a digital SIM card built into your smartphone. On Samsung Galaxy devices, it functions just like a physical SIM card but without needing a physical card. It allows you to switch between carriers and plans more conveniently, as it can be programmed electronically.
Is eSIM supported on all Samsung Galaxy models?
No, eSIM support varies by model. Currently, eSIM is supported on newer Galaxy smartphones and tablets running One UI 5.1 or later. You can refer to the list of compatible devices in the article for specific models.
Can I transfer my eSIM from one Samsung Galaxy device to another?
Yes, you can transfer your eSIM from one Galaxy device to another, but both devices must meet specific criteria. They should be running One UI 5.1 or later, and you'll need to follow the step-by-step procedure outlined in the article. Make sure both devices are secured with a lock for added security.
Can I contact my mobile carrier to activate or transfer an eSIM on my Samsung Galaxy device?
Generally, you don't need to contact your mobile carrier to activate or transfer an eSIM on a Samsung Galaxy device. The article explains that the process can be done directly through the device's settings. However, checking with your carrier for specific requirements or guidance is a good idea.
Is eSIM technology available in all countries and with all mobile network carriers?
eSIM availability varies by country and carrier. Samsung has published a list of supported countries and pages, which can be found on their official webpage. Before using eSIM, verifying whether your carrier and location support this technology is advisable.
Wrap Up
eSIM technology has ushered in a new era of convenience and flexibility for Samsung Galaxy users. By integrating the eSIM transfer tool into the One UI 5.1, Samsung has taken a significant step towards simplifying the process of managing eSIM cards. This innovation allows users to seamlessly transfer eSIMs between compatible Galaxy smartphones and tablets, eliminating the need for physical SIM cards and tedious carrier interactions.
As technology evolves, Samsung remains at the forefront of providing users cutting-edge solutions that enhance their mobile experience. The list of supported devices, including the Galaxy S series, Galaxy Z series, and Galaxy Note series, demonstrates Samsung's commitment to ensuring that a wide range of users can benefit from this feature.
By following the step-by-step instructions outlined in this article, Samsung Galaxy owners can effortlessly switch eSIMs, making device upgrades or changes more convenient. As the digital landscape continues to evolve, Samsung's dedication to simplifying the user experience ensures that users can stay connected, hassle-free, and always up to date with the latest advancements in mobile technology.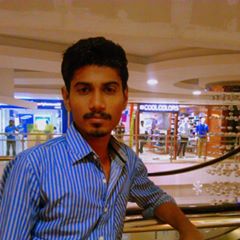 Selva Ganesh is the Chief Editor of this Blog. He is a Computer Science Engineer, An experienced Android Developer, Professional Blogger with 8+ years in the field. He completed courses about Google News Initiative. He runs Android Infotech which offers Problem Solving Articles around the globe.