After smartphones evolved with people, Most of us slowly moved towards digital media from hard copies. In our life span, We may know lots of words to communicate with others. But, if you notice, we are still learning new words and meanings often. When you begin to learn a new language, Our mind always translates itself to our native or familiar language and converts it back to the spoken language. It will happen in a few seconds. Learning new things is good. But, We don't have to know all country's languages. With the latest technologies in our hands, We can survive in any country; all you have to know is solid single language fluency. We can convert it to other languages and understand it better. There is plenty of apps available to do the job. Here we listed Best Five Multilingual Dictionary Android Apps.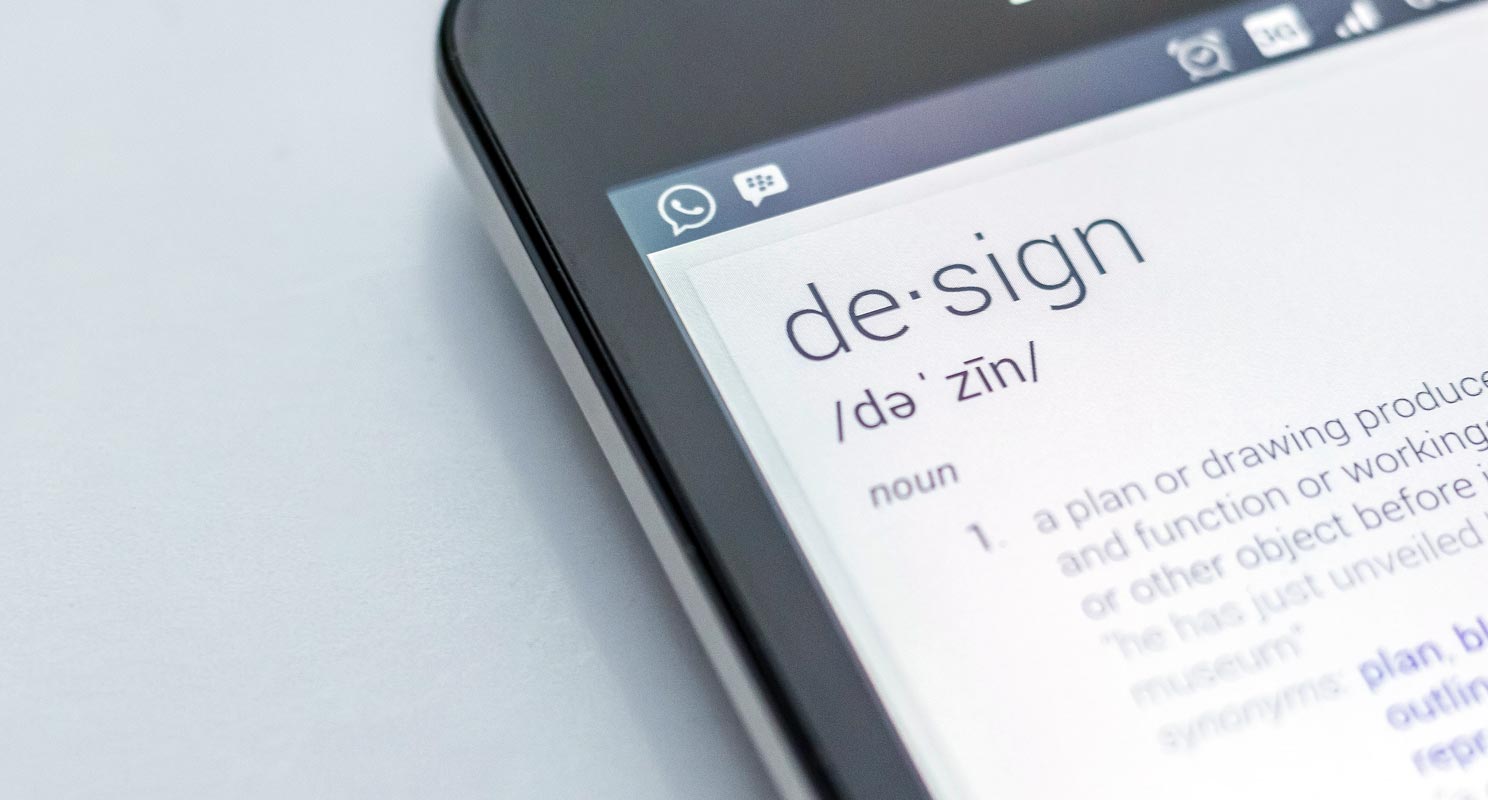 There are pretty many apps you can use to increase your multilingual learning. Apps like translators and multilingual dictionaries can help to boost your vocabulary and help you improve in your zeal to learn new languages.
Best Five Multilingual Offline Dictionary Android Apps
While there are paid apps for learning new languages, there are also free apps that allow you to learn different languages in the most straightforward pattern possible. This article lists the best five multilingual dictionaries Android apps you can install from Google Play Store.
These apps are generally intuitive to use, and they also integrate other extensive features you may find handy for your multilingual learning. The following apps support both offline and online support.
1. Google Translate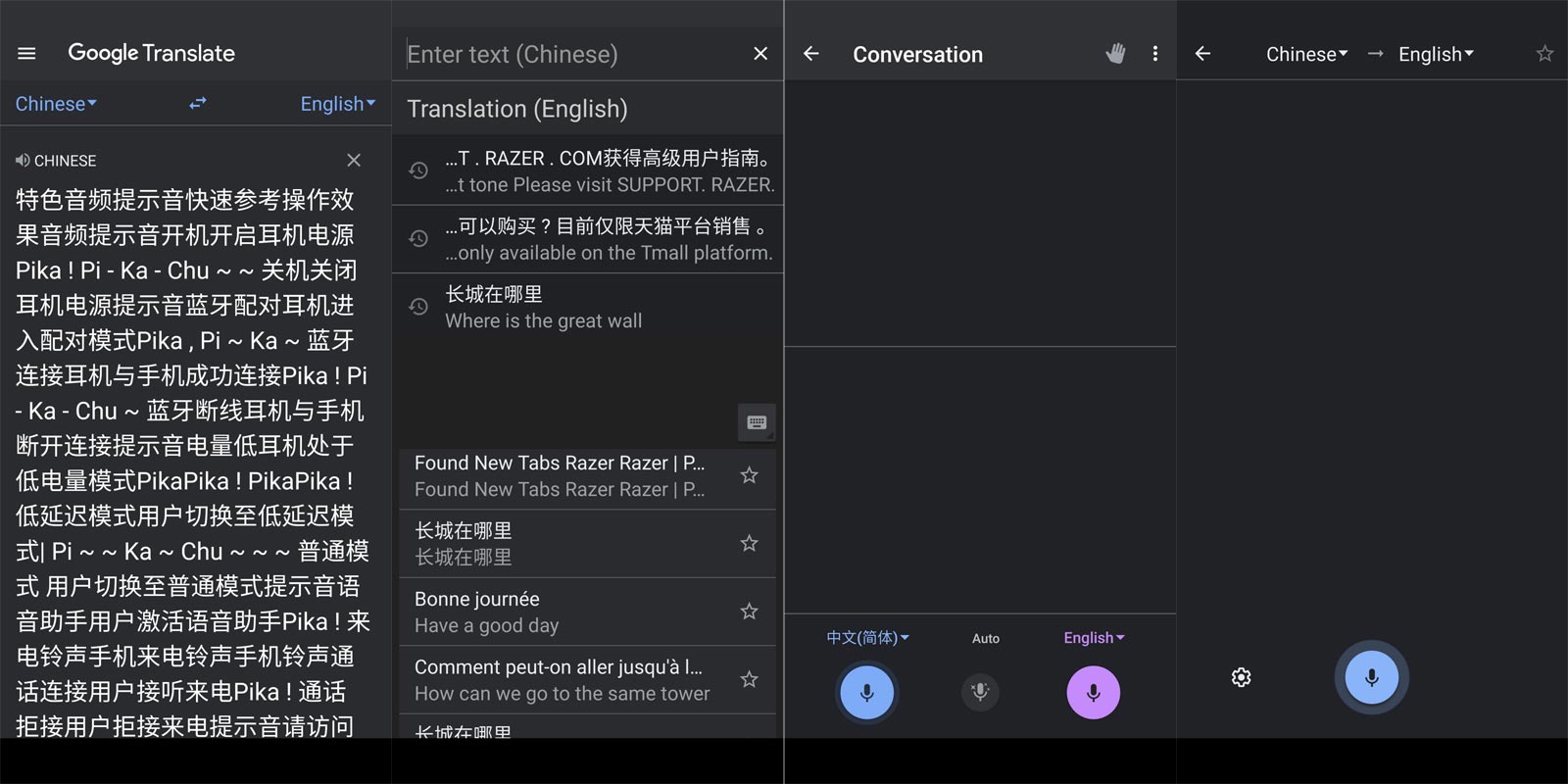 The Google Translate app is a multi-feature application that can also serve as a multilingual dictionary app. It has a super-intuitive interface and lets you access virtually all the known world languages.
Interestingly, the app supports over 50 offline languages, which means that even without connecting to the internet, you can still translate between over 50 languages.
Furthermore, this app is free to use; it does not feature in-app purchases and does not show ads. You can install Google Translate on Android devices running version 5.0 upwards.
Features
Cross-device synchronization.
Highlights
Google Translate supports up to 108 world languages.
When you copy texts in any app, you'd see a pop-up Google Translate icon to translate the copied words to any of the 108 supported languages.
Up to 59 languages are supported for offline translation.
Instant camera translation – translate texts into images.
Translate bilingual conversations for up to 70 languages.
Continuously translate what someone is speaking in real-time (8 languages supported).
Free with no in-app purchase item or ads.
2. Free Dictionary Offline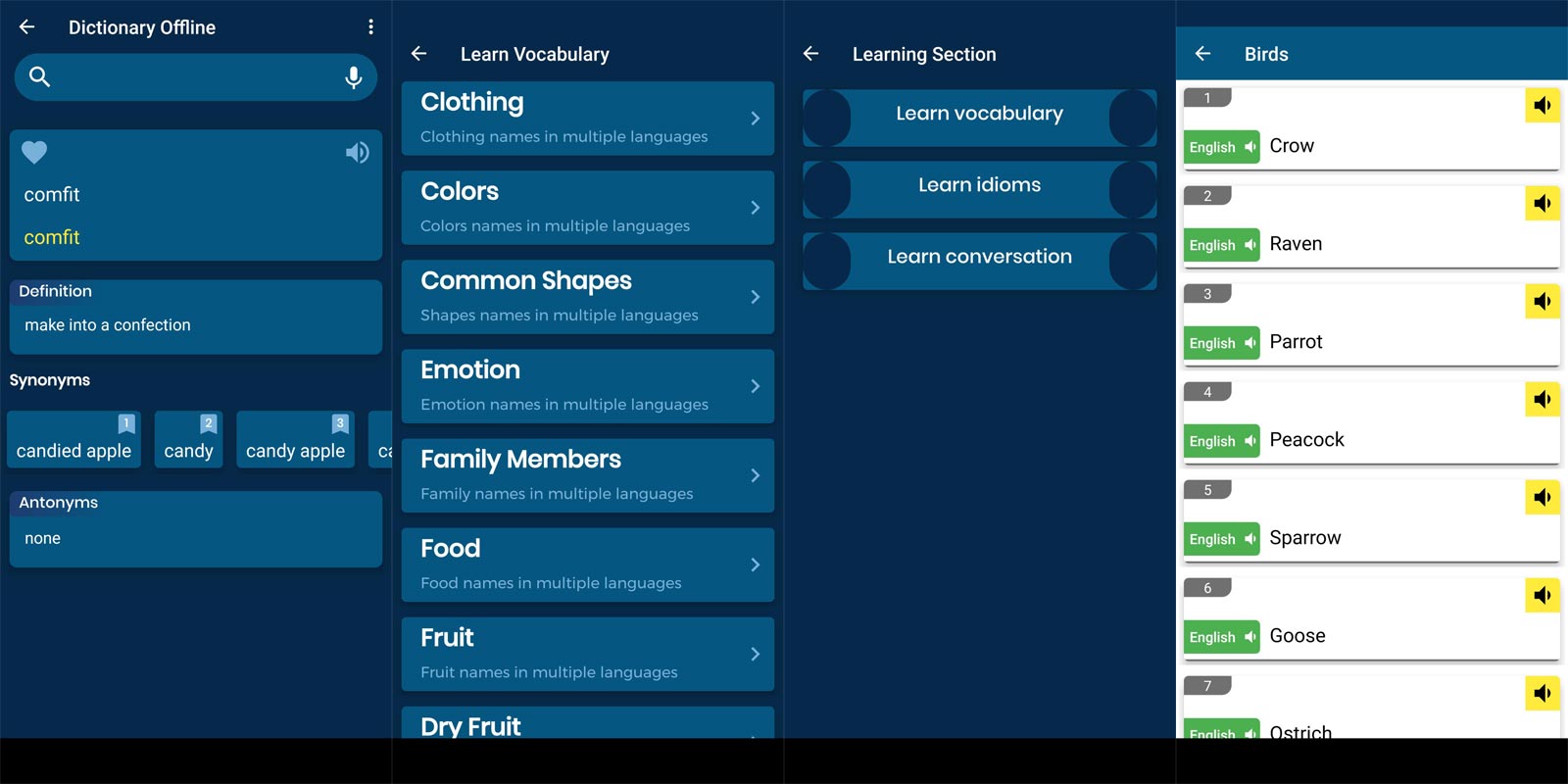 This dictionary app is available for free, and it supports many languages. It is a multilingual dictionary that can help you to improve in learning multiple languages quickly. The Free Dictionary Offline app comes with a clean interface that is pretty easy to understand and navigate.
It also supports a bunch of features you could use offline (without internet connectivity). To access the offline features, tap on "Offline Dictionary," and you'd be able to learn new vocabularies. The translation features are available in the Multi-Language translator tab.
One of the bragging features of this dictionary app is its support for over 20 world languages. Well, this app does not support in-ad purchases, but it displays ads.
Features
Free dictionary words mean offline.
Ask questions on what you want to learn.
Clean and intuitive interface.
Free to use on Android devices.
Highlights
The app Supports all top languages.
Capable of translating as you speak.
Pashto dictionary offline.
The learning section is available in different languages.
You add words to the "favorite" tab.
It lets you learn idioms in different languages.
Download Free dictionary offline
3. My Dictionary – Polyglot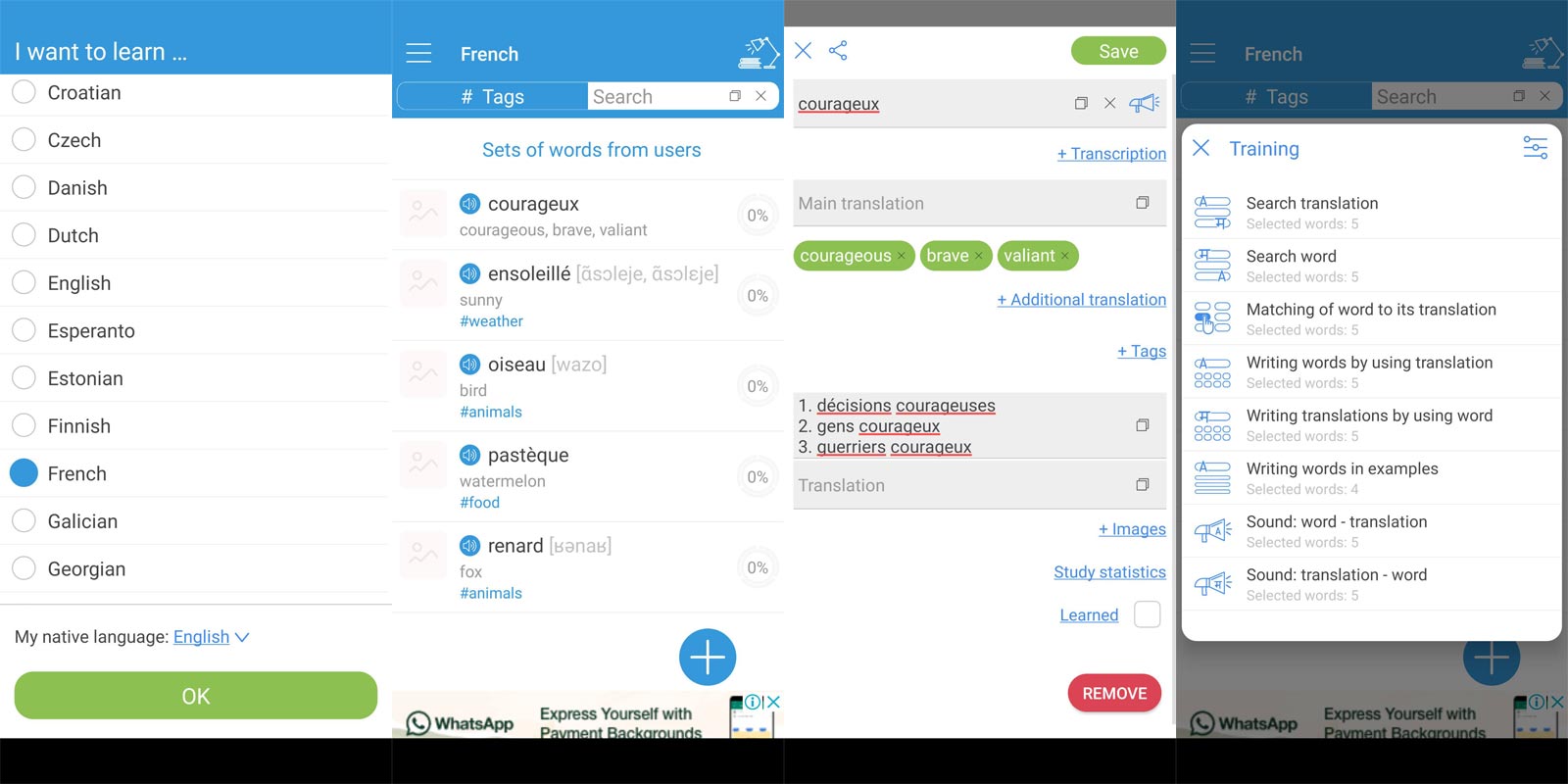 Learning a new foreign language is pretty more accessible with the Polyglot Dictionary app. This dictionary Android app is free n Play Store, and it is compatible with most Android devices. It is an easy-to-use multilingual dictionary app with many handy features to fast track your multilingual learning curve.
This dictionary supports automatic translation features,  integrates up to 90 different dictionaries, and provides eight types of multilingual training. Interestingly, this app also teaches you how to pronounce new foreign words, and it is generally applicable, and you can also import Excel documents.
Furthermore, this dictionary synchronizes with cloud servers, so even if you've got another smartphone, you can continue your learning on any device.
Features
Clean, easy-to-use interface.
Polyglot Supports up to 90 dictionaries, including English, French, German, Spanish, etc.
You are learning evaluation to help you improve quickly.
Word pronunciation support.
Highlights
You can import foreign words saved in an Excel document, and you can also export comments.
You can choose to hide learned words entirely from the main list of studies.
Short statistics that display the dynamics of learning.
Supports in-app purchases and shows ads on the free version.
Night mode to help you study well at night.
Download My Dictionary-polyglot
4. Dict Box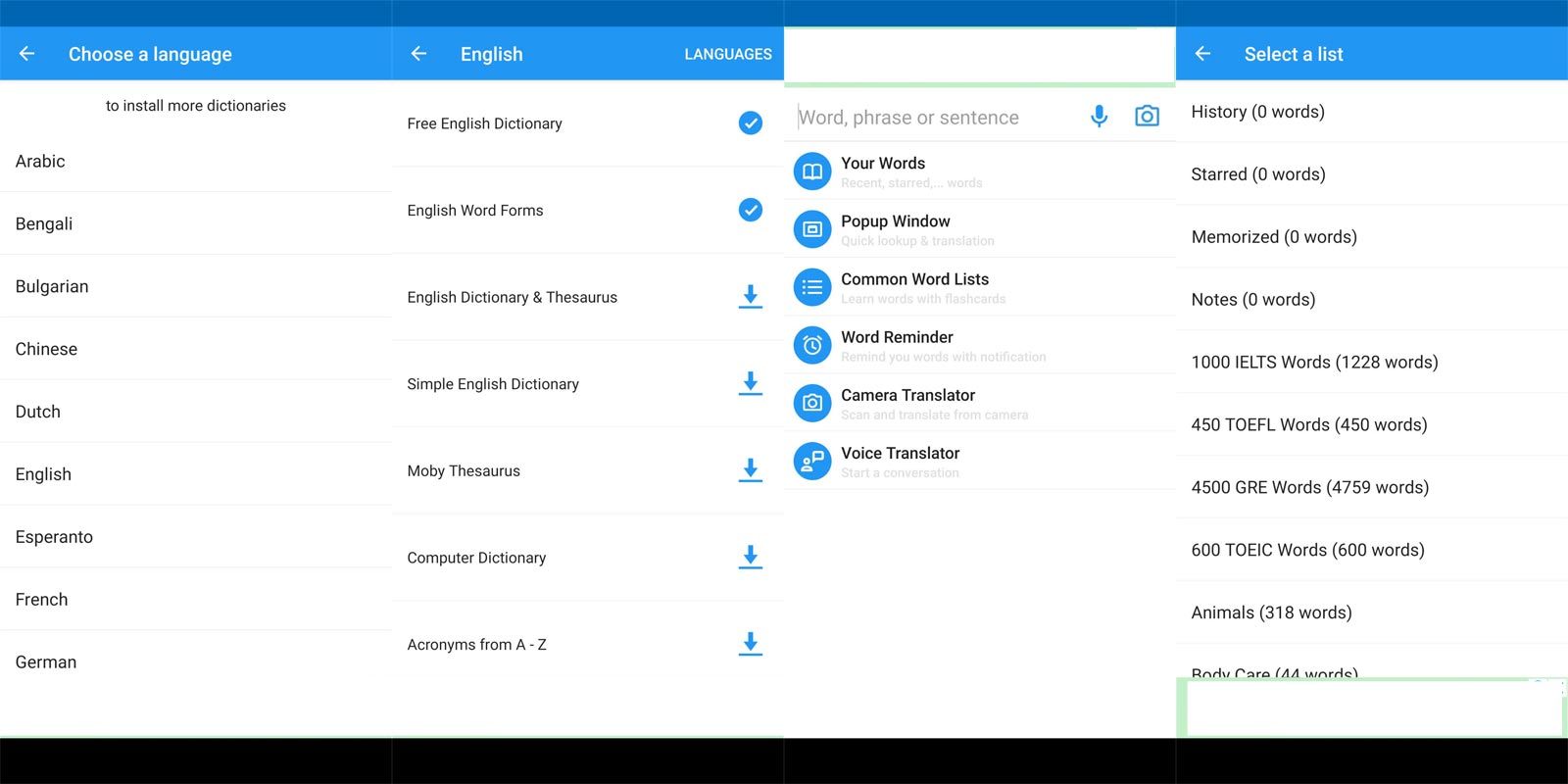 This dictionary app is also nicknamed "Universal Offline Dictionary" by the developer. It is a dictionary app that doubles as a translator app for all known languages. Well, this application does not require internet connectivity for it to function well. However, if your internet is active on your phone, the app shows ads.
Dict Box supports over 100 dictionaries and 30+ languages. It can translate words captured via your device's camera, and it supports pronunciations too. More so, this app supports multi-device synchronization, and it pops up to translate words you copy from other apps or browsers.
Features
Free with in-app purchases and ads.
Clean and intuitive interface.
Dict Box Supports 100+ dictionaries and 30+ languages.
Works on Android devices running 4.4 upwards.
Highlights
Internet connectivity is not required for translation.
Translate text directly in web browsers and other apps.
The app Corrects mistyped words.
You can install more dictionaries & languages.
Dict Box Supports web dictionaries like Oxford, Cambridge, Wiki, etc.
5. Dict.cc Dictionary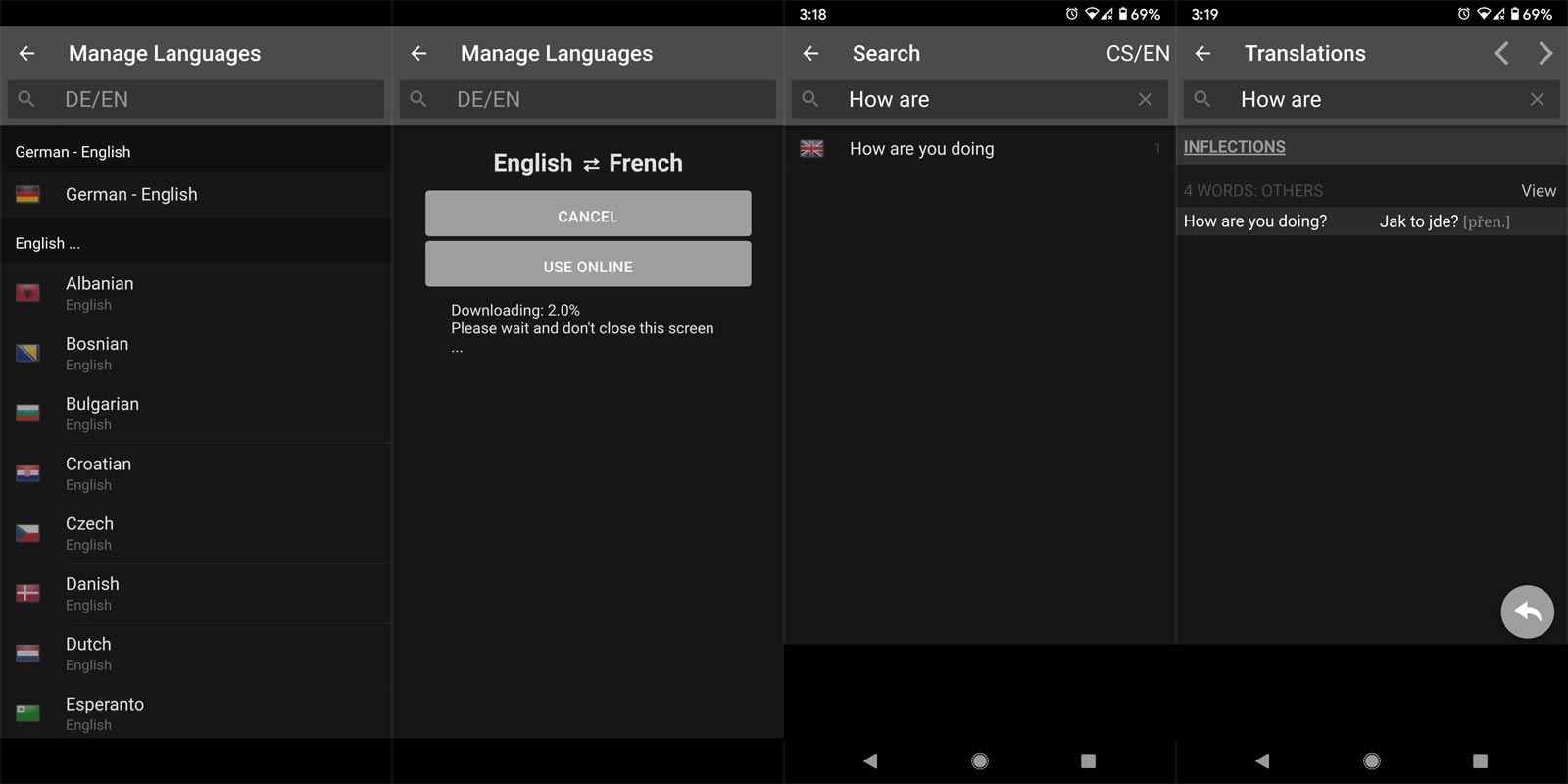 The Dict.cc Dictionary supports up to 51 language combinations, and you don't even need an internet connection to access the dictionaries. It is an offline multilingual dictionary with good features. More so, you can download vocabularies, and all the supported dictionaries are bidirectional; hence, German-English is also available as English-German. This makes the app easier to use.
If you couldn't get the app to translate some of the words you input, you can request new translations at https://contribute.dict.cc/, which is the community website of the developers of this app.
Features
The app has Up to 50 bidirectional dictionaries.
Free to use with in-app purchases.
Downloadable vocabularies.
Highlights
You can contribute by visiting the community website.
This app supports in-app purchases for its premium features.
It can function without an internet connection.
Wrap Up
These are the best five multilingual dictionary and translator apps you can use on Android smartphones. They are free to download, but some of them support in-app purchases for some items. Most of the apps offer offline versions, and when you have an Internet connection, You can download the needed packages and languages. While you have no internet connection, You can use that language dictionary and translate without any issues. We can learn a new language via any medium.
When we start a new hobby or new task in our life, It should always look simple. If the process is complicated after a few days, We stop the new study. Instead of not doing any work, Doing something new is essential. So, It is always wise to stick with small long-term steps like learning one word per day. Consistency is necessary when learning new things; if I missed any popular dictionary app, Comment below.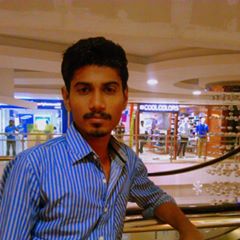 Selva Ganesh is the Chief Editor of this Blog. He is a Computer Science Engineer, An experienced Android Developer, Professional Blogger with 8+ years in the field. He completed courses about Google News Initiative. He runs Android Infotech which offers Problem Solving Articles around the globe.