Many users complain about iPhone's Slow Charging due to Clean Energy Charging. Have you noticed that your phone takes longer than usual to charge? Well, Apple has released its latest iOS 16.1 updates with some exciting new features, one of which is Clean Energy Charging. This feature aims to optimize your device's Charging speed while reducing its environmental impact by charging your phone when renewable energy sources are available. However, some users have reported experiencing slow charging speeds after updating to iOS 16.1, so let's dive in and explore this issue further.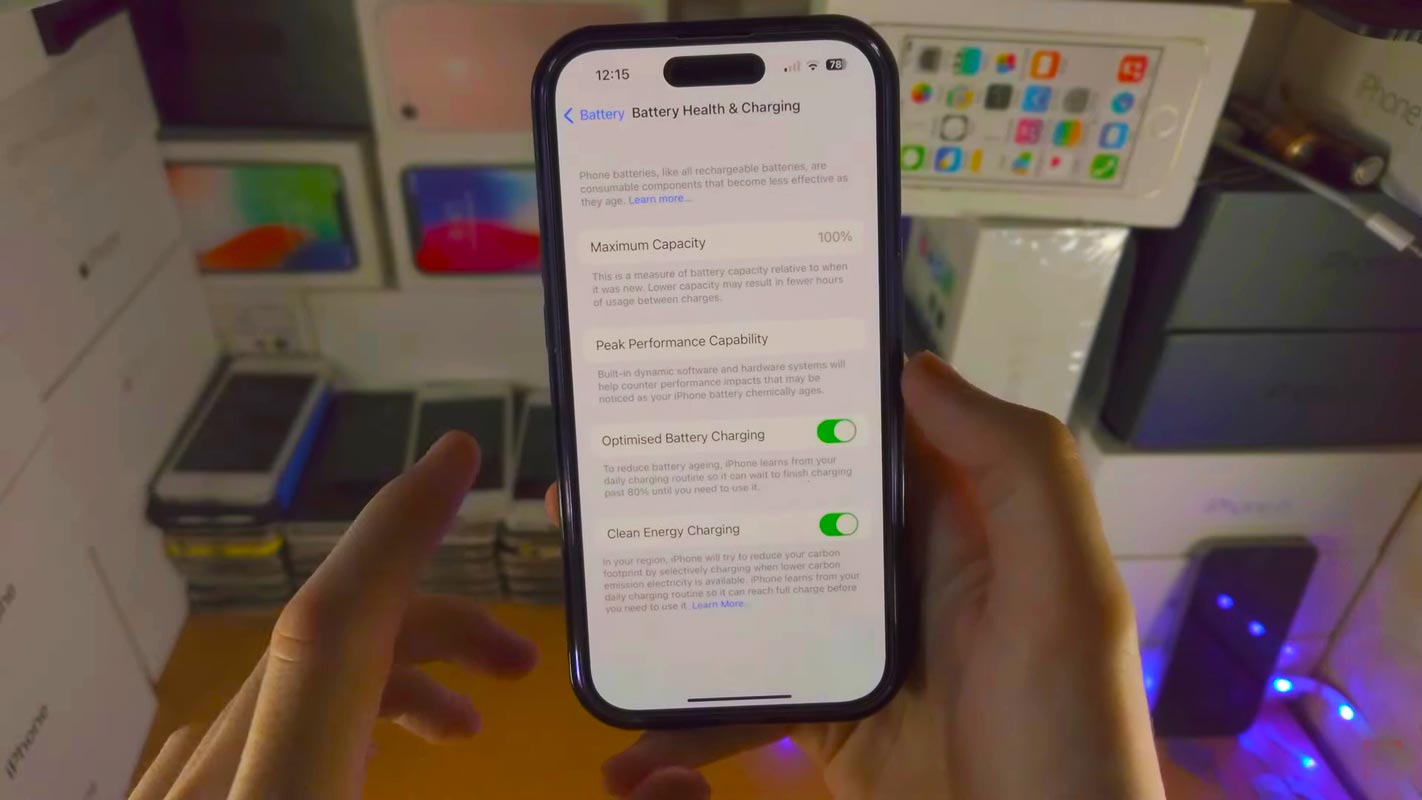 Introduction to Clean Energy Charging on iOS 16.1
Apple has once again raised the bar for its competitors with the release of iOS 16.1, which includes a new feature called Clean Energy Charging. This new feature is designed to help iPhone users reduce their carbon footprint by only charging their phones when the local energy grid generates clean Energy.
How Clean Energy Charging Works?
When the Clean Energy Charging mode is enabled, the iPhone automatically receives a report of carbon emissions generated by the local energy grid. It then uses this information to determine the best time to charge the phone. This means that users can enjoy the convenience of charging their phones while reducing their environmental impact.
Benefits
Clean Energy Charging works alongside Optimized Battery Charging, which learns the user's Charging habits. The feature only engages where users regularly charge their iPhones for long periods, such as at home or work. It does not engage if the user's charging habits are variable or in a new location, such as when traveling.
To activate Clean Energy Charging, some location settings must be turned on to get the carbon-emission forecast for the area. However, users need not worry about their location data being sent to Apple, as the iPhone does not send any of the location information that it uses for this feature to Apple.
Impact of Clean Energy Charging on Charging Speed
Clean Energy Charging has received mixed reactions from iPhone users. While many appreciate the new feature and its positive environmental impact, some have reported that it has caused their iPhones to take longer to charge. This is due to the feature's focus on charging during periods of clean energy generation, which may not always coincide with the user's need for a quick charge.
One Twitter user even wanted to turn off the feature to leave the most significant possible footprint. At the same time, another asked if there was a way to select coal or diesel-generated electricity for charging their phone. However, the feature is turned on by default in iOS 16.1 or higher, so users must manually turn it off if they don't want to use it.
Despite some concerns, Clean Energy Charging is a significant step forward for Apple and the tech industry. By introducing this feature, Apple demonstrates its commitment to sustainability and encourages its users to be more mindful of their environmental impact.
Fix Slow Charging and Disable Clean Energy Charging in iOS 16.1
The iOS 16.1 update includes a novel Clean Energy Charging part that prefers clean energy sources when charging your iPhone. If you're experiencing slower Charging speeds on your iPhone and suspect that Clean Energy Charging may be the culprit, you may consider disabling this feature. However, if you like faster Charging speeds, disabling Clean Energy Charging may be the right choice for you. Here's how to do it.
Scroll down to the "Battery" section and tap on it.
Look for the "Optimized Battery Charging" option and tap on it.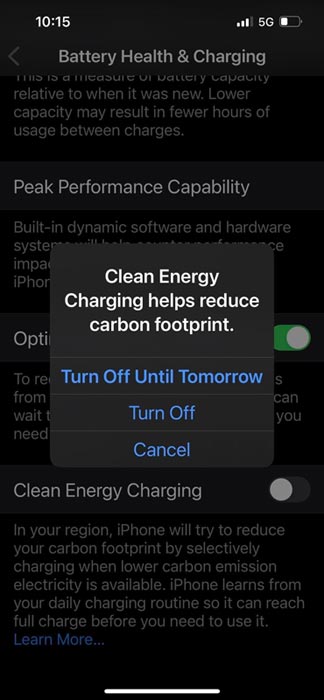 To deactivate "Optimized Battery Charging," switch off the toggle next to it. A notification will pop up upon doing so, cautioning that this action may lead to a shorter battery lifespan. Tap on "Turn Off" to confirm.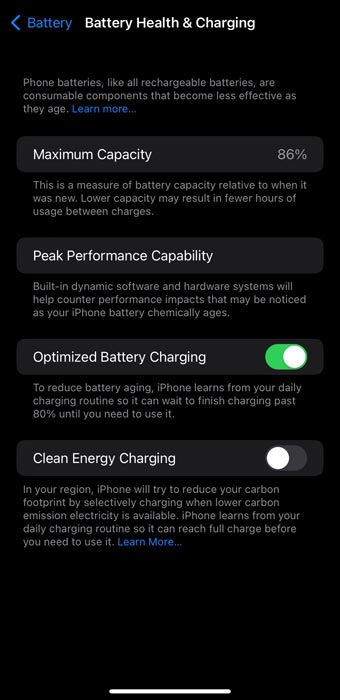 Exit the Settings app, and your iPhone will no longer use Clean Energy Charging.
FAQs
What is Clean Energy Charging on iOS 16.1?
By leveraging clean energy sources, the newly launched Clean Energy Charging feature in iOS 16.1 strives to curtail the carbon footprint of charging your iPhone.
How does it work?
Clean Energy Charging results by using a combination of machine learning and location data to determine the availability of clean energy sources, such as solar or wind power, at the user's current location. If clean energy sources are available, the iPhone will automatically switch to using these sources to charge the battery.
Can I turn off Clean Energy Charging on my iPhone?
Yes, users can turn off Clean Energy Charging if they wish. To do so, go to Settings > Battery > Battery Health > Clean Energy Charging and toggle the switch off.
Does Clean Energy Charging affect the Charging speed of my iPhone?
Clean Energy Charging may affect the Charging rate of your iPhone depending on the availability of clean energy sources in your location. If clean energy sources are unavailable, the iPhone will switch back to traditional power sources, which may result in slower charging speeds.
What are the benefits?
The benefits of Clean Energy Charging include reducing the carbon footprint of charging your iPhone, promoting renewable energy sources, and potentially saving users money on their electricity bills by utilizing accessible, clean energy sources.
Wrap Up
In conclusion, the new Clean Energy Charging feature is a welcome addition to iOS 16.1, offering iPhone users a way to reduce their carbon footprint while enjoying the convenience of charging their phones. While some users may experience slower charging times, the benefits of this feature far outweigh any potential drawbacks. As we move towards a more sustainable future, we expect innovative solutions like Clean Energy Charging from Apple and other tech companies.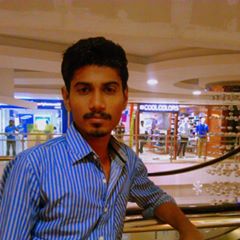 Selva Ganesh is the Chief Editor of this Blog. He is a Computer Science Engineer, An experienced Android Developer, Professional Blogger with 8+ years in the field. He completed courses about Google News Initiative. He runs Android Infotech which offers Problem Solving Articles around the globe.