Google wanted to treat the Stadia platform based on user expectations. Google listening to a simple ask in the forum from users and implementing them if they feel useful. You can't take a long time in the gaming platform for new features. It would help if you implemented them as soon as possible. After launching Stadia, Google made a lot of improvements and notable changes per week. Most of the users ask for the Family Sharing feature in Stadia. Google tested that for a few months, and now Google Stadia Family Sharing Officially Rolled Out to all users. There is no need to update anything unless you are using Android to get this feature. It is a server-side account update.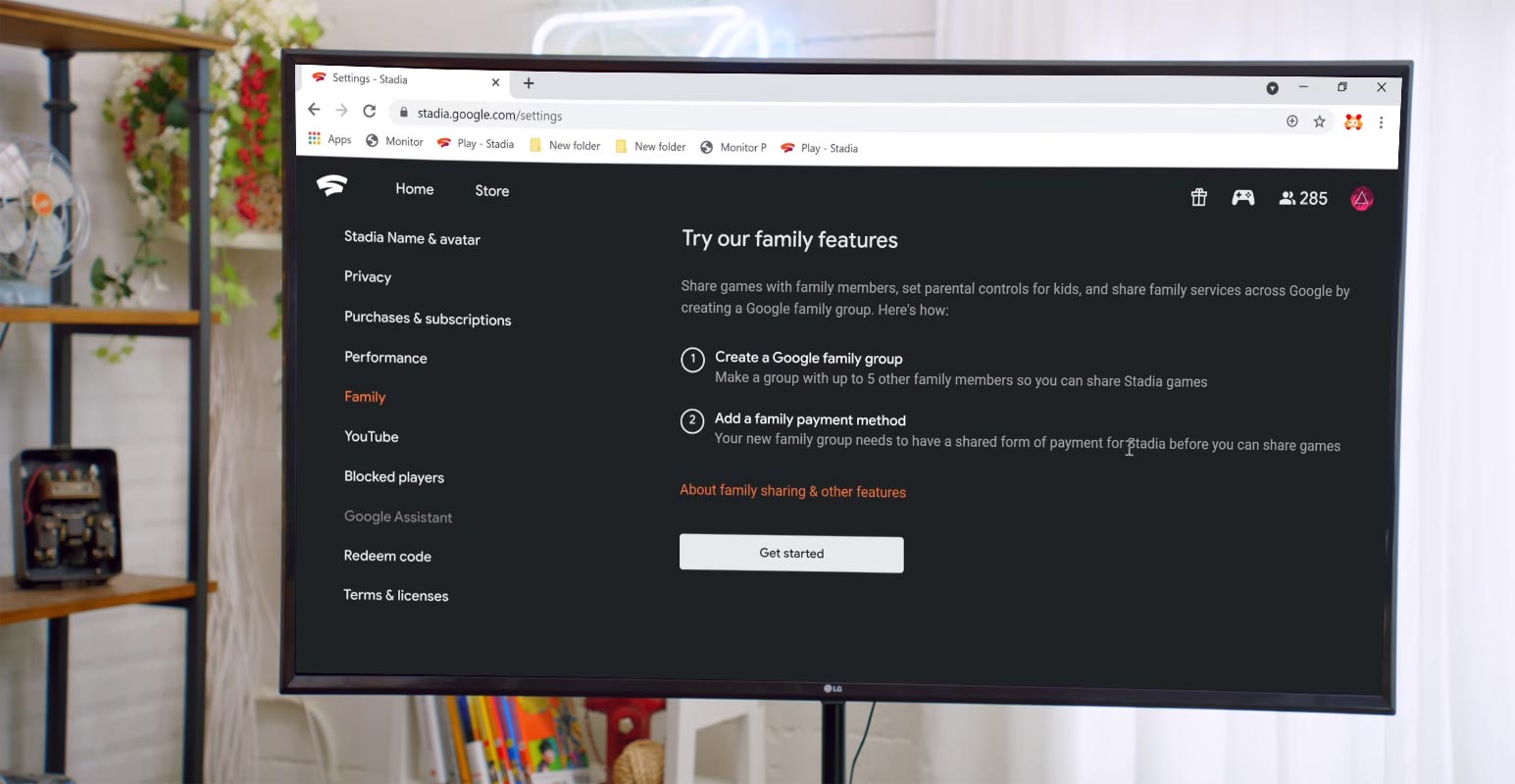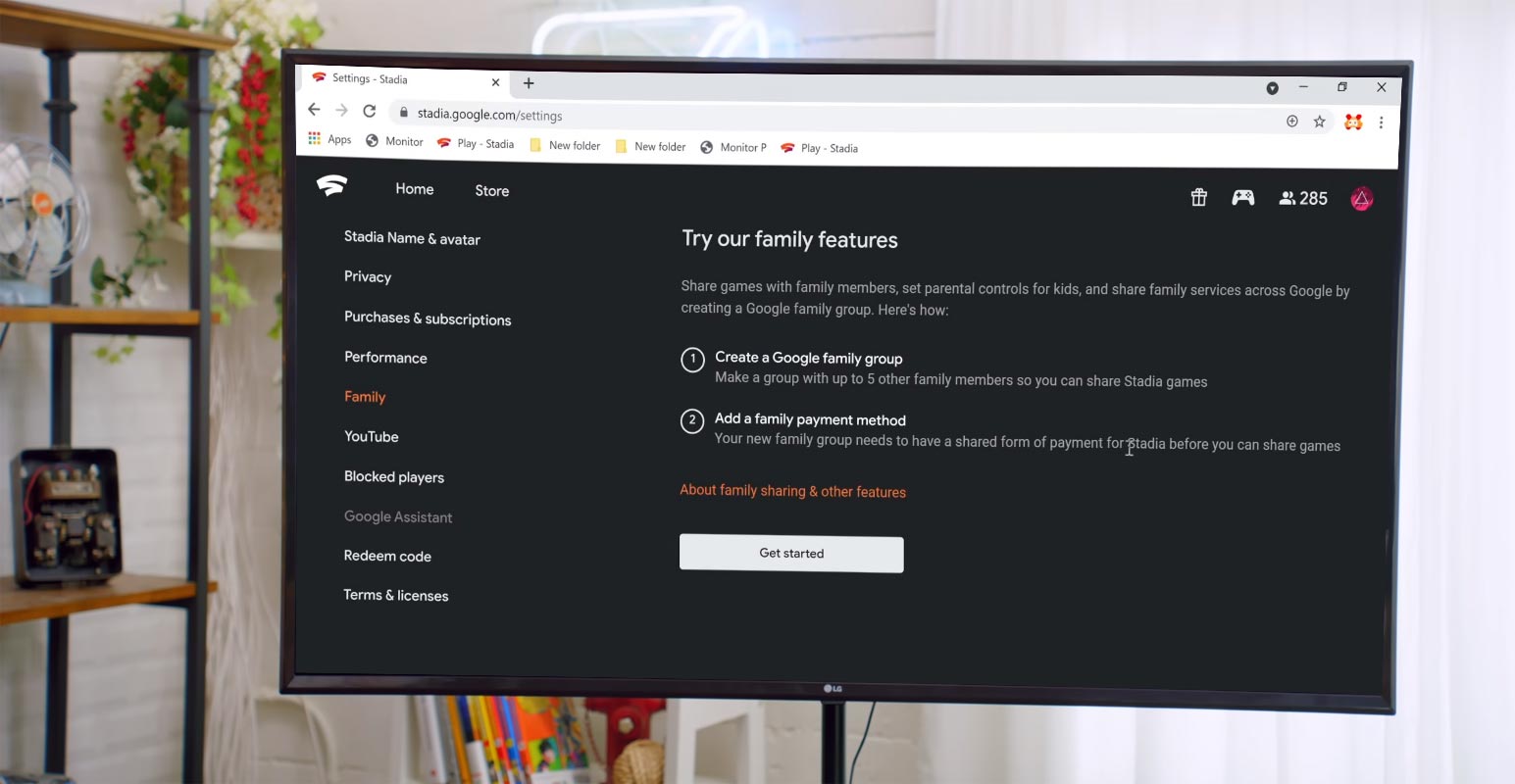 It's been a year when Google launched the Stadia, and today near its first anniversary, Google announced the most awaited feature about the Stadia sharing. According to Google announcement, now you can share your Stadia game library with your family members. Google takes care of user willing features. When they hired God of War Head to run the Stadia Studio in LA, We know they are up to big things in the future.
What is Google Stadia Family Sharing?
Stadia is a cloud gaming launched by Google, capable of playing streaming games with 4K video quality. In the Chrome browser, they support up to 1440p. You have to subscribe to the Stadia Pro for playing the thrilling games after a one-month free trial. And you have to subscribe to each game offered on Stadia. Today with Google announcement of Stadia sharing, you can now share your subscribed games library of Stadia games with your family members.
Who can play shared Stadia Games?
You can share your games with up to six family members that should be registered in your Google family group. Every member who is a Stadia account holder can play the shared games even he didn't purchase or claim that game on his account. However, your family members will not be able to play a shared game above the family group manager's rating set.
How to set up a Family Group on Google Stadia?
To enable the sharing, you must have registered your family group with Google. If you didn't register any, you would need to create a family group with the same email ID you used to set up the Stadia account. You will also need the family payment methods to add them to your family group to play the sharing games. You can create a family group both on desktop and on the Stadia app as well.
Desktop Web Version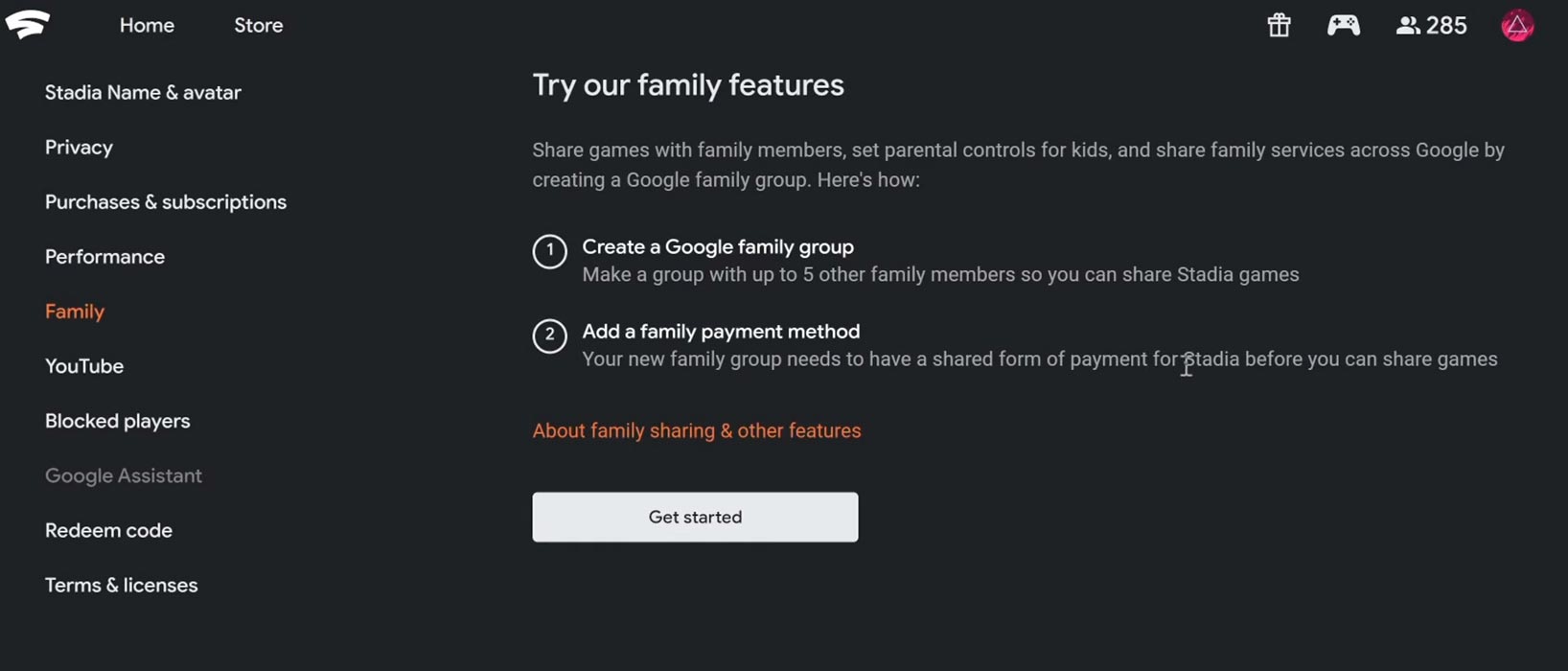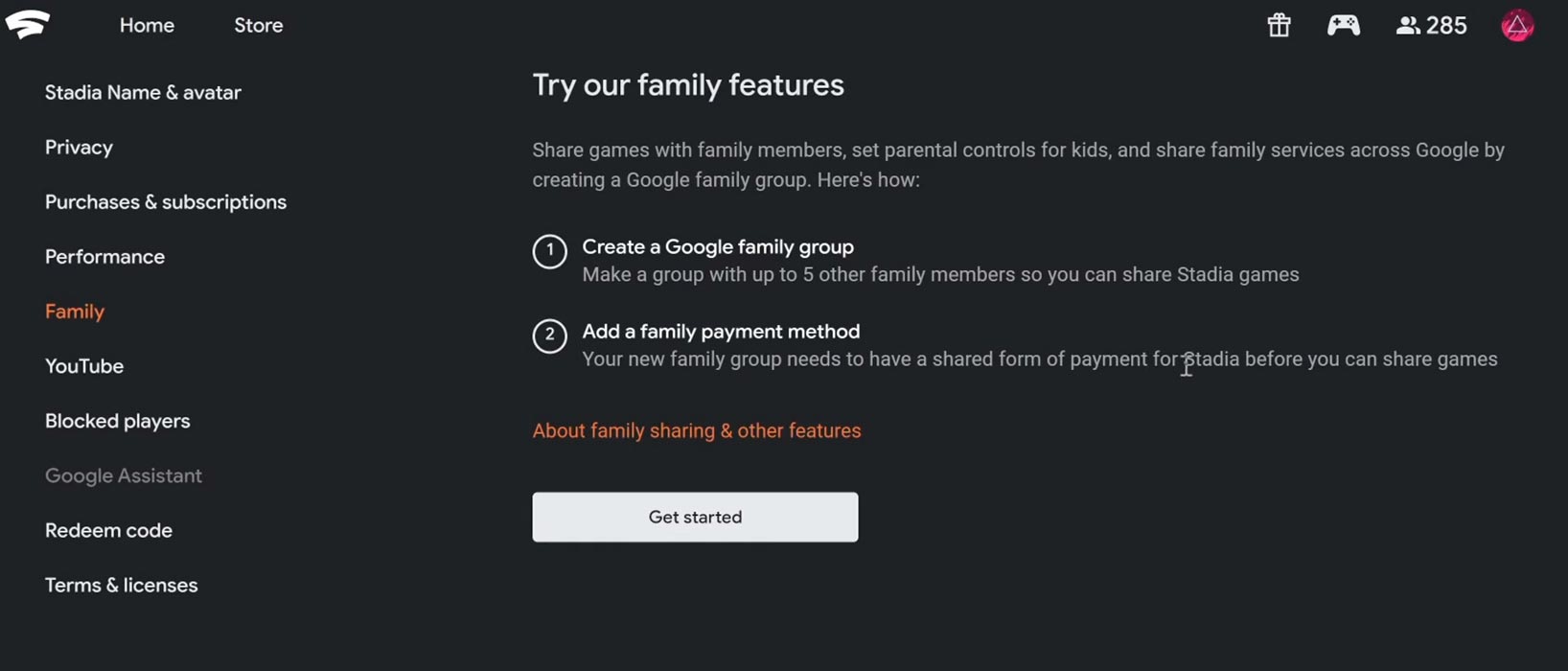 Sign in to your Stadia account on Stadia.com
Select your Avatar on the top right
Follow the on-screen instructions to add family members along with their payment methods.
Stadia app
Open the Stadia app on your mobile.
Follow the on-screen instruction to set up family groups along with their payment methods.
How to Turn on Family Sharing on Stadia?
Once you have created the family group and payment methods, any family members can turn on the family sharing for other members to play games. You don't need to share those games that any of the family members have already shared.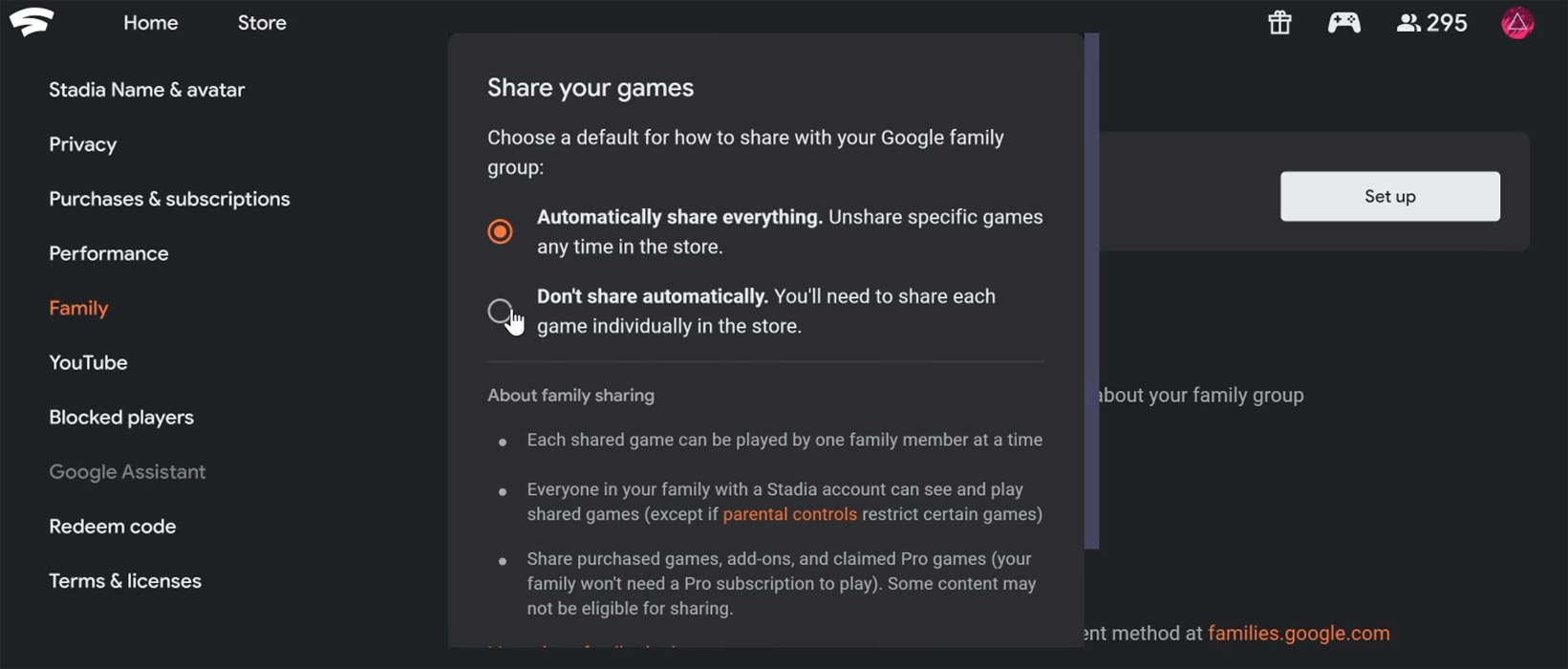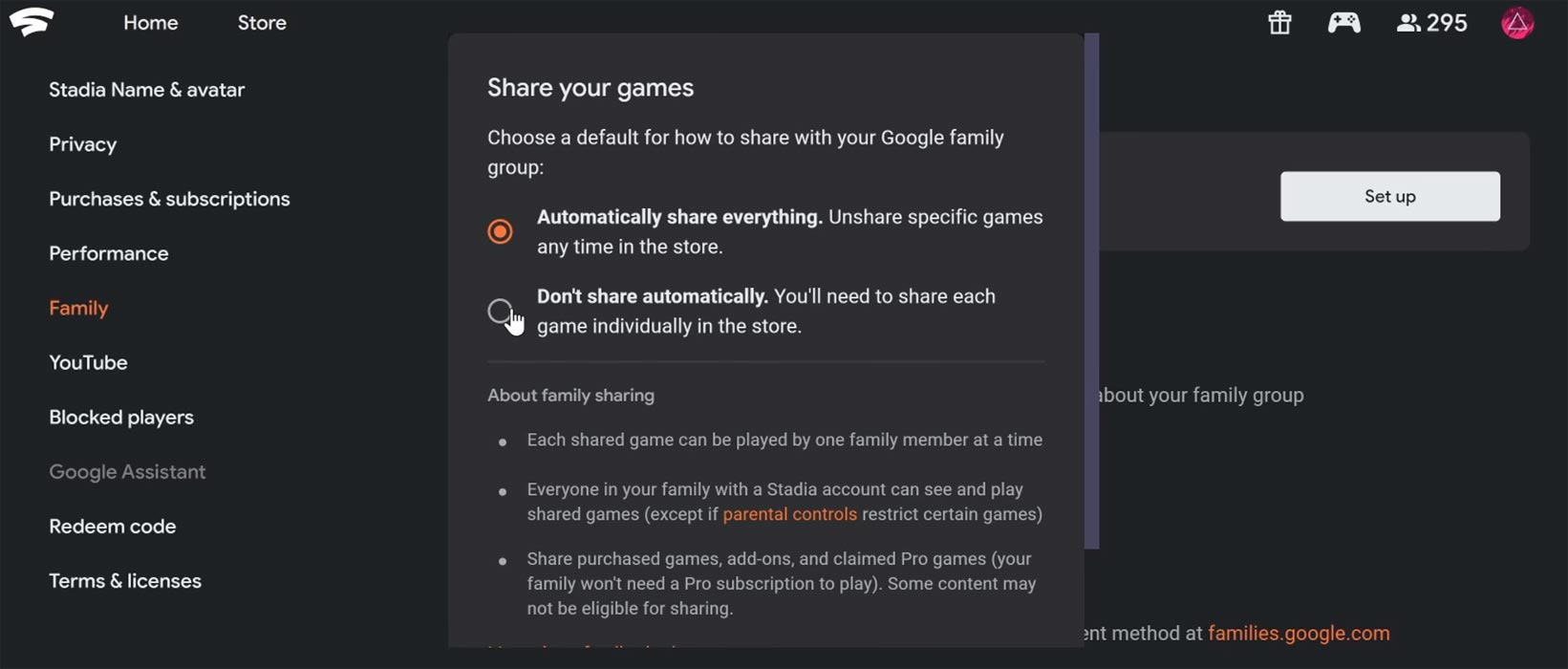 Follow these steps to turn on family sharing:
Open Stadia.com and sign in to your account.
Select your Avatar and select Settings
Select how you want to share the games
Select Automatically share Everything if you want to share all games.
Choose Don't share automatically if you want to share specific games.
You can any time turn on or off for sharing any game, no matter what settings you have selected.
How to Play A Shared Game?
You don't need to worry about searching the shared games. It will automatically appear in your library, and in the Stadia store, it will have the "Shared by family" label under the game title.
To play the shared game, no particular procedure is needed. Just select the shared game and then select the Play Stadia button.
Limitations
To play the shared games, you must have a valid payment method associated with the family group.
Only one member can simultaneously play the shared game; however, other family members can play the rest of the shared games.
Any member with restricted parental control cannot play the shared game.
Every family member will play the shared game with its own id, so if the game stops being shared, you will not lose your game data, And if you purchase that game, you can resume your game data. Data consumption depends on the resolution you choose to play.
Availability
After the launch of Google Stadia in some regions, All of the features are common. It is a staged rollout that started today. You have to wait for a week or more to get this feature enabled on your account to share your favorite games with your family members.
Wrap Up
We can't buy Individual subscriptions for your entire family. Most of the time, our family members rarely use those services. But when we didn't buy the subscription, we feel bad for them. So, the Google Stadia Family Sharing feature will be useful for all of us. Also, We can share it with our friends, and it makes sense for what we paid for. Hereafter when we finish the game, The game doesn't have to rest in our library. After Mobile Data support in Stadia, This family feature is one of the best things.
Sharing Stadia is great news for game lover families. Now the whole family can play the Stadia pro subscription games with only one monthly fee. Do you plan to share your Stadia games with your family members? Do tell us your experience in the comments below.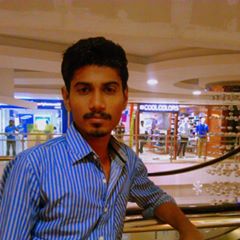 Selva Ganesh is a Chief Editor of this Blog. He is a Computer Engineer, An experienced Android Developer, Professional Blogger & addicted Web Developer. He runs Android Infotech which offers Problem Solving Articles around the globe.