When you use US carrier's mobiles, You will surely know that we can't use our unlocked mobile with those carriers without carrier Authorization. OnePlus users already face some issues with the OnePlus 8 when T-Mobile and Verizon don't receive unlocked mobile IDs for approval. But, This time, OnePlus makes some precautions and already submitted the details for Verizon certification. They approved the same. When you buy the OnePlus 9, and the OnePlus 9 Pro unlocked mobiles, You can use Verizon and Visible Nationwide 5G network.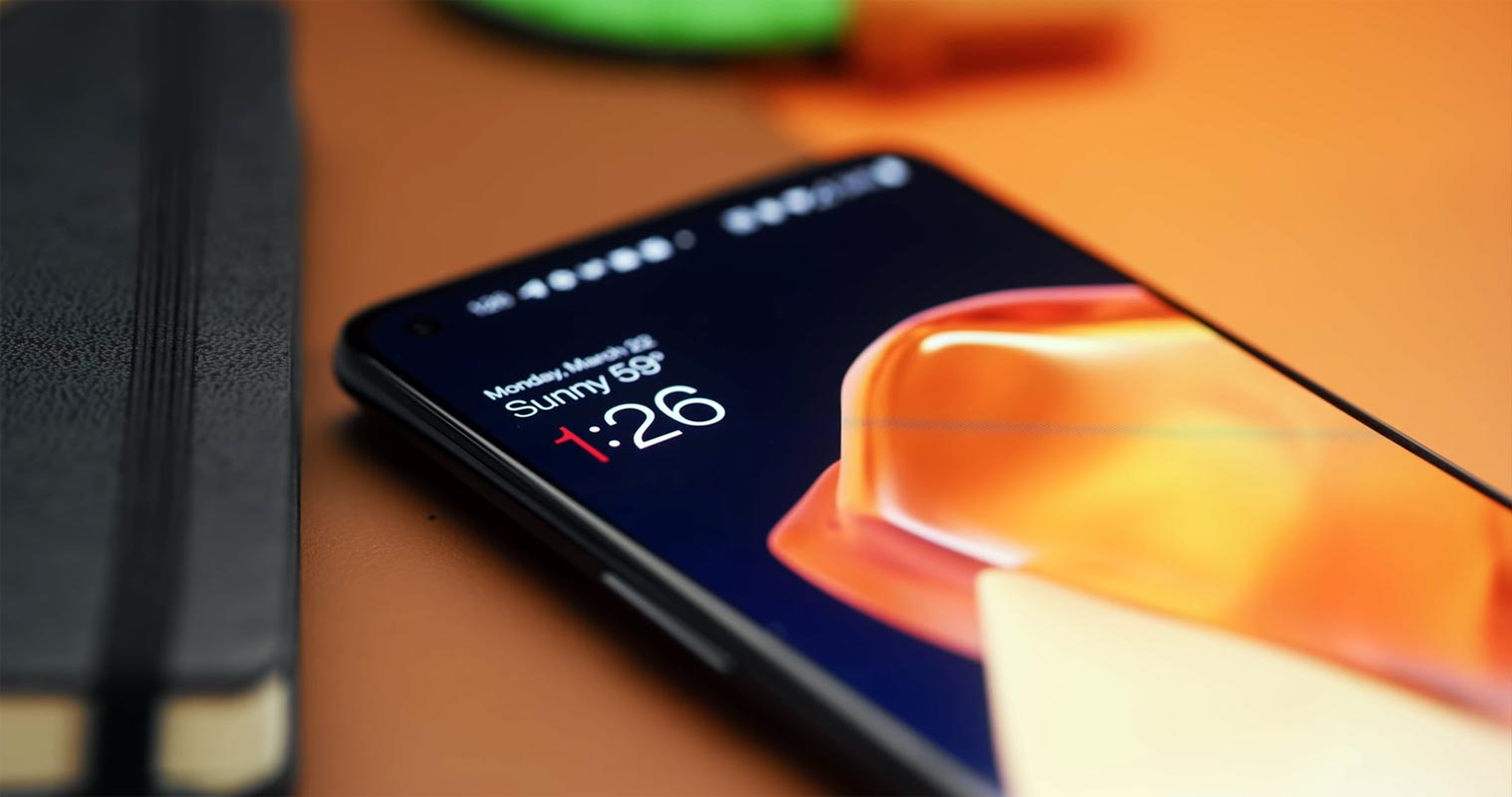 Good news? Yes, it's good news. The new OnePlus 9 and 9 Pro got Verizon/Visible nationwide 5G certification. If you hear about the OnePlus 9 and 9 Pro for the first, here's a brief note about the devices.
OnePlus 9
OnePlus 9 and 9 Pro was launched on March 23 with mouth-watering specs and decent features. The devices are currently getting shipped to early buyers—also, the OnePlus 9 series launched with the company's first-ever Smartwatch – The onePlus Smartwatch. Here, the brand is trying to let its customers know that they can get Verizon or Visible 5G on their OnePlus device.
Visible 5G
Earlier this year, news about Visible's 5G went live on various media. The network available with 200 Mbps speed, and it's available to Visible customers that own 5G compatible smartphones. There is no additional cost. However, although many people do not know this, Visible works under Verizon and use the same tower.
Verizon 5G
Verizon offers nationwide 5G coverage at quite affordable prices. It may interest you to know that Verizon's 5G nationwide coverage runs on lower spectrum bands than 5G Ultra-Wideband, using Dynamic Spectrum Sharing (DSS) technology.
OnePlus 9 and 9 Pro now got Verizon and Visible 5G Network Certification
George Koroneos, Verizon's storyteller, Annonces on his official Twitter account.
His tweet reads, "I'm psyched to announce that the @OnePlus 9 Pro & OnePlus 9 have been certified to work on @Verizon & @Visible. That means you can buy it from your fav retailer and know that it will work great on Verizon 5G. Visit https://verizon.com/bring-your-own-device/ when you get your new phone to activate."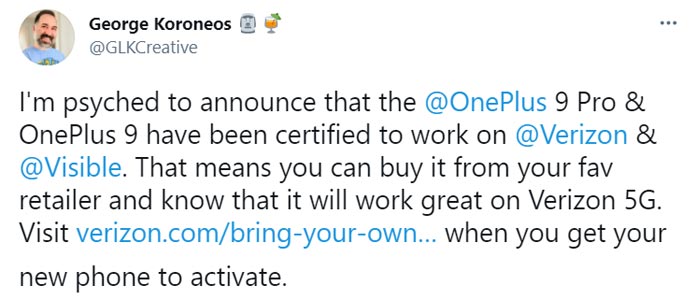 OnePlus 9 users will have to visit the mentioned link to activate their Verizon 5G network device. With George's tweet, it is now certain that the OnePlus 9 series officially gets support on Verizon's network. After purchasing any of the models from your favorite retail store, you can visit Verizon's "bring your phone" to activate your device.
Why is this a Big News?
In the US, a device cannot run a carrier if not certified by the company. Verizon's PR manager confirms the certification of the OnePlus 9 and 9 Pro. Verizon customers who will get OnePlus 9 smartphones can register their device and enjoy nationwide 5G coverage.
Wrap Up
George replied to his tweet and said, "Since I'm getting a ton of questions. The @OnePlus 9 is certified for @Verizon 5G Nationwide and 4G LTE. The OnePlus 9 Pro brings 5G Ultra Wideband to the party." Verizon sells neither of these OnePlus devices; you can preorder from the OnePlus' store. The price starts at $729. Compare with the OnePlus 8 timeline for Verizon certification, This time, OnePlus already got certification from Verizon for the OnePlus 9. So, are you going to use Verizon's 5G Nationwide on your OnePlus 9? Let's hear what you've got to say about this OnePlus Verizon collaboration.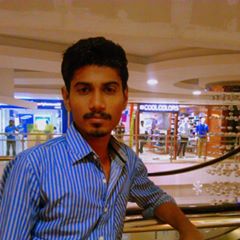 Selva Ganesh is the Chief Editor of this Blog. He is a Computer Science Engineer, An experienced Android Developer, Professional Blogger with 8+ years in the field. He completed courses about Google News Initiative. He runs Android Infotech which offers Problem Solving Articles around the globe.