When you want to view how Google startup looks like in Area 120, it is the place where different ideas came, and it almost looks like young, energetic, and new ideas. Here Google will not worry about the enterprise solutions. They want to entertain users with their innovations. After launching Keen, Shoploop, Now Google Area 120 launched the Fundo Paid Event platform. Most of the tech companies focus on video conference solutions. Zoom launched Celebrity video calls, where you have to pay for minutes. It may range from a few dollars to a considerable amount.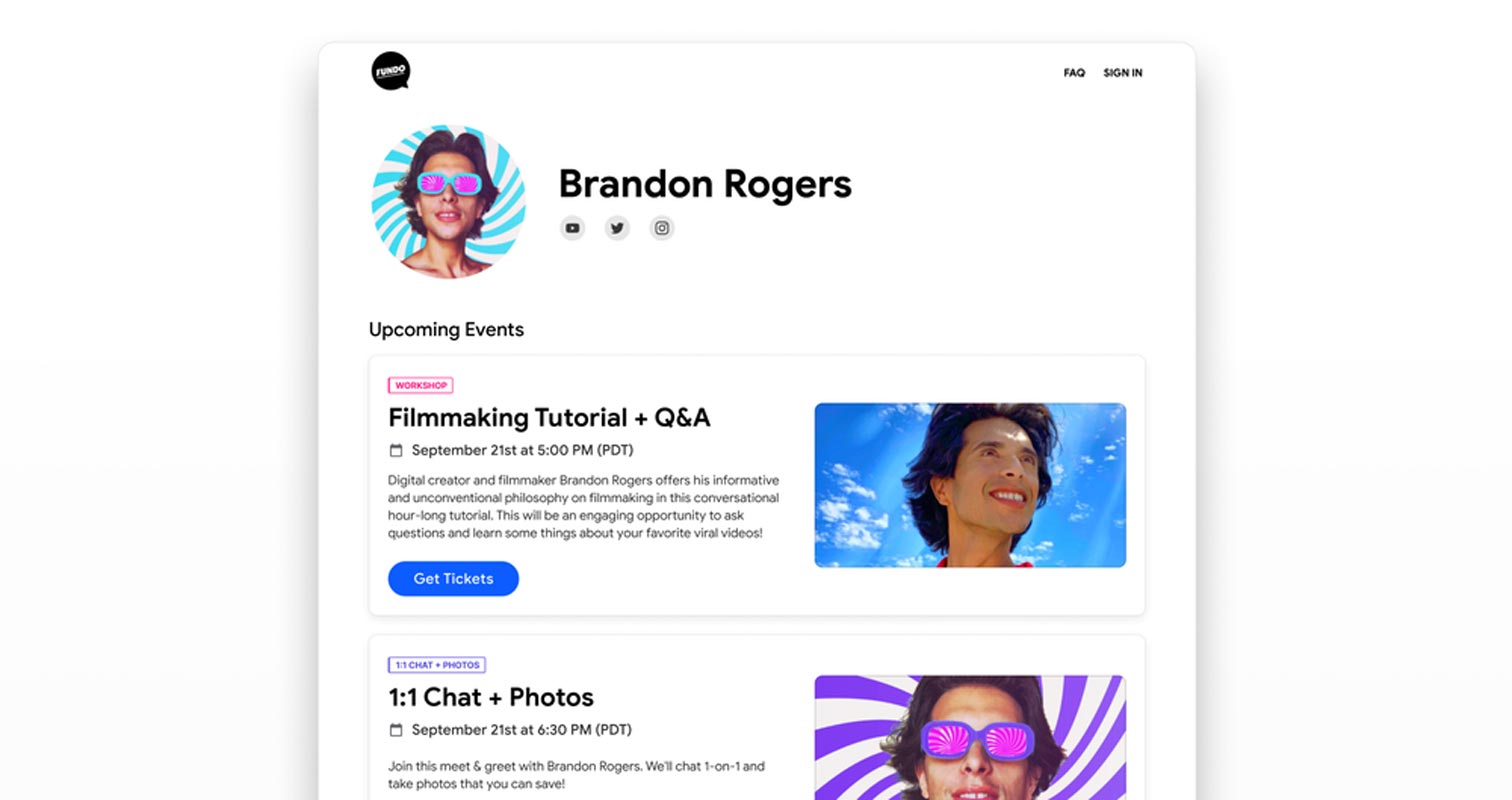 Fundo is different. It is an online event where you have to purchase a ticket to watch the show, Workshop, or talk with the creator. Google officially announced to launch the full version of the Fundo app to all customers. There was a beta version of Fundo running earlier.
What is the Google Fundo Event Platform?
The Fundo is a Google Area 120 production, a place where there is full of experimental software. When they got successful feedback, some of them will integrate with Google's leading portfolio. Google launched the beta version of Fundo last summer 2019. Several hundred testers tested this service for its stability feedback. And now, Google made it publicized for use. The existing video conference solution, Google Meet, is an industrial look. But Fundo looks fun and joy.
How can Fundo help creators?
Fundo was initially created for creators and celebrities to meet their fans one-to-one, a limited personal gathering, and their fans can get photos with them. But Fundo has expanded during its beta from one to one meeting to a small event of fans gathering up to 30 members on one screen. And it has become a new monetizing app for the creators and celebrities. Even if Facebook Messenger has 50 people support, It is not suitable for creators.
What A Creator Can Do with Fundo?
Fundo is a monetizing platform for creators and celebrities to meet with their fans one to one. A creator can manage Fundo for three types of event like one to one chat plus photo session, meet and greet, or as a workshop or class to deliver your skills or knowledge to the participants. Fundo is based on video calling, and the participants buy the tickets for each event hosted by their favorite creator or celebrity. Thus, it has become an alternate monetizing source for the creators.
How to create a Fundo Creator account?
If you are a creator, you can use Fundo to meet with your fans and generate smart income from Fundo. To use the Fundo:
Sign Up for Account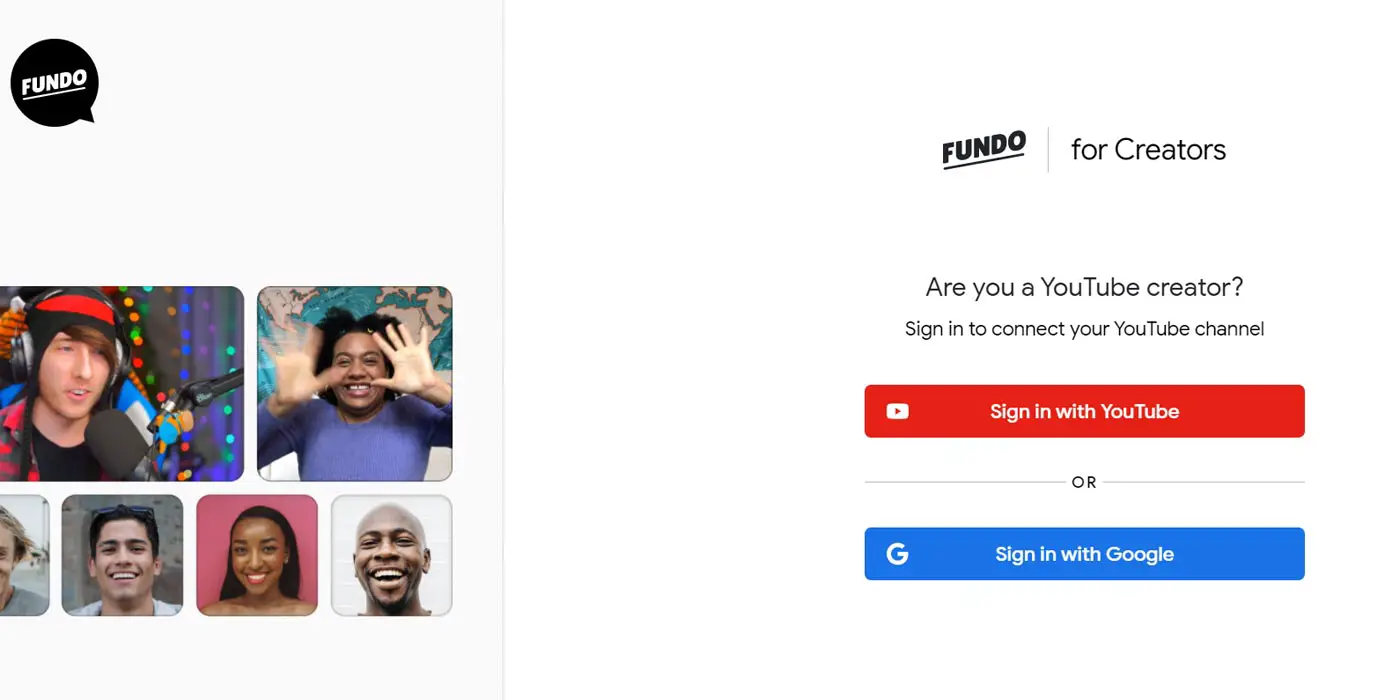 You can Sign up either by YouTube account or by Google Account.
You can create a new account with your Phone Number also.
Follow the On-Screen instruction and Register your account.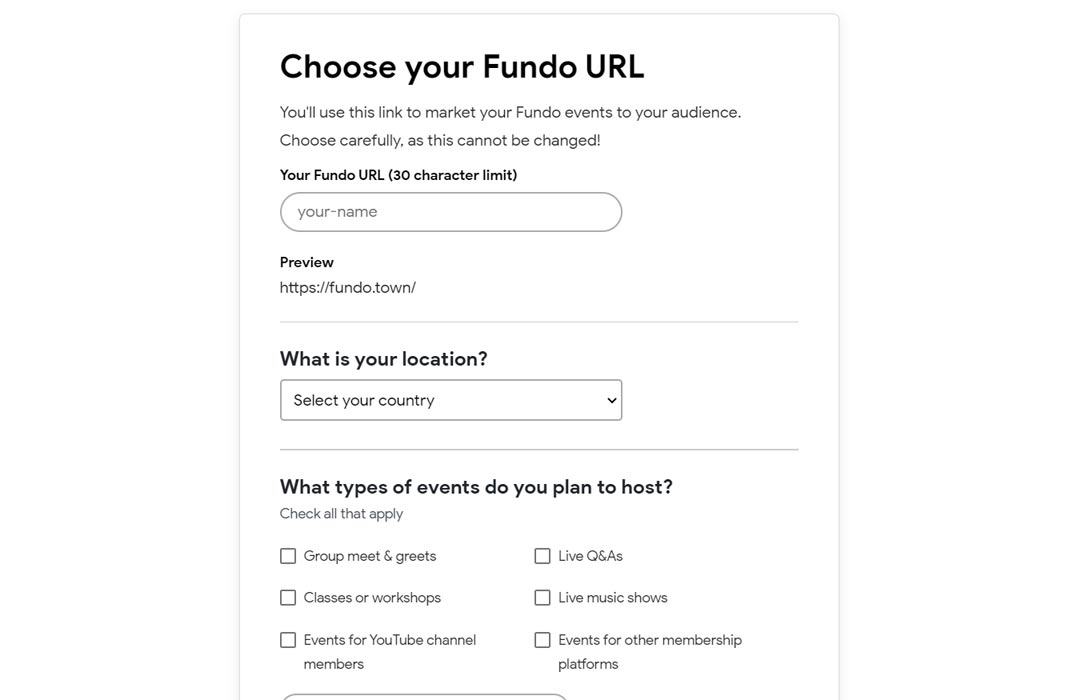 Setup Account
Now Sign in with your Fundo Account.
Now selects your event type from 1:1 chat + Photo, Meet & Greet, or Workshop.
Fill the details of your event.
Enter the Number of Tickets (you can choose up to 30), Amount of Each Ticket, Time Per Fan, and any promotions if you want.
Please enter the Question that you want to ask from your fan when they buy your event's tickets.
Review your entered information and Save.
That's how any creator can easily create the event. You don't need to worry about the ticket's collections or promotion of your event. Fundo is offering all these services right on its website, like everything under one roof.
How to create a Fundo user account and purchase a Ticket?
The process is simple to compare with the creator's account.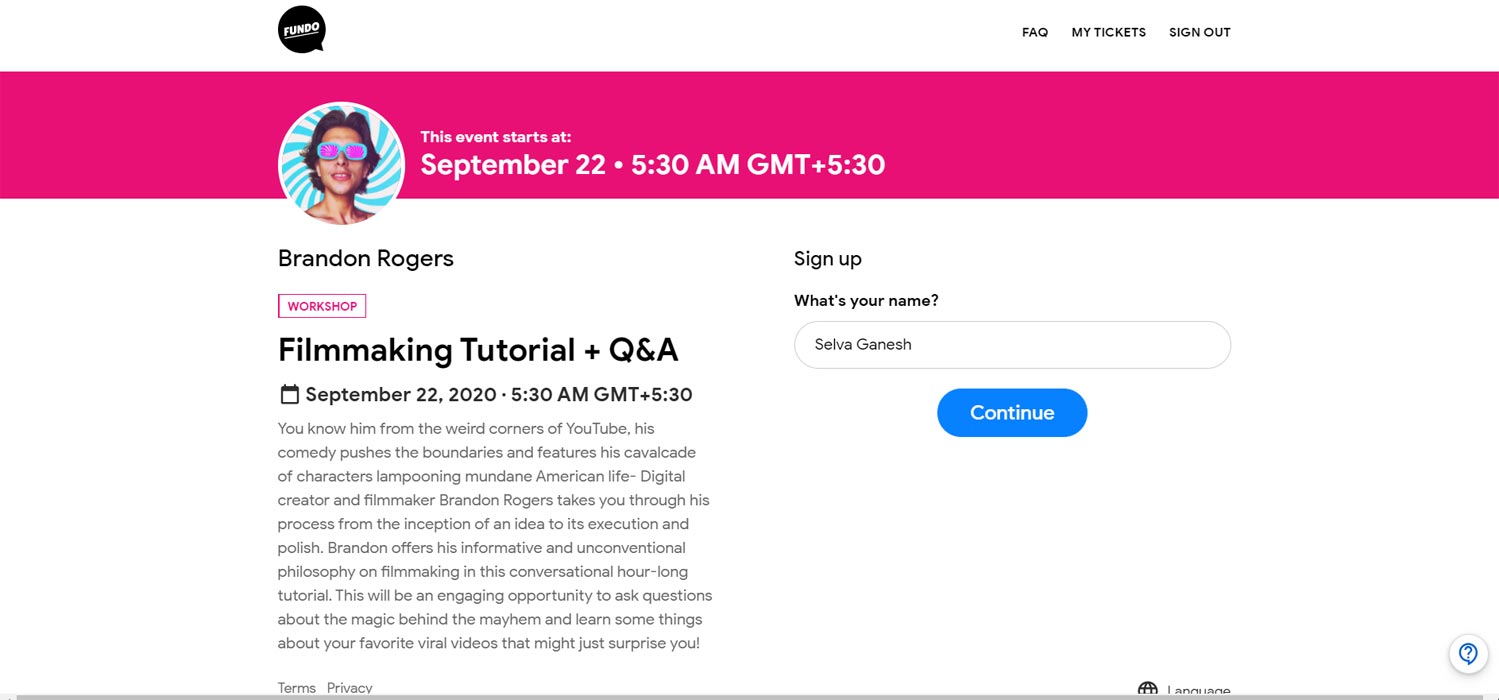 You can Sign up using your Google Account.
Follow the On-Screen instruction and Register your account.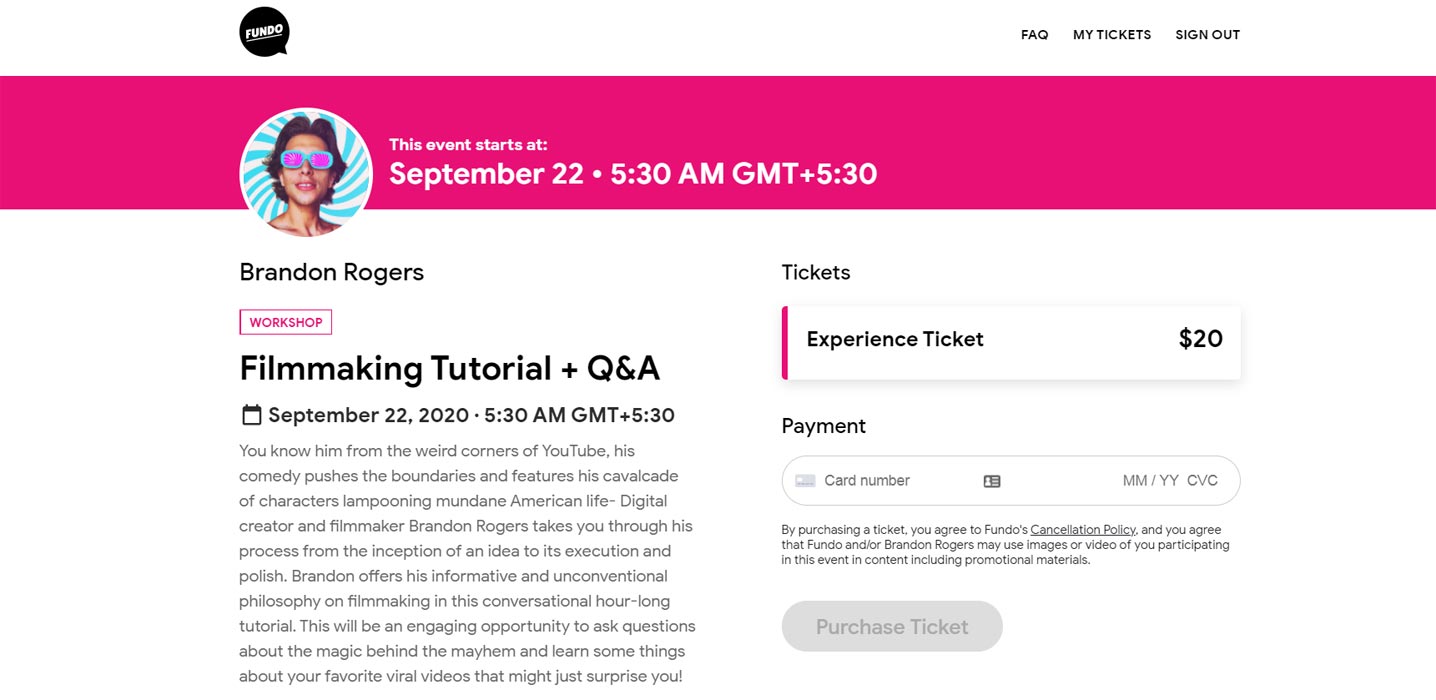 After the successful registration, Search for the creator and purchase the ticket using your Card.
What does Google will get from Fundo?
Google provides you with a big platform to meet & greet with your fans without any headache of ticketing or promotions, neither you need to worry about the venue and other technicalities. You do not need to use any other app to execute this event. The Fundo website does all. And In return, Google cut down 20% of the revenue generated by your event. 
Availability
Fundo is currently open to the USA and Canada only. During Fundo beta, hundreds of celebrities and creators have used this platform for executing their events. Looking at that feedback, Google announced to open it globally very soon. 
Wrap up
Compare with official regular Google releases, Google Area 120 thoroughly tests, beta and experimental platforms. Most of the media and ideas didn't get that much popular due to the volume of users is less. They already launched Pinterest look alike Keen and Shoploop platforms. Zoom app platform looks like an office look, and old skype look, There are limited options for creators. But even if it is a starter idea, It seems useful for creators. Fundo is an excellent opportunity for YouTube creators and other celebrities to capitalize on their meet and greets. What do you think about Fundo? Do tell us in the comments below.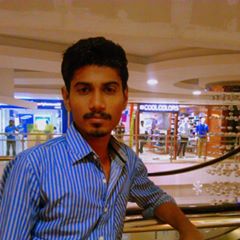 Selva Ganesh is the Chief Editor of this Blog. He is a Computer Science Engineer, An experienced Android Developer, Professional Blogger with 8+ years in the field. He completed courses about Google News Initiative. He runs Android Infotech which offers Problem Solving Articles around the globe.