Even though technologies have improved a lot, Sometimes it makes some processes difficult compared with the Old days. The term matches perfectly it comes to watching Live Games. In the Early days., We only stick with satellite TVs, navigate the channel and watch the show. But, In recent days, Most of the apps promoting themself as NFL telecast apps. But when we subscribe and begin to watch, They show limited short videos or only live scores. So, To avoid those uncomfortable situations, We listed the best Seven Ways to Watch NFL Games Live on Android Mobiles. Since it is a Live Score, some apps may ask for subscriptions; You can buy one when you feel worthy. You can also buy bundle packages with leading Mobile carriers or YouTube TV.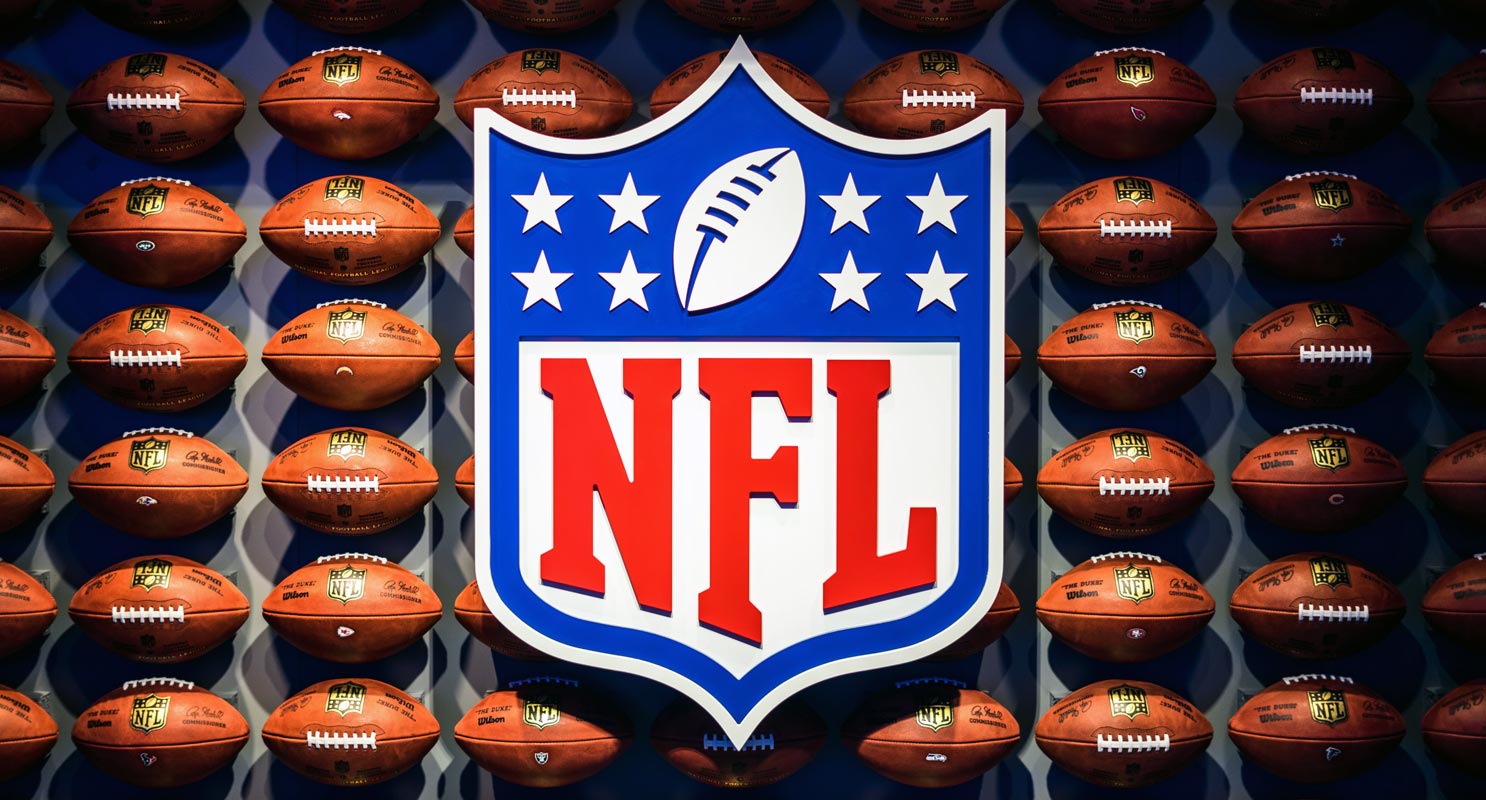 How to Watch NFL Games Live on Android Mobiles?
You can install Android Apps or watch in the Web apps too. The experience between Webview and Apps continuously varies. When you have enough storage, You better try on Native Android Apps. The following apps can stream live games on your Android Mobile. We listed the apps based on the official NFL website and User thoughts and lists.
Official NFL App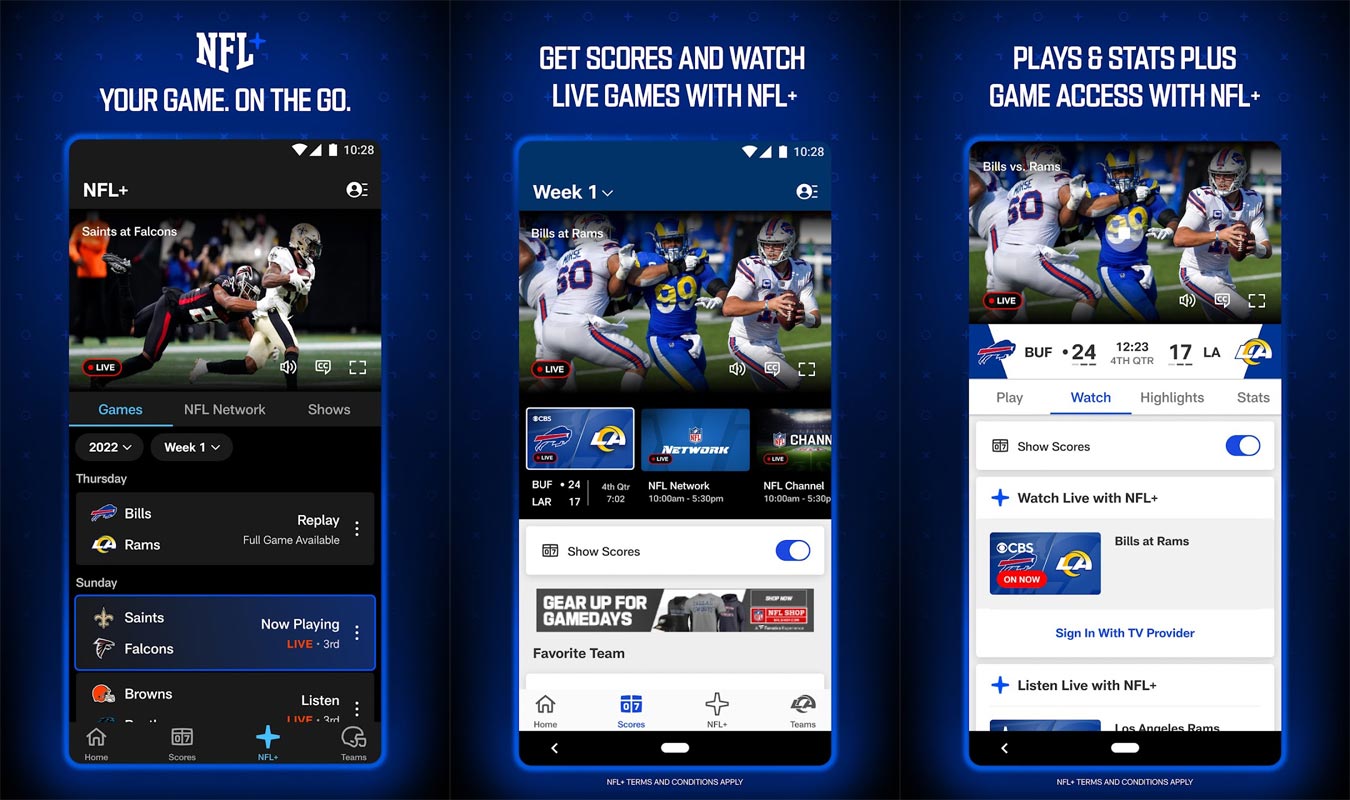 The Official NFL App is the first app that needs to be not overlooked. It lets you watch live games, both primetime and local, and provides a variety of replays and videos. When you download the app, you'll notice an "+" symbol at the bottom of the mobile navigation. In this section, you can access the application to join NFLPlus.
The last season, a lot of the content on currently NFL+ was accessible for free on the NFL app. However, this season is different. The NFL will be charging an annual fee to stream games via mobile. While the new costs aren't ideal, they offer significant savings over most live streaming services on TV.
What kind of services does NFL+ offer?
Live, local games during the regular season on mobile phones or tablets.
Preseason games outside of the market.
Live audio throughout every game.
Sunday Night Football on mobile/tablet.
Monday Night Football on mobile/tablet.
Thursday Night Football on mobile/tablet.
NFL Playoff games can be played on mobile/tablet.
Download NFL Official Android App
NFL Game Pass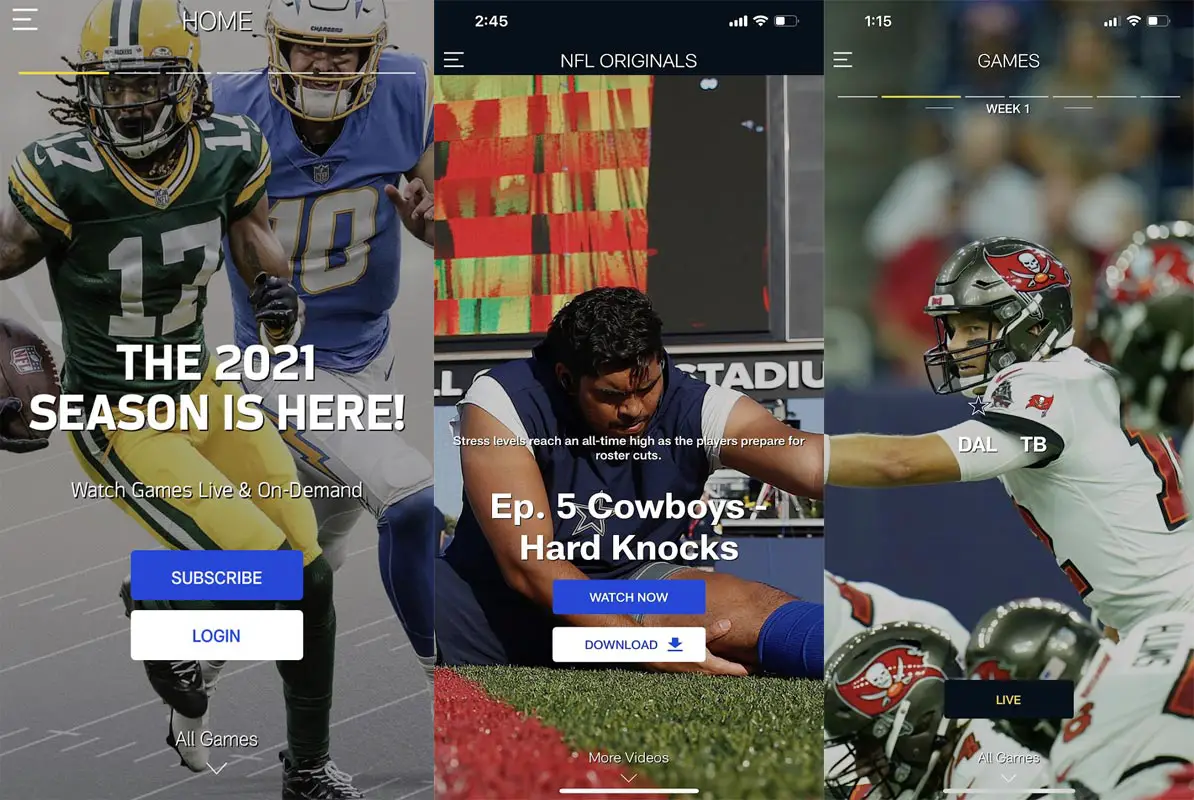 NFL Game Pass is excellent due to the variety of options it offers. When you pay the subscription fee, you can view all live games of the regular season, playoff games, and the Super Bowl.
A subscription also grants access to other NFL networks. So, you'll be able to witness every touchdown in every Sunday game live by using NFL Redzone. Also, you can watch NFL live all day long through NFL Network and get archived games and shows from NFL Archive. The app also has condensed games. This means you can watch the entire NFL game in just 30 minutes.
Even though you'll need to purchase the membership, the cost is worth it. The app has a lot of great content.
ESPN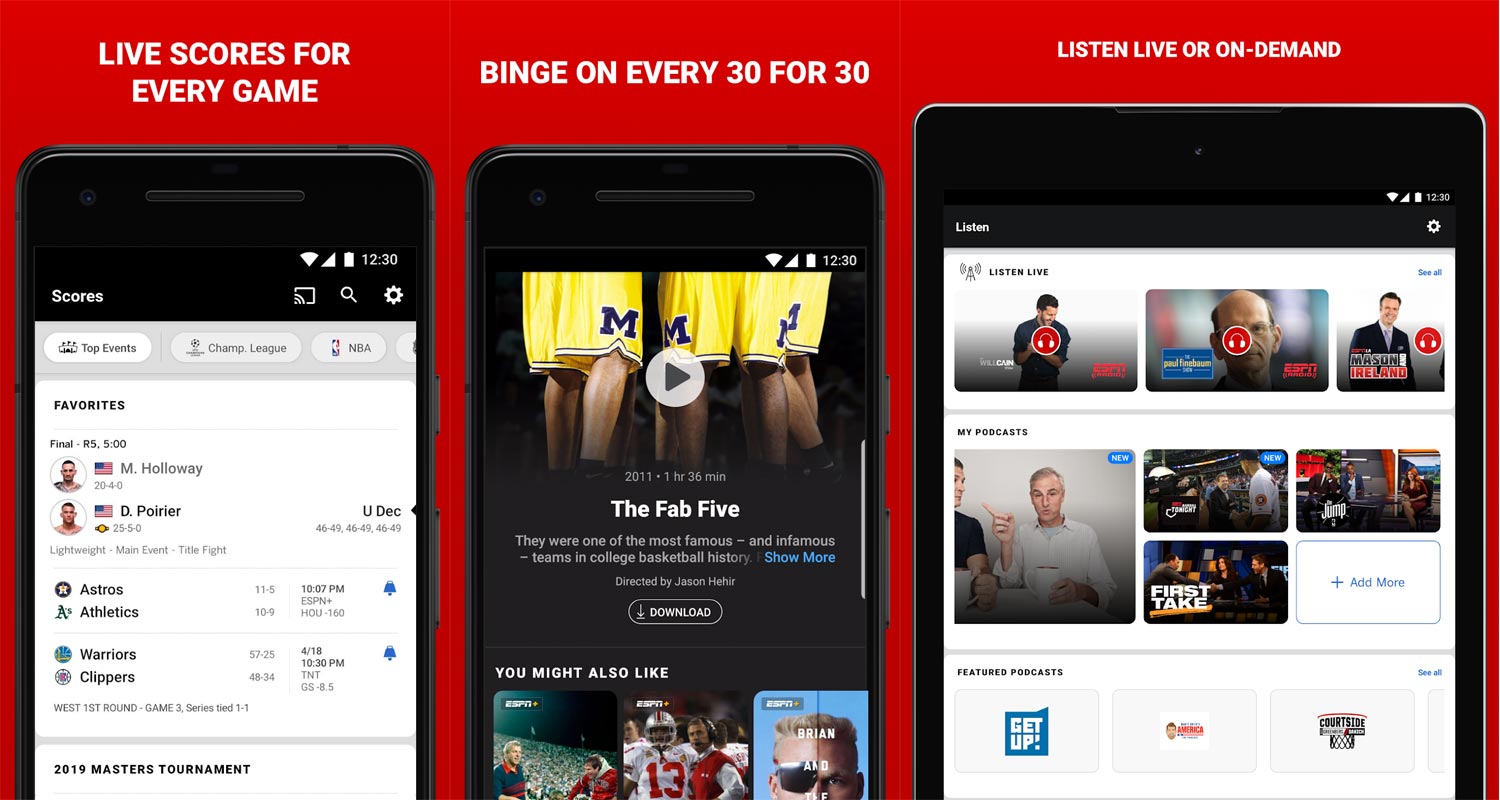 Recently, ESPN app updates permit you to view live NFL games. You can also subscribe to ESPN podcasts and listen to live ESPN radio. The app also contains much other thrilling content.
It also allows the user to monitor your preferred team's stats and access all the highlights and news. Like Yahoo Sports, ESPN will enable users to stream other sports.
If you'd like to subscribe to ESPN+, which unlocks some premium features, you can purchase $4.99 per month and $49.99 to get an annual membership. There are occasional ads. However, they don't affect your experience.
YouTube TV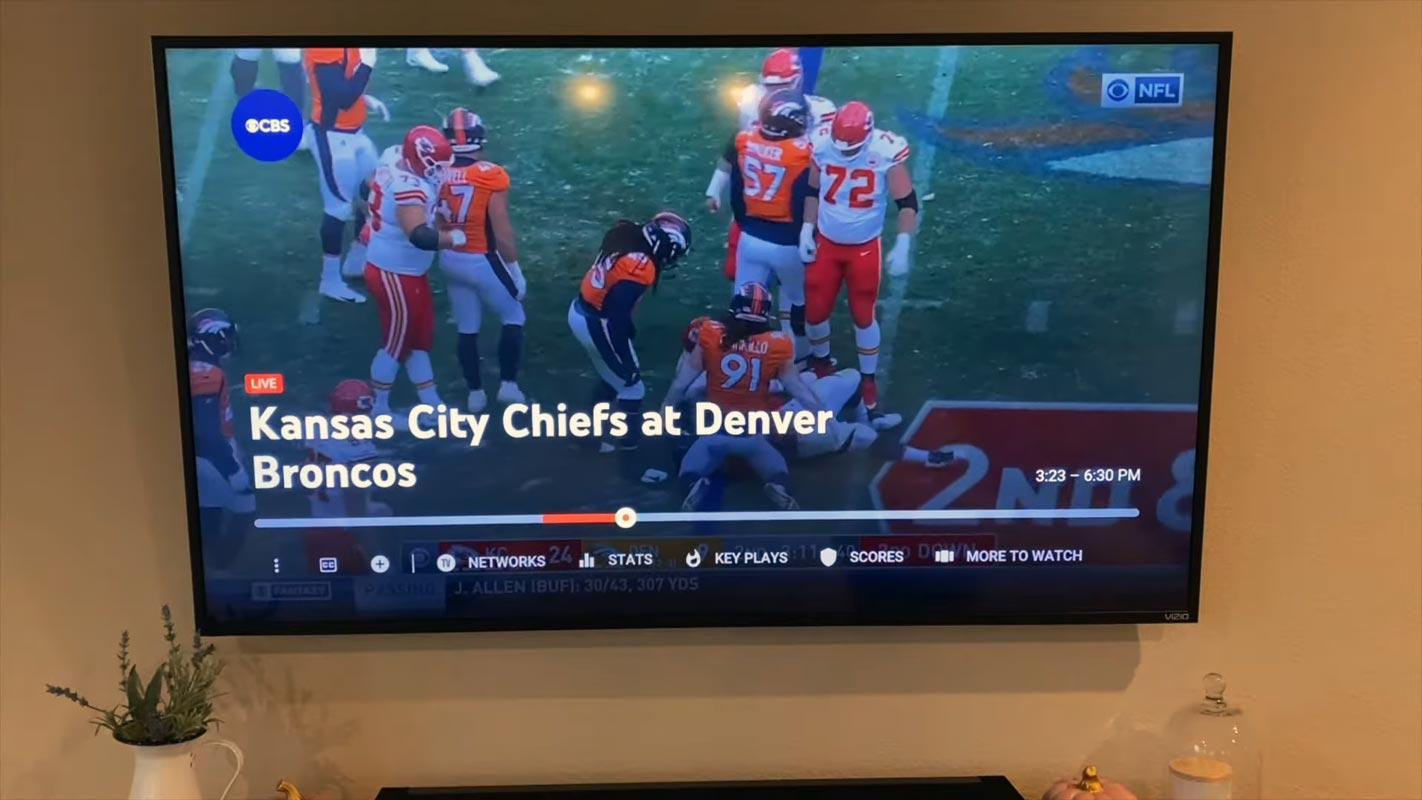 YouTube TV is a good option if you seek a more comprehensive streaming solution. Their mobile application is exceptionally impressively designed.
I have test-driven each live streaming option that I have tried to view sports; I can confidently affirm the following: YouTube TV is the best among them all for football and particularly for viewing on mobile devices.
The app works on each of the iOS or Android operating systems. The team behind the app has gone beyond to create innovative features. Actually, out of the reviews on streaming I've conducted, the top features, regardless of type, are Statistics View and Key Plays available on YouTube TV.
You have to purchase Sports Plus Add-on to watch NFL on Youtube TV. Through Stats View, YouTube TV users can view real-time statistics while they go through every NFL match. Key Plays lets you watch games by watching highlights of the most significant games, which is an excellent method of catching up on a game even if you didn't get the kickoff or to use for DVR watching games that you've recorded.
Download YouTube TV Android App
Paramount+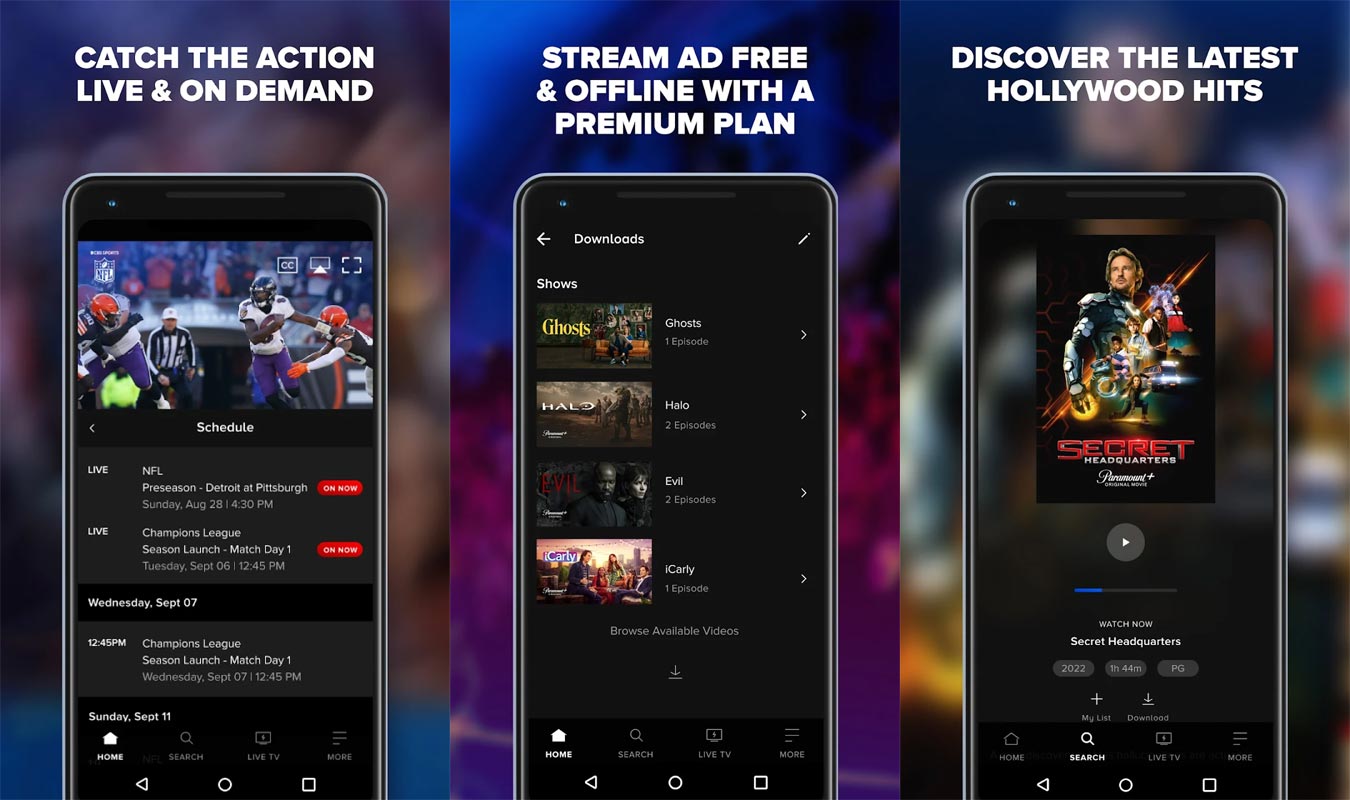 The streaming services of CBS Paramount+ provide access to the games broadcast by the network. There is an initial trial of one week, then pay a cost of either $5 or $10 per month. Then, AFC fans should be aware of Paramount Plus as a live streaming option to watch NFL action. With only $4.99 monthly to subscribe to the Essentials Plan, cord-cutters get access to all NFL games on CBS, including playoff games and the Super Bowl, when CBS has the rights. It is available as a Paramount Plus mobile app and is accessible on Android or iOS.
Download Paramount+ Android App
Hulu+Live TV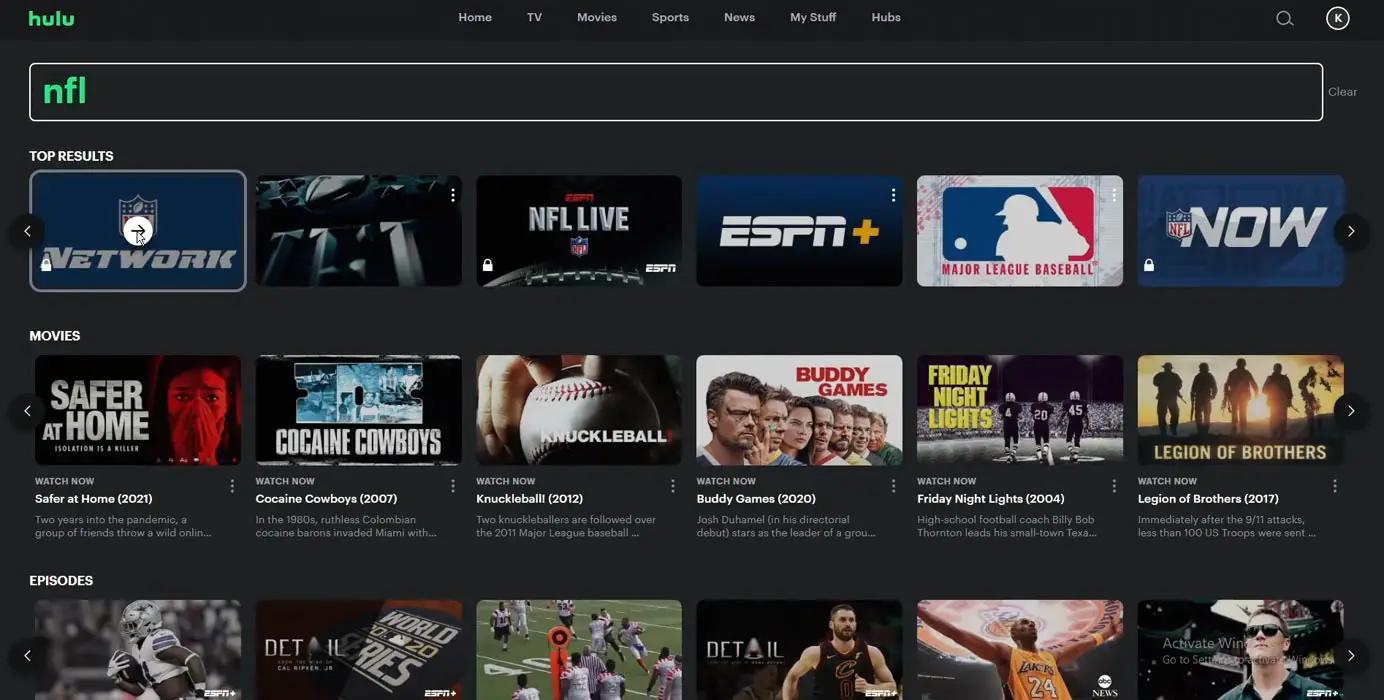 From 2021 on, Hulu + Live TV and the NFL Network provide all-year-round NFL content to viewers with Wednesday Night Football. Monday Night Football airs on ESPN and Sunday Night Football on NBC. You can stream every game on every network on Hulu Plus Live TV, catch live NFL preseason games and exclusive games from the regular season and famous studio programs (like NFL Total Access and the Emmy-nominated program Good Morning Football, and plenty more.
The free trial of this program is no longer available and is no longer available. It costs 70 dollars per month.
Fubo TV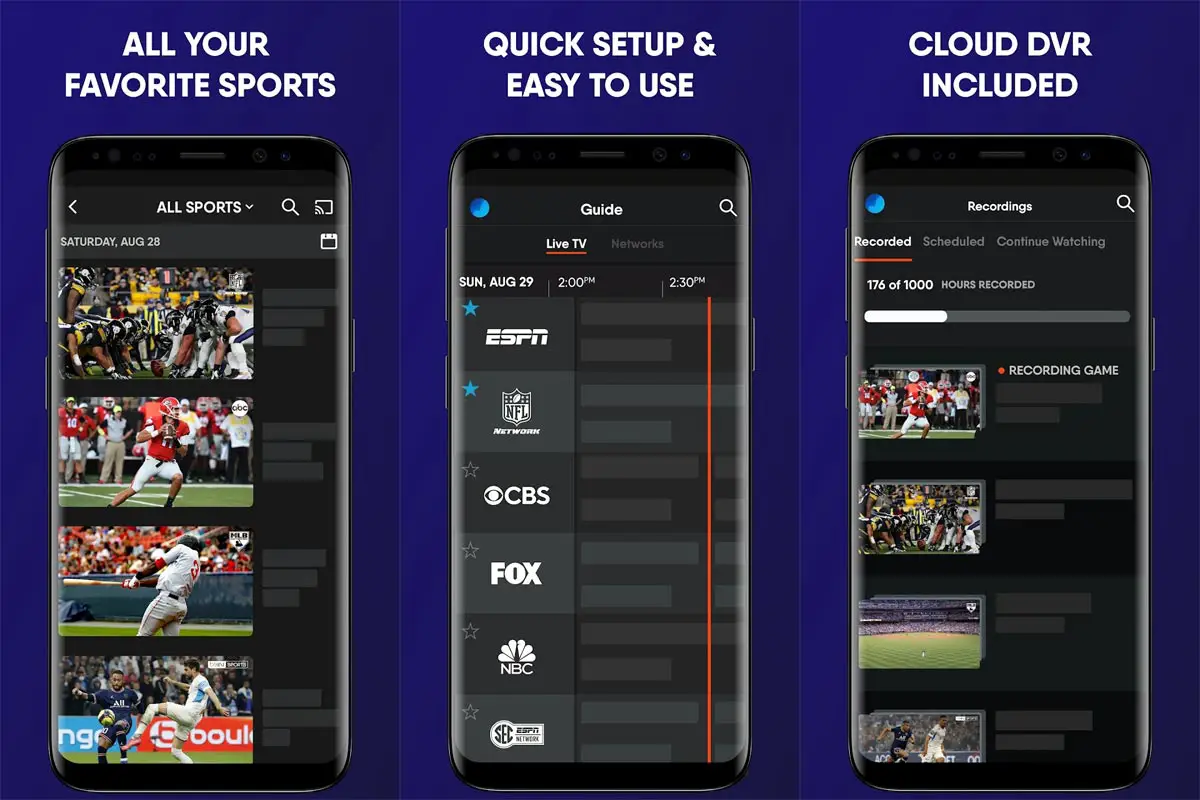 The sports-focused cut-off service offers broadcast channels in all markets. You can try it for seven days free and then monthly fees between $70-$100, based on the media you choose to watch.
FuboTV not only has sports coverage of the NFL, NBA, and MLB. In addition, you can catch NHL, NASCAR, MLS tennis, golf, boxing MMA, college sporting events, and much more. In addition, we offer every tennis major, golf major, and Triple Crown race as well as full-time coverage of special events such as the Super Bowl, World Series, NBA Finals, Stanley Cup Playoffs, and the Olympics.
Wrap Up
We hope, The above apps will help you watch your Live NFL Games. There are plenty of other apps also available. But, They didn't work all the time, and Live Stream is about perfection and worth the money we pay for. Since every user needs different options or customizations, We can't point out only one app and claim that it is perfect. We have to go through lots of apps and their features. If we missed any best apps or you have suggestions, comment below with the app name.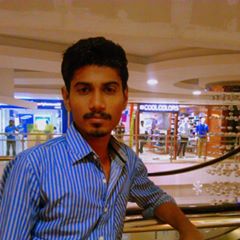 Selva Ganesh is the Chief Editor of this Blog. He is a Computer Science Engineer, An experienced Android Developer, Professional Blogger with 8+ years in the field. He completed courses about Google News Initiative. He runs Android Infotech which offers Problem Solving Articles around the globe.