After Carl Pei leaves from OnePlus, He started a new company called "Nothing." After the company name release, There is no further information about what they are going to do. Since Carl Pei is an experienced CEO in the mobile industry, most believe that he will release new mobile lineups. But rumors suggest the company will release Audio related accessories. As a surprise to all, Carl Pei's Nothing Company Officially Acquired the Essential Smartphone Brand. It means either he can use the same name for mobiles or use the strategy and patents that Essential already registered. So, We can expect a few mobile lineups from Carl Pei's Nothing company.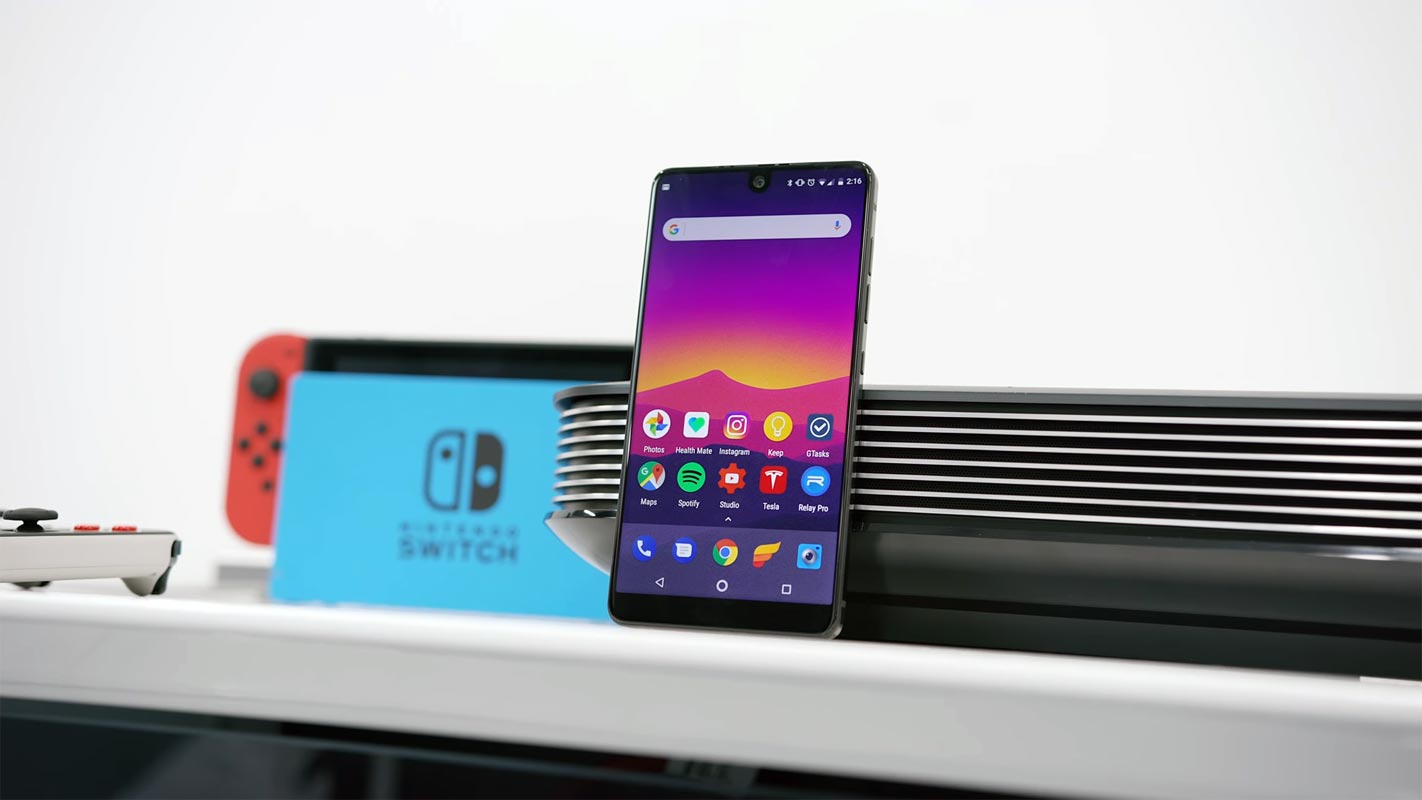 The "Nothing" company
What is this "Nothing"? You may wonder what this is, but actually, Carl Pei's new smartphone company named Nothing. Carl Pei is a Chinese-born Swedish internet Entrepreneur. He Co-founded OnePlus along with Pete Lau and also the former Director of OnePlus. Pei left OnePlus in September 2020 to pursue other ventures in China after 7 years of working with the company. After Carl Pei came out of OnePlus, Various rumors Spread about "Nothing." Rumors have been circulating that "Nothing" could become a HeadPhone Makers. But Carl Pei has confirmed that it is a Smartphone related Company. Nothing already gets $15 million in funds from Google Ventures.
Essential SmartPhone
The Essential Smartphone from the creator of Android, Andy Rubin. This Smartphone was last released in September 2017 and was well received by the Customers.
It has some unique attributes to it, obviously the screen, and enjoys a nearly edge-to-edge display. This phone has a 5.65-inch screen. You can snap on a 360-degree camera or shoot in 4K. They made this phone in Titanium rather than traditional aluminum, but it's not indestructible and waterproof. And also, it doesn't have a headphone jack.
The Rise of Essential
The Essential phone is one of those rare pieces of consumer electronics that are arguably more notable for what it represents than what it actually does. This Handset is the first product from Essential launched by Creator Andy Rubin after leaving Google. The Phone was officially named the Ph1 is an excellent first step for a brand new startup. In fact, the company's managed a pretty rare feat here, developing a piece of hardware that's comparable to flagships from big names like Apple and Samsung. The Phone is a bit square and bulky, particularly compared to the curved displays.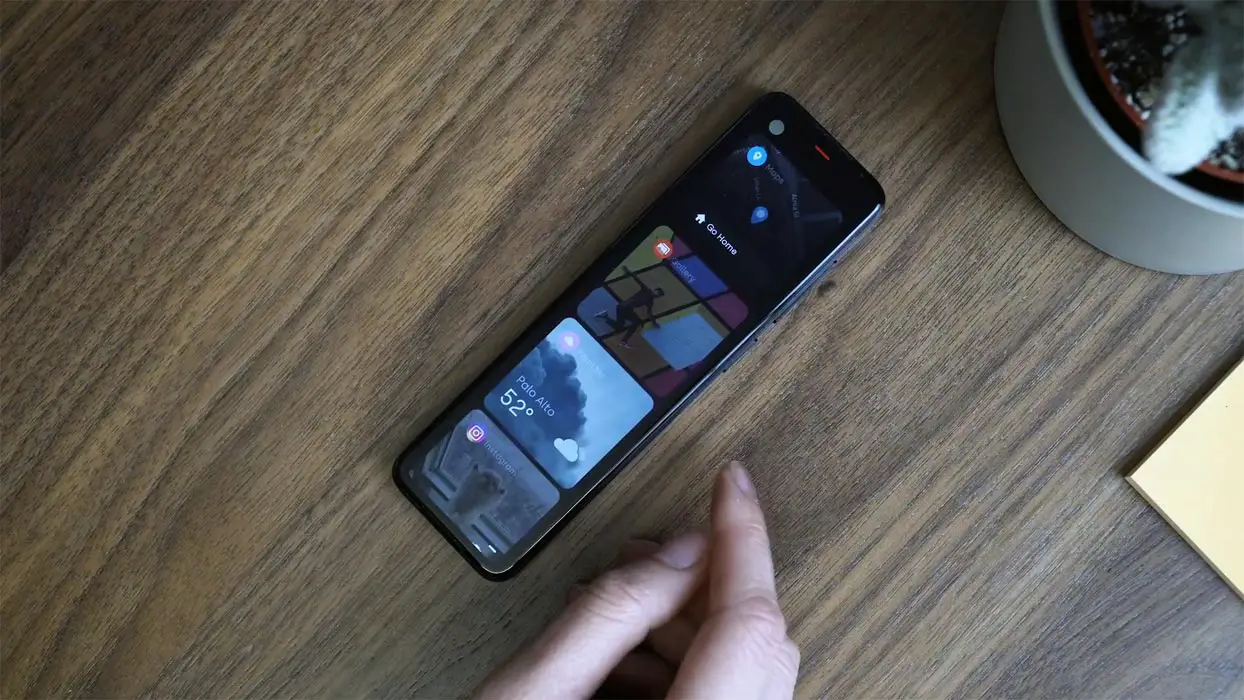 After the Essential Ph-1 release, the company plan to release a long narrow display mobile; the device is a part of a much larger strategy for a connected ecosystem that includes an Amazon Echo-like device and its own operating system, Ambient.
All the Tech reviewers and enthusiasts around the world were clamoring for this device. We have to ask the question What happened? Why is this Phone not one of the Titans in the Smartphone Industry? Why is it's not in everyone's Hand?.
Fall of Essential
There are several reasons why this phone only sold 88 thousand units. The phone was not a success early on was because of manufacturing. People have to wait months to receive these phones. And they also failed to gave software updates. Most of the Smartphone companies don't get a second chance to fix the First Impression. Another reason for a fall was the Market; it wasn't enough to really put a dent in the market as far as units sold and be a true competitor to Samsung's likes.
Many Rumors started to circulate about the Essential phone not being a thing that the company is shifting focus on. They're no longer going to make smartphones and focus solely on home solutions automated systems in the house. Then Andy Rubin revealed the words, "We always have multiple products in development at the same time, and we embrace canceling some in favor of the ones we think will be bigger hits."
Nothing officially acquired Essential Brand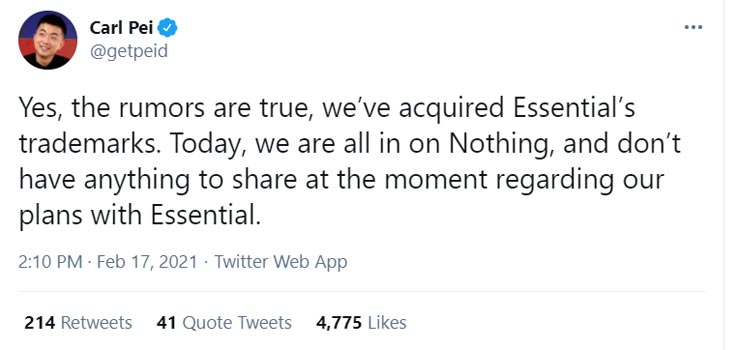 Yes, the rumors are true; we have acquired Essential's trademarks. Today we are all in one Nothing and don't have anything to share at the moment regarding our plans with Essential carl Pei's posted on his Twitter account. Even after the Shutdown of the Essential Smartphone, Why Carl Pei officially bought this Smartphone Company? We'll get into a bit of a pool.
But the main reason why Carl Pei bought this phone was that it satisfied all the users. Marketing, Availability delay, and meltdown Issues are the only problems, except that the phone attracts many users. All of these problems can be fixed. So Carl Pei made the right decision to acquired with Essential. In the future, Carl Pei is likely to rerelease their Essential Smartphones with so many updates.
It is not surprising that Nothing has launched a wide range of Smartphones to compete with OnePlus. Generally, OnePlus mostly focuses on Flagship Phones. After Carl Pei's ideas came to OnePlus that they started releasing Mid-range phones like OnePlus Nord. So Carl Pei never going to disappoint the anticipations on Nothing.
Wrap Up
Some companies may have lots of beautiful ideas. But for some reasons. They can't implement it to the public. Essential is one of those brands. When they launched their ideas and announced, devices are way different and compare with Android market devices. Also, their software is great, and even sometimes, they roll out the update after Google Pixel mobiles are received. The Android OS is near Stock Android. By acquiring an already existing Smartphone company, Nothing can go miles forward in their roadmap. All we want is better alternative mobiles that are no gimmick. We can expect a few lineups in the future from Nothing. What are your thoughts about the Nothing acquire the Essential brand? Share your thoughts.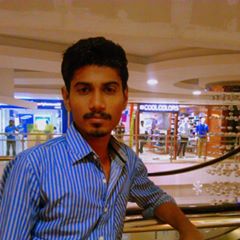 Selva Ganesh is a Chief Editor of this Blog. He is a Computer Engineer, An experienced Android Developer, Professional Blogger & addicted Web Developer. He runs Android Infotech which offers Problem Solving Articles around the globe.