Google brought out the big guns in the ongoing AI war during the 2023 I/O conference, showcasing a plethora of new generative AI capabilities for its suite of Workspace apps. As part of the exhibit, the search giant unleashed a ChatGPT-like writing assistant for Gmail that can compose emails for you based on brief text prompts. Gmail's "Help me write" was initially released for the web as part of a limited preview, and it's now showing up on Gmail for Android. You can use Bard Writing Assistant in Gmail Android App using the method below.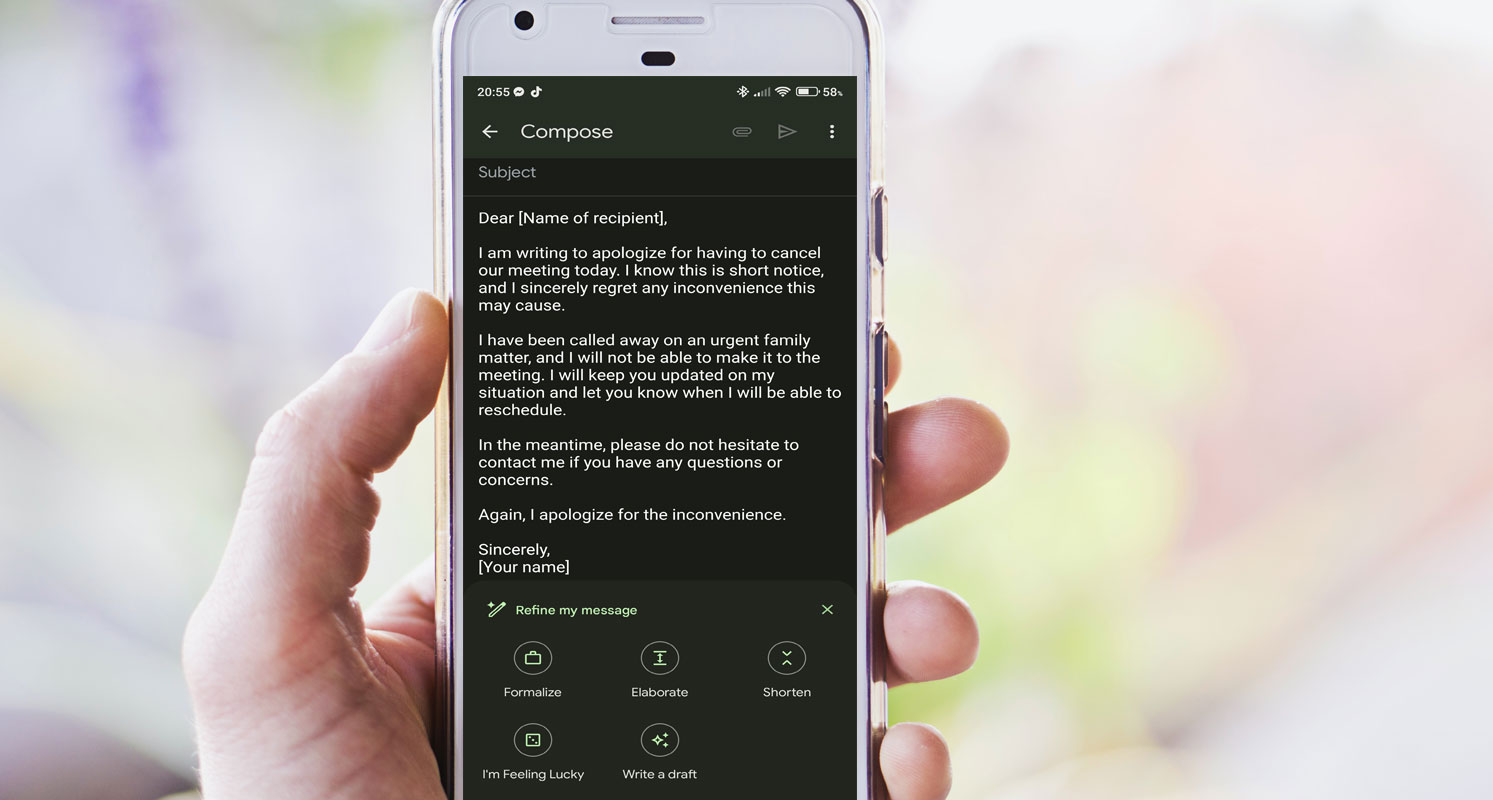 Bard Writing Assistant in Gmail Android App
In the artificial intelligence age, Google introduced a powerful writing assistant called Bard for its Gmail Android app. This innovative feature leverages generative AI technology to help users compose emails more effectively. By providing text prompts, you can now rely on Bard to generate paragraphs of text, saving you time and effort in the writing process.
Accessing the Bard Writing Assistant
To access the Bard writing assistant in the Gmail Android app, you must be part of Google's Workspace Labs program. The feature should be available on your account if you are already enrolled. However, if you haven't signed up yet, you may need to join the waitlist before gaining access to Bard.
Composing Emails with Bard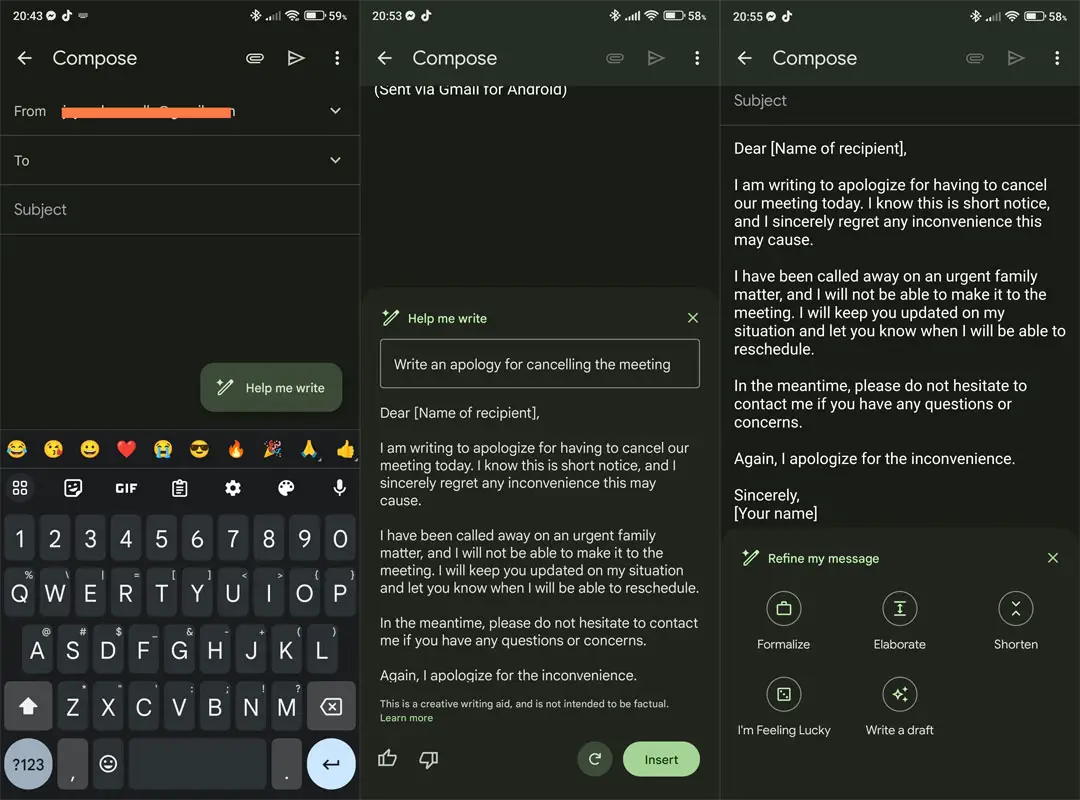 You can begin quickly composing emails once you can access the Bard writing assistant. When you start a new email draft, a floating action button will appear in the bottom-right corner, featuring a pencil icon with a star. By tapping on the "Help me write" button, a text box will appear with prompt suggestions.
You can choose from the provided suggestions or enter your own words to instruct the AI on what you want it to generate. After typing your prompt, tap the "Create" button, and Bard will develop a draft email for you.
Customizing the Draft
After Bard has generated the draft email, it will appear in a new panel. The generated text may consist of sentences or paragraphs, depending on your instructions. It's important to note that the AI-generated text is meant to assist in creative writing and is not intended to be factual.
Below the AI-generated text, you'll find thumbs-up and thumbs-down buttons. These buttons allow you to provide feedback on the generated draft and indicate your level of satisfaction. Once satisfied with the generated text, please insert it into your email draft. Feel free to make any further changes or additions as needed.
Fine-tuning the Writing Style
The "Help me write" floating action button remains in the bottom-right corner after inserting the generated text. Tapping on it opens a menu with options for fine-tuning the draft in various styles: "Formalize," "Elaborate," "Shorten," and "I'm Feeling Lucky." You can choose the style that best suits the tone of your writing and make the necessary adjustments.
FAQs
Is Bard available for all Gmail users on Android?
No, Bard is available only for users enrolled in Google's Workspace Labs program.
Can I use Bard for other writing tasks apart from composing emails?
No, Bard is designed to assist with email composition within the Gmail Android app.
How accurate is the generated text by Bard?
The accuracy of the generated text depends on the prompt and the AI's understanding of it. It's recommended to review and edit the draft before sending the email.
Can I use Bard in languages other than English?
As of now, Bard supports English language prompts only.
Is Bard available offline?
No, Bard requires an active internet connection to generate and customize the draft.
Wrap Up
Integrating the Bard writing assistant within the Gmail Android app has revolutionized composing emails. It offers users enhanced efficiency and convenience. Thanks to the advanced capabilities of AI. Now, Individuals can effortlessly generate draft emails simply by providing text prompts, allowing them to save considerable time and effort in crafting their messages.
Bard is remarkable for its customizable options. It empowers users to refine and tailor the generated text to align with their preferred writing style. Whether it's adjusting the tone, language, or structure of the email, Bard provides a versatile platform that adapts to each user's unique preferences and needs. This innovative feature streamlines the email composition process and ensures that every message resonates with the sender's voice and communication style. With the Bard writing assistant in the Gmail Android app, writing emails has become a more seamless and personalized experience, enabling users to communicate effectively while maximizing productivity.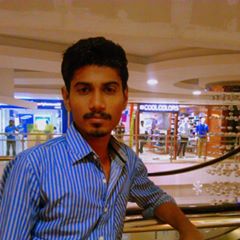 Selva Ganesh is the Chief Editor of this Blog. He is a Computer Science Engineer, An experienced Android Developer, Professional Blogger with 8+ years in the field. He completed courses about Google News Initiative. He runs Android Infotech which offers Problem Solving Articles around the globe.