In today's rapidly evolving digital landscape, Zoom is a paramount catalyst in reshaping connectivity, collaboration, and communication dynamics. Renowned as the foremost platform for video conferencing, Zoom has demonstrated an unwavering commitment to continually improving its services. Among its recent forays into innovation, the introduction of Zoom Collaborative Notes emerges as a pioneering milestone destined to revolutionize virtual meetings. With an ever-growing demand for seamless virtual interaction, Zoom has again risen, offering users a transformative tool that promises to streamline and elevate how individuals and businesses engage in discussions and share information during online gatherings. Zoom remains at the forefront as the digital sphere progresses, bridging the gap between technology and human connection.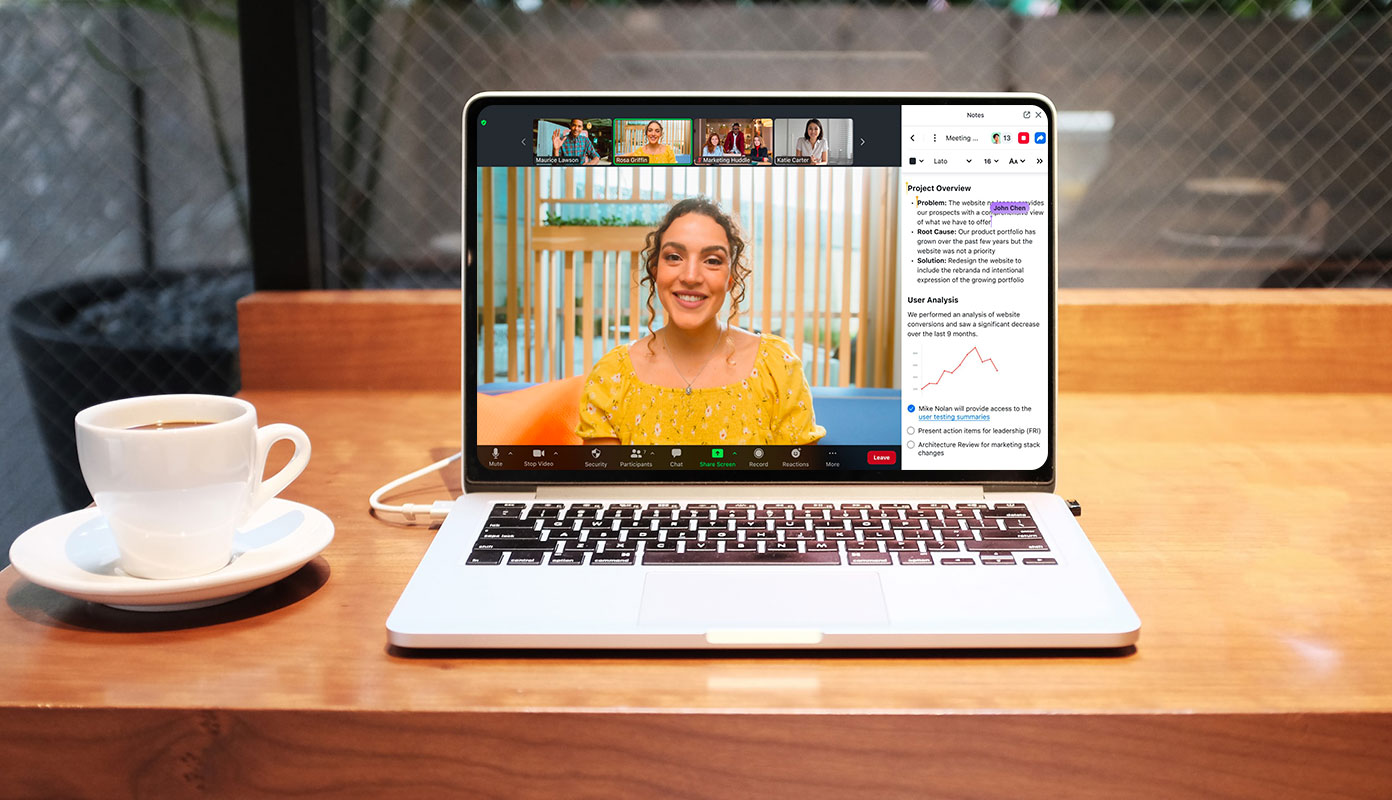 Zoom Collaborative Notes
In its quest to evolve into a comprehensive office suite, Zoom has introduced a groundbreaking feature – Collaborative Notes. This feature allows users to seamlessly create, share, and collaboratively edit text documents during their virtual meetings.
Gone are the days of juggling between multiple applications and screens. With Collaborative Notes, you can access a text document alongside your ongoing video call. This integration simplifies the process and ensures your attention remains firmly on the conversation.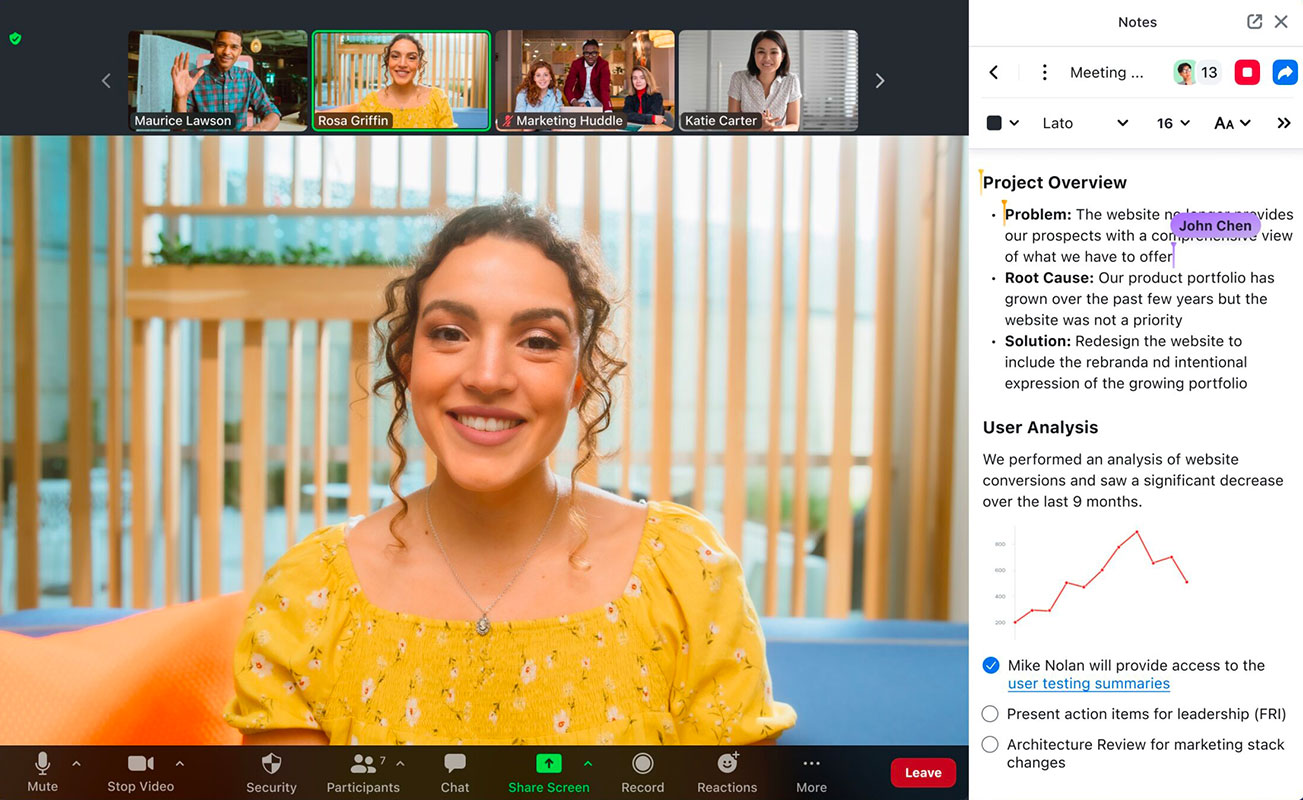 The Ultimate Meeting Companion
Collaborative Notes is more than just a document-sharing tool. Zoom envisions it as the perfect meeting preparation and follow-up companion. Here's how it works:
Meeting Agenda
Before your meeting begins, you can create a document with the meeting's agenda. This provides a structured outline for the discussion.
Real-Time Editing
Participants can hop into the document and make real-time edits as the meeting progresses. This dynamic collaboration fosters creativity and accuracy.
Post-Meeting Sharing
You can effortlessly share the edited document with all participants after the meeting. This ensures that everyone is on the same page and can serve as a reference for those who missed the meeting.
Zoom's Ongoing Expansion
Over the past year, Zoom has been on an expansion spree, determined to offer a comprehensive suite of services. In addition to Collaborative Notes, Zoom has introduced:
Zmail: An email and calendar service that streamlines communication.
Team Chat: A robust alternative to Slack designed to enhance team collaboration.
AI Features: Incorporating artificial intelligence to improve meeting productivity.
However, Zoom faces stiff competition from industry giants like Google and Microsoft, who have also fine-tuned their video conferencing services. Google Workspace and Microsoft 365 subscribers already have access to email, calendars, notes, video calls, and team chat functionalities.
The Battle for Superiority
The question that looms over Zoom is whether it can develop quality alternatives to compete with Google and Microsoft. While these industry behemoths offer comprehensive services, Zoom has a unique advantage in its user-friendly interface and commitment to innovation.
Wrap Up
Zoom Collaborative Notes represent a groundbreaking leap in virtual meetings, poised to redefine the essence of how we conduct these digital gatherings. With its seamless integration and robust collaborative capabilities, this innovative feature emerges as an indispensable asset, catering to the needs of businesses and individuals alike. It eliminates the traditional hurdles of disjointed communication by providing a unified real-time platform where participants can effortlessly create, share, and co-edit documents. This enhances the productivity of meetings and fosters a sense of synergy among participants.
In an era where the digital landscape undergoes constant evolution, Zoom continues to assert its dominance as a pioneer, seamlessly bridging the gap between the virtual and the efficient. As organizations and individuals increasingly rely on remote interactions, Zoom Collaborative Notes is a pivotal tool, reflecting the company's dedication to facilitating effective, streamlined, and productive virtual communication experiences.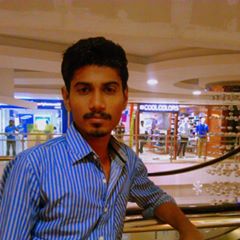 Selva Ganesh is the Chief Editor of this Blog. He is a Computer Science Engineer, An experienced Android Developer, Professional Blogger with 8+ years in the field. He completed courses about Google News Initiative. He runs Android Infotech which offers Problem Solving Articles around the globe.