Even if Google has a lead in Smart Glasses, It doesn't reach the customers properly. But, Apple is going to launch customer usable AR Smart Glass soon. So, Google needs the best competitor against Apple Glass. North is an AR Smart Glass company that has working Glass with different features. They released the Glasses in the name of Focals, and it ranges from $1000. Compare with Google Glasses, it works better and looks good. You can also control the options with your thumb device controller. Google team may feel it is worthy. But they are struggling to produce. So, Google Parent company Alphabet buying AR smart glass maker North. The news is released in Global and Mail Press. The buying deal is expected at around $180 million US Dollars.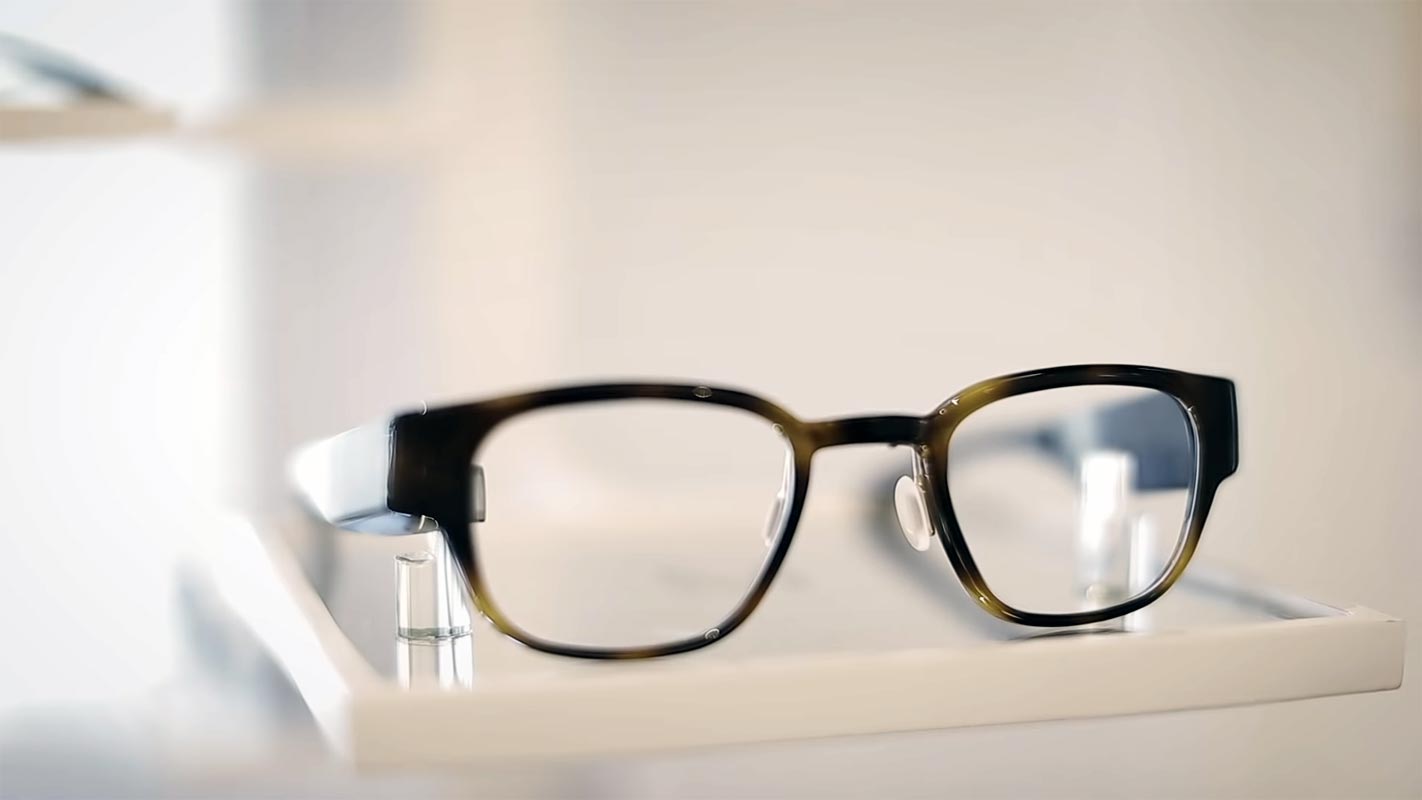 In the field of science and technology, a lot of companies start up with passion and vision to introduce new gadgets and techniques, but what determines their fate is customers' satisfaction and response—North Inc.is one of these struggling companies for innovations and ideas.
Who is North and their background?
North, which was also known as Thalmic Labs, is a Canada based company with the legal name, North Inc. It dealt in wearables and was founded in 2012 by three university graduates. North has raised $199.6M from its investors, including Amazon, Alexa fund, and intel capital. Having its headquarters at Kitchener, Canada, North has 213 employees in four different locations, i.e., Toronto, Waterloo, San Francisco, and New York.
The generated revenue in 2013 was $4.5M. The main products offered by North Inc. include Mayo and Focals. North Inc, launched the Focals smart glasses in October 2018; these were holographic smart glasses with a built-in display of your attached smartphone. In February 2019, after the launce of Focals, North laid off its 150 employees, from various offices cause of "days without any sales." As a consequence of this layoff, the Canadian government not only pulled its $18 million investment from the company but asked them to repay the disbursed amount as well. It shacked the North and stopped the selling of Focals.
Focals- AR Smart Glass, a primary product of North
Focals are a custom-built smart glass that provides bits of information in the form of a holographic image directly to your lens. These are customized individually according to customers' specifications by an on-site optician. Using the support app, you can connect them with your iPhone or Android and get your messages displayed directly on your lenses through a holographic projector attached to the right arm of the glasses. Plus point of Focals is, Neither can see the message display in your eye other than you, nor one can judge you are wearing smart glasses.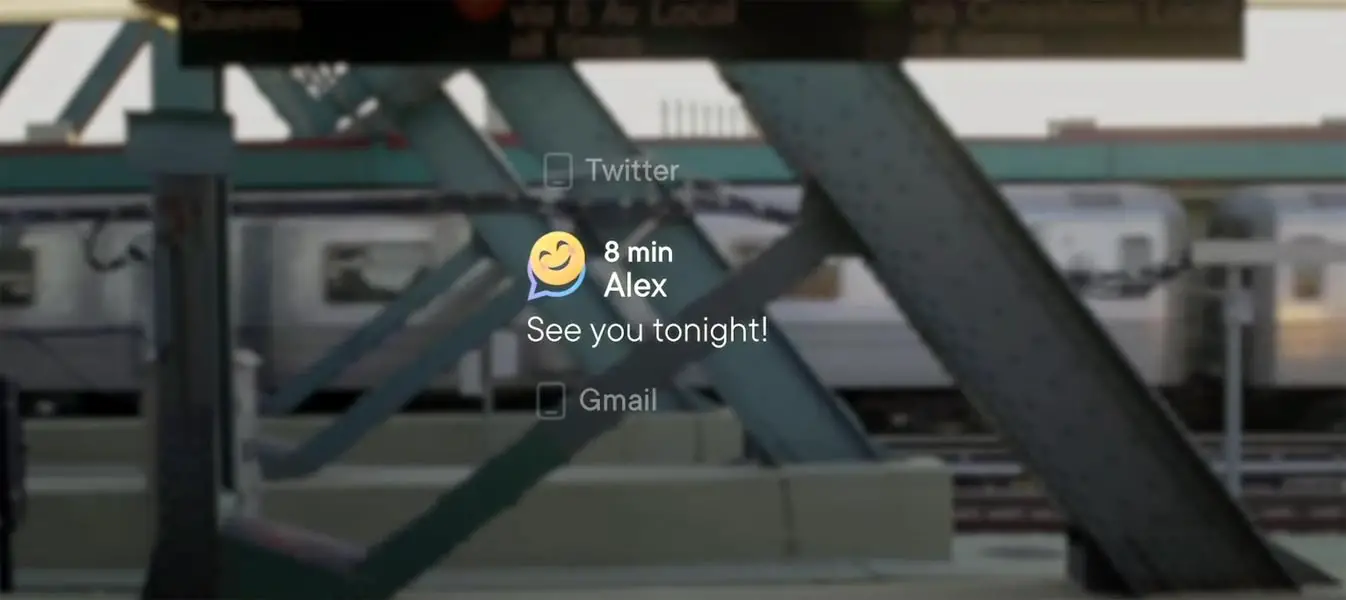 Initially, the price of the first-gen Focals was $999, but after a month with fewer sales, the company reduced the price to $599. North Inc. sold not more than 1000 pairs of glasses even with this cut-price, which lead to sales shutdown. The company tried to convince new investors with the launce of Focals 2.0. in December 2019, which never materialized. Lacking sales made the North look for new investors early this year 2020. 
Why is Google Parent Company Alphabet buying AR smart glass maker North?
Compare with VR Technology; AR is becoming the future. Google recently launched AR Animals in their Google search. According to a report it is claimed that Alphabet, the parent company of Google, is acquiring the sinking North, seeking rescue for the cause of running out of cash, in a deal of $180 million. The deal is almost finalized and is in its final stages. There are many reasons which proximate the deal report. Google launched its google glass in 2012. It was thought to be a phone-replacement, but customers didn't like it, and google Glass flopped within a year of its launch.  As Apple is planning to launch its smart glasses in 2022, it may be the reason that Alphabet wants to capture this space.
The hardware experiments always cost much compare with software. When the software doesn't work, they can shut down with minimal cost and move the team to different processes. But hardware experiments are not like that. Alphabet doesn't want to make a smart glass branch under Google. They think it should work as a separate division. AR is becoming the future. Even simple measuring apps are utilizing AR.
Alphabet and North Deal-Is it officially confirmed?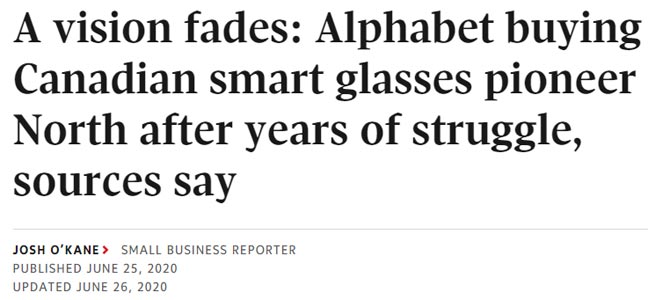 The Globe and Mail report alphabet's acquisition of the struggling North, but neither Alphabet nor North has made an official announcement about it. So, it is a report and not a confirm deal yet. Google launched its glass enterprise edition 2 in 2019, so it makes sense that google can integrate its glass enterprise with the North's focal for a big boost. But the current situations depict that customers are yet not sold on smart glasses. Boss and magic leap, launched their AR headsets in 2019, are shutting down AR divisions.
Wrap up
Google always experiment with different platforms. Recently launched Keen- A Pinterest platform. Also, Nowadays, Google is more focusing on hardware related items. They are also working on a Physical Debit card with Google Pay. North is a whole company, and Alphabet doesn't want to mix it with Google. So, they buy them separately. The final stage deal of the acquisition of struggling North by Alphabet is merely a report. Both the dealing companies have not yet endorsed this report.
The current situation is not very pleasant for such big deals, considering the past bad experiences. Also, if the agreement successfully matures, then it will prove that only technological giants can survive, and there is no future for this startup. Even if the buying process is successful, We can't expect the better smart glasses soon. It may take time. What do you think about this deal? Do tell us in the comments.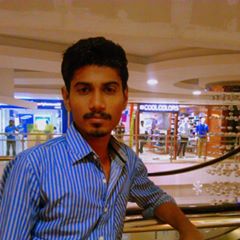 Selva Ganesh is the Chief Editor of this Blog. He is a Computer Science Engineer, An experienced Android Developer, Professional Blogger with 8+ years in the field. He completed courses about Google News Initiative. He runs Android Infotech which offers Problem Solving Articles around the globe.