Purchasing things changed. Nowadays we always prefer Online stores, because We can get more Deals and offers than the physical shops. There are some good things and bad things in this purchase process. Keep the goods. I will explain some precautions to avoid those bads. Here I am going to tell you the things you should consider when buying mobiles in the Online Store. The process is not that much hard. But, You are going to spend some considerable money on your mobile. So, You should care about to avoid issues. Don't get confused. You may already know these details; I try to cover some additional caution. I will include those details based on the smartphone in mind. These may not be suitable for all products.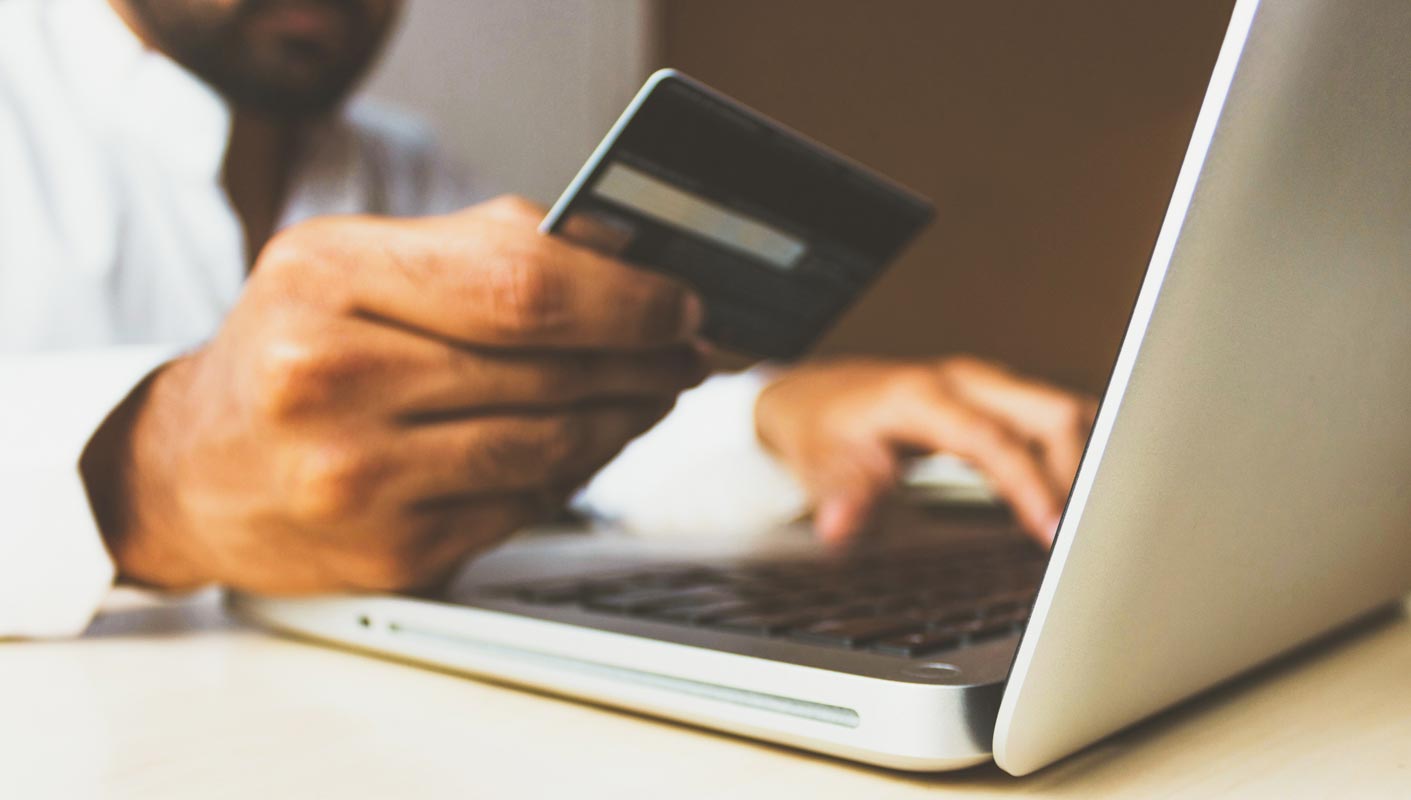 Why E-Commerce Online Stores?
E-commerce is the process of buying or selling off of goods or products or providing online services through the Internet. That said and done, let's go to the main question. What are online phone stores? Online phone store platforms that provide individuals with the opportunity to buy and sell phones online and, at the same time, provide such individuals with the necessary information and services that our regular stores offer us. This breakthrough invention, which enables people to purchase things without having to leave their homes, has saved people expenses and energy in terms of reduced travel to multiple stores in search of the specific phone and no more queuing in long lines to make a purchase.
E-Commerce has transformed the idea of shopping in the world today. There are multiple problems or challenges that customers are likely to encounter while making or purchasing items online. As of April 2017, 40 percent of internet users were buying several products each month online. We can expect that the figure will be doubled by 2020. Statistics have it that Overall, some 51 percent of Americans prefer to shop online, while the remaining 49 percent would instead go to a store. Buying things online has its benefits, but at the same, few challenges come with it not to forget also the stores where we purchase these products online also matters.
Consider These Things When Buying Mobiles in the Online Store
There are a lot of things you should keep in mind when you purchase. But, I don't want you to distract you from the Important things. I will mention some essential things. It is like when you are traveling, Take Tickets and money is necessary. If you didn't bring other things like a dress, you could buy using your money. I will mention crucial matters like this. I already covered some separate topics on choosing mobiles. Before this, Refer them Also- Choose Perfect Phone for you, Before Buying New Android Phones In The Black Friday.
Don't Stick with the One Store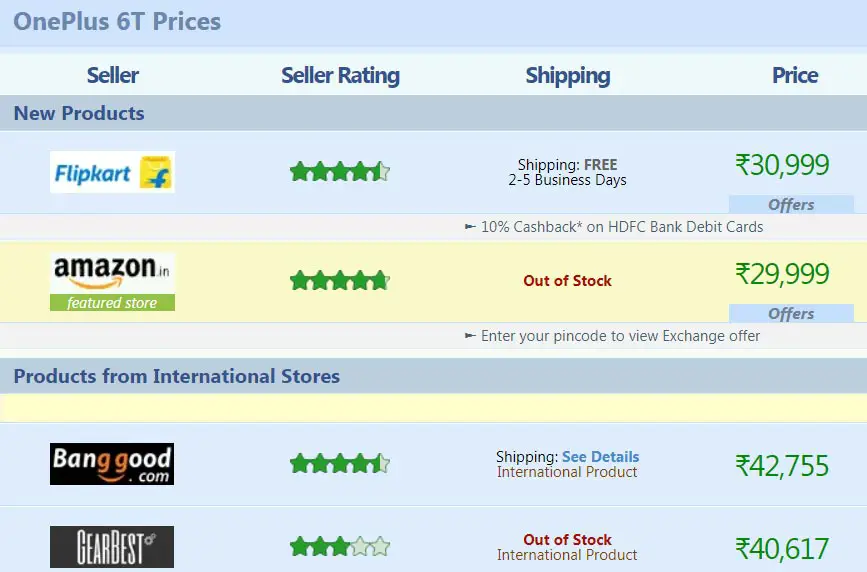 Consider this as the first thing; you should consider when you want to grab the best deal. You should explore some trusted sites to get the best price for your chosen product. But, Don't fall for the non-trusted sites. They may not ship the actual merchandise, or sometimes they won't send the products. You should always choose the best customer trust online stores like Amazon, Walmart, BestBuy, and Own manufacturer online stores(OnePlus, Samsung). When you compare prices from different sites, you can save $50-300. Sometimes, there may be limited time offers.
Better prices
Cheap deals, as well as better prices, are part of the things you put into consideration before choosing an online phone store. Some of these online stores provide you with these products at a very cheap rate because they come directly from the manufacturer or seller without involving any middleman. Many of these online sites offer discount coupons and rebates as well. Not only price better but also tend to get some benefits if you purchase from some of these online stores. When next, you are thinking of choosing an online phone store, put this into consideration. If you love Stock Android Phones, You can select the Best Stock Android phones under $300.
Purchase Mobiles in the Seasons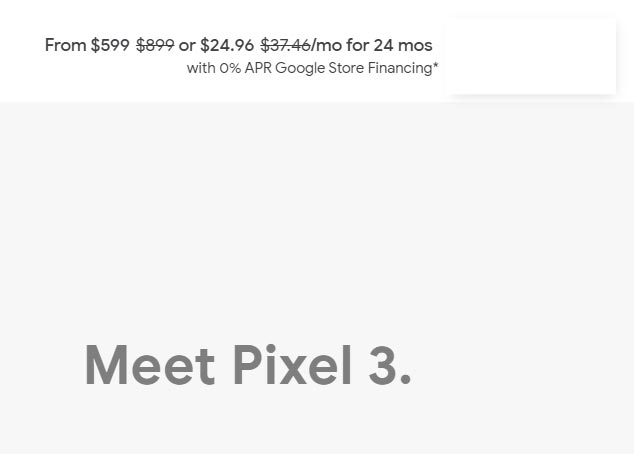 If you are not in urgent to purchase a new mobile, you should wait for the seasonal deals. Compare with regular days; When you are buying on Cyber Monday, Black Friday, and other seasons, you can get extra 20-50% offers. Remember, sometimes the deals are the same as regular days. It may vary depending on the products. Google Store and Amazon always give the best offers in those days.
More varieties
When choosing an online phone store, one thing to consider is a store that provides an individual with a range of products. One that allows you to find almost any brand or manufacturer of your choice. You can get information on the latest trend internationally without spending money on traveling to know more and purchase it. A far more excellent selection of colors and sizes in terms of dimension, RAM, and the ROM than you will find locally are at your fingertips. One major thing is that some of these stores' stocks are much to ensure that you'll always find your preference. Some online shops even accept orders for out-of-stock items in case they come in.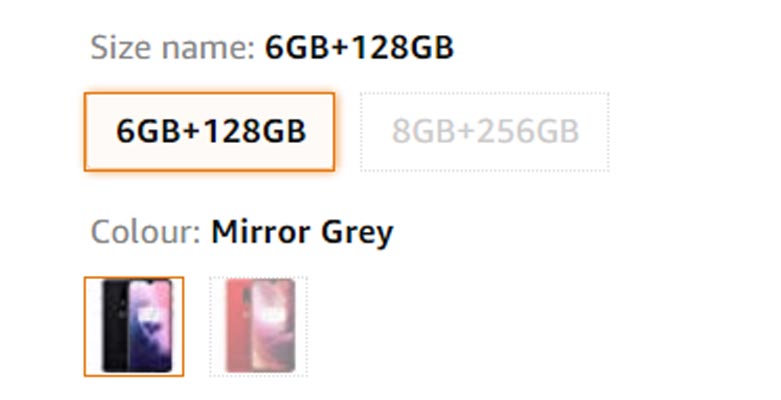 Don't make mistakes on the Spes within the Mobile Like 6 GB RAM+128 GB Variant or 8 GB RAM+256 GB Variant like that. If you prefer the high-end variant, It may cost $50-60 high than the regular one. When you saw the entry-level specs, you may feel it is a deal with a reduced price and can make a mistake.

Avoid accessories in the cart. You can order them later. Putting all the things may restrict the deal or make confusion.
Don't hesitate to spend $50-100 on Flagship phones, When you find the perfect deal but, If you prefer the Upper Mid-range phone. Trust me; Flagship phone is worthy.
Exchange Rates
If you decide to buy a cell phone online, you have the added luxury of comparison shopping. You can also compare the features of different cell phone models with the use of online stores. Immediate benefits that most of these online stores that cell phones include having a grand exchange scheme as well as promotions that carry freebies like cell phone accessories along with the purchase of cell phones e.t.c. Choosing the best online phone store can go a long way in helping you select that dream phone of yours. The consideration of the factors above, as well as people's suggestions based on personal experiences and the credibility of such experiences, can help you make a perfect choice. I hope this article will be beneficial, especially when you are considering getting a new phone.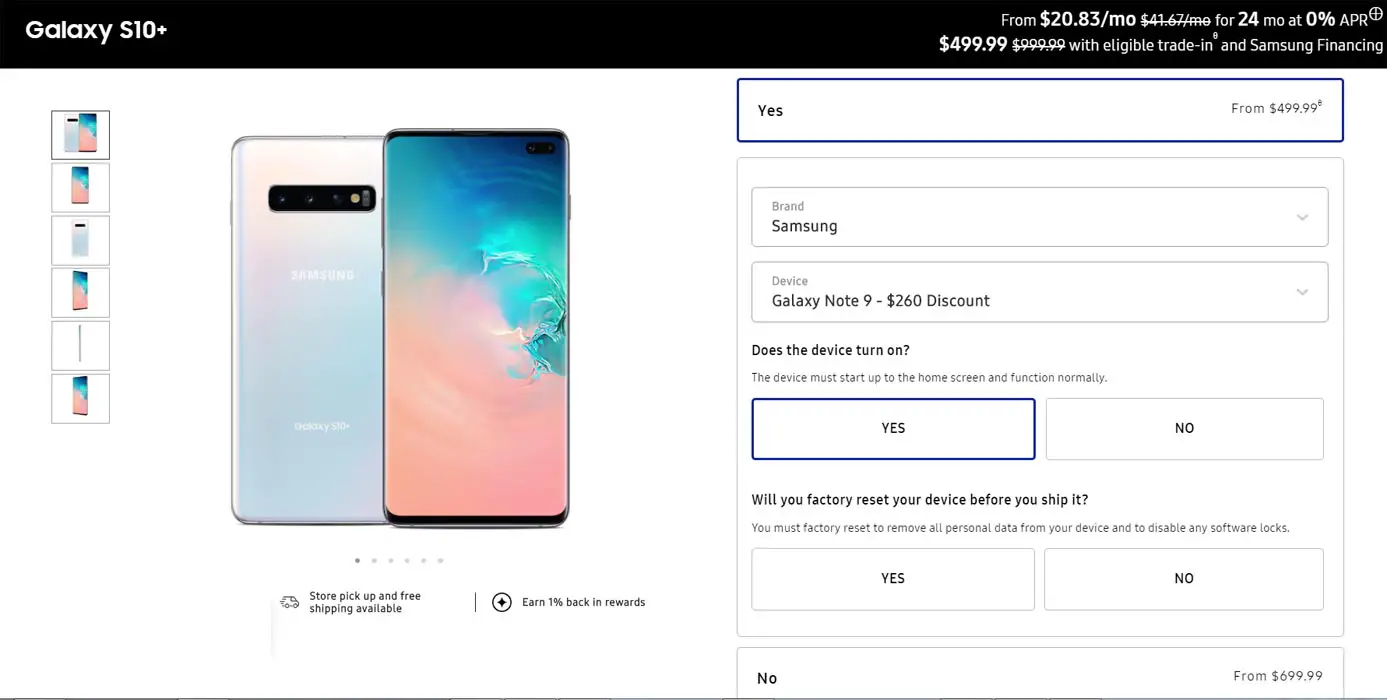 In the above example, With the Trade-In offer, you can get up to $260, If you exchange your Note 9. But, If you feel the price is not worthy, you can buy without exchange.
Freebies
If you buy accessories along with the new phone, you will get extra benefits and offers than usual purchases. The accessories can be wireless charger pad, Headphones, and Mobile cases. In Samsung Galaxy Note 10 Plus Star Wars Edition, they provide wireless earbuds and some new exclusive things as a bundle. But the decision is yours. If you feel the offer is worth, consider grabbing it. If it doesn't skip the offer.
In Samsung Add-Ons offer based on the product you choose along with the S10 Plus, you can get an offer of $30-70.
Stay Away from Unfriendly, Fake or complicated websites
Some online store sites come with too many requirements; for example, some will want you to join their mailing list and make it impossible for you to unsubscribe. Some sell your email address out, and when you want to check your email, they may send bulk emails with ads. Sometimes, sites don't offer excellent or accurate descriptions of their products, or you can't figure out how to purchase or return an item or even speak to customer service. Worse, some sites offer fake deals that want to steal your details.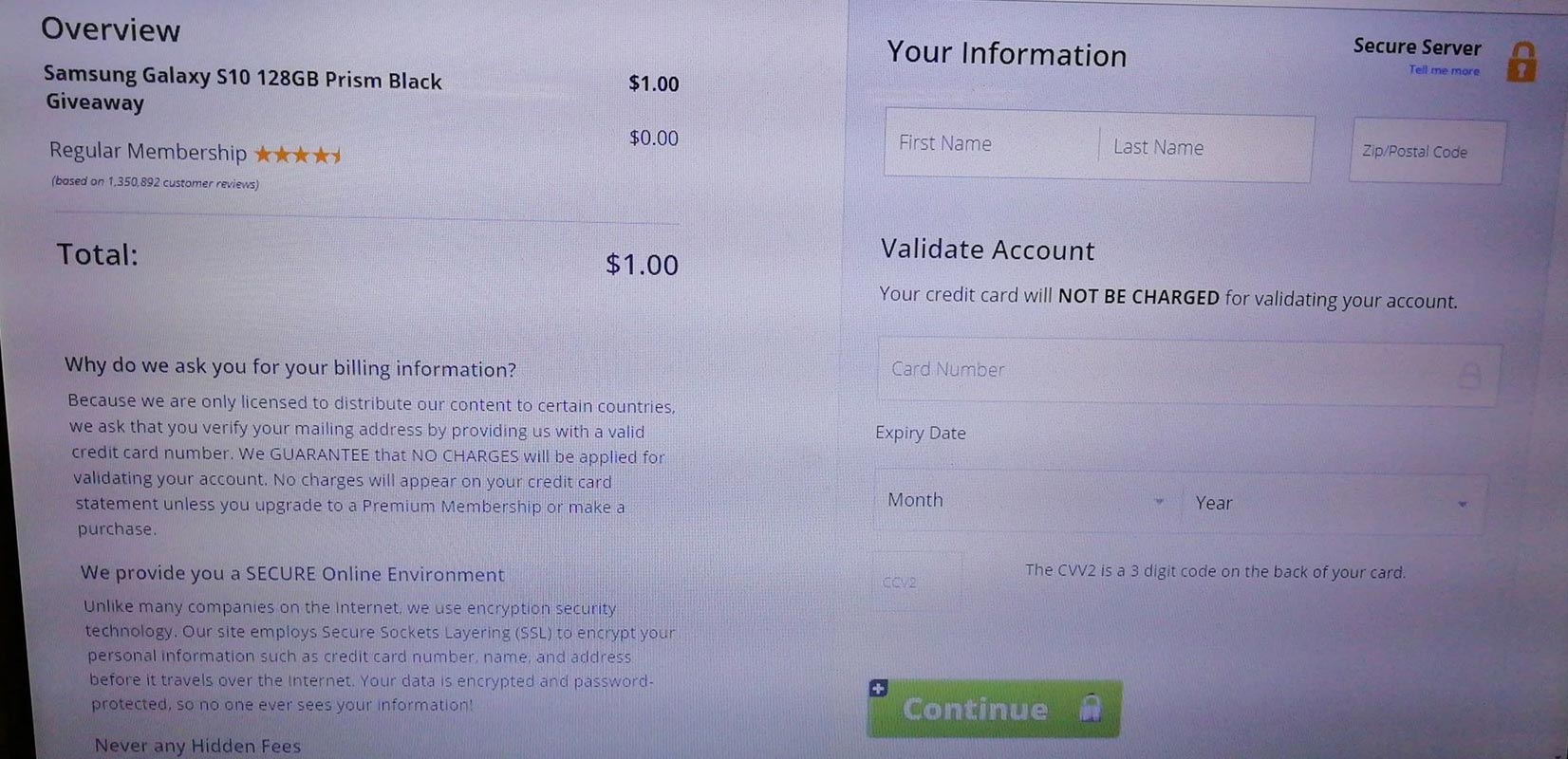 If you noticed the above image, you could see in the name of giveaway some sites are selling Samsung Galaxy S10 128GB Variant for $1. There is no way that mobile is at this price. The actual cost for the S10 is $699. The beauty is they added google.com as the subdomain in the URL. Even the Techies will fall for the deal. So, security concerns, you should check the following things before making payments.
Look for https that belong to the Respective Store
You should not only trust the sites by the green padlock https. Everyone can install https. What you should see is that https belongs to the respective owner or some third-parties. To find this, select on the padlock, you will get the information of issues to and issue from. The Issue should be your Trusted site. I will give the screenshot below. I will explain the scenario. You purchased the product from the Amazon, and If you see the padlock domain name as *aaamazzon.com. It should not be trusted. But, in some cases, Online Stores use third party payments. So, based on real-time and your knowledge, choose the best example.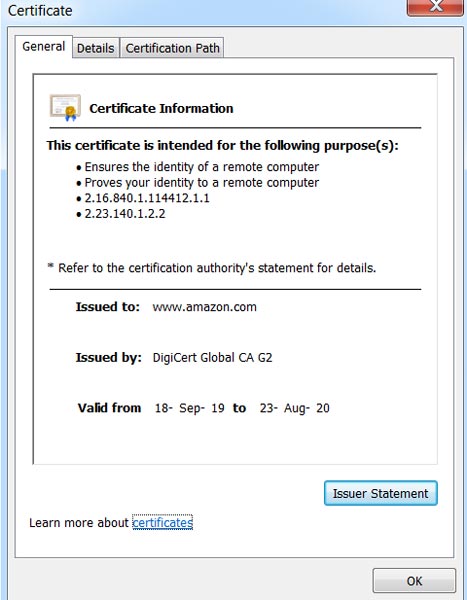 The issue of payment
Whether an individual is making payment using a credit/debit card, net banking, or any existing digital wallets, one must consider going for online stores that have lesser issues. When it comes to the method of payment or sites that have a secure way of payment with more secondary protocols. If a particular shopping site has a technical glitch, and one is making payment, the customer purchasing a specific product can be debited. But, The site has not confirmed the purchase. The process of trying to receive cash is another protocol on its own. When you have trust issues with the site, You should avoid the purchase. But, If you want the deal badly, You can use the Wallet payments like Paypal, So, your Card information will not save by the store.
Additional charges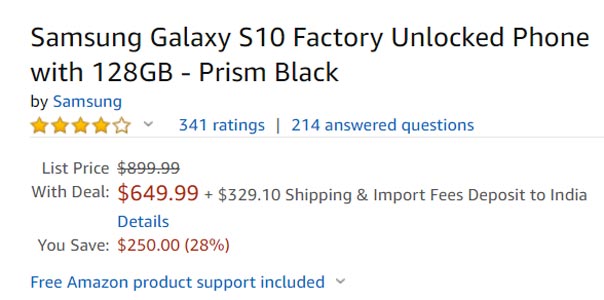 This is a big thing that is done by almost all e-commerce sites, mostly occurs in cases whereby your purchase amount doesn't qualify for free shipping. Most times, shipping charges apply to every product; that is, if you are buying ten products, you get an extra cost on each product instead of charging you based on collective order. So don't forget to add this to things you put into consideration. Some stores add a lot of amounts in the shipping. In the Above attached image to explain the situation, I try to Import S10 from the US to India. The charge is half of the mobile price. But, we can purchase the mobile for $650, within India. If the additional shipping and taxes are not reasonable, don't make a purchase.
Shipping and delays
Online stores do experience so bad days, and our phone stores online are inclusive, when choosing an online phone store go for stores that have credibility when it comes to shipping of goods after purchase. Items get lost, detoured, damaged, or delivered to the wrong address more often than you can imagine all these are things you consider. You should choose better after-sales support stores. If you can, avoid International Shipping stores. Try to purchase the products in the stores that you can get within 1-7 Days.
Returns can be complicated
When choosing online stores to consider choosing stores that offer you the privilege of returning faulty goods or, in some other cases, products that you didn't order for because some sellers make the process smooth. In contrast, others make it difficult for you to return their merchandise. Many times, you can't get repayment for any shipping costs. So, choose the best Logistics support stores like Amazon.
How E-Commerce Stores Give that much Offers/Deals?
You may wonder, How Online stores give offers compare with or nearby Stores. Most of them know the process of this product selling. If you didn't know, I try to explain this in a simple way using the following chart diagram. Some users fear that Online Stores selling Old or fake products. If the store is trustworthy, They give offers, because they follow the below procedure.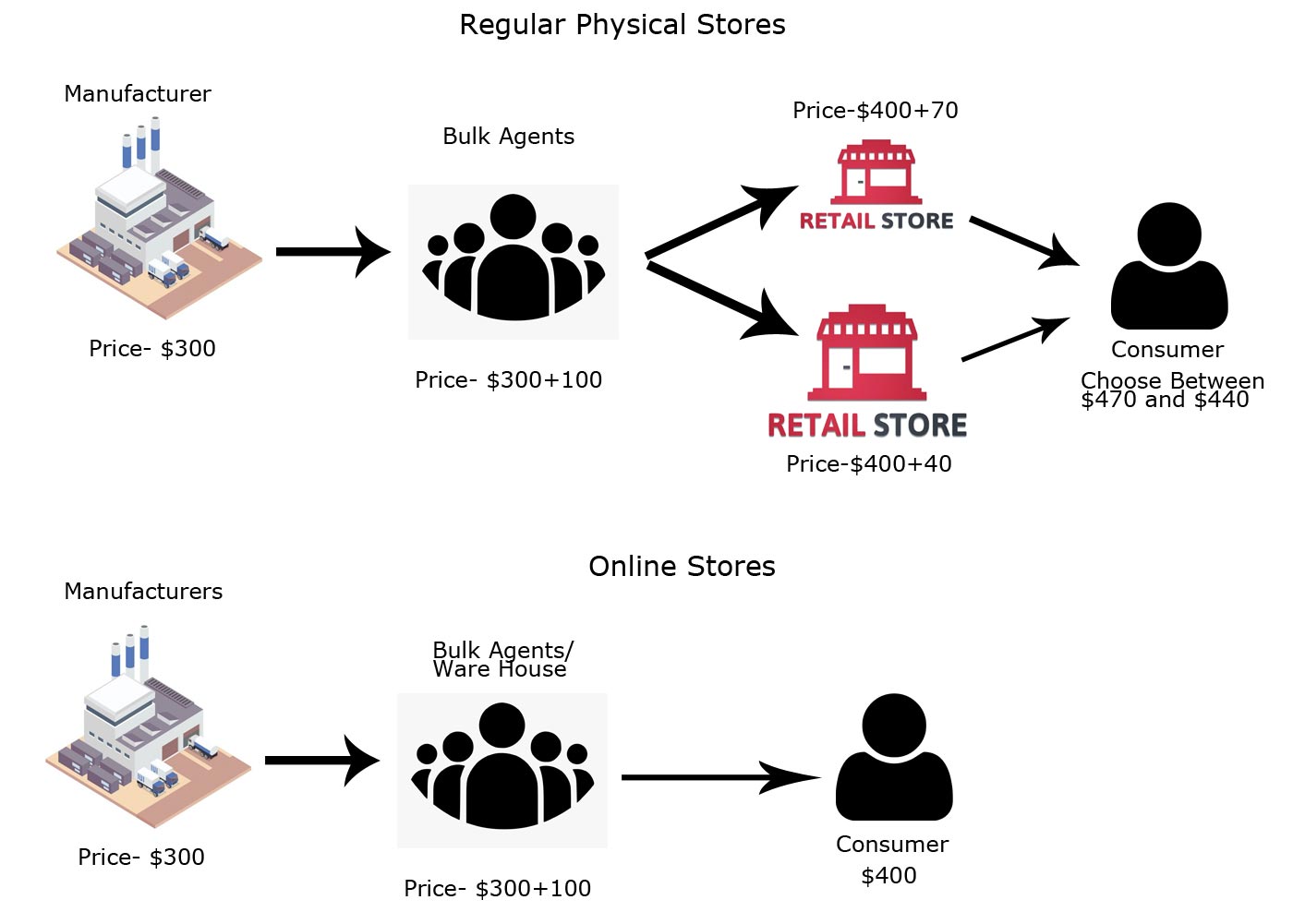 Regular Physical Stores
Manufacturers produce the products for $300. It will come to mass purchase agents. They will add some extra money to the price. It is $400. From them, the retail stores purchase the products; they have to add some amount. When consumers buy the product, they get the product for $440-470. The final price may depend on the store location and the Bulk purchase.
Online Stores
Manufacturers produce the products for $300. It will come to mass purchase agents. They will add some extra money to the price. It is $400. From them, consumers purchase the product they get the product for $400. In Online stores, We entirely skip the Retail stores. In most of the cases, the mass Agents are Online stores. So, they can give an extra amount of offers.
Final Words
Don't spend too much on the products than it's worth. Always spend some time to catch the best deal. Unlike the real stores, you don't have to go to every shop and bargain with the seller. So, grab your favorite drink, sit, and browse for the best price for your product.
On the other hand, Don't forget your nearby stores. They purely depend on us. They opened the stores because they believe the neighborhood will be bought things from them. If you can't wait for the products to arrive, Or you find the price difference is only 3-5% compare with the Online store, make someone day happy, by purchasing products from your nearby stores. You always contact them using Google Local Business. It is ok to stay online and buy the best. But, When it is a Festive season, enjoy the crowd. And Spend the family time in the Shops and Malls. Did you have any Online Shopping experience that can help you with the other friends of ours? Comment below.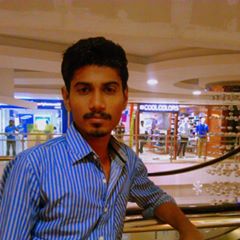 Selva Ganesh is the Chief Editor of this Blog. He is a Computer Science Engineer, An experienced Android Developer, Professional Blogger with 8+ years in the field. He completed courses about Google News Initiative. He runs Android Infotech which offers Problem Solving Articles around the globe.