The potential of Google Assistant is unlimited. We have to discover our way to what it can do. There are lots of cool features available in Google Assistant. One of those features is Read it Aloud. Using this feature, You can ask Google Assistant to Read the screen, especially Web Pages. There are 42 languages support, and more than four English Accents are available. Additional to these four Accents, Now Google added New British, Australian, and Indian Accents in Google Assistant Read it Aloud. Accents are essential for region-dependent people. The Same language pronounces in different regions make people think of a different word.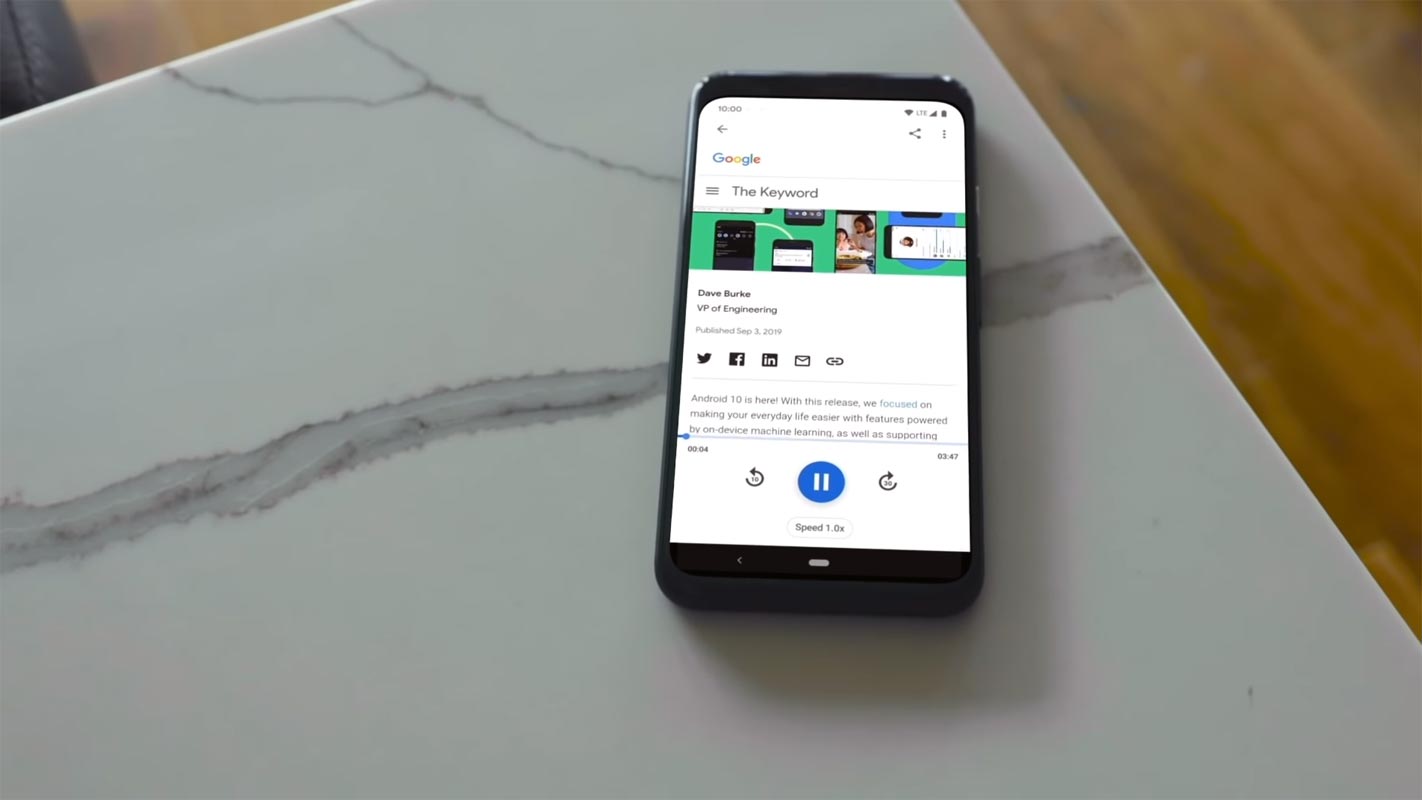 Google Assistant can do lots of Different Tasks
Loads of people probably used "Hey Google," but they probably are not aware of What it is and everything it can do. So here's what you need to know: Google Assistant is an AI-powered virtual assistant developed by Google; it was made to make life easier and can do loads of stuff like setting a timer or telling you what's on the local Cinema. One of the easiest ways to interact with a Google assistant is with your voice. It's been trained to understand more than 40 languages and several dialects too.
Google assistant depends on AI technologies such as natural language processing and machine learning to understand what the user is saying and will act on What's been said; because of this, all you need to do is say "Hey Google" followed by an action like the search for History of Google on Youtube, with select devices you can also turn on a future called continued conversation.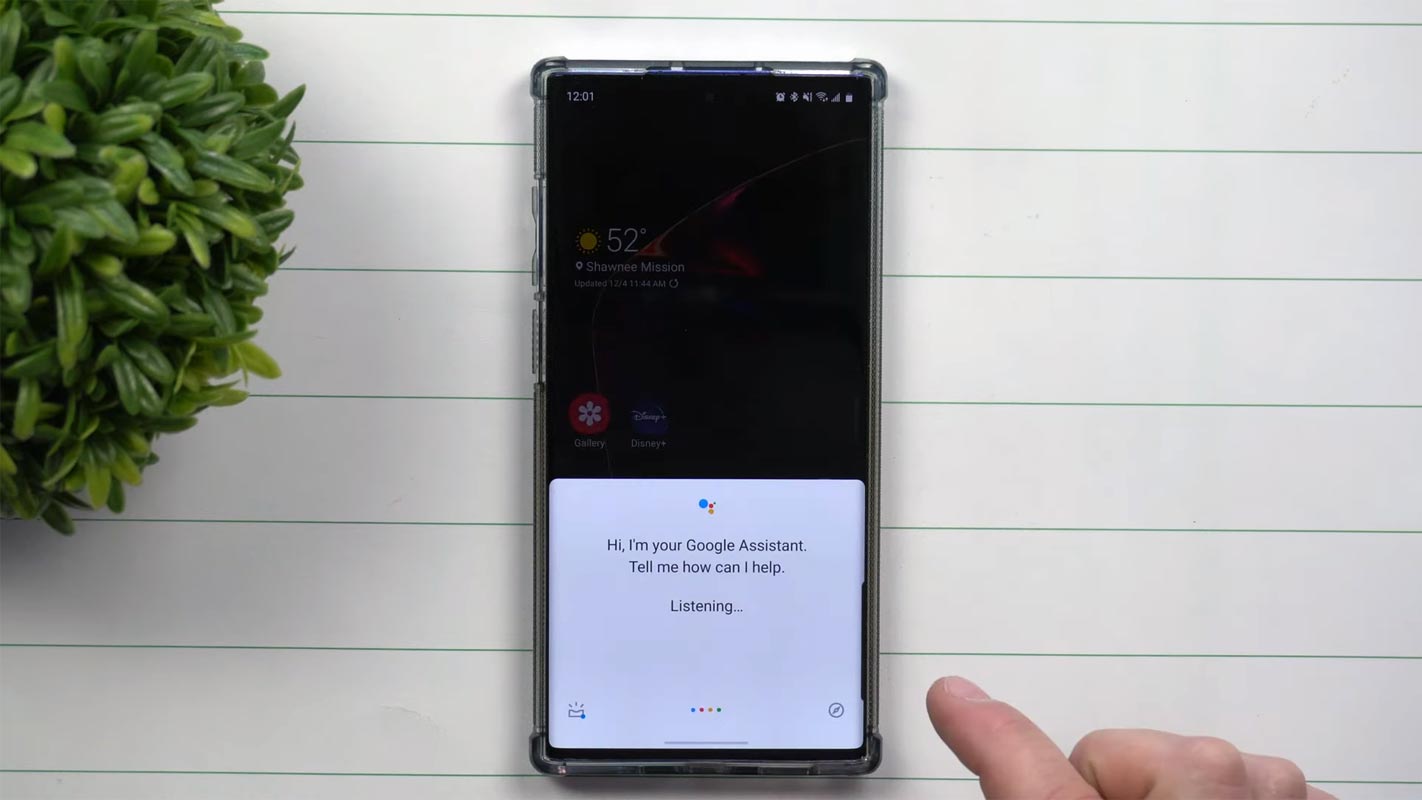 You will find Google assistants in loads of places, including Smartphones, Tablets, Smart Speakers, Smart displays, Smartwatches, Laptops, TVs and Cameras, and even Cars. With over 1 million actions available, there are loads of ways your Google assistant can help you in your everyday lives.
Getting Information
Google Assistant is great for getting you the information you're looking for easily and quickly. Google Services power that you use all the time, and it's linked to your Google account, and so it can bring you back results that are specific to you. So instead of having to reach for your phone, you can ask your assistant to answer questions and help settle arguments using the power of Google search; use Google Maps to tell you how long your commute work is or when your local shop closes, search your calendar and tell you when your next appointment is booked for.
Some of us need it more than others to have a conversation in a foreign language in real-time powered by Google translate.
Google Assistant Read Screen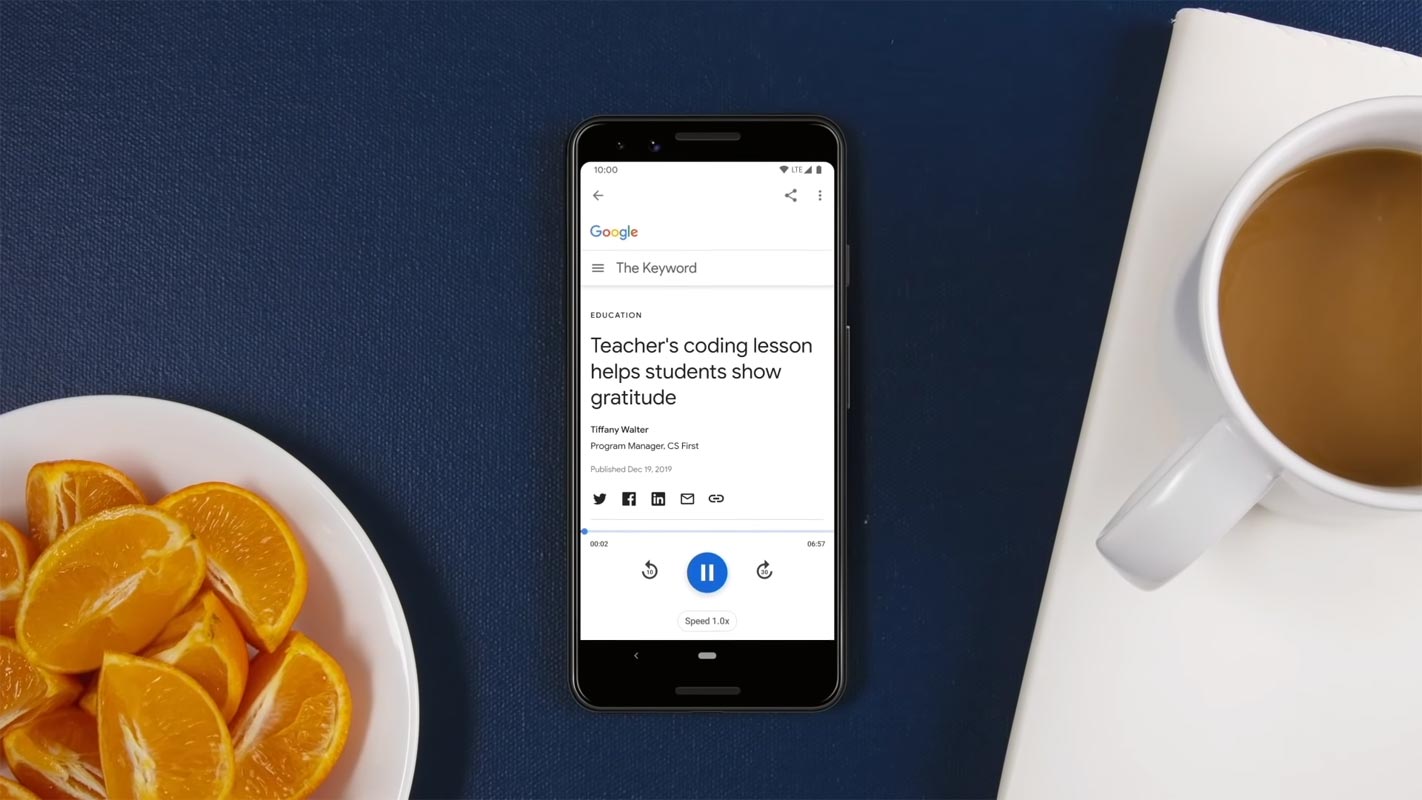 Google added some of the new features in Google Assistant. One of the important features of Google assistant is Read it Aloud. You may ask What is Reads it Aloud? This feature will read for you instead of reading by you.
That allows people to listen to web articles with Google Assistant's help and allows people to listen to web pages using text-to-speech. It means that we can read long texts in a more natural-sounding voice.
How to Use Read it Aloud in Google Assistant?
It's effortless to use; you open a web page, it can be in chrome, or the Google app, or in Google News app, and you say "Hey Google," "read it," and that's it.
This Read it Aloud is available in 42 languages, which allows you to translate a web page into your language before you actually listen to it. So it allows users to listen to pages in different languages. Text-to-speech is produced with neural nets; this tool is used for machine learning to create voices that are fit for long-form text-to-speech.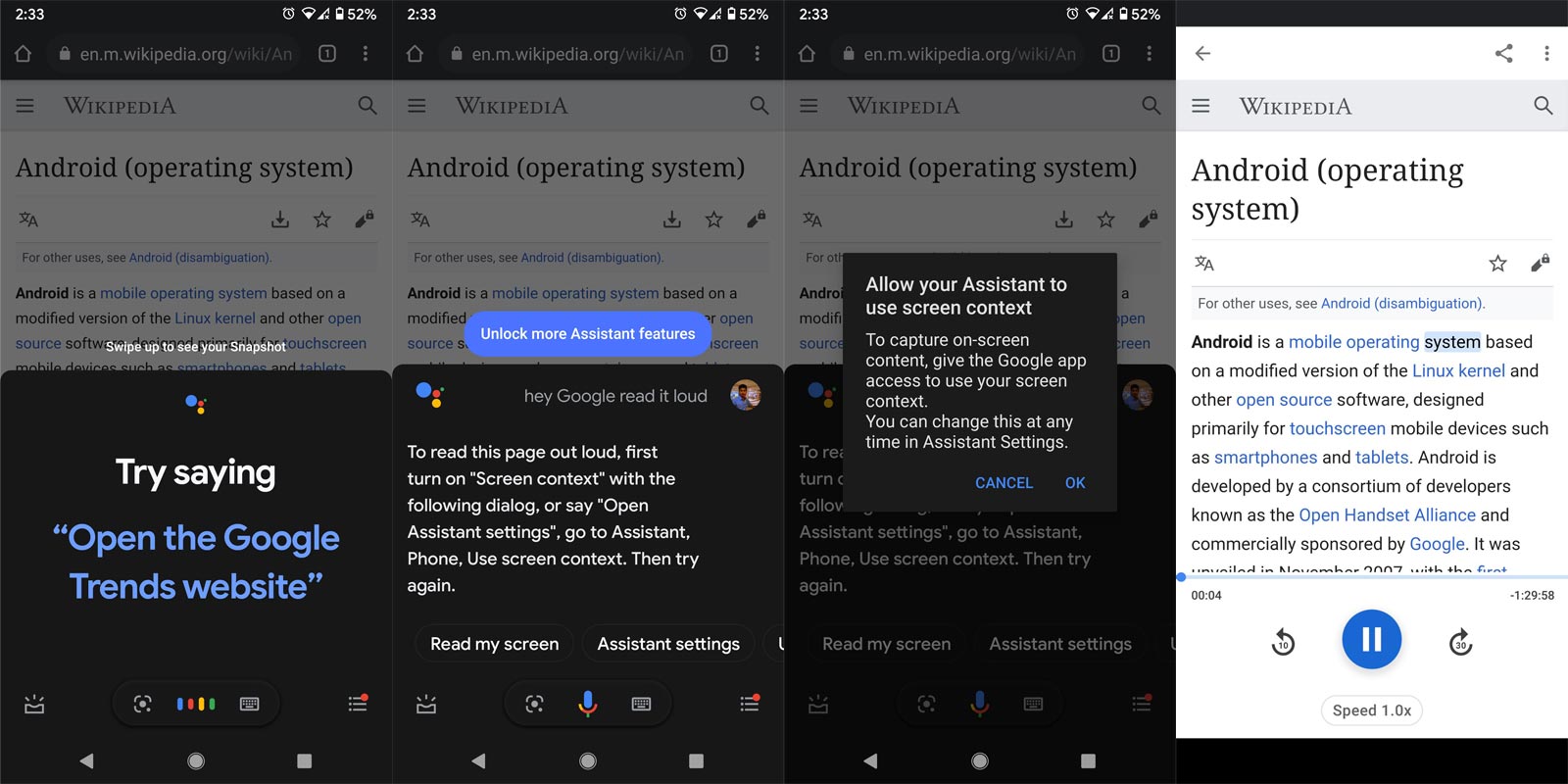 Open Google Chrome or any browser.
Open a Webpage and Launch Google Assistant using the long-press Home button or using "Hey Google."
When it launched, Ask Read it Aloud or Read My screen.
It may ask for permission for Screen Context. Allow permission. That's all. Now You can listen to your Webpage using Google Assistant Voice.
Available Read it Aloud Accents
Google Assistant recently launched new accents for Read it Aloud, likely British, Australian, and Indian accents. With this new feature, you can hear the articles with your own language accents. I hope Google will add more accents in features to satisfy the customers.
Google Assistant already has a set of default accents. If we don't like the accent of Google Assistant's voice or accent, we can change our desire. A total of 10 voices were available in Google Assistant; five were male voices, and five were Female voices. Not only the Voices and accent, but We are also able to change the Language as well.
Suppose you want to change the voice Settings -> Assistant -> Assistant voice to activate these voices. DeepMind developed these.
How to change Google Assistant Read it Aloud Accents to Britsih, Australian or Indian?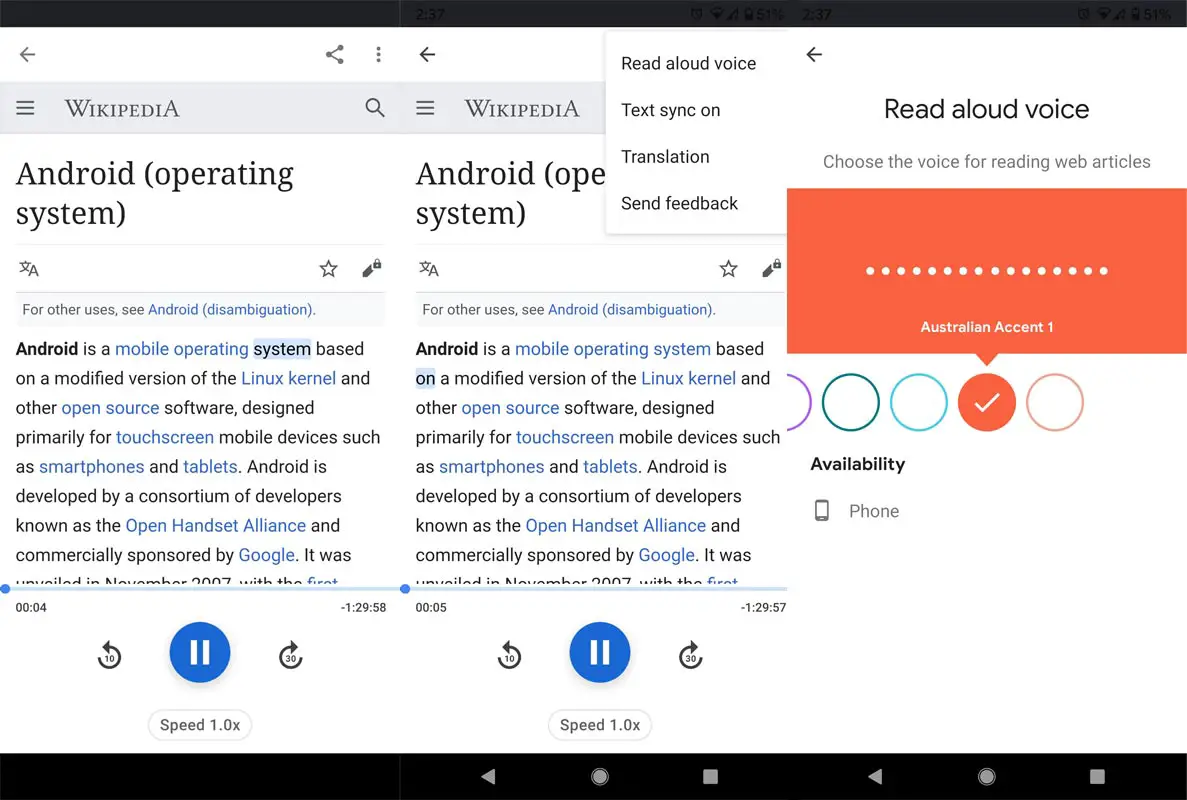 Open a Webpage and Launch Google Assistant using the long-press Home button or using "Hey Google."
When it launched, Ask Read it Aloud or Read My screen.
It may ask for permission for Screen Context. Allow permission.
In the Reading screen, Select the three-dot icon and choose "Read aloud voice." From there you can choose available Accents. You can also listen to the demo when you select every accent.
Wrap Up
We can't read in all places and situations. That's why Podcasts are becoming popular nowadays. When you are driving or eating, then you can't interact with the mobile display often. In those situations, You can Google Assistant to Read the web page. Adding new Accents may look like an unnecessary add-on. But When you are not a US region user, You can understand How much Accents are important to understand what people are saying. Did you use new Accents in your Google Assistant? What is your experience with the new Google Assistant? Comment Below.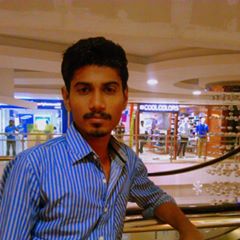 Selva Ganesh is the Chief Editor of this Blog. He is a Computer Science Engineer, An experienced Android Developer, Professional Blogger with 8+ years in the field. He completed courses about Google News Initiative. He runs Android Infotech which offers Problem Solving Articles around the globe.