Verizon using UW technology for its 5G infrastructure compare with other mobile operators low-band and mid-band. So, 5G mobiles that want to use Verizon 5G UW need to have an additional mmWave antenna present in their mobile. You can't use unlocked mobile with the Verizon wireless network. So, Mobile manufacturers like OnePlus and Samsung have to make mmWave compatible mobiles. Samsung made exclusive Verizon Samsung Galaxy S20 5G UW Mobile. The problem is compared with unlocked international variants, It doesn't have expandable storage, and it is limited to 8GB RAM. Some of the users believe the specs are low for daily usage. But, In real-time, this exclusive variant has enough power to do everyday tasks.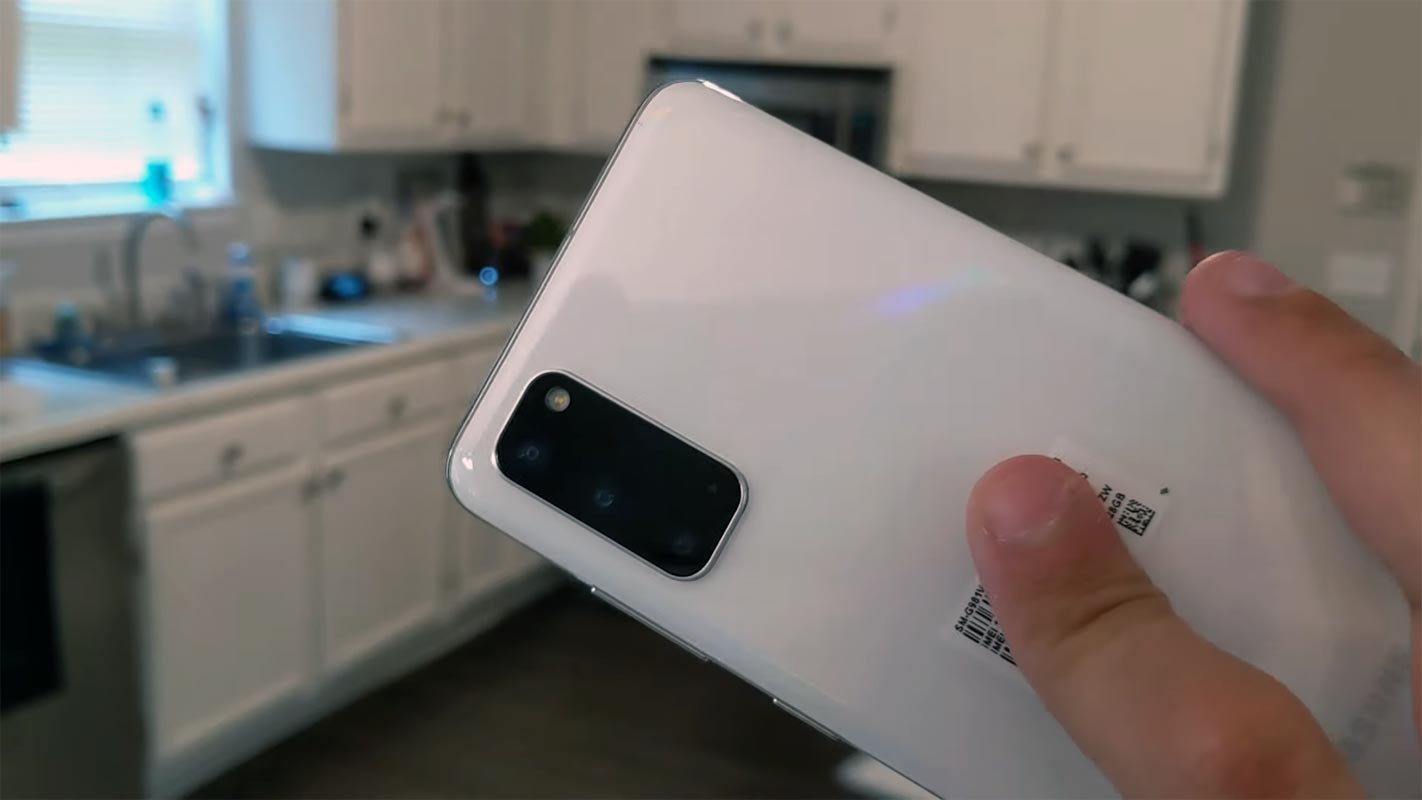 Why Samsung removed external storage in Verizon Samsung Galaxy S20 5G UW?
Samsung and OnePlus already released their 5G mobiles. They can't re-design the body of the mobile where they can put the mmWave antenna to the desired place. They have to find a place where they can make some adjustments and put the mmWave antenna. OnePlus have to relocate the volume keys. That's why unlocked OnePlus 8 mobile cases don't fit with Verizon OnePlus 8. The same story goes with Samsung. Instead of adjusting the physical ports, keys, Samsung removed the external storage tray, and that occupies some space in the mobile. In that place, Samsung puts its mmWave antenna. This replacement is limited to S20 only. S20 Ultra and S20 Plus mobiles are already compatible with Verizon.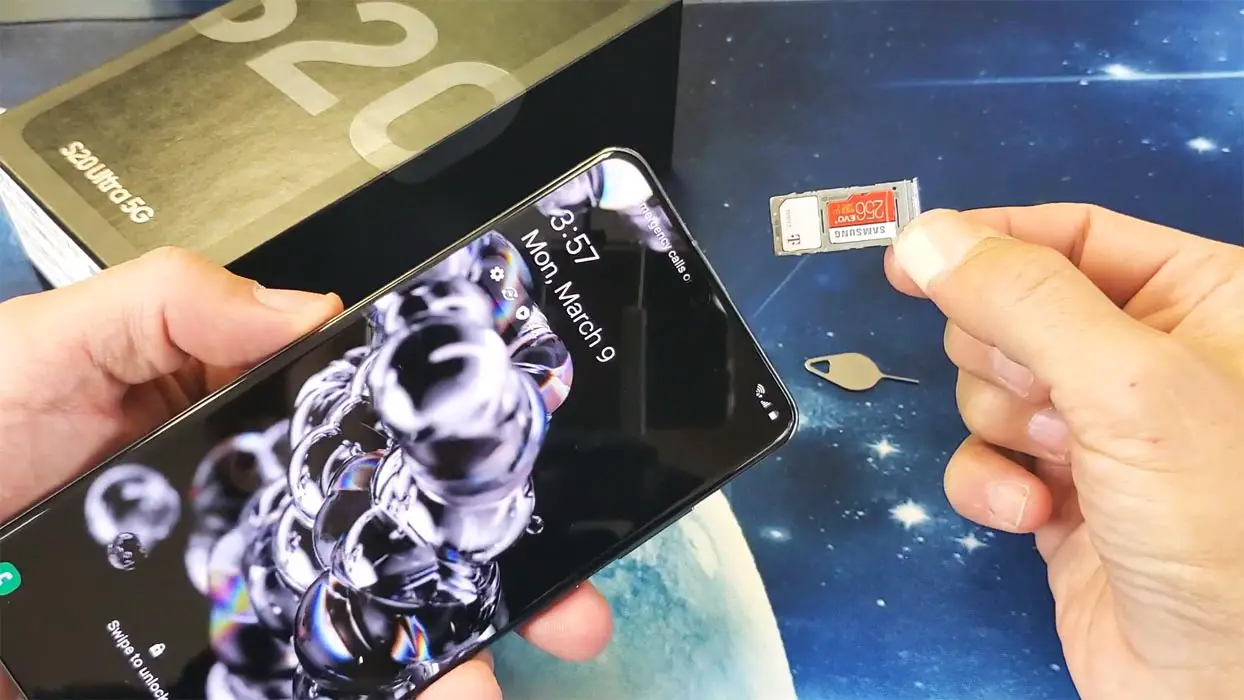 Verizon has the fastest 5G network in the world. mmWave antenna is required to access the UW 5G. But without the UW access, T-Mobile 5G already achieved 1Gbps speed in its mid-band 5G network. So this mmWave antenna concept makes users buy exclusive phones to access the Verizon network with little specs change that make incompatible with some accessories.
Verizon Samsung Galaxy S20 5G UW Mobile RAM and Storage is Enough for Regular users.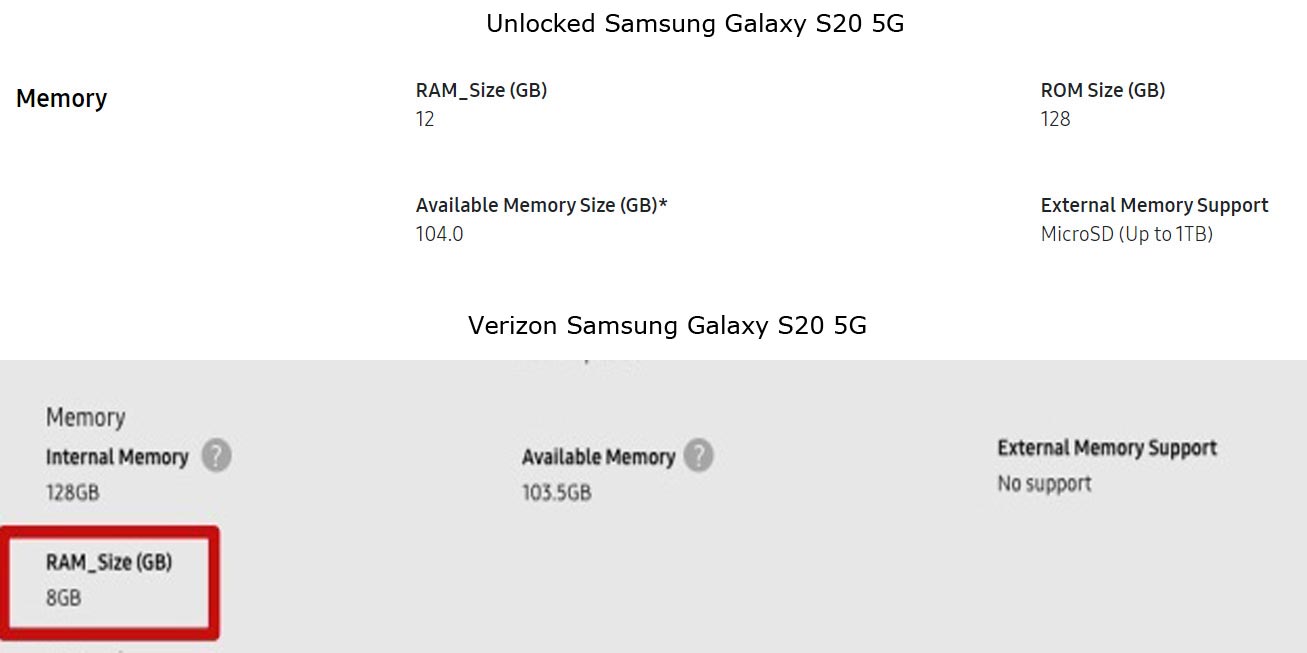 There is two difference in Verizon S20 mobile compare it with S20 5G unlocked variant. Verizon version only has 8GB RAM compare with unlocked mobile's 12GB RAM. Also, It has 128GB storage. You can't expand the room by adding your SD card because the Verizon version doesn't have a hybrid SIM tray. You can put only SIM in there. So, here users are confused that the specs are enough for them or not.
RAM is enough
8GB RAM is enough to do daily tasks and handle heavy applications. Custom skin OS mobiles always use more RAM compare with Stock Android mobiles like Pixel. Google Pixel 4 has only 6GB RAM and works better. Samsung One UI is far better than their previous OS and handles multiple apps flawlessly. Also, compare with the unlocked variant, the Verizon version has Snapdragon 865 processor. Snapdragon processors are always better than the Exynos processors. It is way powerful. So, With 8GB RAM and Snapdragon processor, you can deal with heavy applications. In reality, Normal users don't use more than 6GB RAM. 8GB is like future proof. Even if you use the Samsung Dex Desktop application, 8GB can handle that. If you are confused even after this explanation, I covered a specific topic on How much RAM you need?.
Storage is enough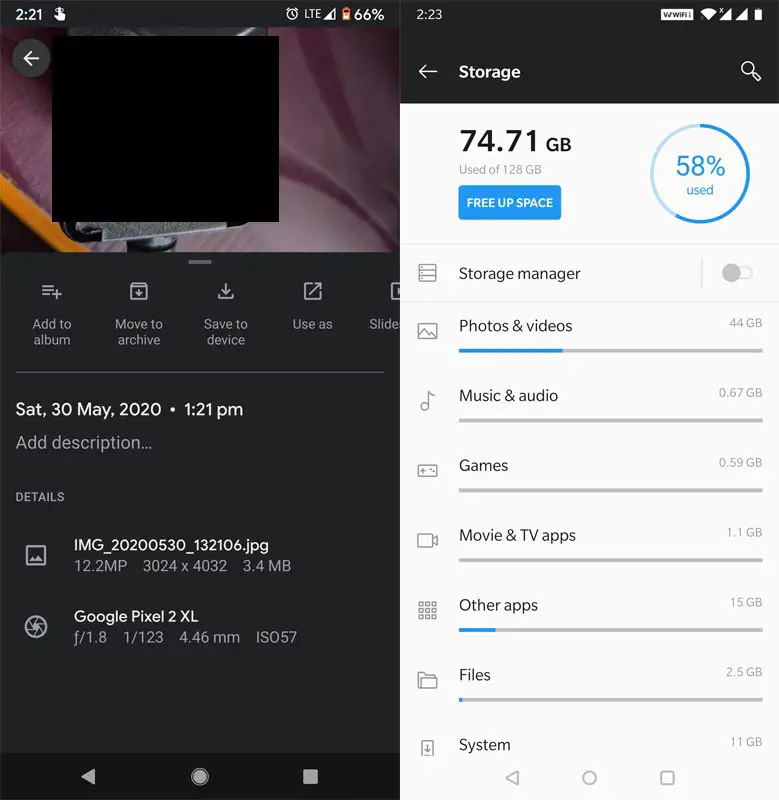 Samsung Galaxy S20 5G UW Verizon comes with 128GB internal storage, and there is no way you can expand the room until you use the OTG technique. The usable storage is near 100 GB. The regular best quality photos size is near 4MB. So, You can store 25K+ photos on your mobile. You can take 68+ photos daily for a year. We don't usually take that many images daily. Unless you are regular camera users who always use mobiles to take pictures, this storage is enough for you. It is still wise to use cloud backup for photos and videos. You can use Google Photos free plan that can store the picture in some reduced quality with unlimited storage or full quality with a reduction in your Google account plan. Free plans have 15GB storage.
The above mentioned 128GB storage example is a regular user who uses his phone for the past two years with Google photos backup. But he keeps the RAW photos and videos on his mobile. When you free up media files uploaded to Google photos, your storage will be high. So, from the usage, you can get a small idea that the storage is enough for regular users.
Wrap Up
Yes, there will be some exemption, rare users that the RAM maybe not sufficient. If you are that kind of user, It is better to go for S20 Plus or S20 Ultra mobiles. Some users believe they need 12GB RAM, or else their mobile won't work smoothly. I have to explain the real-time scenario who think they need ultra specs. Samsung and Verizon have long history experience in mobiles. They know how much it can impact the users when they change specs. So, they carefully adjusted the specs that can't affect the users.
Verizon S20 5G variant is $100 less than the unlocked S20 5G variant. If they provide the adjusted mobile for the same price, you can ignore it. But here you get the compensation for what you lose. You will also get exclusive Cloud White color that only available in Verizon. What are your thoughts on Verizon Samsung Galaxy S20 5G adjusted specs? Did you feel it is enough? Comment below.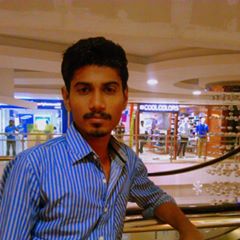 Selva Ganesh is the Chief Editor of this Blog. He is a Computer Science Engineer, An experienced Android Developer, Professional Blogger with 8+ years in the field. He completed courses about Google News Initiative. He runs Android Infotech which offers Problem Solving Articles around the globe.